Malaika Arora and Arjun Kapoor's Captivating Display of Coordinated Elegance Radiates Joy
Malaika Arora and Arjun Kapoor have captured not only our hearts with their love but also our admiration for their impeccable fashion sense. This power couple sets the bar high when it comes to style, making them the epitome of 'couple goals' in the fashion world. Their ability to exude elegance and grace is unwavering, and they navigate the fashion landscape with confidence and finesse, no matter the challenge.
Malaika and Arjun's fashion choices reflect their strong personal styles, yet they effortlessly complement each other. Malaika's wardrobe boasts bold and dazzling ensembles that showcase her fearless approach to fashion. Her choices often highlight her figure and embrace contemporary trends, proving that she's unafraid to take risks and make a statement.
On the other hand, Arjun Kapoor's style exudes suavity and charm. His dapper and refined choices often include well-tailored suits and classic pieces that emphasize his confident and charismatic presence. Together, Malaika and Arjun epitomize the idea of a well-matched couple whose fashion sensibilities harmonize effortlessly.
One of their notable fashion feats is their ability to embrace color coordination. They redefine the concept of twinning by thoughtfully selecting outfits that complement each other without appearing overly matched. This dynamic approach to coordinated fashion illustrates their synergy as a couple and their shared ability to embrace individuality within their relationship.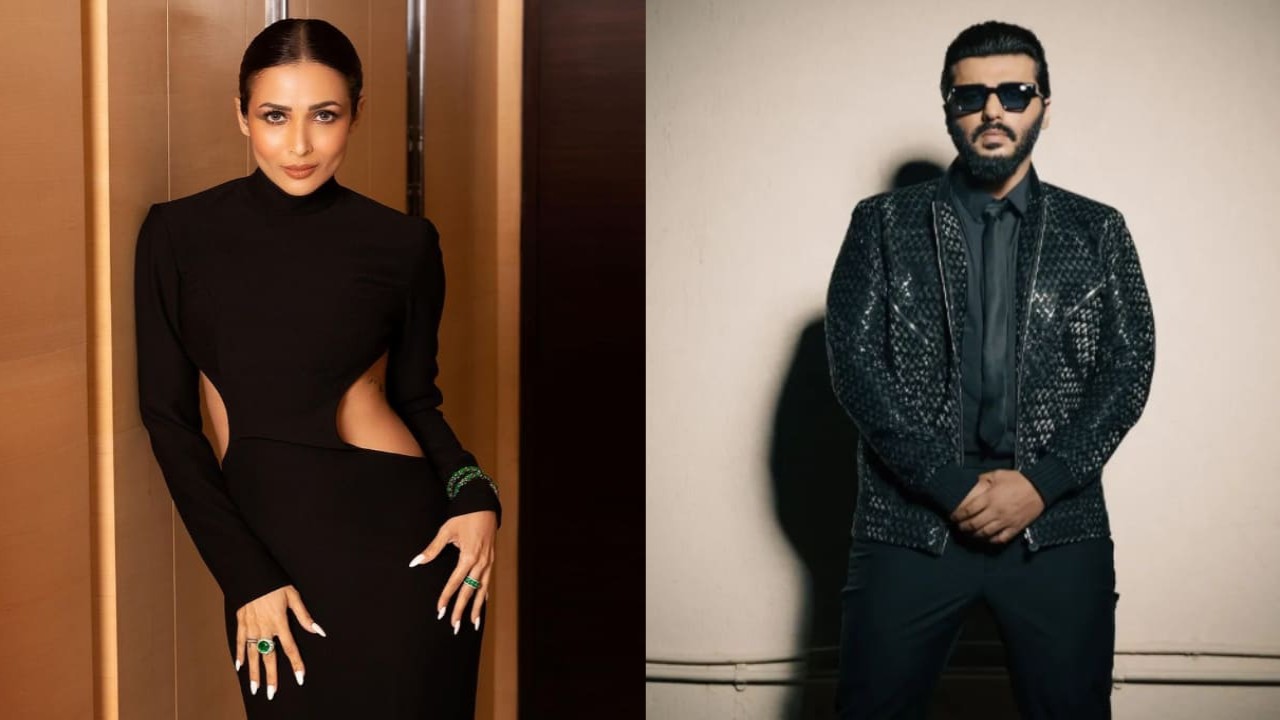 Malaika Arora and Arjun Kapoor's fashion journey is a testament to their shared love for style and their desire to consistently elevate their sartorial choices. Their presence at events and on social media platforms is a source of inspiration for fashion enthusiasts and couples alike, encouraging them to celebrate their individual styles while also fostering a sense of unity in their fashion choices.
As this dynamic couple continues to set new standards in the fashion world, their fashion choices remain a captivating blend of elegance, charisma, and innovation. Their collaborative approach to fashion speaks volumes about their strong bond, making them a true fashion power duo that continues to influence and inspire.
Malaika Arora commanded attention in a stunning Club L London cut-slit bodycon gown that perfectly showcased her impeccable sense of style. Her choice of a vibrant blue gown demonstrated her knack for selecting statement pieces that resonate with elegance and allure. The gown's daring thigh-high slit added an element of drama and allure, further accentuating Malaika's confidence and poise.
The gown's plunging neckline injected a touch of glamour into the ensemble, capturing the essence of sophistication while maintaining a sense of modernity. Remarkably, this captivating gown comes at an accessible price point of Rs 6,100, showcasing Malaika's ability to seamlessly blend luxury and affordability in her wardrobe choices.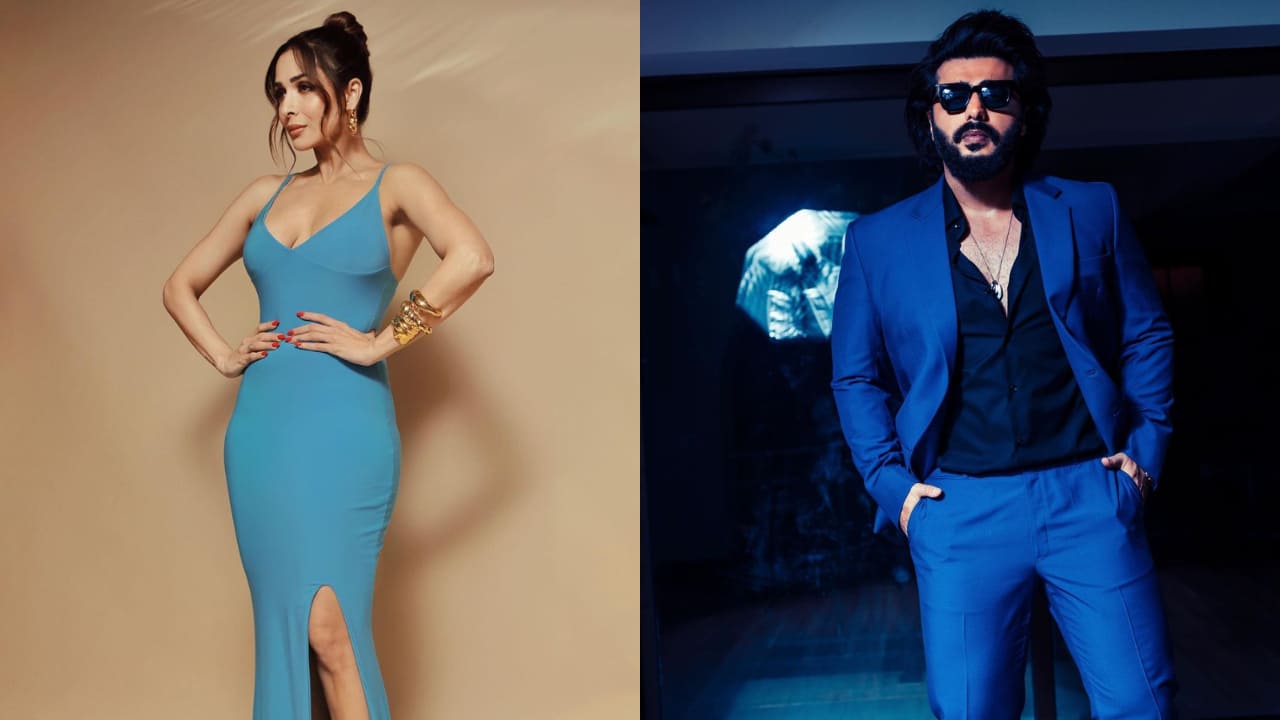 Malaika's attention to detail extended to her accessories as well. The addition of gold hoop earrings and a matching bracelet elevated the look, infusing a touch of refinement and elegance. Her hairstyle, a sleek middle-partition bun, complemented the outfit's chic aesthetic, ensuring that the gown remained the focal point of her ensemble.
Her makeup was thoughtfully executed, enhancing her natural beauty without overpowering her features. This minimalistic approach highlighted her inherent attractiveness and added a touch of freshness to the overall look.
Malaika Arora's choice of this stunning ensemble once again demonstrated her prowess as a true fashion star. Her ability to curate outfits that strike a balance between boldness and elegance is a testament to her understanding of fashion dynamics. As she continues to make impactful fashion statements, she reaffirms her position as a trendsetter and an inspiration for fashion enthusiasts.
Arjun Kapoor exuded dapper charm in a striking electric blue jacket and pant combination from Masculine Official. The bold choice of color for the blazer exuded confidence and charisma, capturing attention with its vibrant hue. The jacket's rich shade created a commanding presence, highlighting Arjun's impeccable sense of style.
While the blazer stole the show with its bold color, the decision to pair it with a navy blue shirt underneath didn't quite harmonize with the overall ensemble. The contrasting tones slightly disrupted the cohesion of the look. Nevertheless, Arjun's attention to detail and dedication to his appearance were evident, showcasing his commitment to refining his fashion choices.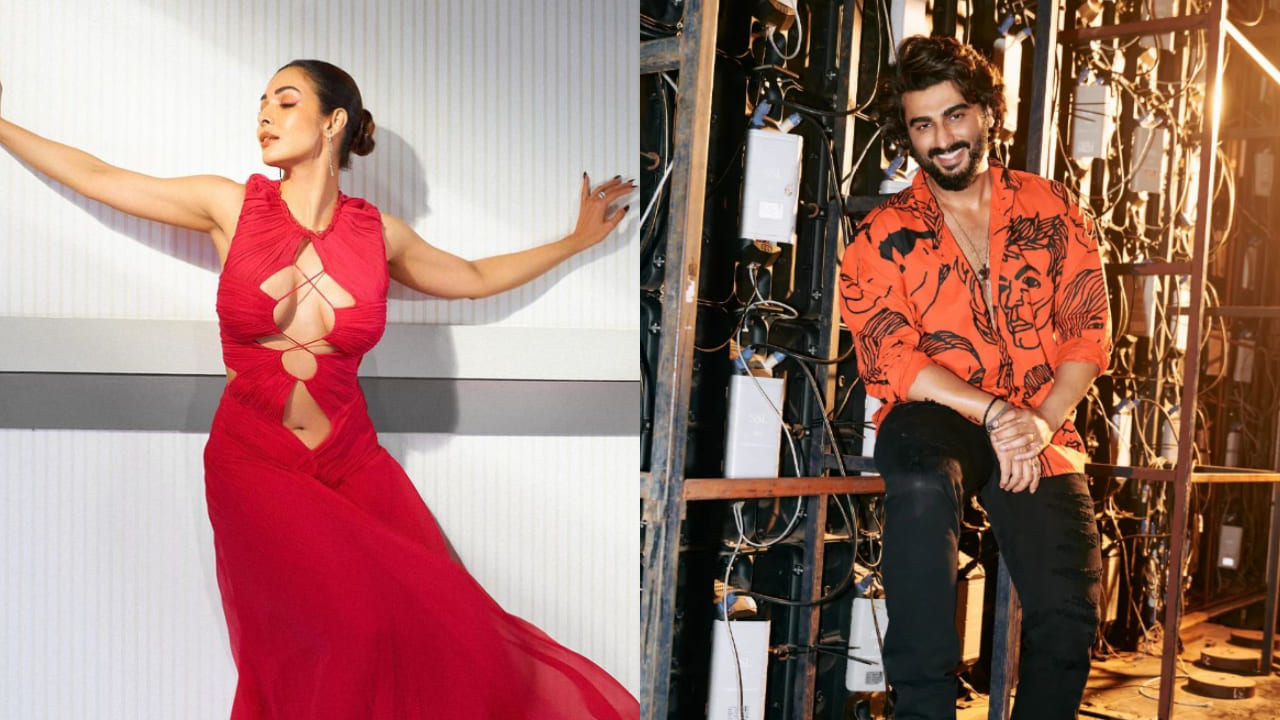 Arjun's fluffy hairstyle added a touch of relaxed charm to his overall appearance, counterbalancing the formality of the outfit and adding a personal touch to the ensemble.
The actor's fashion-forward sensibilities shone through with his choice of accessories. A pair of fashionable goggles completed the look, adding a dash of modernity and flair. Despite the shirt color discrepancy, Arjun's composed demeanor and meticulous approach elevated the outfit, allowing it to stand out and capture attention.
Arjun Kapoor's ability to embrace bold choices while maintaining a calm and composed demeanor is a testament to his evolving fashion journey. His dedication to the finer details and his willingness to experiment contribute to his distinctive style, making him a noteworthy figure in the world of fashion.
Malaika Arora turned up the glamour in a scorching red gown that exuded both opulence and refinement. Crafted from a luxurious silk blend fabric, the gown's gracefully flared silhouette added a touch of dramatic flair to her overall image. The gown's upper bodice featured an enchanting cut-out design, masterfully concealed by an inner tie closure, contributing to its allure. The round neck with gathers bestowed a feminine and elegant touch to the ensemble. Malaika's choice of a sleeveless Alberta Ferretti gown not only showcased her remarkable fashion sensibilities but also demonstrated her adeptness at effortlessly carrying off daring and captivating outfits.
On the other hand, Arjun Kapoor showcased his own flair in a vibrant red shirt by Huemn, a statement piece that retailed for Rs 7,500. The striking red color created a bold contrast against his outfit, instantly grabbing attention. Arjun skillfully played with contrasts by pairing the shirt with Maison Valentino's sleek black trousers, resulting in a refined and polished look. The outfit was further elevated with the addition of glossy black boots, adding a touch of sophistication and completing the ensemble with a modern edge.
Arjun's fashion choices exhibit his ability to seamlessly integrate flamboyant and traditional elements, cementing his reputation as a fashion enthusiast with a discerning eye for style. His confident and sophisticated approach to wearing bold colors speaks to his understanding of how to make a statement while maintaining an air of refinement.
Together, Malaika Arora and Arjun Kapoor showcase their prowess as a fashion-forward couple who aren't afraid to embrace vibrant hues and unique designs. Their ability to effortlessly blend luxury with contemporary styles makes them a dynamic duo that consistently captures the attention of fashion enthusiasts.
Malaika Arora mesmerized in a captivating black gown designed by Mônot, showcasing her exceptional fashion acumen. The gown's striking appeal was further enhanced by intricate cutouts on the waistline, infusing a touch of glamour into the ensemble. The gown's shoulder pads not only offered a structured silhouette but also added a hint of boldness by emphasizing the shoulders.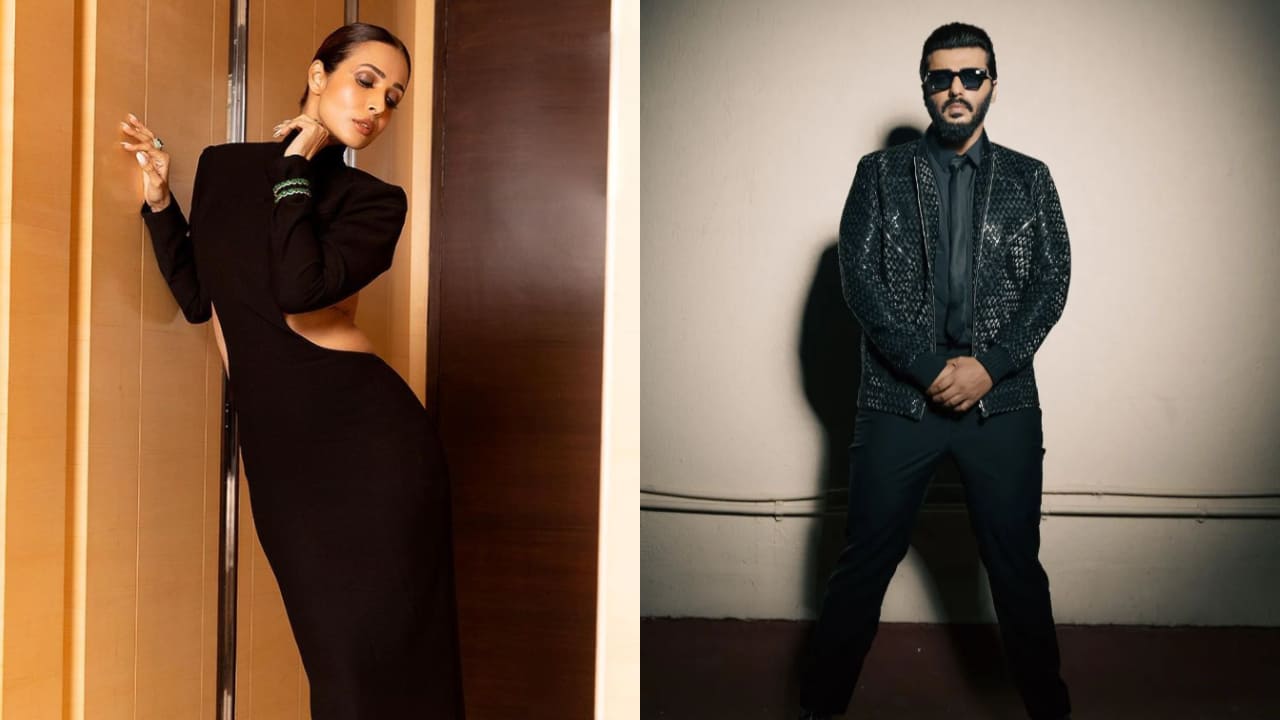 Despite the slight rigidity, Malaika effortlessly carried the look, radiating confidence and elegance. Her low ponytail and matte-finished makeup perfectly complemented the outfit, contributing to an overall sense of sophistication. Malaika's adeptness at creating a bold yet refined fashion statement was truly exemplified by her choice of the sleek black gown from Mônot.
Arjun Kapoor showcased his own fashion prowess in a stunning black jacket adorned with intricate sequin embroidery patterns. This elegant jacket, a creation of Falguni Shane Peacock, stood as a testament to his impeccable sense of style. Adding a touch of flair, Arjun accessorized the ensemble with a sophisticated tie, resulting in a well-balanced and polished appearance. The combination exuded elegance and was a fitting choice for evening events. The use of a timeless black color palette illustrated how a couple can effortlessly achieve a striking and coordinated look that reflects both individual styles while harmonizing as a pair.
Malaika Arora and Arjun Kapoor's individual choices, marked by boldness and elegance, merge seamlessly to create a visual harmony that encapsulates their unique personalities. Their ability to select complementary outfits while showcasing their own fashion sensibilities reflects their status as a stylish power couple in the entertainment and fashion landscape.