Malaika Arora's Breathtaking Ethnic Ensemble Sets a Timeless Trend with Bandhani Magic
Malaika Arora's fashion sense has always been about making bold and striking choices, whether it's her gym outfits that turn heads or her red carpet ensembles that exude glamour. However, her recent appearance in a traditional kurta combo showcased a different facet of her style, proving her versatility as a fashion icon.
Malaika's usual preference for bodycon skirts, tiny dresses, and daring necklines is well-known. These choices have solidified her status as a trendsetter who isn't afraid to take risks and push boundaries. So, when she stepped out in a kurta set, it was indeed a surprising departure from her usual fashion repertoire.
The fact that Malaika effortlessly embraced the kurta combo demonstrates her adaptability to various styles and her ability to wear any outfit with grace and elegance. This unexpected choice added a new dimension to her fashion arsenal, showing that she can carry off diverse looks while staying true to her unique sense of style.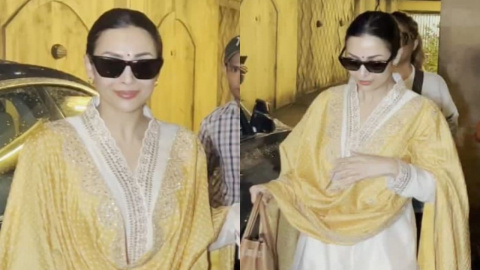 This instance serves as a reminder that true fashion icons can seamlessly transition between different aesthetics, proving that their style isn't confined to one particular trend or genre. Malaika's kurta ensemble not only showcased her appreciation for traditional Indian attire but also emphasized her flair for making any outfit she wears look fashionable and chic.
In essence, Malaika Arora's foray into a kurta combo highlights her ability to surprise and delight her fans by embracing new styles while maintaining her distinct fashion identity.
Malaika Arora's recent fashion choice left everyone amazed as she elegantly adorned a captivating ensemble. Dressed in a white kurta combo, Malaika radiated beauty and grace. The pristine white kurta was adorned with delicate and intricate border embroidery, adding a touch of sophistication to the outfit. However, it was the vibrant yellow dupatta that truly stole the show, featuring a broad border with exquisite embroidery that injected a burst of liveliness into the ensemble.
Malaika's statuesque figure was accentuated by the full-sleeved kurta, creating a timeless and graceful silhouette. The entire outfit exuded an aura of understated elegance, showcasing Malaika's ability to effortlessly carry off diverse styles.
Once again, Malaika showcased her impeccable fashion sensibilities with this ensemble, making a bold statement while leaving onlookers in awe of her flawless sense of style. The combination of traditional elements with contemporary elegance is a testament to her mastery of fashion, demonstrating that she can effortlessly switch between different styles and still look effortlessly chic.
Malaika Arora's choice to embrace this kurta combo not only showcased her appreciation for traditional Indian attire but also highlighted her innate ability to make every outfit she wears a fashion statement that resonates with her unique personality.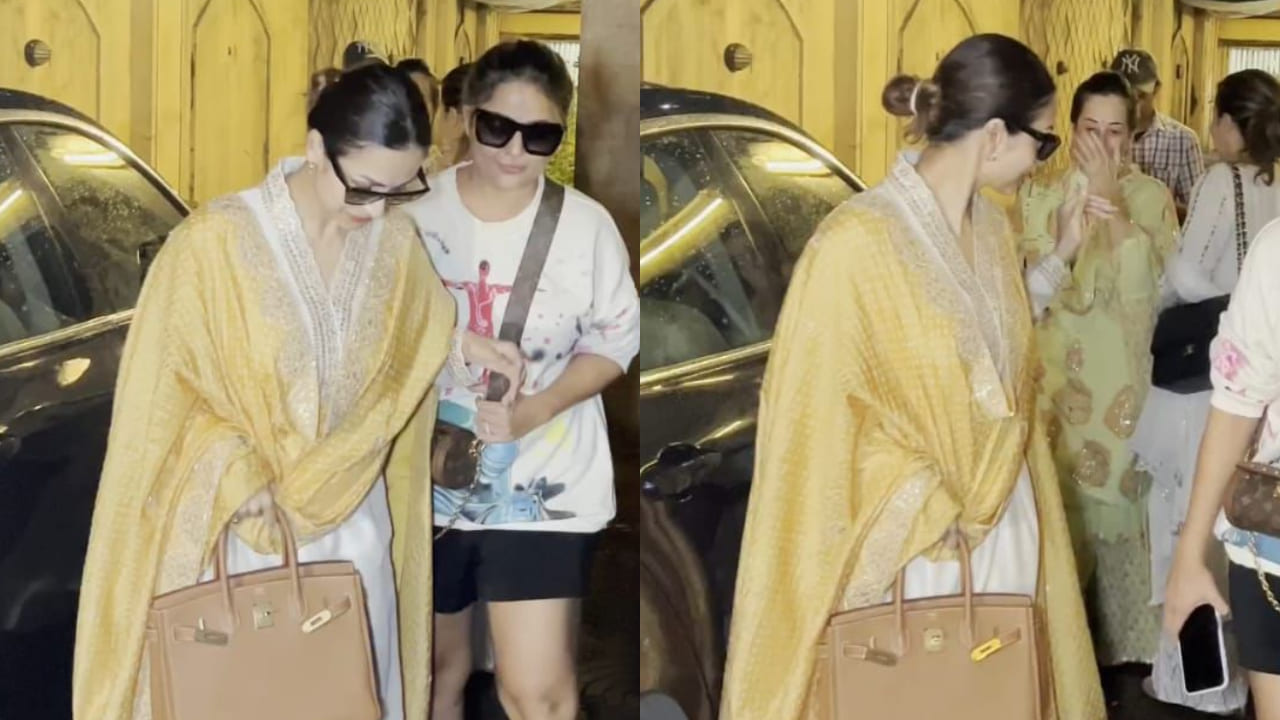 Malaika Arora's fashion finesse goes beyond just clothing – her impeccable choice of accessories adds the perfect finishing touches to her stunning outfits. In this particular ensemble, Malaika's attention to detail is evident as she complements her gorgeous kurta combo with carefully selected accessories.
Her choice of a buff beige bag not only adds an element of refinement but also seamlessly matches the overall color palette of her outfit. This thoughtful coordination enhances the overall cohesiveness of her look, showcasing her keen eye for detail.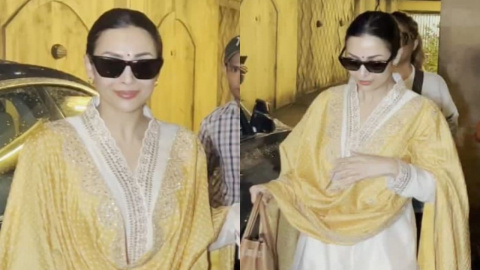 Adding an air of mystery and sophistication, Malaika opted for a pair of black shades. These sunglasses not only shield her eyes from the sun but also contribute to the overall allure of her appearance.
To maintain a balance between style and comfort, Malaika adorned a pair of comfortable flat chappals. These flats not only complete the desi look effortlessly but also ensure that she can move with ease while exuding both flair and comfort.
Malaika's ability to accessorize with precision and finesse is a testament to her fashion mastery. Her carefully chosen accessories elevate her ensemble, showcasing her excellent taste and attention to harmonizing every element of her outfit.
Malaika Arora's approach to accessorizing reflects her deep understanding of how even the smallest details can make a significant impact on a look. Her ensemble becomes a complete visual statement, blending individual elements into a harmonious and captivating whole.
Malaika Arora's innate sense of style shines through in every aspect of her appearance, and even during a casual outing, she manages to create the perfect look. The finishing touches she adds to her ensemble demonstrate her ability to strike the right balance between elegance, tradition, and modernity.
A touch of tradition and grace comes in the form of a lovely black bindi. This small detail adds a classic and timeless element to her overall outfit, highlighting her appreciation for cultural nuances.
Her choice of a bright pink lipstick adds a pop of vibrant color to her look. This bold lip shade not only complements her outfit but also enhances her natural beauty, creating a striking focal point that draws attention to her lips.
For her hair, Malaika opts for a sleek bun, effortlessly combining simplicity and comfort. This hairstyle not only keeps her hair neatly in place but also accentuates her facial features, allowing her ensemble to take center stage.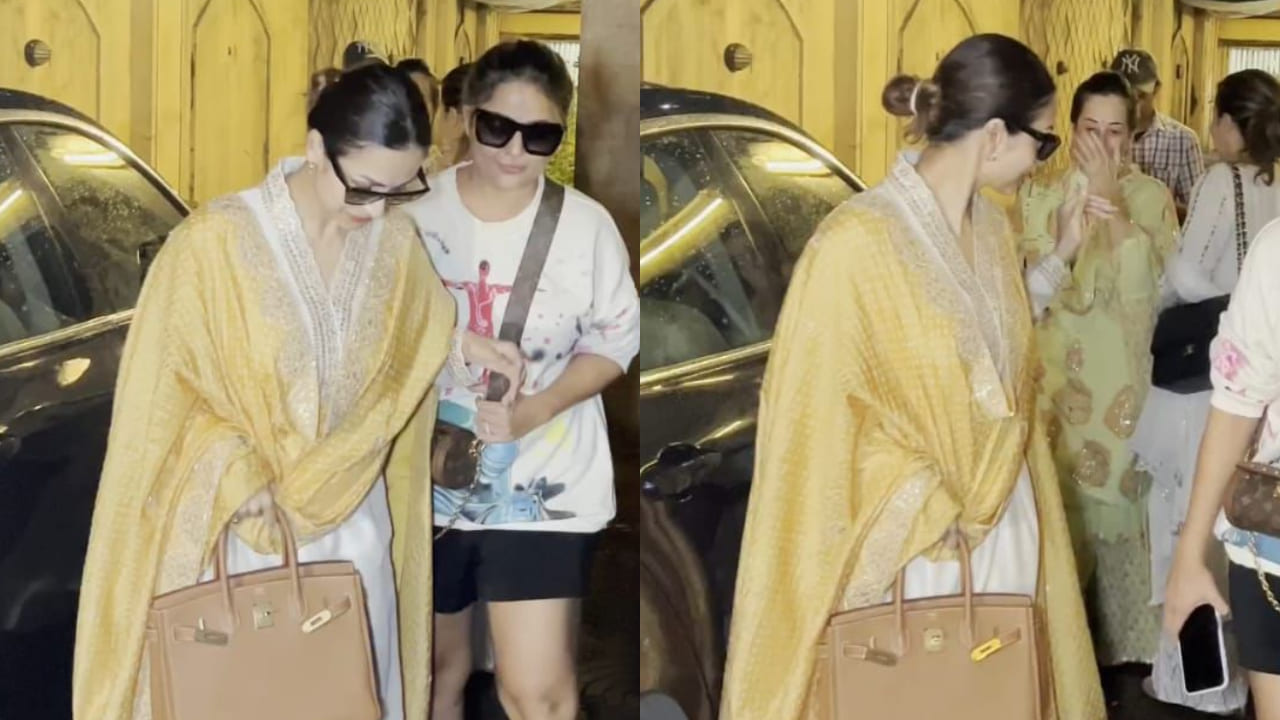 Malaika's attention to detail is once again evident as she effortlessly blends various elements to create a look that is both casual and elegantly refined. Her styling choices reflect her fashion expertise, showcasing how even the smallest touches can make a significant impact on the overall aesthetic. Whether it's a casual outing or a glamorous event, Malaika's ability to curate the perfect appearance for any occasion is truly remarkable.