Taapsee Pannu Radiates Power and Positivity in a Backless Bodysuit, Thigh-High Boots, and Bold Hoops
Taapsee Pannu stands as a true inspiration in the world of fashion, effortlessly combining style and elegance to create stunning ensembles that captivate the eye. Her recent photoshoot serves as a prime example of her innate ability to blend chic elements with sensuous charm, resulting in a mesmerizing and captivating look. As showcased in the photoshoot, the actress beautifully harmonized different elements to create an ensemble that radiated sophistication and allure.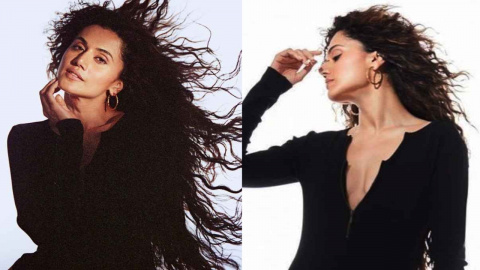 In this particular photoshoot, Taapsee donned a striking black backless bodysuit that accentuated her curves and added an element of allure. Paired with thigh-high boots, the ensemble took on a bold and confident edge, perfectly encapsulating her distinctive style. The deliberate selection of delicate hoop earrings added a touch of understated elegance, creating a well-rounded and harmonious look.
Taapsee's ability to effortlessly merge different elements showcases her impeccable taste and fashion acumen. Her choice of attire not only highlights her personal style but also demonstrates the creativity and vision of her stylists, who skillfully curate ensembles that capture the essence of her personality.
In a world where fashion is a medium of self-expression, Taapsee Pannu's fashion choices serve as a canvas on which she paints her individuality. Her willingness to experiment, paired with her knack for selecting pieces that showcase her beauty and confidence, solidifies her place as a fashion icon who continuously redefines the boundaries of style and sensuousness.
At the core of Taapsee Pannu's exquisite ensemble was the captivating 11 a.m. full-sleeves bodysuit. This remarkable creation, crafted with its enticing backless design and sleek front zipper, was brought to life by the esteemed label Spell by Smokeshow. Priced at Rs. 3,498, this bodysuit effortlessly encapsulated a harmonious blend of modernity and sophistication. Its inherent versatility allowed it to seamlessly transition from day to night, making it a versatile choice for a wide range of occasions.
The bodysuit's design was not only a testament to contemporary aesthetics but also a celebration of Pannu's penchant for combining sensuality with refined elegance. The clever incorporation of a blazer, when zipped-up, infused the ensemble with a touch of formal allure, ideal for moments that demand a sophisticated presence. Conversely, when the blazer was unzipped, the backless detail took center stage, adding a touch of playful allure that was perfect for revelry and celebration.
Taapsee's choice of attire showcased her ability to select pieces that seamlessly transition between different atmospheres and moods. This combination of versatility and artistry exemplifies her unique fashion sensibilities, allowing her to make a bold statement while exuding both confidence and style.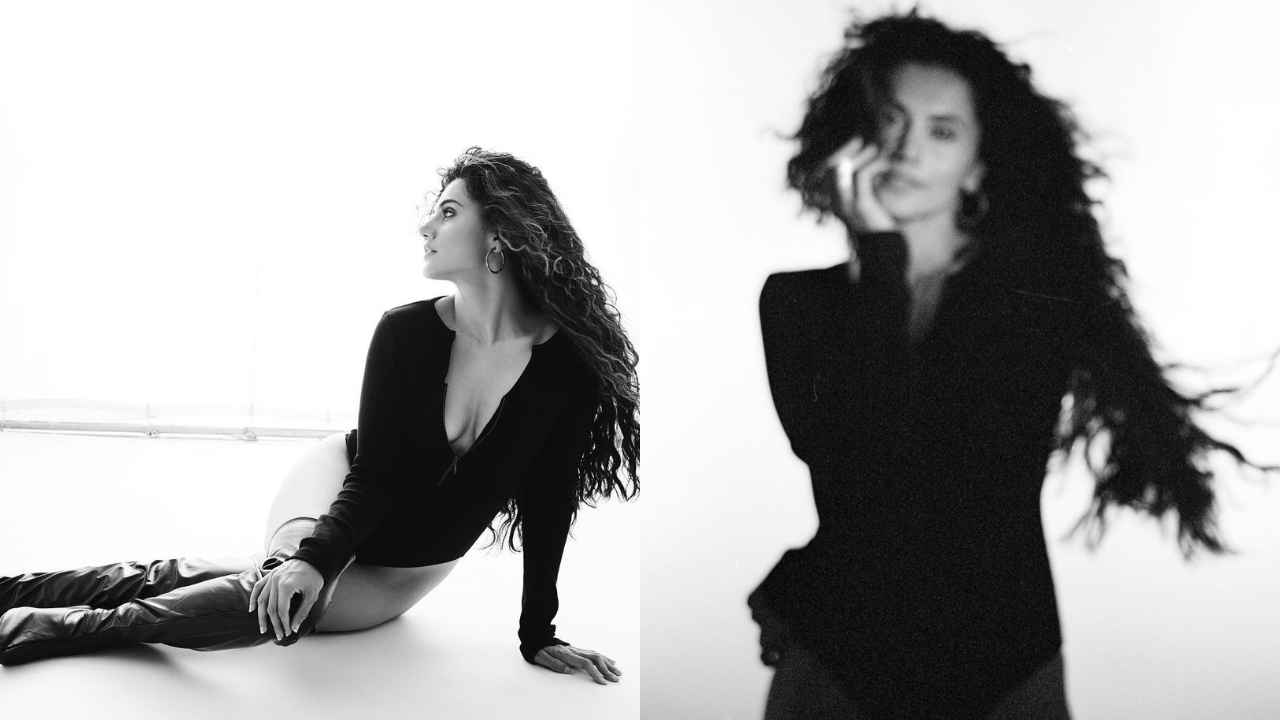 Incorporating this Spell by Smokeshow bodysuit into her ensemble not only showcased Taapsee Pannu's eye for fashion but also provided an apt example of how a single piece can be transformed to suit various occasions and settings, reflecting the multifaceted nature of her personality and style.
Enhancing the allure of the bodysuit was the addition of black mock-leather knee-length boots, a creation that radiated empowerment and boldness. These boots, acquired from Hogwash at a price of Rs. 2,999, perfectly complemented Taapsee Pannu's statuesque elegance. The mock leather material added a luxurious texture to the ensemble, while the thigh-high length injected a touch of drama that harmonized flawlessly with the ensemble's theme.
The boots not only served as a stylish accessory but also elevated the overall impact of the outfit, showcasing Pannu's ability to select elements that amplify her fashion statement. The striking boots played a pivotal role in creating a strong and confident silhouette, contributing to the ensemble's captivating appeal.
In the world of fashion, accessories hold the power to transform an outfit from ordinary to extraordinary. Taapsee's choice of gold hoop earrings from Azotiique by Varun Raheja exemplified this concept beautifully. These intricately designed hoops added a touch of glamour while framing her face with elegance, accentuating her natural beauty and enhancing the allure of the entire ensemble.
Taapsee Pannu's meticulous attention to detail in her choice of accessories reaffirms her status as a fashion icon with a discerning eye for elements that elevate her overall look. The seamless integration of these accessories into the ensemble serves as a testament to her fashion acumen, allowing her to create a cohesive and captivating appearance that leaves a lasting impression.
The adage that hair and makeup complete a look was vividly demonstrated in the styling of the Kanchana 2 actress. Her choice of hair and makeup served as the final brushstrokes that brought the ensemble to life, embodying the philosophy that every detail matters. Loose waves gently cascaded down her shoulders, infusing the look with an aura of effortless charm. This hairstyle added a touch of natural elegance that perfectly complemented the ensemble's overall appeal.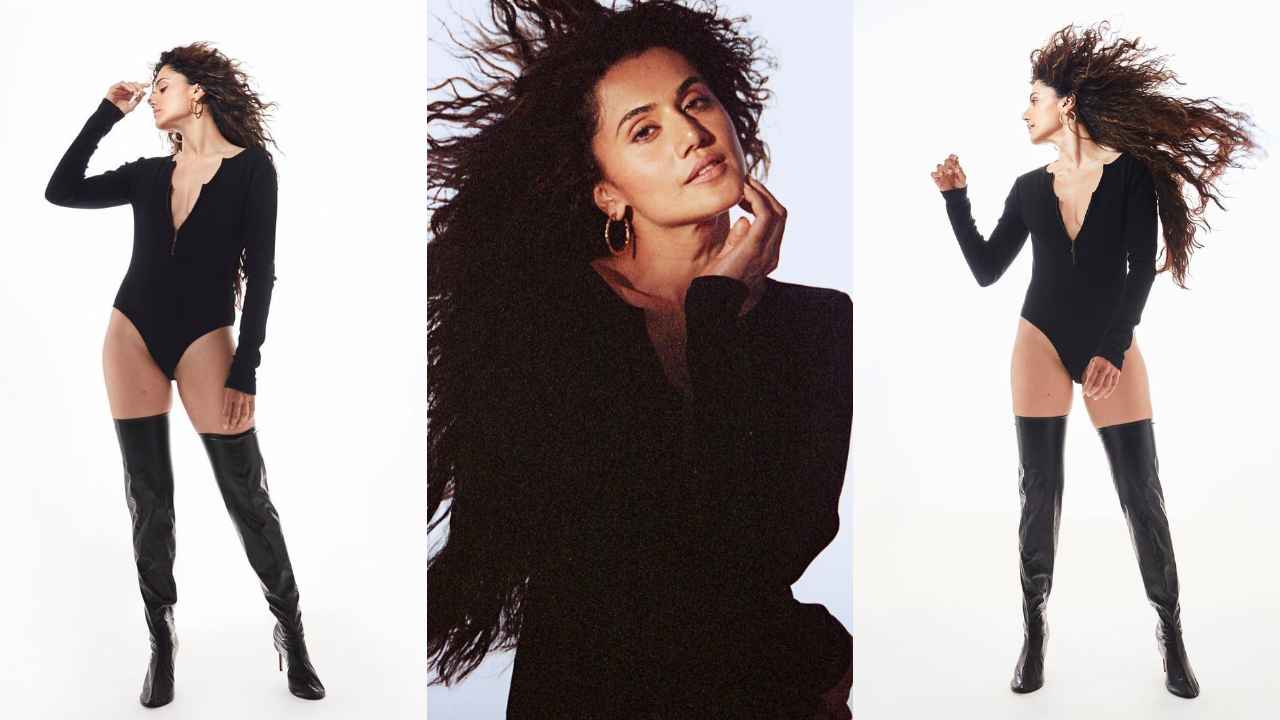 Taapsee Pannu's makeup was a delicate interplay between subtlety and sophistication. The light eyeshadow, skillfully applied highlighter, and a soft shade of pink lipstick worked in harmony to enhance her features without overpowering them. This well-balanced makeup palette heightened the ensemble's allure while maintaining a sense of understated elegance.
The synergy between her hair, makeup, and outfit was evident, forming a harmonious whole that exuded confidence and style. The recent photoshoot was a testament to her inherent sense of sophistication, as the ensemble resonated with a level of refinement that effortlessly captured attention.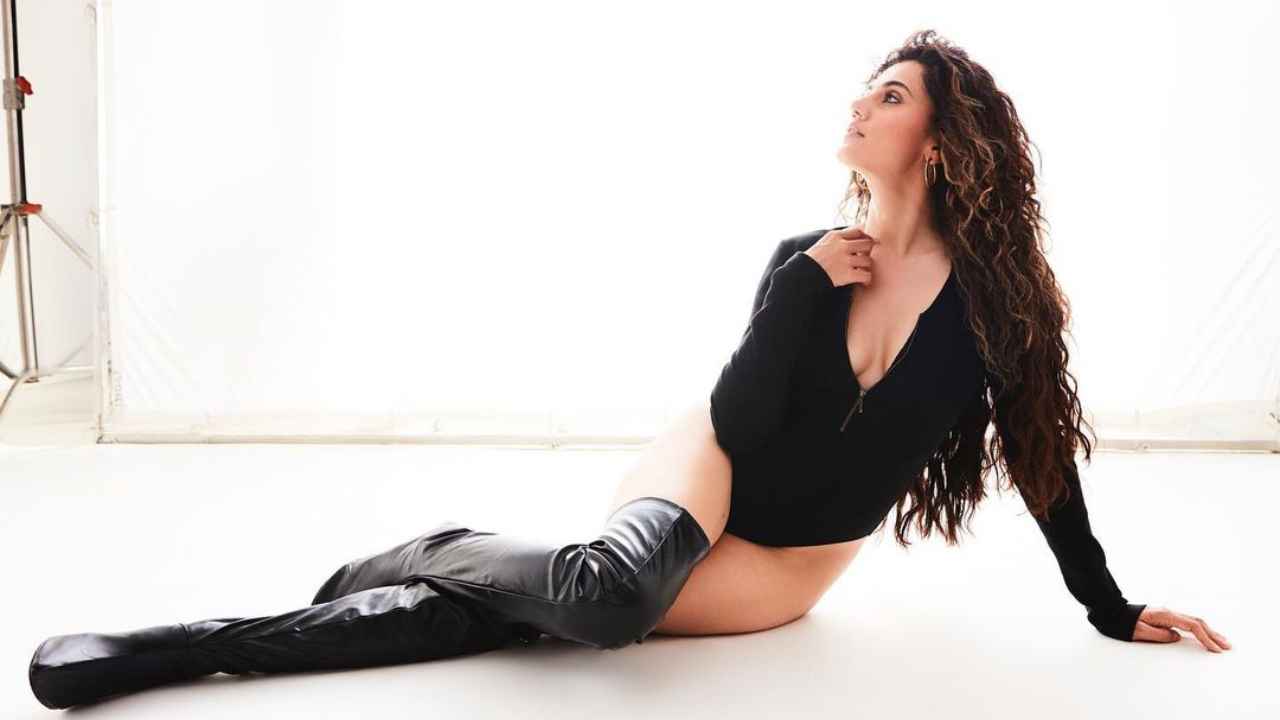 The ingenious combination of the captivating black backless bodysuit, thigh-high boots, and gold hoop earrings was a striking display of Taapsee Pannu's remarkable fashion sensibility, solidifying her position as a true trendsetter in the world of fashion.