Shahid Kapoor Elevates Joyful Fusion with Anita Dongre: Mustard Malhar Kurta!
Indeed, the world of fashion is a vibrant and ever-changing realm, constantly reinventing itself with new trends and ideas. In this dynamic landscape, the fusion of traditional and Western elements has emerged as a captivating and innovative style statement. A perfect embodiment of this trend is Bollywood heartthrob Shahid Kapoor, who consistently showcases his impeccable fashion sense by seamlessly blending traditional Indian garments with contemporary Western elements.
Shahid Kapoor's recent appearance is a prime example of this captivating fusion. Known for his charismatic style, the actor effortlessly combined the richness of traditional Indian attire with the modern flair of Western fashion. This fusion not only reflects his confidence and creativity but also highlights his ability to experiment and push the boundaries of fashion.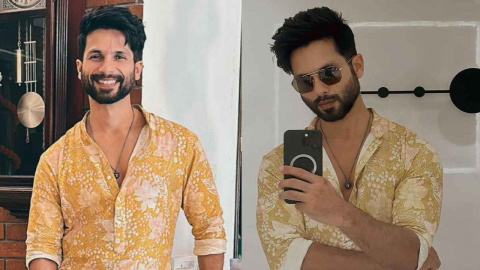 In a world where fashion is a powerful medium of self-expression, Shahid Kapoor's sartorial choices serve as an inspiration for fashion enthusiasts. His unique ability to mix and match different styles not only reflects his personal taste but also resonates with the changing preferences of fashion-conscious individuals. The seamless integration of traditional and Western elements in his ensemble showcases his knack for creating a harmonious and visually appealing look.
As the boundaries between traditional and Western fashion continue to blur, Shahid Kapoor's style choices offer a glimpse into the exciting possibilities that arise when cultures and aesthetics converge. His charismatic appearance not only sets new standards in the realm of fashion but also encourages fashion enthusiasts to embrace their creativity and experiment with their own unique style combinations.
Shahid Kapoor, renowned for his suave demeanor and versatile acting skills, captured the spotlight with his recent appearance, showcasing a captivating fusion-inspired outfit. At the heart of his ensemble was the Mustard Malhar kurta, a creation from Anita Dongre's collection, available at a price of Rs. 10,900. This kurta stood as the focal point, radiating a vibrant yellow hue that exuded positivity and a dynamic energy, making it a perfect choice for festive occasions and celebrations.
Anita Dongre's name resonates with excellence in the fashion industry, celebrated for her remarkable talent in seamlessly merging traditional designs with contemporary elements. Her creations are known to embody the rich heritage of Indian craftsmanship while also infusing them with a touch of modern sensibility.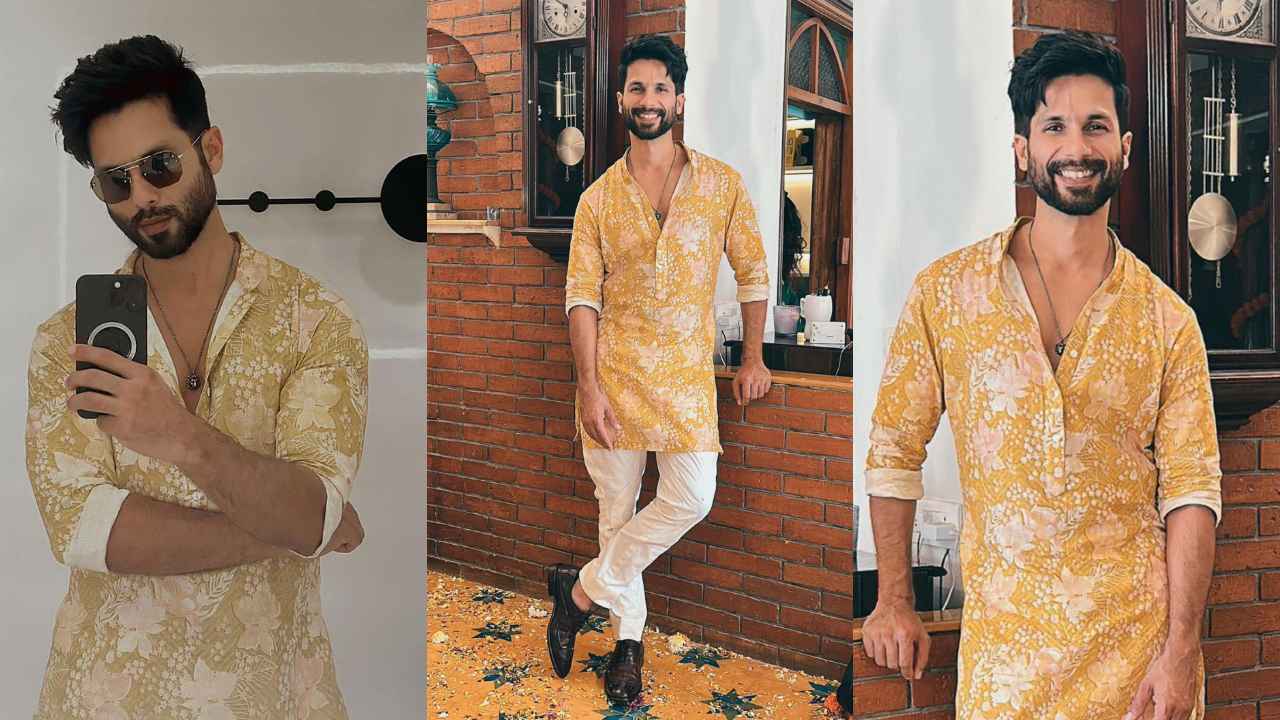 Shahid Kapoor's choice of the Mustard Malhar kurta showcased his discerning taste and ability to effortlessly embrace fusion fashion. The vibrant color of the kurta, combined with Dongre's signature design aesthetics, reflected Kapoor's fashion-forward approach and his willingness to experiment with his style. The ensemble was a harmonious blend of tradition and modernity, allowing Kapoor to make a distinct style statement that resonated with both his personality and the evolving fashion landscape.
In a world where cultural influences often merge to create new and exciting fashion directions, Shahid Kapoor's choice of the Mustard Malhar kurta by Anita Dongre stands as a testament to the evolving nature of fashion and the endless possibilities it offers. His appearance not only showcased his admiration for intricate craftsmanship but also highlighted his commitment to embracing diverse fashion influences with grace and charm.
The Mustard Malhar kurta from Anita Dongre's collection is a shining example of her creative brilliance. Meticulously crafted, this kurta boasts a refreshing and vibrant mustard yellow hue that has the ability to flatter a wide range of skin tones. However, it's not just the color that makes this piece stand out; it's the intricate details that truly make it exceptional.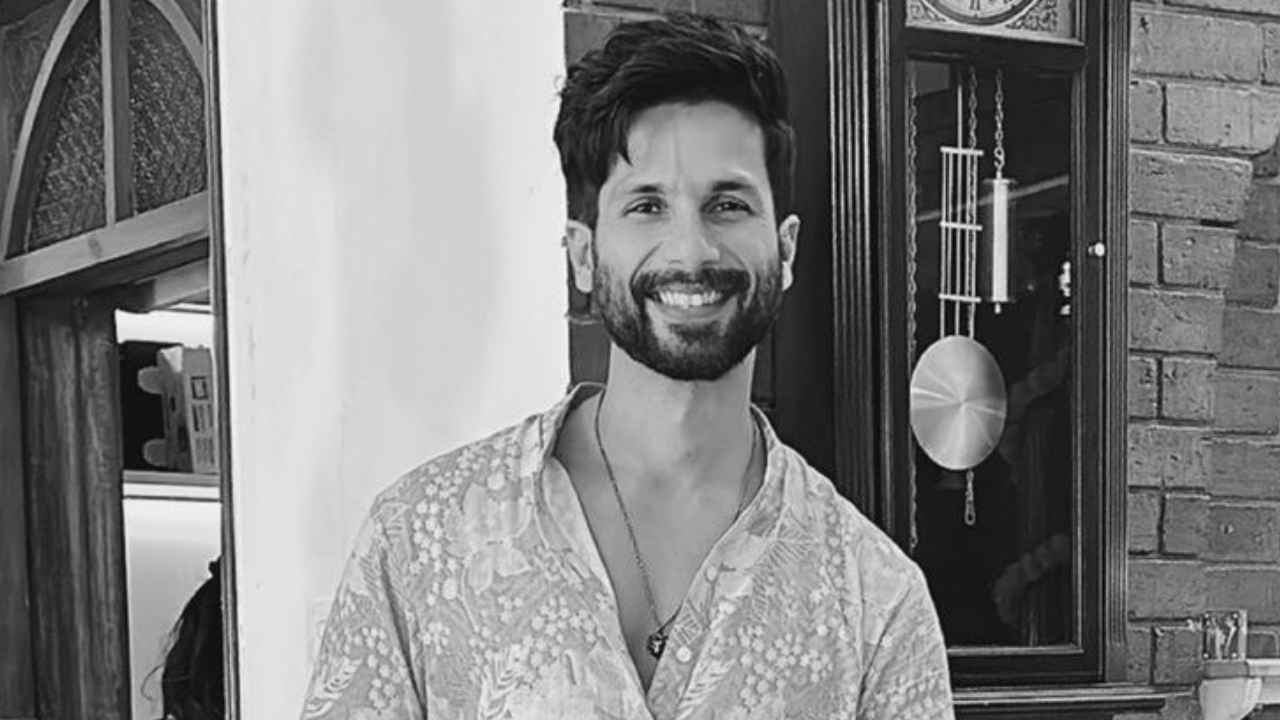 One of the distinctive features of the kurta is the subtle flowery print in neutral tones. This delicate print adds a layer of sophistication and depth to the ensemble, elevating it beyond a simple solid-colored garment. The harmonious interplay between the mustard background and the subdued floral pattern creates a captivating visual effect, showcasing the thoughtfulness put into the design.
The front collar, adorned with buttons, contributes to the kurta's casual elegance. This detail provides a touch of refinement without overpowering the overall design. It's a testament to Anita Dongre's ability to infuse even the simplest elements with a sense of style and purpose.
The Mustard Malhar kurta embodies the fusion of traditional and contemporary design elements, a hallmark of Anita Dongre's creations. It not only captures the essence of Indian heritage but also embraces modern sensibilities, making it a versatile and timeless piece that can be worn on various occasions. Through this kurta, Shahid Kapoor not only showcased his fashion-forward sensibilities but also paid tribute to Anita Dongre's ability to create pieces that resonate with style enthusiasts across the spectrum.
The true essence of Shahid Kapoor's ensemble lies in its seamless fusion of traditional Indian attire with modern elements. The combination of the Mustard Malhar kurta with white straight ankle-length pants beautifully bridges the gap between his cultural roots and contemporary aesthetics. The stark contrast between the vibrant mustard yellow of the kurta and the pristine white of the pants creates a visually captivating effect, ensuring that the charismatic actor stands out as a true style icon.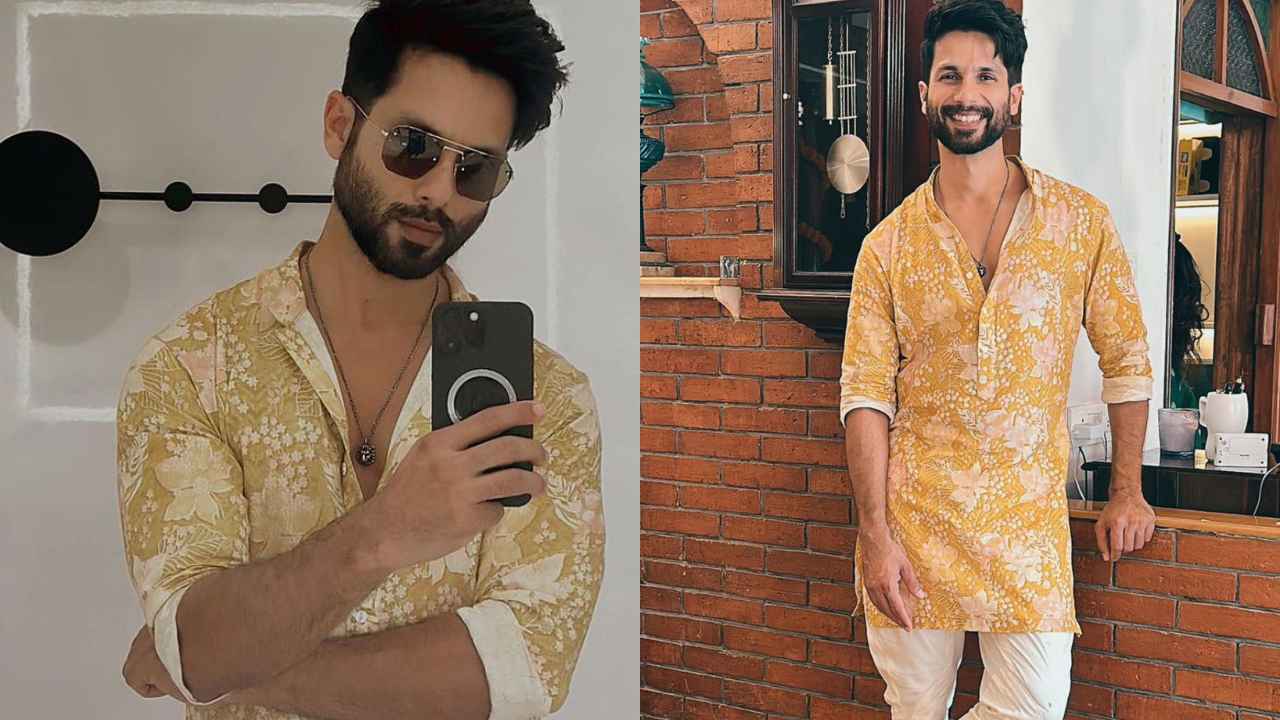 To further elevate his fusion look, Shahid Kapoor paid careful attention to his choice of accessories. A sophisticated necklace served as a refined addition, drawing attention to the intricate neckline of the kurta. This accessory not only added an element of sophistication but also showcased Kapoor's attention to detail in curating a cohesive look.
Moreover, the Chup Chup Ke actor's hairstyling played a significant role in enhancing the overall appeal of the ensemble. With his hair slicked back and styled to a waxy finish, Kapoor exuded a captivating blend of modern charm and traditional charisma. This hairstyle perfectly complemented the fusion-inspired outfit, showcasing his ability to seamlessly combine different elements to create a harmonious and stylish appearance.
In the ever-evolving landscape of fashion, Shahid Kapoor's ensemble serves as a shining example of how traditional and modern elements can be artfully intertwined to create a look that resonates with contemporary sensibilities while honoring cultural heritage. His thoughtful approach to fashion, paired with Anita Dongre's impeccable design, solidifies his position as a trendsetter and a true fashion inspiration.
Completing the fusion ensemble, Shahid Kapoor made a wise choice by opting for sleek and well-polished black formal shoes. This footwear selection not only added a touch of formality to the outfit but also effectively bridged the gap between the traditional and modern elements present in his attire. The strategic choice of black shoes showcased his meticulous attention to detail and his innate ability to effortlessly balance various style components.
By opting for classic black formal shoes, Kapoor not only ensured a harmonious and polished look but also demonstrated his understanding of how each element contributes to the overall cohesiveness of an ensemble. This thoughtfully chosen footwear choice added a layer of refinement to the fusion-inspired outfit, underscoring his fashion expertise.
This stylish look not only sets new trends in the fashion world but also serves as a testament to Shahid Kapoor's fashion-forward sensibilities. As fashion continues to evolve and embrace diverse influences, this ensemble donned by Kapoor stands as a vivid example of the timeless appeal of fusion fashion. In this style, cultural boundaries and style norms are artfully blurred, resulting in a captivating and distinctive statement that captures the essence of modernity and tradition in one remarkable look.