Palak Tiwari Showcases Stylish Strapless Mini Dress Paired with Matching Cowboy Boots!
Palak Tiwari, known for her youthful and vibrant demeanor, has been gaining attention not only for her striking beauty but also for her impeccable fashion sense. With a knack for seamlessly blending classic elegance with contemporary trends, Palak has established a unique and distinct fashion identity of her own. Her ability to exude confidence and refinement is evident whether she's captured at glamorous events in exquisite gowns or spotted on the streets in effortlessly chic ensembles. Her aptitude for embracing diverse fashion trends and carrying them off with grace solidifies her status as a true fashion icon.
Palak Tiwari's fashion choices reflect her versatility and an innate understanding of style. She effortlessly navigates between different aesthetics, demonstrating her flair for both high-end elegance and relaxed street style. Her fashion journey is an embodiment of the modern fashionista who can effortlessly transition from red carpet glamour to everyday chic.
Intriguingly, Palak's fashion choices are not just about following trends, but about making them her own. Her distinctive approach to styling allows her to stand out in the crowd and captivate the attention of fashion enthusiasts and admirers alike. With each appearance, she brings a fresh perspective to the fashion landscape, inspiring others to experiment and embrace their personal style.
Palak Tiwari's recent outfit choice once again showcases her ability to curate eye-catching ensembles that resonate with her personality. Her fashion journey is a reflection of her confidence, creativity, and innate sense of style, setting the stage for more captivating fashion moments in the future. As the young fashionista continues to make her mark, her evolving style choices are sure to keep us intrigued and inspired.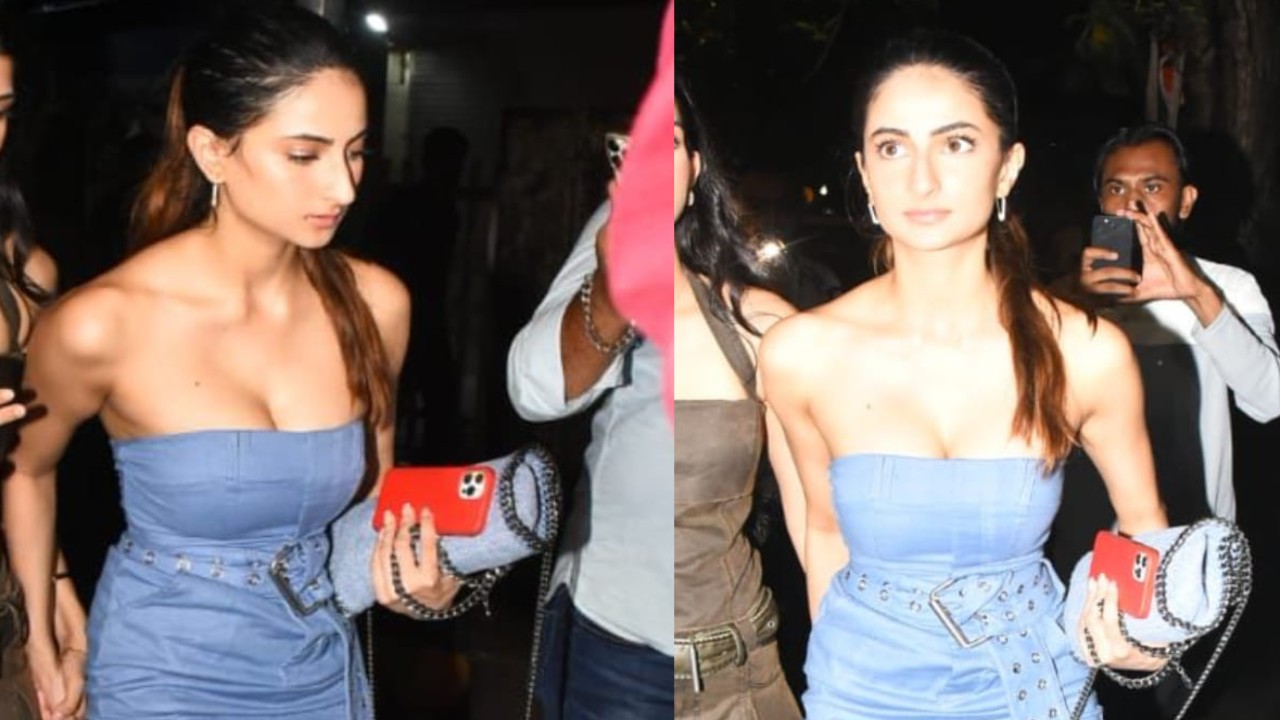 Palak Tiwari, known for her impeccable sense of fashion, once again showcased her exquisite taste by donning a cut-to-mini-length dress that exudes both boldness and elegance. The choice of a provocative bandeau neckline added a touch of allure to the ensemble, drawing attention to her confident and stylish demeanor. The Koami mini dress she wore is a testament to her ability to effortlessly combine edginess with refinement.
The dress, a creation from Oh Polly, beautifully blended utility-inspired design elements with a belt loop-shaped waistline. This intricate detailing not only accentuated her silhouette but also added a modern twist to the overall look. Crafted from lightweight linen fabric, the dark blue design of the dress further highlighted her fashion-forward choice. With a price tag of Rs. 6,030, this dress from Oh Polly is a striking statement piece that captures the essence of contemporary fashion.
Palak Tiwari's confident and stunning appearance in this mini dress demonstrates her knack for selecting pieces that perfectly suit her style and personality. The Koami mini dress is a versatile option, making it suitable for various occasions, especially a stylish night out. By following in Palak's footsteps and embracing your inner fashionista, you can make a dramatic statement at your next event, just like she effortlessly does with her impeccable fashion choices.
Palak Tiwari made a sophisticated choice in accessorizing her outfit by selecting the Falabella tiny cross-body bag. This exquisite piece, designed by Stella McCartney, radiates elegance and class through its impeccable craftsmanship and unique design. Crafted from soft 'shaggy deer' faux leather, the bag boasts a luxurious texture that adds a sense of richness to the overall look.
The Falabella tiny cross-body bag is characterized by its mesmerizing mesh patent print, creating a visually captivating pattern that enhances its aesthetic appeal. The bag's ruthenium diamond-shaped chain serves both functional and stylistic purposes, contouring the body and the shoulder strap with grace and elegance. This clever design element adds a touch of sophistication to the accessory.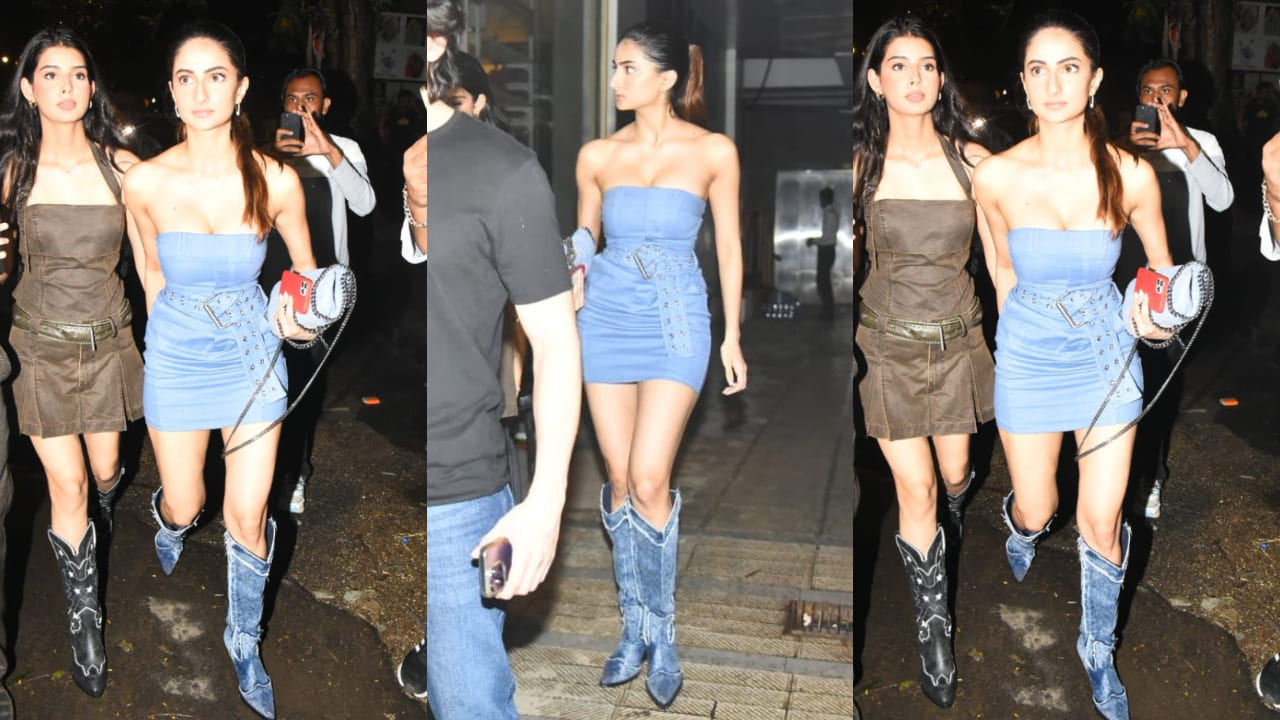 The compact size and adaptable design of the Falabella tiny cross-body bag make it a perfect choice to complement Palak's mini dress. Its ability to add a hint of glitz and glamour to the ensemble aligns perfectly with Palak Tiwari's fashion sensibilities. While the bag's price of around Rs. 83,768 reflects its luxurious quality and design, it's an investment piece that can elevate any outfit to new heights of style and sophistication.
Palak Tiwari's fashion-forward choice of pairing her stylish little dress with denim fabric cowboy boots showcases her bold and innovative approach to fashion. The combination of a feminine dress with cowboy boots creates a striking contrast that immediately captures attention and sets her apart as a trendsetter.
The prominent feature of the cowboy boots is the frayed seams pattern, which adds a touch of edginess to the ensemble. This detail adds visual interest and brings a unique texture to the outfit. The choice of denim fabric for the boots aligns perfectly with the casual-chic vibe of the overall look.
Zara's pointed toe and heeled silhouette of the cowboy boots not only exude confidence but also provide a comfortable and stylish footwear option. The pointed toe elongates the legs, while the heel adds a touch of height and elegance. This footwear choice adds a contemporary twist to the traditional cowboy boot style, making it a standout element of Palak's outfit.
Palak Tiwari's ability to experiment with different styles and elements, like pairing cowboy boots with a little dress, reflects her fearless fashion sensibility and her willingness to push boundaries in her sartorial choices. This combination of contrasting elements showcases her individuality and creativity in the world of fashion.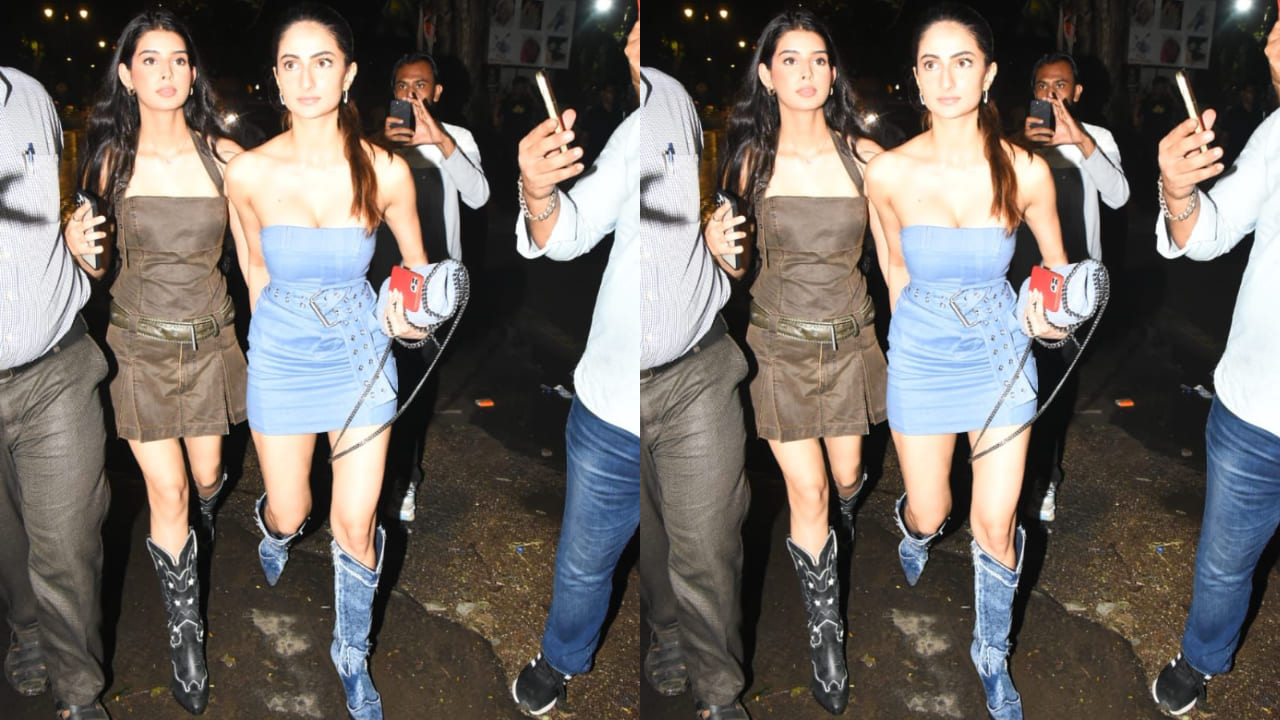 Indeed, Palak Tiwari's choice of denim cowboy boots adds a touch of Western flair to her outfit, making a bold and unique statement in the world of fashion. The boots not only elevate her style but also provide a glimpse into the versatility of fashion and the endless possibilities for creative combinations.
As fashion enthusiasts seek to express their individuality and experiment with different looks, these stylish denim cowboy boots serve as a fashionable and distinctive option to embrace the cowgirl trend and make a memorable impression. With their eye-catching design and comfortable silhouette, these boots are a must-have for anyone looking to infuse their wardrobe with a touch of edgy and adventurous style.