Deepika Padukone's Farm Rio puffer jacket is the coloured-up and chic goodness for the winter
In the world of winter fashion, bursts of color have emerged as the winning trend. At the outset of the season, discussions and shopping hauls were dominated by basics, but as the weeks have passed, our fashion sensibilities have evolved towards more elevated pieces. Now, it's safe to say that we find ourselves in a non-disappointing and supremely comforting place, especially as we've been closely following the style choices of celebrities like Deepika Padukone, who set the bar high with her airport look.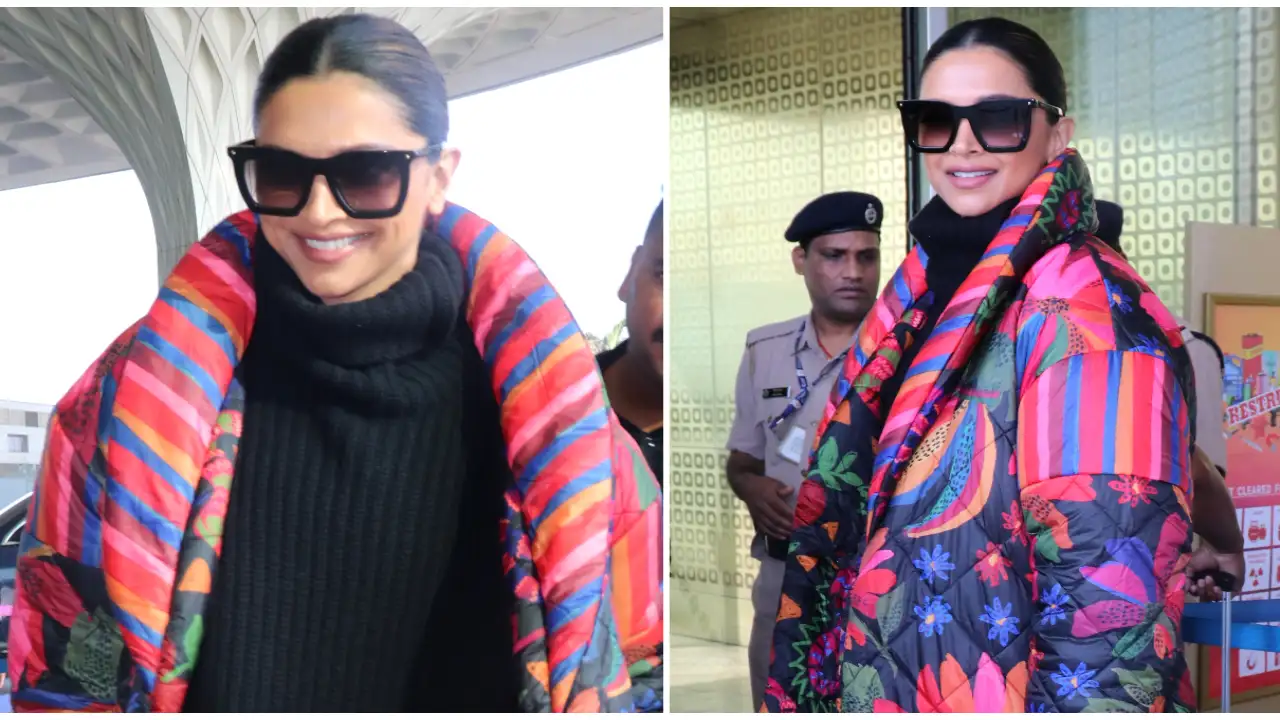 While trench coats have long been a staple of winter wardrobes, there's a noticeable shift happening. It seems we're all ready to embrace a new fashion direction, and that direction leads us to a "puffer party." Puffer jackets, with their cozy warmth and contemporary style, have captured our collective interest and are rapidly becoming the go-to winter outerwear choice. The interests have indeed changed, and we're eager to leave behind the conventional and embrace the exciting.
As we embark on this fashion journey into February, it's evident that we're off to a spot-on start. The winds may be chilly, but our style is anything but cold. The winter of vibrant colors, elevated pieces, and puffer jacket celebrations promises a season of sartorial delight.
Deepika Padukone's cozy travel look is perfectly aligned with the need to layer up during the colder months. While many travelers opt for jackets, Deepika stands out by incorporating intriguing patterns into her outfits. Her airport looks have become a source of valuable fashion lessons that are likely to last a lifetime.
In this season alone, the actress has elevated her travel fashion game to new heights, and the number of valuable fashion insights we've gleaned from her journeys is impressive. Each of her travel outfits has been outstanding in its own unique way, serving as a testament to her impeccable sense of style and her ability to effortlessly blend comfort with high fashion. Deepika Padukone has truly set a benchmark for airport fashion, leaving us all inspired and eager to up our own travel style game.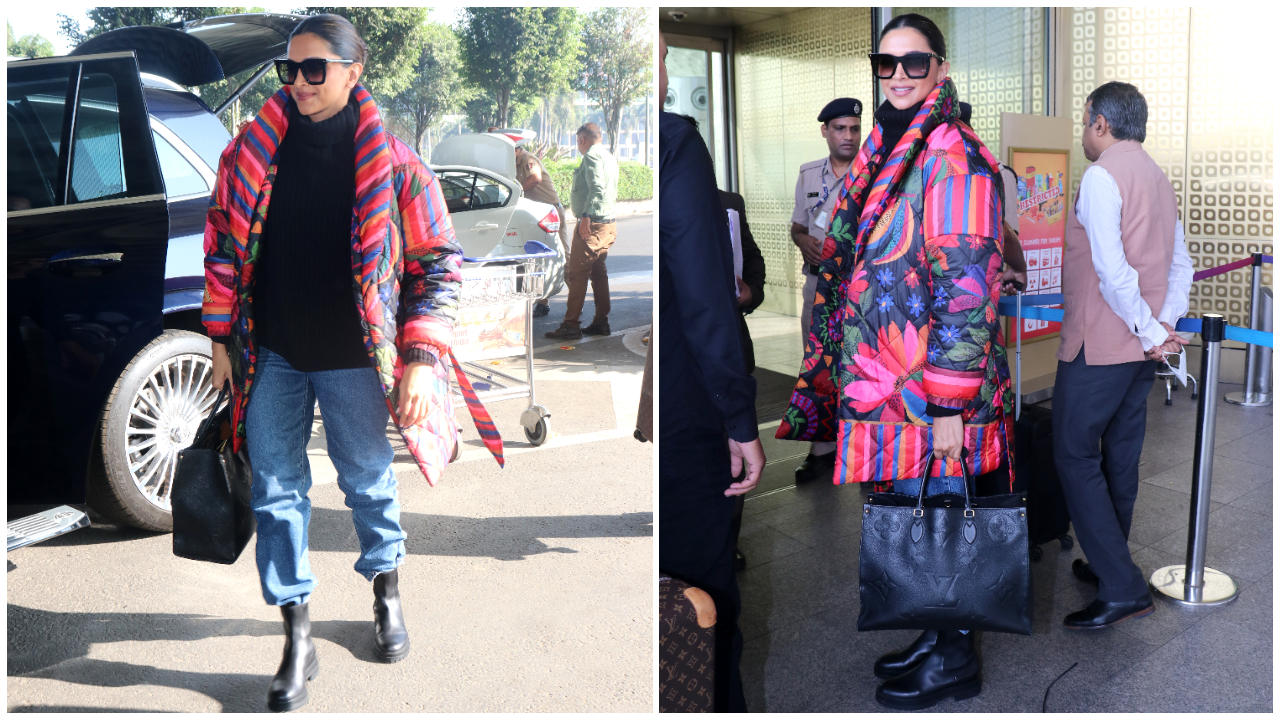 In this era of continually adding wardrobe staples, it's essential to understand how and why a new purchase can truly benefit you. Take, for instance, the case of the 37-year-old fashionista who confidently rocked a Farm Rio puffer jacket. This piece is more than just a fashion item; it's a must-have that's impossible to resist once you experience its charm.
What makes this puffer jacket so pleasing is its undeniable appeal through the incorporation of motifs. It adds a playful and lively touch to your ensemble, making it a standout piece in your collection. One can hardly wear it and then claim not to want it; it's that enticing.
What sets this jacket apart is its versatility as a reversible piece. With an array of tropical motifs on one side and geometric designs on the other, it's like having two jackets in one. On different days, you can effortlessly choose the side that matches your vibe or complements your outfit perfectly.
Curated from a quilted shell, this exquisite padded jacket is available for approximately Rs. 12,947.74 on Net-A-Porter. It offers a delightful blend of style and functionality, making it a worthwhile addition to your winter wardrobe.
One of the standout features of this jacket is its oversized fit, ensuring you stay both comfortable and on-trend. The broad collar adds a touch of sophistication while providing extra warmth and protection against the elements. With long sleeves and elasticated, gathered cuffs, it promises to keep you cozy, even in the chilliest of weather.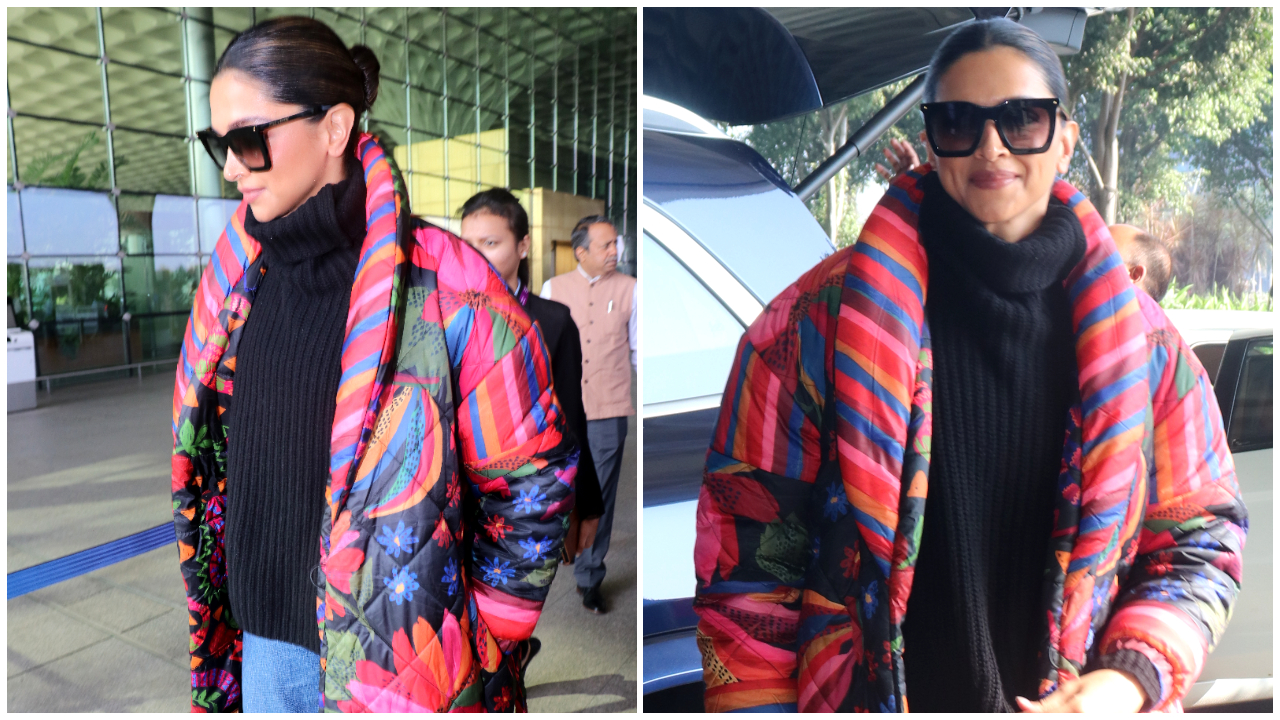 To accentuate your silhouette and add a fashion-forward element, this padded jacket comes with a front tie-up belt. This detail not only adds a stylish touch but also allows you to adjust the fit according to your preference. Overall, this jacket strikes the perfect balance between fashion and practicality, making it a versatile and appealing choice for the season.
Deepika Padukone effortlessly styled the quilted shell jacket for a chic and coordinated look. She layered it over a turtleneck black ribbed jumper, adding an extra layer of warmth and sophistication to her ensemble. Pairing it with classic blue denim pants created a timeless and versatile base for her outfit.
To complete her look and set the tone for a matching aesthetic, Deepika Padukone opted for stylish boots. The choice of footwear can significantly influence an outfit, and in this case, it likely elevated the overall appearance. However, without further context, it's challenging to determine if her choice of boots was the final touch or if there were additional elements that contributed to her overall look.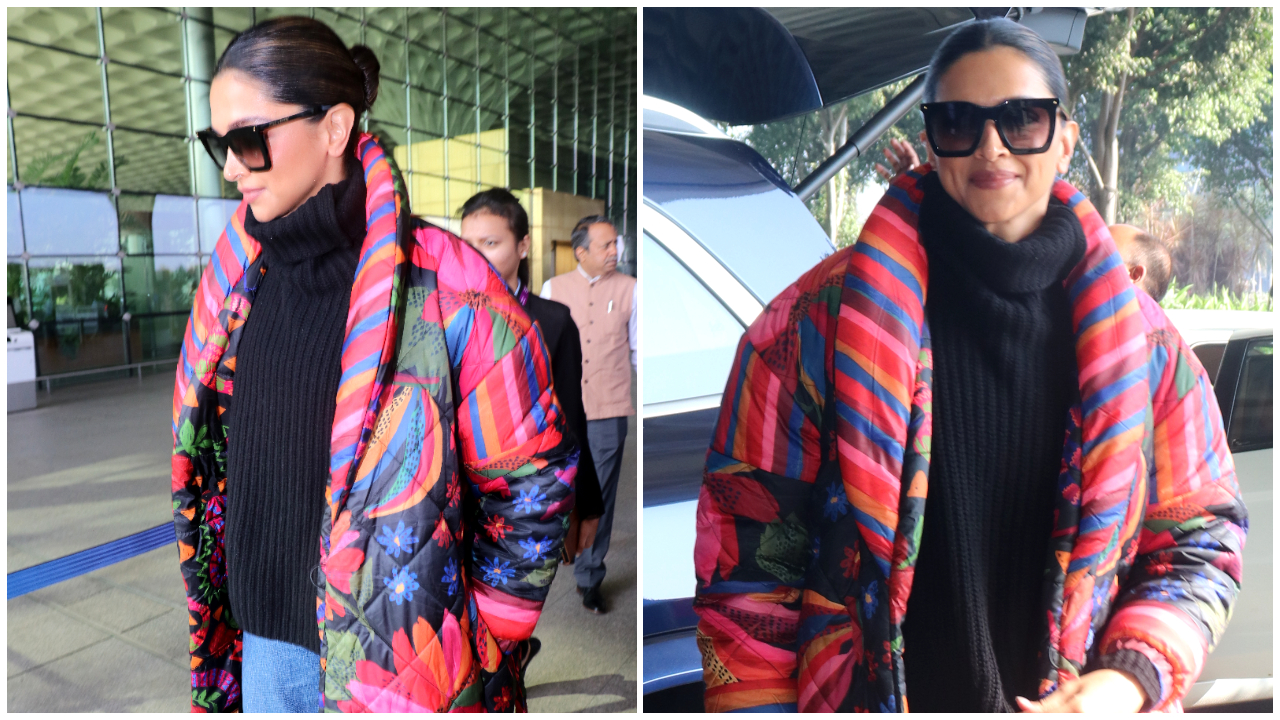 Nevertheless, her combination of the quilted shell jacket, turtleneck jumper, denim pants, and stylish boots is a testament to her fashion prowess, showcasing a well-balanced and fashionable outfit for the dayy.