Kriti Sanon in a Juliet Dunn co-ord set proves green for the win in style
Indeed, the world of coordinated outfits exudes a sense of chic fashion, and Kriti Sanon has consistently proven herself to be a loyal fan, continually making sartorial statements. Whether she's opting for a 'keep it casual' look or going all out for movie promotional events, she has effortlessly embraced the trend of coordinated sets.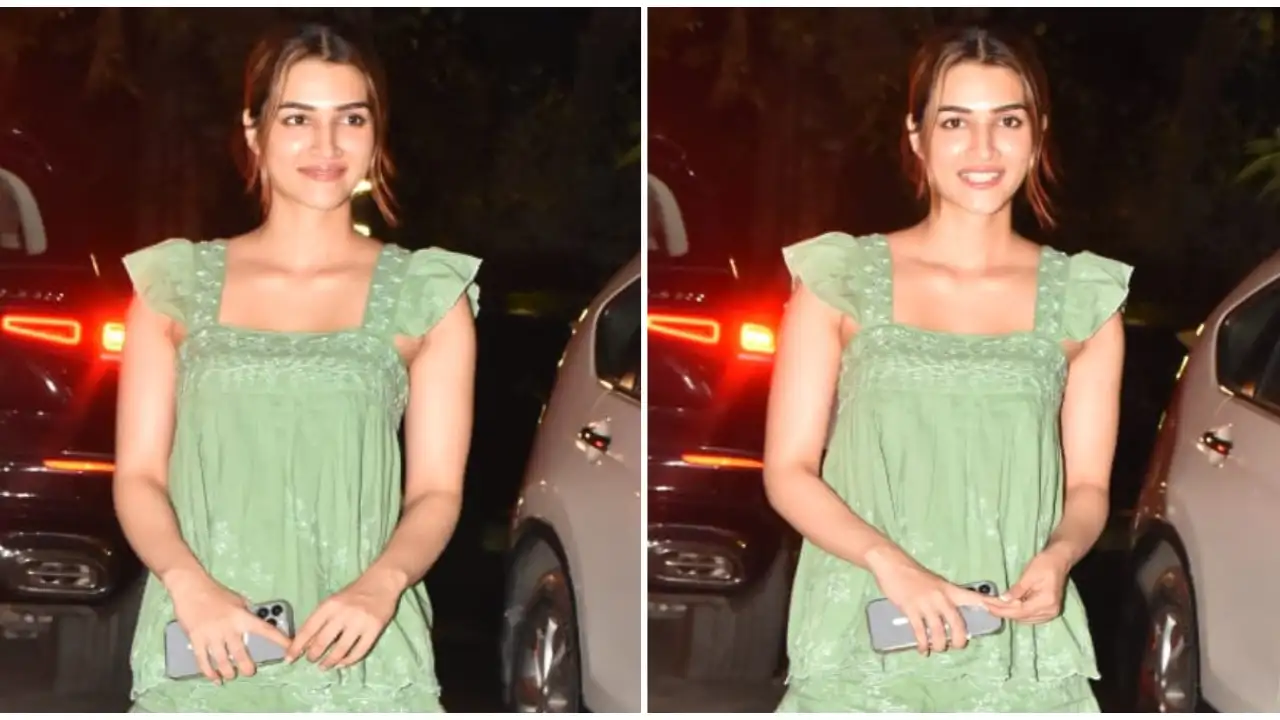 What's fascinating is that year after year, the relevance of coordinated outfits hasn't faded away; instead, it remains a prominent choice in the fashion world. Its appeal and awesomeness are as fresh and vibrant as ever, much like the lush greenery of a picturesque setting.
So, whether you're daydreaming about a relaxing beachside vacation or planning a cozy picnic morning, it's time to acknowledge that you have an inspiring fashion muse in Kriti Sanon. Her ability to rock coordinated sets has left a lasting impression, making it a go-to style for those looking to effortlessly combine comfort and fashion while maintaining a chic and put-together look.
The outfit that the Shehzada actress chose for her evening in Mumbai was undeniably convincing and charming. Her effortless style serves as a reminder of just how powerful and fashionable a coordinated set can be. It's the perfect go-to option when you're in a hurry and need a stylish ensemble. In just two minutes, you can put together a look that includes both shorts and a top, allowing you to pack a stylish punch with a side of cuteness.
Kriti's outfit, a creation of Juliet Dunn, a UK-based resort and beachwear brand, showcases the versatility and appeal of coordinated sets. This brand is known for its stylish and comfortable designs, making it an excellent choice for those who appreciate fashion that's both chic and easy to wear. Kriti's choice once again demonstrates her knack for effortlessly blending comfort and style, leaving a lasting impression as she steps out in Mumbai.
Kriti's outfit takes center stage with its captivating monotone sage green top. This top is a true work of art, featuring enchanting hand embroidery, delicate sequins, a stylish square neckline, and playful ruffled sleeves. Its intricate details add a touch of elegance and charm to the overall look.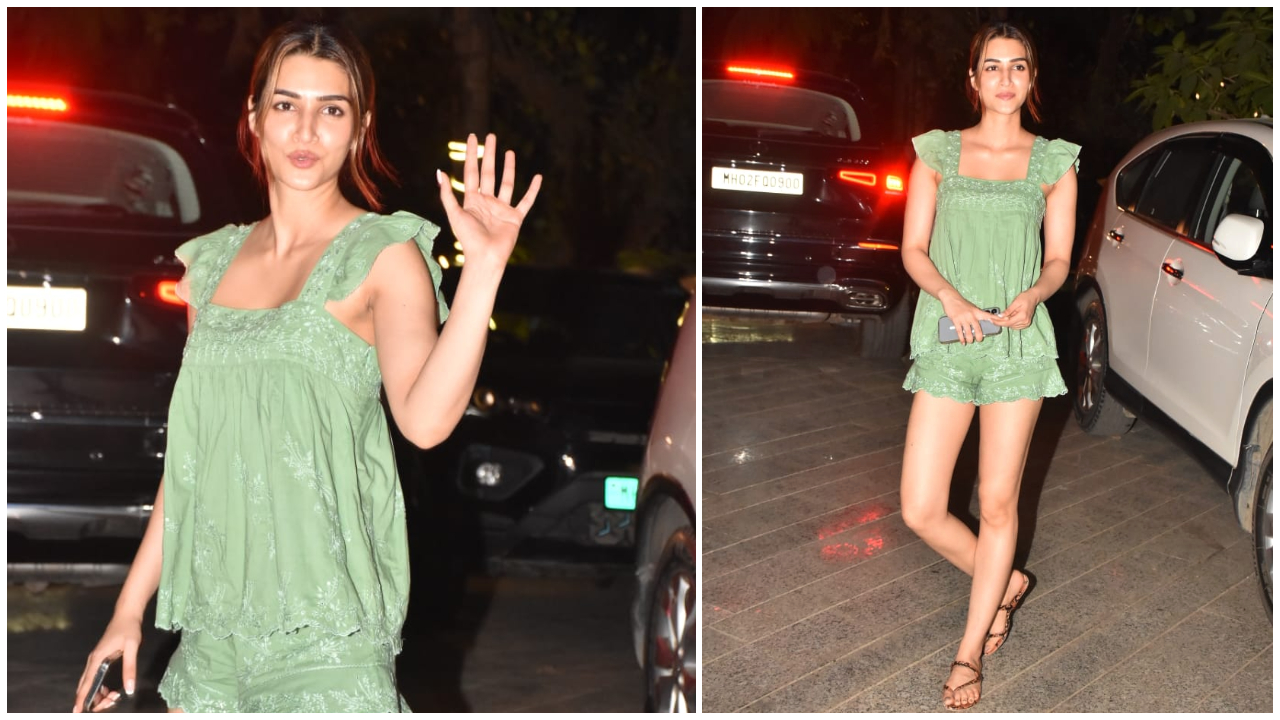 Completing the ensemble are the super mini shorts, also designed in the same sage green cotton fabric and adorned with matching hand embroidery and sequin work. This cohesiveness in design and color creates a harmonious and eye-catching appearance.
What's great about this outfit is its versatility. You can mix and match the top and shorts with other pieces from your wardrobe to create different looks. Pair the top with jeans for a more casual and relaxed vibe, or combine the shorts with skirts for a fun and flirty style. You can even wear the top with crop tops or bikini tops for a beach-ready look. This adaptability allows you to get more mileage out of your fashion choices, making them a valuable addition to your wardrobe.
Kriti's choice of unexpected color for her sandals showcases her unique style and fashion sensibility. Opting for strappy and flat footwear with printed markings was a departure from the norm, and it contributed to keeping her overall look casual and relaxed. This choice encourages you to break out of the routine of wearing boots when they're not necessary, allowing your toes to breathe freely and giving you the opportunity to showcase your freshly painted nails.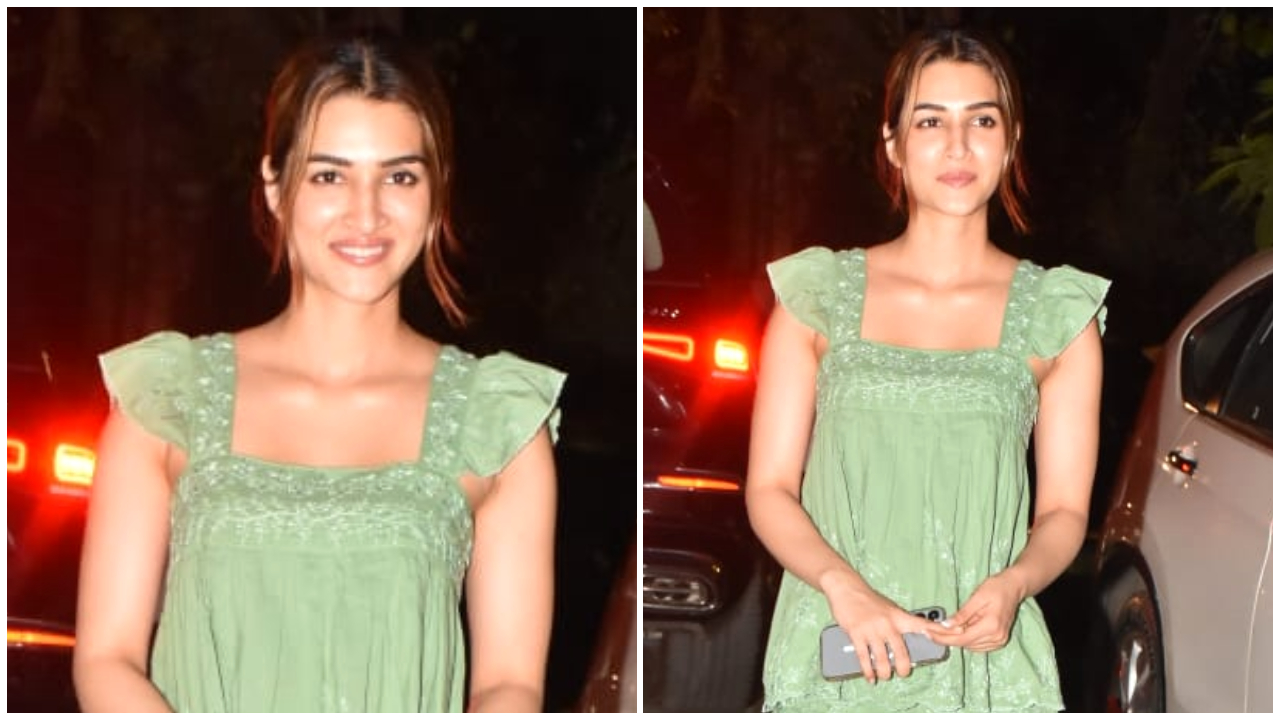 In terms of makeup, Kriti's approach focused on a natural and understated look. She chose a nude-hued brown lipstick, which complements her overall style and the earthy tones of her outfit. The use of kohl and eyebrow pencil adds definition to her eyes and eyebrows, enhancing her facial features without being overly dramatic. This makeup choice aligns perfectly with her casual and chic ensemble, highlighting her effortless beauty and style.
Indeed, sometimes a simple and classic hairstyle like an updo, a ponytail, or a knotted bun can be a saving grace. These hairstyles are not only elegant but also practical, especially when you want to give your hair a break from the heat of hair styling tools.
Styling tools like straighteners, curling irons, and blow dryers can be harsh on your hair, potentially causing damage over time. Opting for simple hairstyles allows your hair to recover and maintain its natural health and texture. It's a great way to give your locks a break from the heat and chemicals.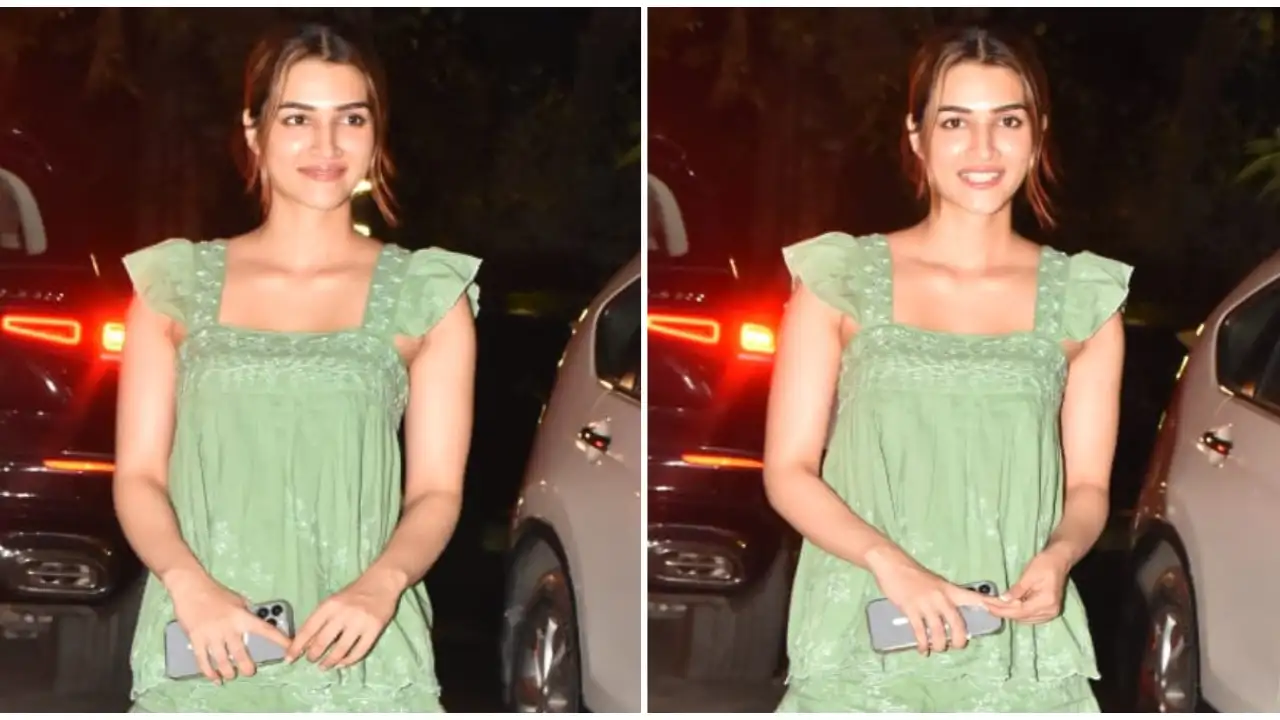 That being said, simplicity doesn't mean sacrificing style. You can still achieve a polished and pretty look with these classic hairstyles. Whether it's an updo for a formal event, a ponytail for a workout, or a knotted bun for a casual day out, these hairstyles can be versatile and chic, and they often require minimal effort to achieve. So, embrace the beauty of simplicity and treat your hair kindly while still looking fabulous.