Shraddha Kapoor's vibrant red saree with halter-neck blouse is a modern marvel merged with ethnic elegance
Shraddha Kapoor, undeniably one of the most stunning actresses in Bollywood, has carved a niche for herself with her exceptional talent for curating simplistic yet incredibly stylish fashion-forward outfits.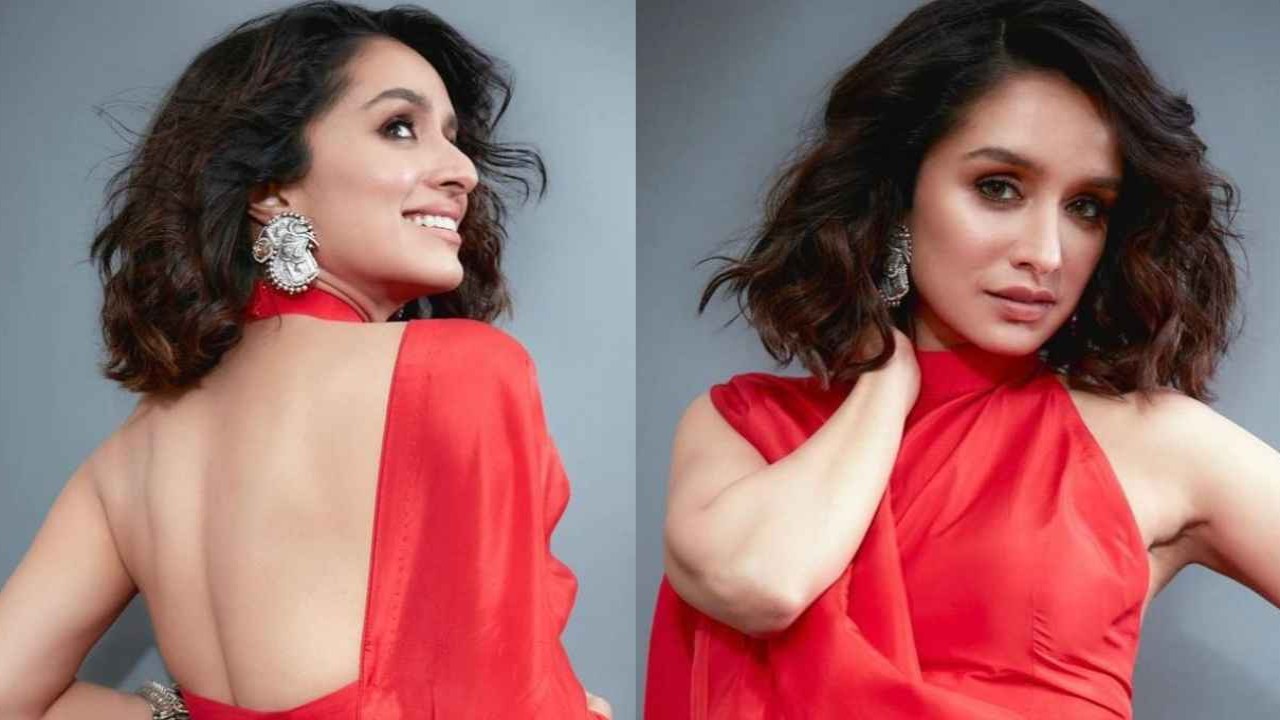 Her unique ability to blend elegance with a contemporary flair sets her apart as a true diva in the industry, and she consistently dazzles with her sartorial choices. Whether on-screen or off, the Tu Jhoothi Main Makkaar actress consistently goes above and beyond to create fashion magic that resonates with fans and fashion enthusiasts alike.
Staying true to her reputation, the talented Stree 2 actress recently graced an event wearing a mesmerizing red saree that left us yearning for more. Shraddha Kapoor effortlessly embodies timeless beauty and style, and her choice of the red saree was a testament to her innate fashion sensibility. With every appearance, she continues to captivate our hearts and minds, reaffirming her status as a style icon who has mastered the art of balancing simplicity and glamour to create unforgettable fashion moments. Shraddha Kapoor's fashion choices consistently leave us gasping for more, eagerly anticipating her next stunning ensemble.
Shraddha Kapoor recently made a fashion statement by choosing to wear a stunning all-red ethnic ensemble crafted by Ekaya Banaras. Her outfit featured a striking ruby red silk saree, a piece of seriously pretty elegance that spanned six yards. This saree not only radiated timeless beauty but also offered the ease of draping, making it suitable for a wide range of occasions, from everyday wear to celebratory evenings.
What added to the allure of the ensemble was the modernized sleeveless, halter-neck blouse that Shraddha Kapoor paired with the saree. This contemporary blouse design featured an appealing backless style, contributing to the outfit's overall charm and sophistication. Shraddha Kapoor's choice of this exquisite Ekaya Banaras ensemble exemplified her ability to seamlessly blend tradition with modernity, creating a look that was both classic and contemporary, and highlighting her status as a true fashion icon in the Bollywood industry.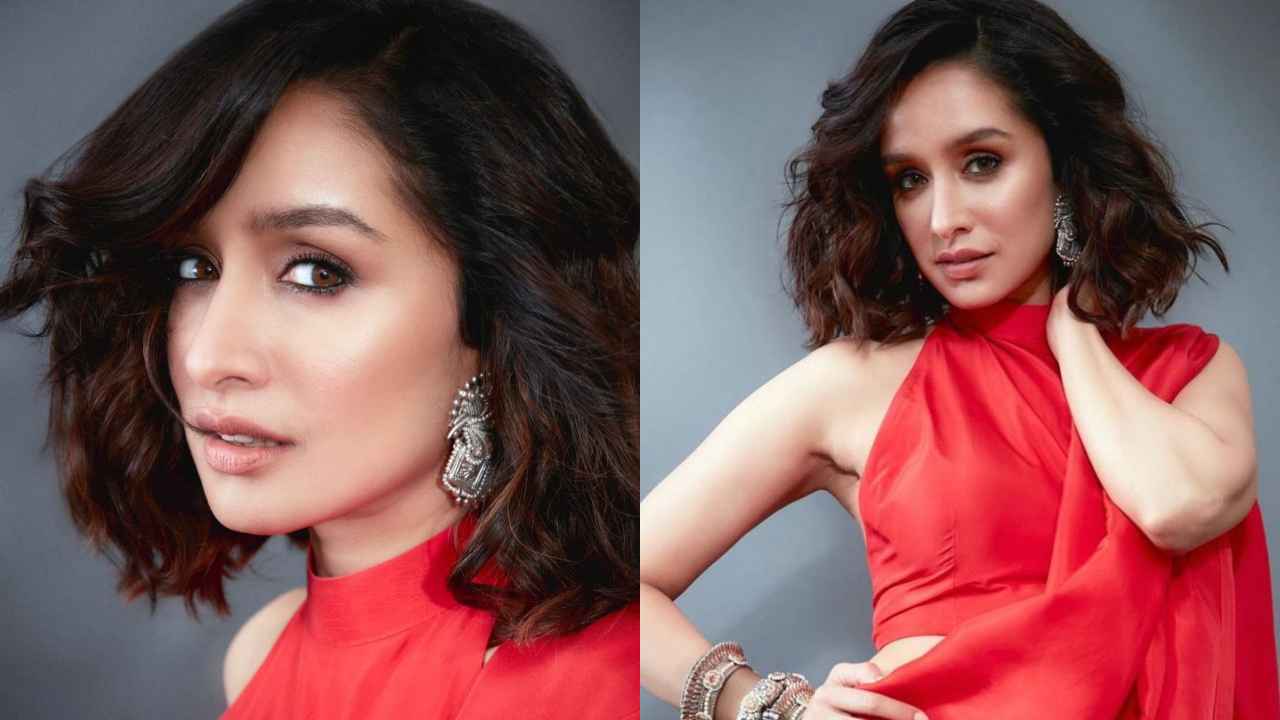 Indeed, the handwoven masterpiece from Banaras worn by Shraddha Kapoor exudes pure perfection. With its intricate craftsmanship and timeless beauty, this Ekaya Banaras saree is a testament to the rich heritage of Indian textiles and craftsmanship. Priced at Rs. 14,975, it reflects both the artistry and affordability that can be found in traditional Indian attire.
Shraddha Kapoor's choice of this exquisite saree suits her like an absolute charm. The rich red color, the elegant drape, and the modern blouse design harmonize seamlessly with her personal style, making her radiate grace and beauty. Her fashion choices consistently resonate with fans and fashion enthusiasts, and this ensemble is no exception. Shraddha Kapoor's ability to carry off such a classic yet contemporary look further cements her status as a talented actress with impeccable fashion sense.
Shraddha Kapoor's attention to detail and commitment to her impeccable style extended to her choice of accessories for her stunning red outfit. She opted for exceptional silver statement earrings and matching silver and red kadhas, which were crafted by Lara Morakhia, a label known for its handcrafted silver and real gold jewelry. These exquisite pieces undoubtedly elevated the entire look of the talented Luv Ka The End actress.
The silver statement earrings and matching kadhas not only added an extra layer of charm but also perfectly complemented the vibrant red saree, creating a harmonious and eye-catching ensemble. Shraddha Kapoor's fashion choices consistently showcase her understanding of how the right accessories can enhance and complete a look, making her an inspiration to those who appreciate the art of accessorizing.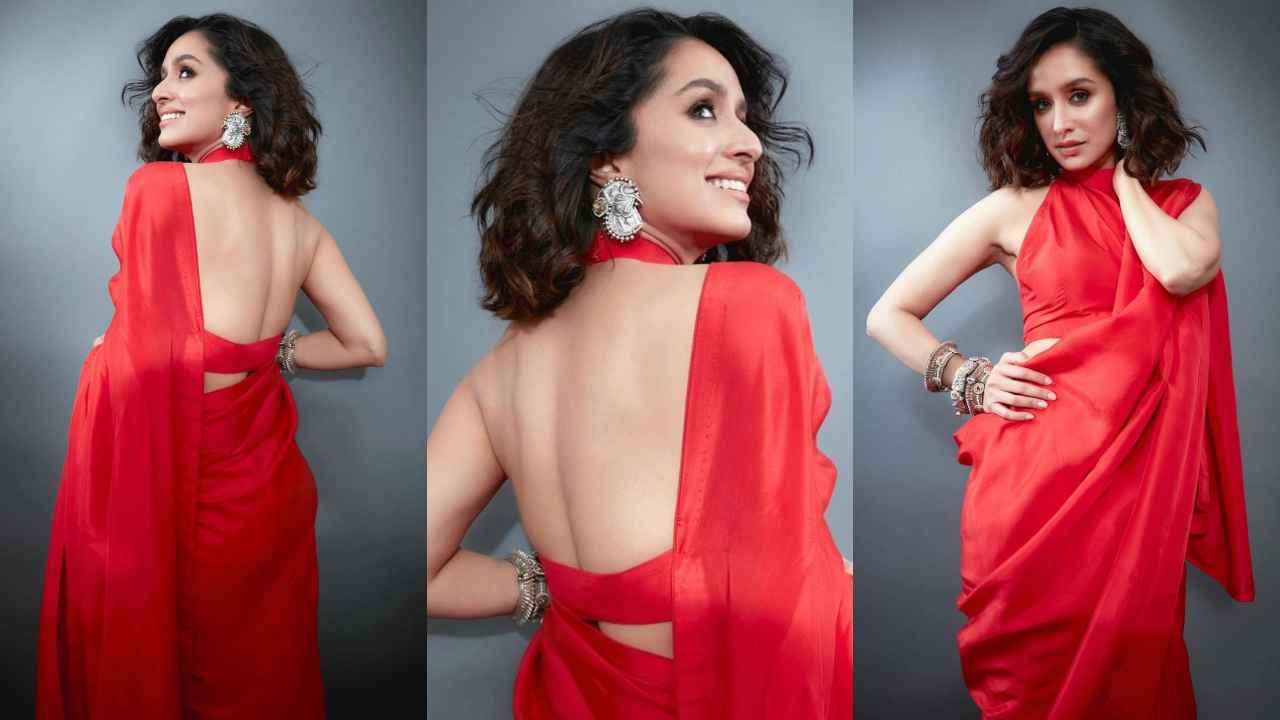 Her beautiful tresses, styled into a blown-out and wavy look, beautifully framed her face and added a touch of glamour to her overall appearance. This hairstyle choice added an extra layer of elegance to her ensemble, showcasing her commitment to presenting a polished and cohesive appearance on the red carpet. Shraddha Kapoor's meticulous attention to both her outfit and her styling is a testament to her status as a true fashion icon in the Bollywood industry.
Shraddha Kapoor's makeup look was a work of art that undoubtedly elevated and complemented her entire ensemble. Her choice of brown eyeshadow, mascara-laden eyelashes, perfectly applied blush and highlighter, and a gorgeous skin-colored lipstick all came together harmoniously to enhance her natural beauty. This makeup look not only showcased her features but also added an extra layer of glamour to her overall appearance.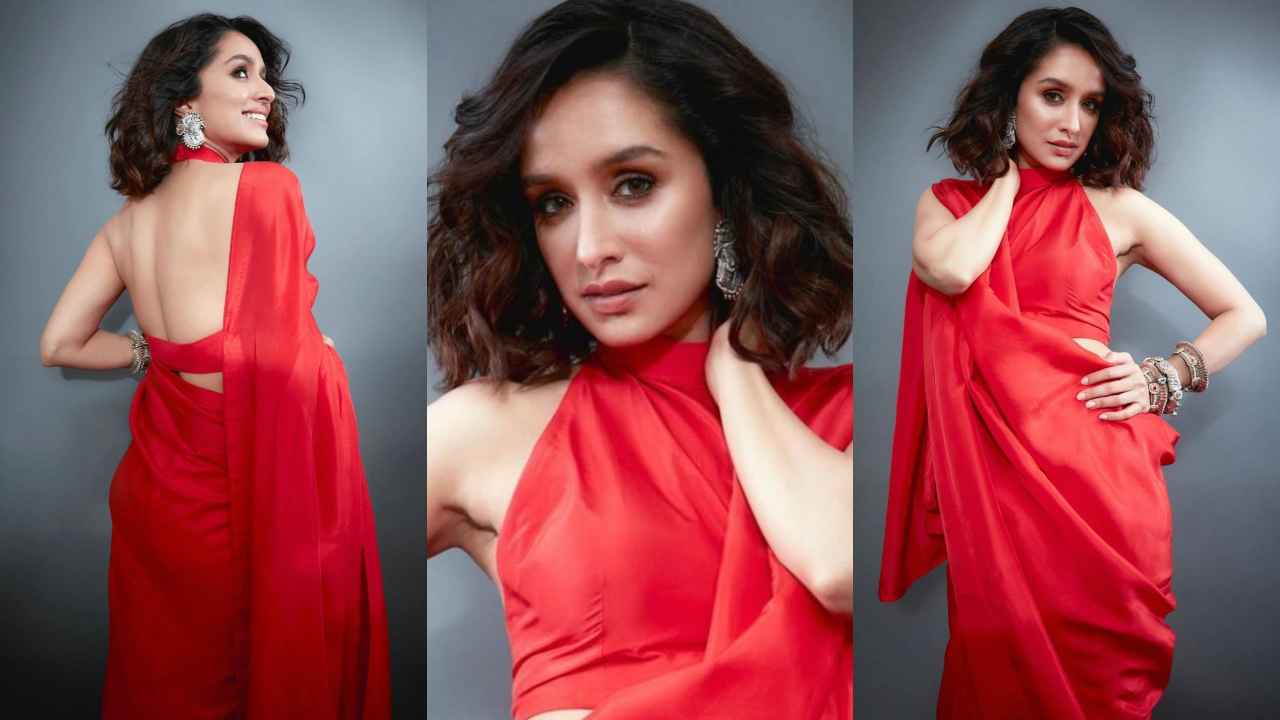 The combination of her flawless makeup and the stunning red saree created a look that masterfully blended tradition with modernity. It's a perfect fit for contemporary women who aim to make a fashion statement while staying true to their cultural roots. Shraddha Kapoor, once again, proved why she is a true fashion icon in Bollywood, with her ability to strike the perfect balance between classic elegance and contemporary style. Her meticulous attention to every detail of her look reaffirms her status as a trendsetter in the industry, admired by many for her impeccable fashion sense.