Tamannaah Bhatia slays in head-to-toe denim corset dress and stilettos
The much-anticipated OTT movie "Jaane Jaan" recently had its star-studded screening, igniting an electric atmosphere filled with anticipation and excitement. The presence of some of Bollywood's most prominent figures on the red carpet added an extra layer of glitz and glamour to this highly awaited event.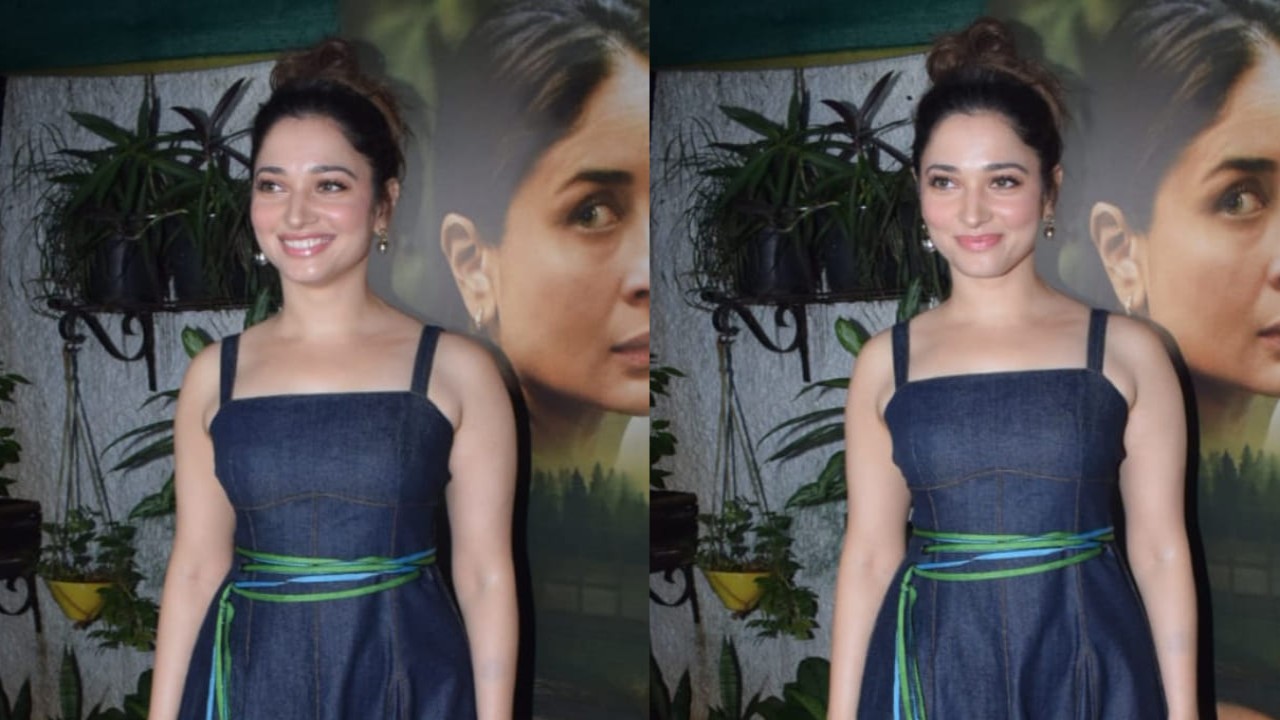 Leading the pack was the enigmatic star cast, featuring the ever-graceful Kareena Kapoor Khan, the versatile Vijay Verma, and the immensely talented Jaydeep Ahlawat. While the spotlight was certainly on these luminaries, it was Vijay Verma's partner, the stunning Tamannaah Bhatia, who truly captivated our attention with her impeccable sense of style.
Tamannaah Bhatia's stylish presence on the red carpet was a sight to behold. Her choice of attire for this high-profile occasion was nothing short of captivating, leaving an indelible mark on the event. As we turn our gaze towards her outfit, we can't help but admire the elegance and sophistication she exuded throughout the evening. Let's delve into the details of what Tamannaah Bhatia wore, for her fashion choices are always worth celebrating and emulating.
Tamannaah Bhatia truly dazzled on the red carpet, donning a stunning deep indigo ensemble that masterfully merged comfort with flair. This outfit effortlessly exuded a casual yet sophisticated attitude, making a bold fashion statement. The choice of 100% cotton denim fabric not only added to the ensemble's comfort but also gave it a contemporary edge that was perfect for the occasion.
One of the standout features of Tamannaah's ensemble was the handmade crossover belt, which served to accentuate the waist and added a touch of refinement to the overall look. This eye-catching belt not only showcased her attention to detail but also elevated the entire outfit, demonstrating her impeccable sense of style. The combination of comfort, sophistication, and a well-crafted belt made Tamannaah Bhatia's appearance on the red carpet truly remarkable and unforgettable.
The fit-and-flare corset dress that Tamannaah Bhatia chose for the occasion featured an elaborate contrast thread design on the panels, adding an element of visual fascination to her look. This intricate design not only showcased her fashion-forward choice but also contributed to the overall appeal of the outfit. It was a testament to her willingness to experiment with unique and eye-catching styles.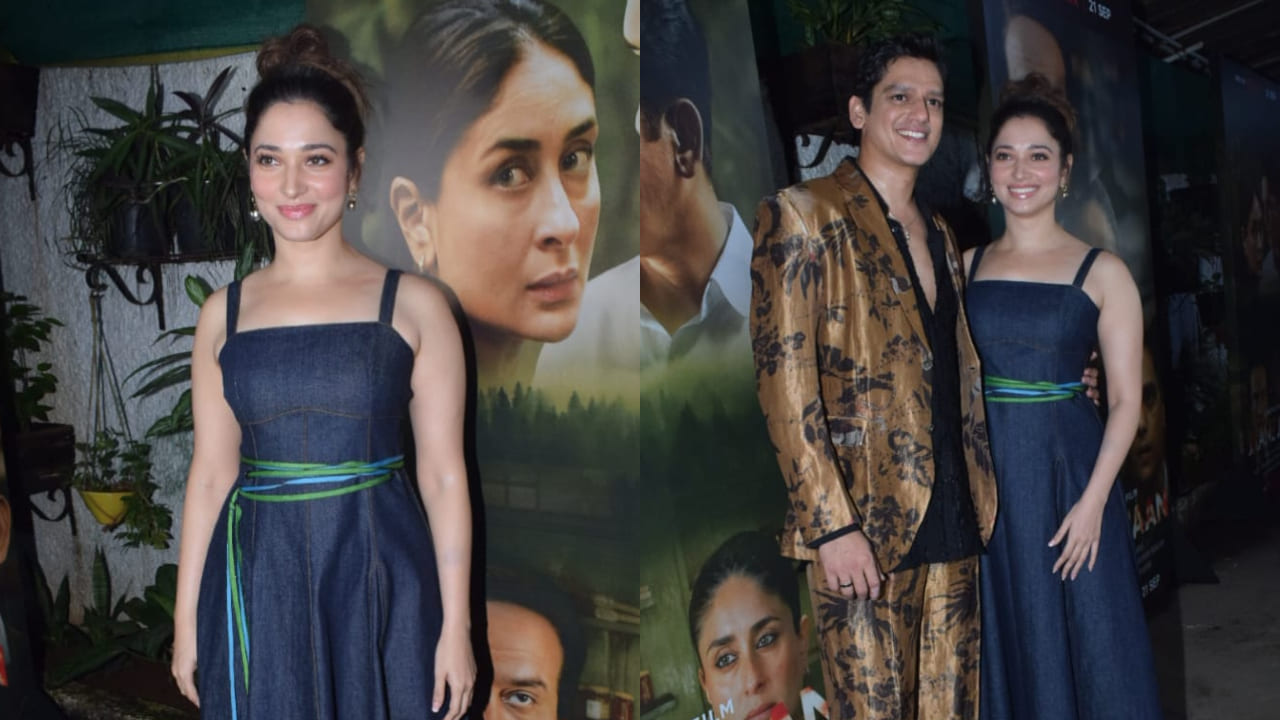 The midi length of the dress struck the perfect balance between elegance and fun, making it a versatile and stylish choice for the red carpet event. This length allowed her to exude a sense of sophistication while also infusing a playful element into her overall appearance. Tamannaah Bhatia's fashion choices always highlight her ability to blend different elements seamlessly, creating looks that are both visually captivating and comfortable.
Tamannaah Bhatia undoubtedly shone like a runway star in Moonray's stunning Arcadia Denim Midi Dress, which is priced at Rs 21,300. Her choice of this dress not only showcased her impeccable taste but also highlighted her ability to make a fashion statement that resonates with elegance and contemporary style. The dress's design and affordability make it an excellent choice for fashion enthusiasts who seek both quality and affordability in their clothing.
Tamannaah's makeup artfully complemented her outfit, with a dewy complexion that beautifully accentuated her natural glow. Her mesmerizing eyes were highlighted with thin-lined eyeliner, adding a touch of definition and allure. The choice of a glossy pink lipstick added softness to her overall look, creating a harmonious balance between sophistication and charm.
Dangle earrings adorned her ears, elevating her appearance with a touch of refinement and glamour. These accessories were the perfect finishing touch, accentuating her elegant ensemble and adding a hint of sparkle. Tamannaah Bhatia's ability to curate an outfit and makeup that effortlessly blend style and grace is a testament to her status as a true fashion icon. Her choices continue to inspire and set the standard for red carpet fashion.
Tamannaah Bhatia completed her immaculate look with the graceful choice of tying her hair up in a high bun. This hairstyle not only showcased her facial features but also added a touch of sophistication and polish to her overall appearance. It was a choice perfectly suited for a sundowner party, enhancing the elegance of her outfit and makeup.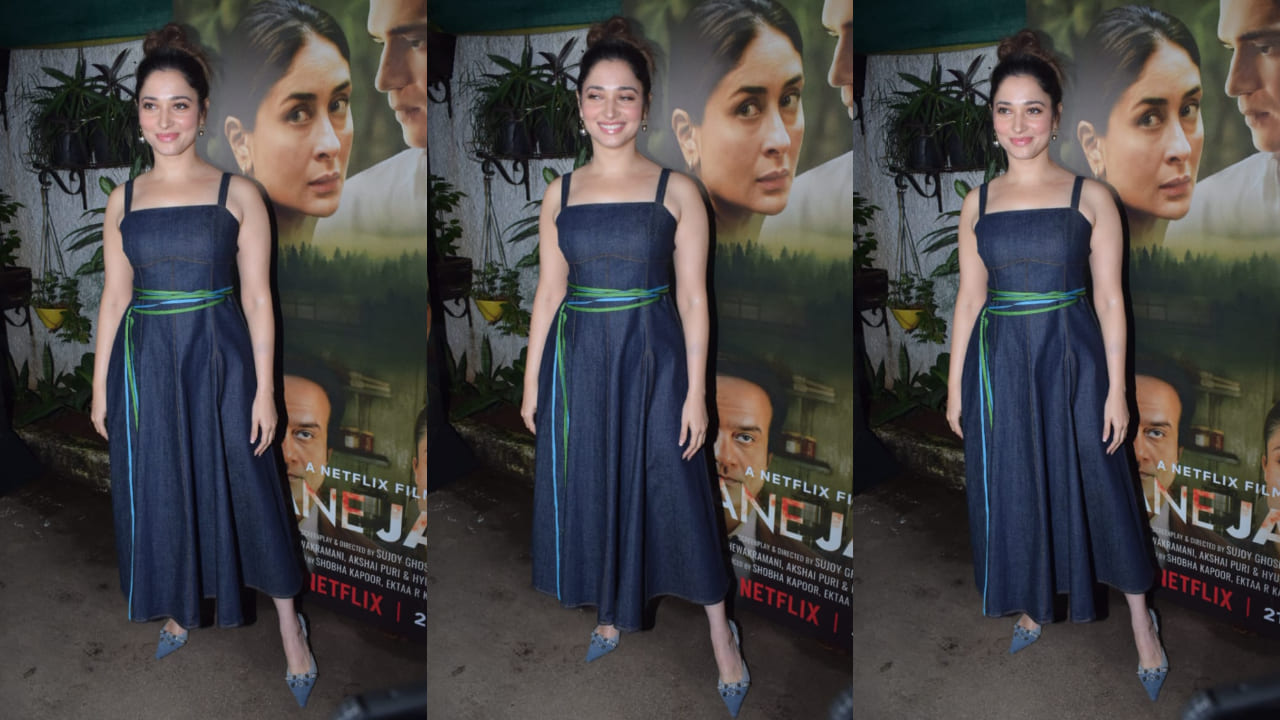 With each appearance, Tamannaah continues to enchant fashion aficionados with her exquisite personal style. Her ability to curate a look that seamlessly blends contemporary trends with timeless elegance is truly admirable. Her attention to detail, from her outfit to her makeup and hairstyle, consistently sets the bar high in the world of fashion and leaves a lasting impression on anyone who admires her fashion choices. Tamannaah Bhatia's immaculate style is a true source of inspiration for fashion enthusiasts around the world.
Tamannaah Bhatia's commitment to her impeccable style extended to her choice of footwear, and she certainly upped her style profile with the excellent selection of Steve Madden Dali Denim Multi studded point-toe stiletto heels. These slip-on heels, boasting a stiletto heel, come with a price tag of Rs 9,158 and radiate confidence and refinement. The point-toe design exudes elegance, while the striking stud and buckle metal accents add a touch of edginess and flair.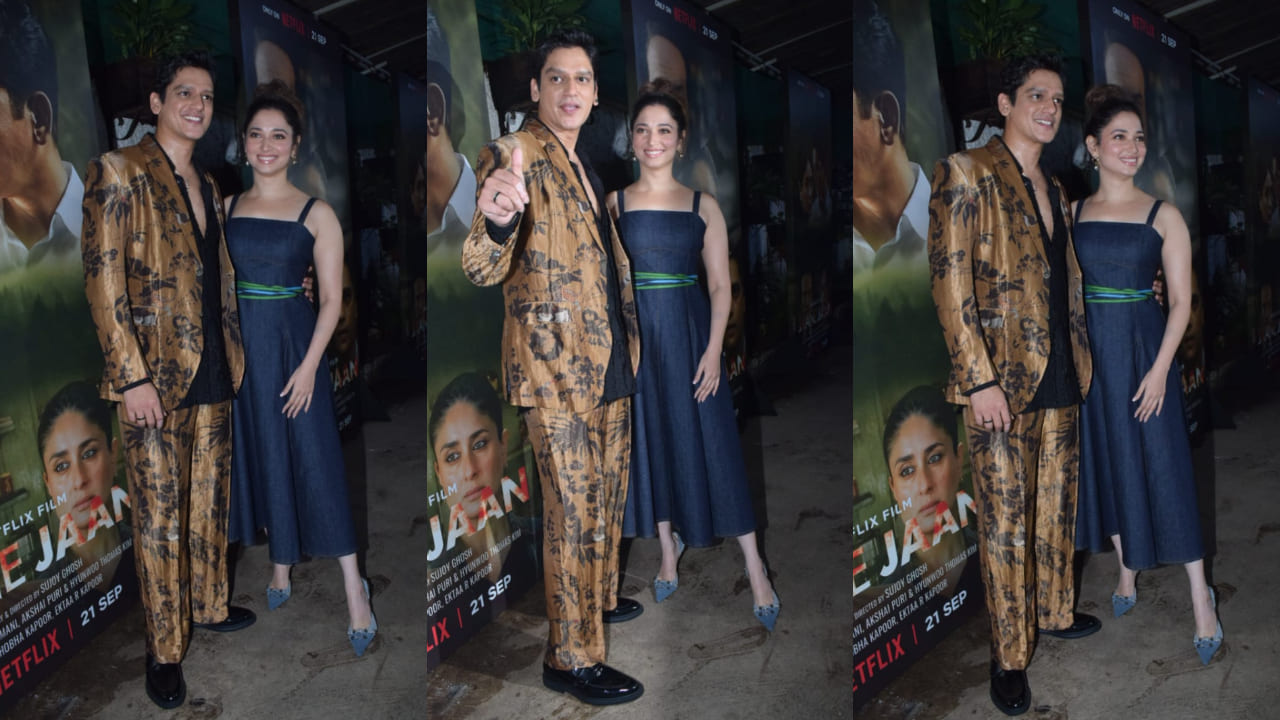 Tamannaah's fashion-forward choice of footwear beautifully complemented her attire, adding a hint of sophistication and edginess to her overall style. The Steve Madden shoes seamlessly blended elegance and comfort, showcasing her ability to curate a look that is not only visually appealing but also practical for red carpet events. Tamannaah Bhatia continues to be a trailblazer in the world of fashion, setting high standards and inspiring fashion enthusiasts with her impeccable sense of style.