Bride-to-be Parineeti Chopra slays airport look in oversized blue shirt, denim jeans, and Gucci glam
Deepika Padukone undoubtedly set a trend with her signature airport looks characterized by her unique hairstyle and relaxed, loose-fitting clothing. Her ability to turn the airport into a fashion runway inspired numerous other celebrities to showcase their exquisite style while traveling. Today, the spotlight shifts to the soon-to-be bride, Parineeti Chopra, who is making her own stunning airport statement.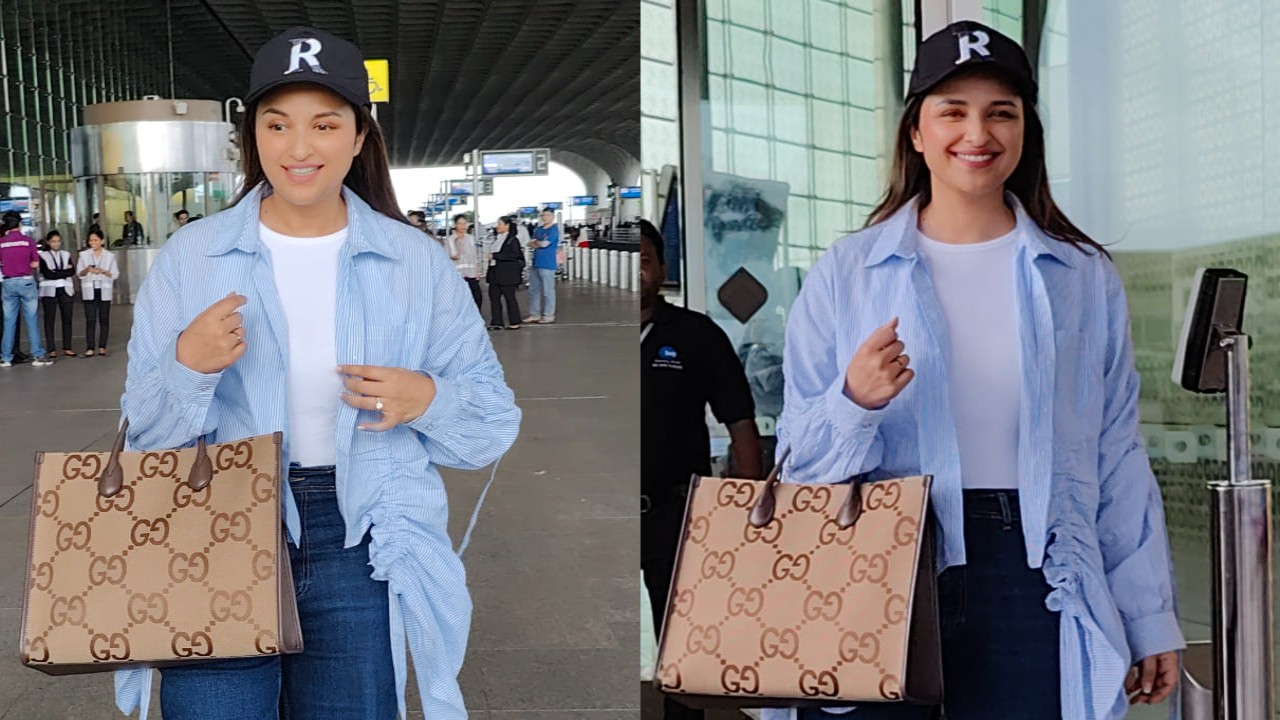 Parineeti Chopra, known for her chic and versatile style, has become a fashion icon in her own right. Her airport appearances are eagerly anticipated, as she effortlessly combines comfort with style, redefining travel fashion. As she steps onto the tarmac, all eyes are on her, showcasing her ability to curate impeccable outfits that make a statement even at the airport.
The airport has indeed transformed into a platform for celebrities to display their fashion prowess, and Parineeti Chopra is taking this opportunity to shine with her unique and fabulous style choices. As a soon-to-be bride, her airport statements are not just fashion moments but also a preview of her bridal elegance and panache.
Parineeti Chopra truly exudes confidence and grace with her effortlessly beautiful airport attire. Her fashion choices not only reflect her unique design sense but also raise the bar for airport fashion. Each time she steps onto the runway of the airport, she showcases her ability to seamlessly blend comfort and style, setting new standards for travel fashion.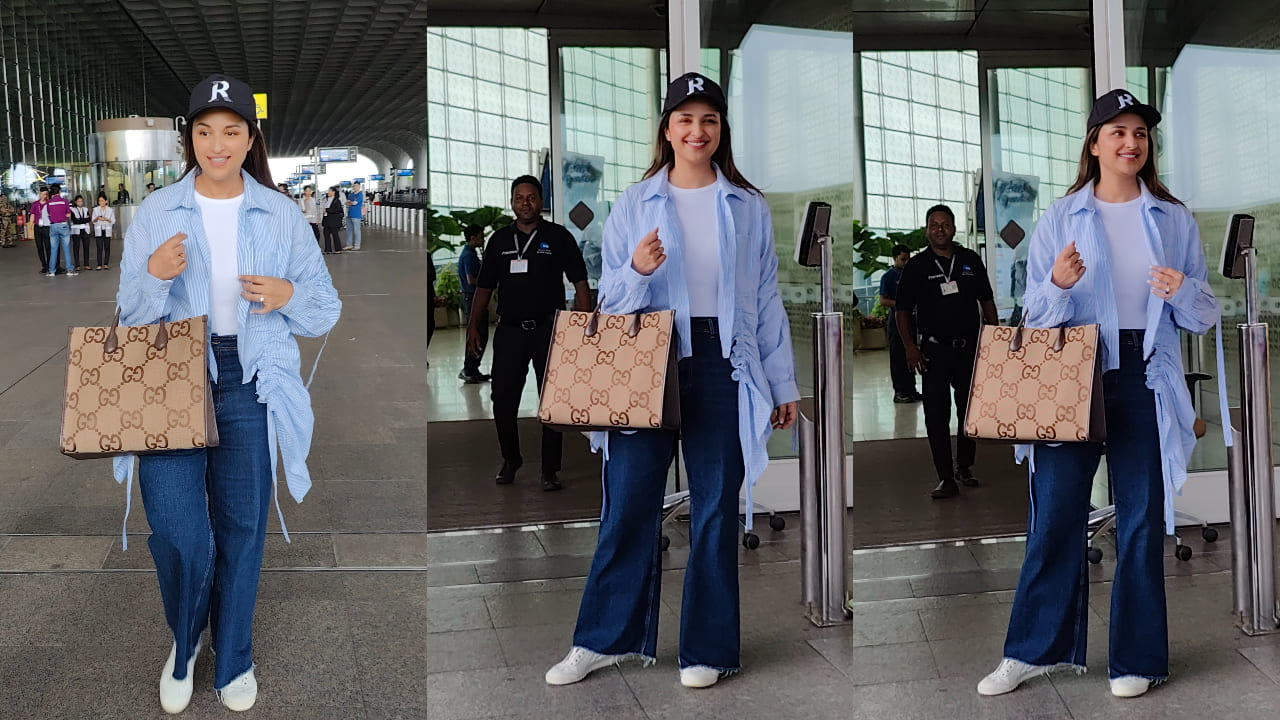 As we eagerly await her upcoming wedding, Parineeti Chopra continues to inspire us with her flawless style. Her airport statements serve as a delightful reminder that elegance and trendiness need not be compromised while on the move. With each appearance, she reaffirms that looking chic and stylish is not confined to red carpets or special occasions but can be embraced in everyday life, even at the airport. Parineeti's fashion journey is a testament to her innate sense of style and her commitment to setting new fashion trends, leaving us all eagerly anticipating her next sartorial masterpiece.
Parineeti Chopra's latest airport appearance unquestionably solidified her status as a style star. With effortless ease, she showcased her impeccable fashion sense by layering a round-neck white tee with a blue vertical striped shirt. The standout feature of the ensemble was undoubtedly the bishop sleeves on the blue shirt, which added a touch of drama and class to her look. These voluminous sleeves not only made a fashion statement but also provided a sense of sophistication and uniqueness to the outfit.
The choice of a white tee as the base layer and the oversized striped shirt demonstrated her ability to balance comfort and style effortlessly. This ensemble not only looked chic but also felt exceptionally comfortable, making it the ideal choice for a travel outfit. Parineeti Chopra's fashion choices consistently showcase her ability to curate outfits that are both visually appealing and practical, solidifying her reputation as a true style icon.
Parineeti Chopra's fashion-forward ensemble at the airport flawlessly combined elegance and comfort, showcasing the idea that it's entirely possible to make a style statement while maintaining a relaxed and chic look. Her airport fashion serves as a powerful reminder that the realm of fashion has no boundaries, and with the right styling and confidence, even the most casual clothing can be elevated to new heights of sophistication.
This particular airport look from Parineeti highlights her versatility as a fashion icon. It underscores the fact that fashion is not limited to formal events or red carpet appearances; it can be an integral part of our everyday lives. Her ability to effortlessly merge comfort with style is a valuable lesson for fashion enthusiasts, encouraging them to experiment with their wardrobes and explore new ways to express themselves through clothing.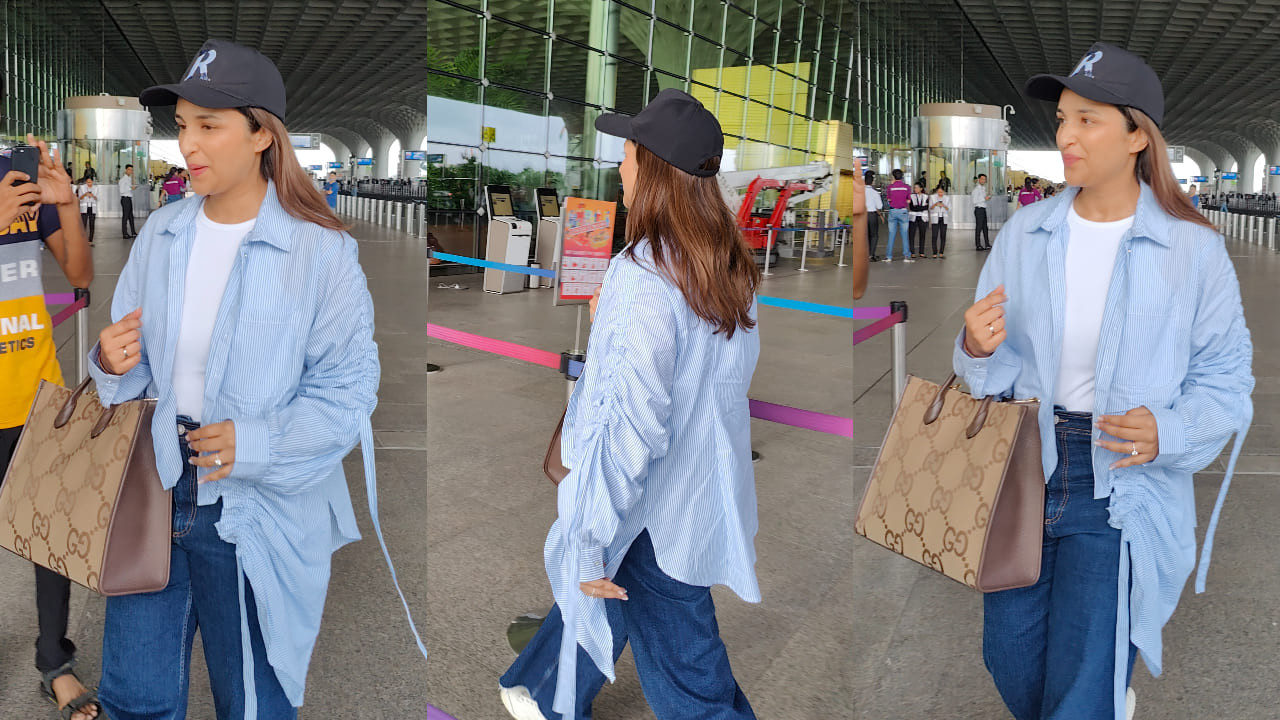 Parineeti Chopra's airport style is a reflection of her individuality and the belief that fashion is a personal expression that should make you feel confident and fabulous, whether you're on the runway or at the airport terminal. Her approach to fashion inspires us all to embrace our unique style and elevate our everyday looks, reminding us that fashion truly knows no bounds.
Parineeti Chopra's airport look was elevated even further by her choice of accessories, particularly the chic Gucci Jumbo GG Tote Bag Man that she carried with effortless style. This opulent accessory showcases the iconic GG emblem in a bold and maximalist manner, making a powerful fashion statement. The bag's oversized dimensions not only add a touch of opulence to her ensemble but also ensure that Parineeti has ample space for all her travel essentials.
The Gucci Jumbo GG Tote Bag Man perfectly complements Parineeti's stylish and refined fashion sense, thanks to its exceptional craftsmanship and meticulous attention to detail. Priced at Rs 1,45,905, this handbag is a true testament to elegance and sophistication, reflecting Parineeti's impeccable taste in fashion.
By choosing this luxury accessory, Parineeti Chopra not only added a touch of glamour to her airport look but also demonstrated her ability to seamlessly integrate high-end designer pieces into her everyday style. Her fashion choices consistently reflect her status as a style icon and her unwavering commitment to making a statement with her fashion choices, even while on the move.
Parineeti Chopra's attention to detail and ability to infuse her personal style into her airport look were further exemplified by her choice of accessories. She completed her stunning ensemble with a black cap adorned with a large "R" embroidered on it. This subtle addition not only added a personal touch but also showcased Parineeti's commitment to the finer points of fashion.
The black cap, when paired with her elegant outfit, introduced a sense of calm and laid-back sophistication to her entire look. It demonstrated her versatility in balancing high fashion with a touch of casual flair, allowing her to make a style statement while maintaining a sense of comfort during her travels. This small yet significant addition further solidified Parineeti Chopra's reputation as a fashion icon who pays meticulous attention to every aspect of her ensemble, from head to toe.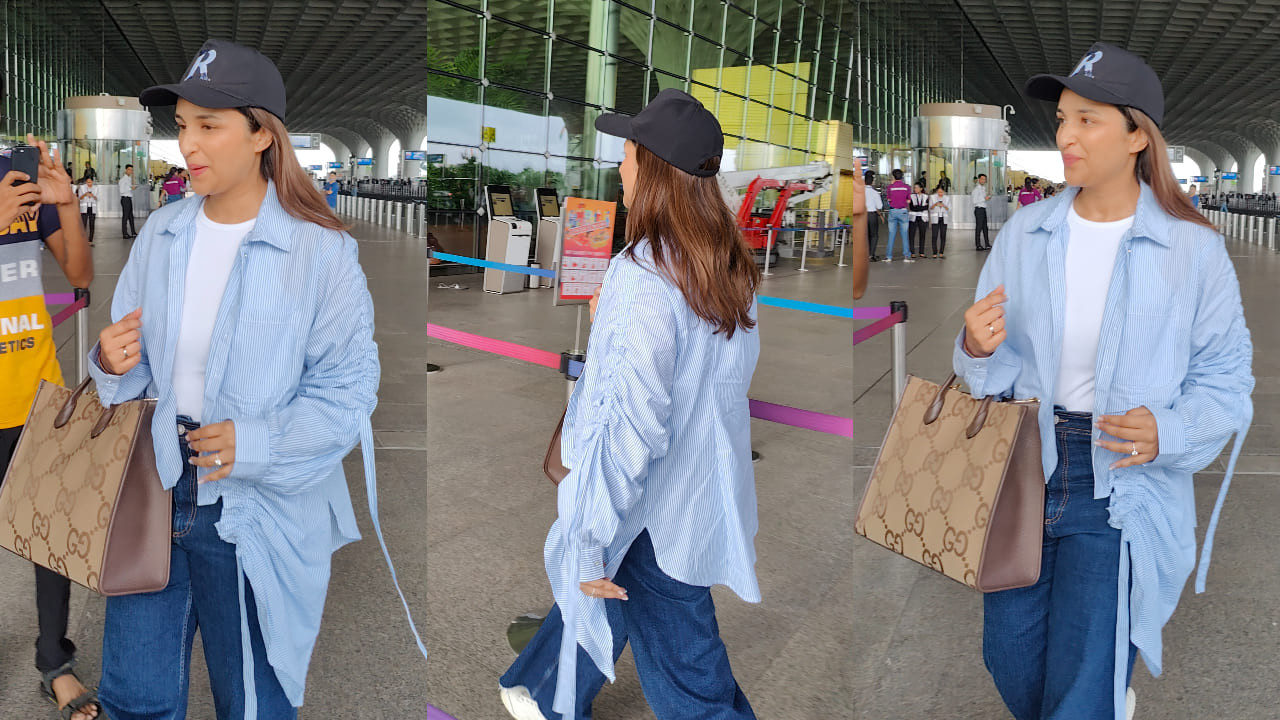 Parineeti Chopra's choice of pairing her black cap with a pair of white trainers exemplifies her ability to effortlessly blend casual elegance into her airport look. These white trainers not only added to the overall comfort of her ensemble but also contributed to the sense of laid-back sophistication that she was aiming for. It's a testament to her fashion acumen, highlighting how even the smallest touches can have a significant impact on curating a well-balanced and beautiful outfit.
The combination of the cap and the white trainers added a youthful and contemporary dimension to her overall appearance, making her airport style both fashionable and practical. It's a reminder that fashion is not just about clothing and accessories but also about the synergy between all the elements that compose an outfit. Parineeti Chopra's attention to detail and her ability to make informed choices, even in seemingly minor aspects of her ensemble, reaffirm her status as a fashion icon whose style is admired and emulated by many.