Khushi Kapoor's Manish Malhotra mijwan lehenga with off-shoulder cut-out blouse is made for modern brides
In the glittering world of Bollywood, where fashion is constantly evolving, making and reimagining style statements is a common occurrence. One of the rising stars in the industry, Khushi Kapoor, a young and vibrant Gen-Z actress, is certainly no stranger to this trend. She has been making waves with her impeccable sense of style and presence on the red carpet.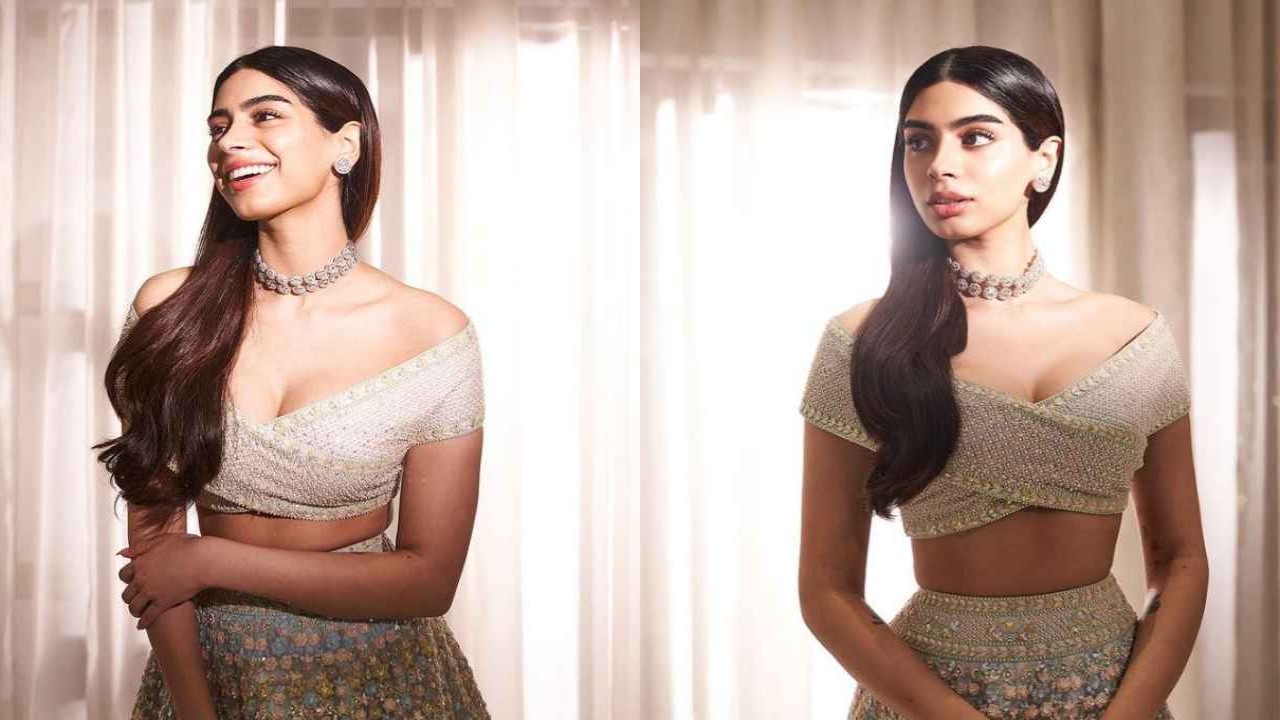 Khushi Kapoor has quickly become a fashion icon, setting new trends and inspiring her generation with her bold and innovative choices. Her red-carpet appearances are eagerly anticipated, as she consistently delivers unforgettable fashion moments that capture the essence of contemporary Bollywood glamour.
Whether it's her choice of designer outfits, her unique accessories, or her makeup and hairstyle, Khushi Kapoor knows how to make a statement that resonates with the ever-evolving fashion sensibilities of the industry. Her ability to effortlessly blend tradition with modernity, while adding her own personal flair, has made her a trailblazer in the world of fashion.
With each red-carpet appearance, Khushi Kapoor continues to solidify her position as a style icon and trendsetter. Her fashion choices not only reflect her individuality but also contribute to the dynamic and ever-changing landscape of Bollywood fashion. It's safe to say that she is a force to be reckoned with in the world of glitz, glamour, and impeccable style.
The young actress, who is widely recognized for her grace and impeccable style, recently made a dazzling appearance at the Ambani family's Ganesh Chaturthi celebration. She effortlessly stole the spotlight in a resplendent ivory lehenga, and it was none other than the renowned fashion maestro, Manish Malhotra, who crafted this masterpiece.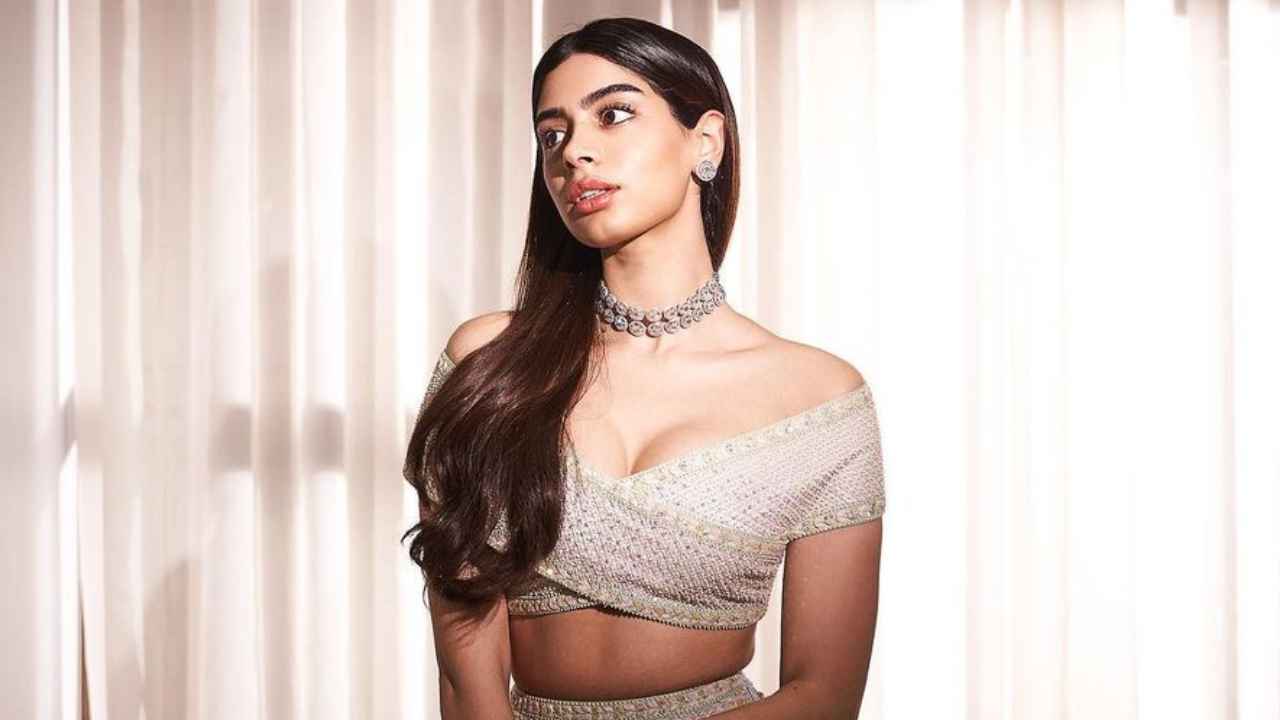 The ensemble donned by The Archies actress not only accentuated her innate beauty but also served as a tribute to the opulent tradition of Indian craftsmanship. Manish Malhotra, known for his ability to blend contemporary design with traditional aesthetics, delivered an outfit that was nothing short of a work of art.
The ivory lehenga, with its intricate embroidery, delicate detailing, and flawless draping, epitomized the essence of Indian couture. It paid homage to the rich heritage of craftsmanship that has been a cornerstone of Indian fashion for centuries. The choice of ivory as the primary color added a touch of elegance and timelessness to the ensemble.
As always, this young actress exemplified grace and style, not only in her choice of attire but also in the way she carried herself. Her presence at the Ganesh Chaturthi party was a testament to the seamless blend of tradition and contemporary fashion that continues to be a hallmark of Bollywood's fashion elite.
The stunning Khushi Kapoor made a wise and exquisite fashion choice by selecting the "Merriments in Mijwan" ensemble designed by none other than Bollywood's favorite designer, Manish Malhotra. This outfit was a true masterpiece, featuring an ivory lehenga that exuded opulence and elegance.
The lehenga was a sight to behold, adorned with a lavish display of pearl highlights, crystals, and intricate threadwork embroidery. These exquisite embellishments added a touch of luxury and sophistication to the ensemble, making it a perfect choice for a special occasion like the one she attended.
The floor-length lehenga skirt was the epitome of grandeur, with its heavy embellishments creating a dazzling effect. The wide silver border that adorned the skirt added an extra layer of richness to the outfit, enhancing its overall charm and regal appearance.
Khushi Kapoor's choice of the "Merriments in Mijwan" lehenga by Manish Malhotra not only showcased her impeccable taste but also highlighted her appreciation for the artistry and craftsmanship that go into creating such breathtaking pieces of couture. Her presence in this outfit undoubtedly made her a vision of beauty and elegance at the event.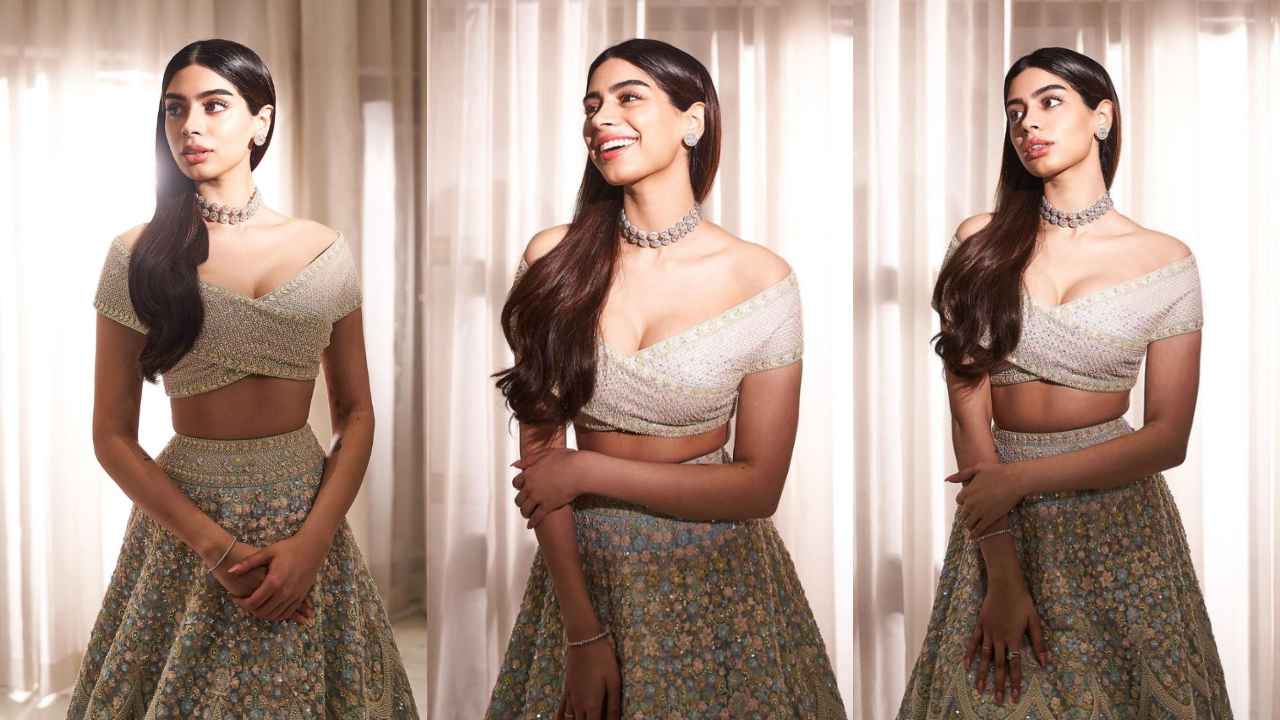 To complete this stunning two-piece ensemble, the talented diva chose a matching ivory tonal embroidery-laden blouse that perfectly complemented the exquisite lehenga skirt. The blouse was a work of art in itself, featuring intricate embroidery that harmonized beautifully with the lehenga's design.
The blouse's unique details added a touch of modernity and boldness to the traditional attire. It showcased a criss-cross design on the back, creating a captivating and contemporary look. The backless design, accentuated by elegant tie-ups at the back, added an element of sensuality and sophistication to the ensemble.
One of the standout features of the blouse was its deep and plunging off-shoulder neckline. This neckline not only highlighted the diva's graceful collarbone but also added a touch of drama and allure to her overall appearance.
To complete her entire look, the talented diva opted for matching sandals that harmonized seamlessly with the ivory color palette of her outfit. This attention to detail and coordination demonstrated her commitment to creating a flawless and cohesive look from head to toe.
To complete her glorious ivory outfit, Janhvi Kapoor's sister opted for a selection of timeless and dazzling diamond accessories. She wore a layered diamond choker-like traditional necklace that added a touch of regal splendor to her look. This statement necklace was complemented by matching statement diamond stud earrings, which framed her face beautifully and added a touch of glamour to her appearance.
A matching bracelet adorned her wrist, enhancing the overall elegance of her ensemble. And, of course, she didn't forget to adorn her fingers with a beyond-gorgeous diamond ring, adding a final touch of sophistication and luxury to her outfit.
With her choice of accessories, the diva struck a perfect balance between tradition and modernity, making a fashion statement that was both classic and contemporary. Her attention to detail and her selection of high-quality jewelry pieces undoubtedly made her a vision of timeless beauty and style.
The young Kapoor sister made another wise choice by leaving her dark tresses open and styling them into a center-parted look. This hairstyle not only highlighted her natural beauty but also added an element of elegance and charm to her overall appearance.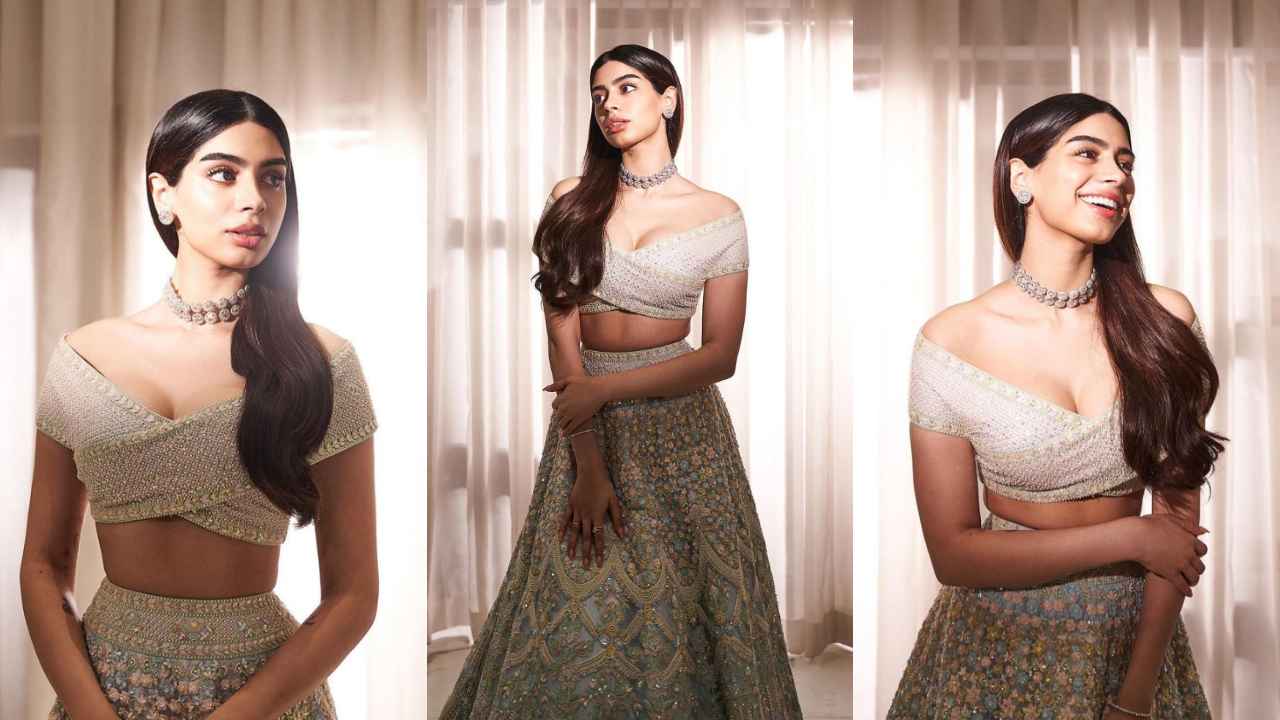 Her luscious dark hair, carefully parted in the center, created a clean and polished look. The way her hair beautifully cascaded down her right shoulder added a touch of magic to her ensemble. This effortless yet sophisticated hairstyle perfectly complemented her outfit, enhancing the overall allure of her appearance.
With her choice of hairstyle, she managed to strike a harmonious balance between classic and modern, allowing her to exude confidence and grace as she graced the event. It was a hairstyle that accentuated her features and added to the timeless beauty she radiated throughout the occasion.
Khushi Kapoor paid meticulous attention to every detail of her look, and her nails were no exception. She adorned her pretty nails with a pink manicure, adding a subtle yet delightful touch of color that harmonized with her outfit. This small detail showcased her commitment to achieving a cohesive and polished appearance.
Khushi Kapoor's recent appearance was a testament to her innate style and elegance. She effortlessly blended traditional craftsmanship with a modern twist, creating an outfit that truly stood out in the crowd. Her impeccable fashion sense, attention to detail, and overall grace made her a fashion icon and an inspiration to many in the world of glamour and style.