Shilpa Shetty turns heads in cut-out metallic green gown with thigh-high slit!
Indeed, Shilpa Shetty has established herself as a style icon in the realm of fashion and red-carpet events. The actress, known for her roles in films like Main Khiladi Tu Anari, has captivated audiences with her impeccable sense of style and stunning fashion choices.
Shilpa Shetty's fashion journey has been characterized by charm, confidence, and grace. She exudes an aura of elegance in every outfit she wears, making her a true trendsetter and an inspiration to her fans, followers, and fellow fashion enthusiasts.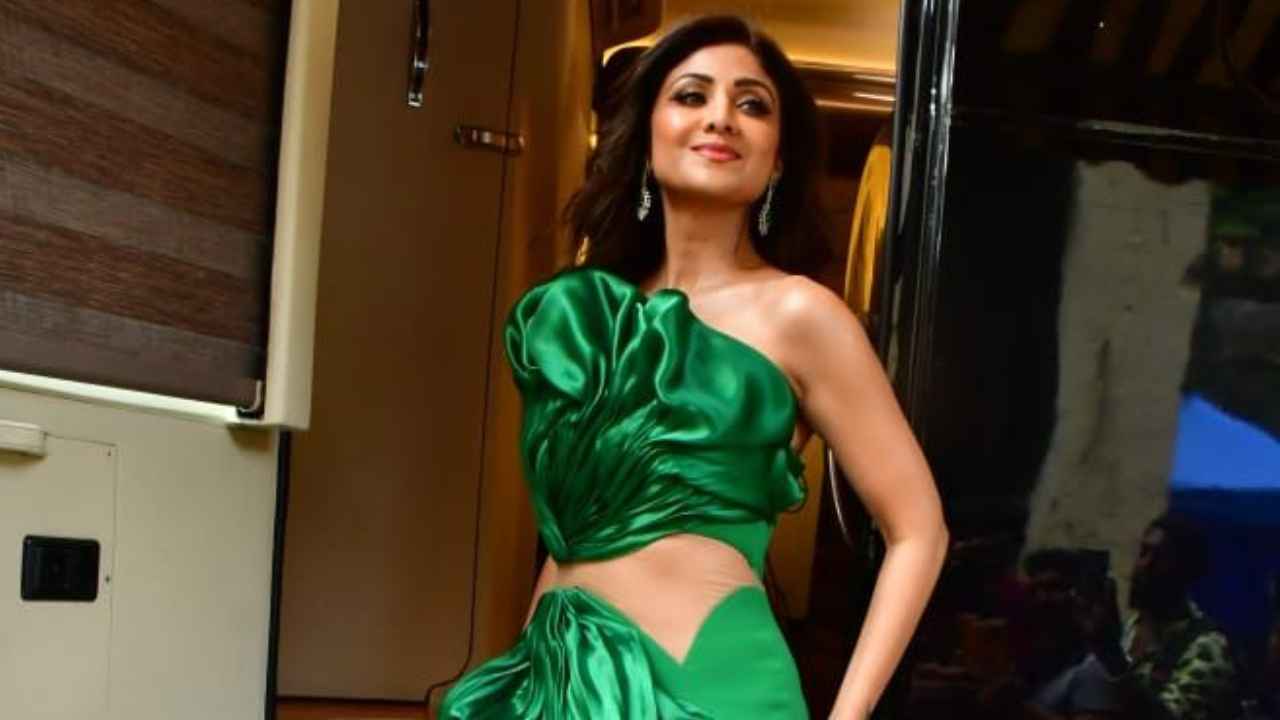 Whether it's on the red carpet or at public appearances, Shilpa consistently makes a statement with her fashion choices. Her impeccable sense of style shines through in her selection of designer ensembles, which range from glamorous gowns to chic contemporary outfits. She effortlessly carries off bold and experimental looks while maintaining an air of sophistication.
What sets Shilpa apart as a style icon is her ability to effortlessly blend traditional and modern elements. She embraces traditional Indian attire with grace, often seen in exquisite sarees and lehengas that showcase her heritage. At the same time, she seamlessly incorporates contemporary trends and global fashion influences, resulting in a unique and captivating personal style.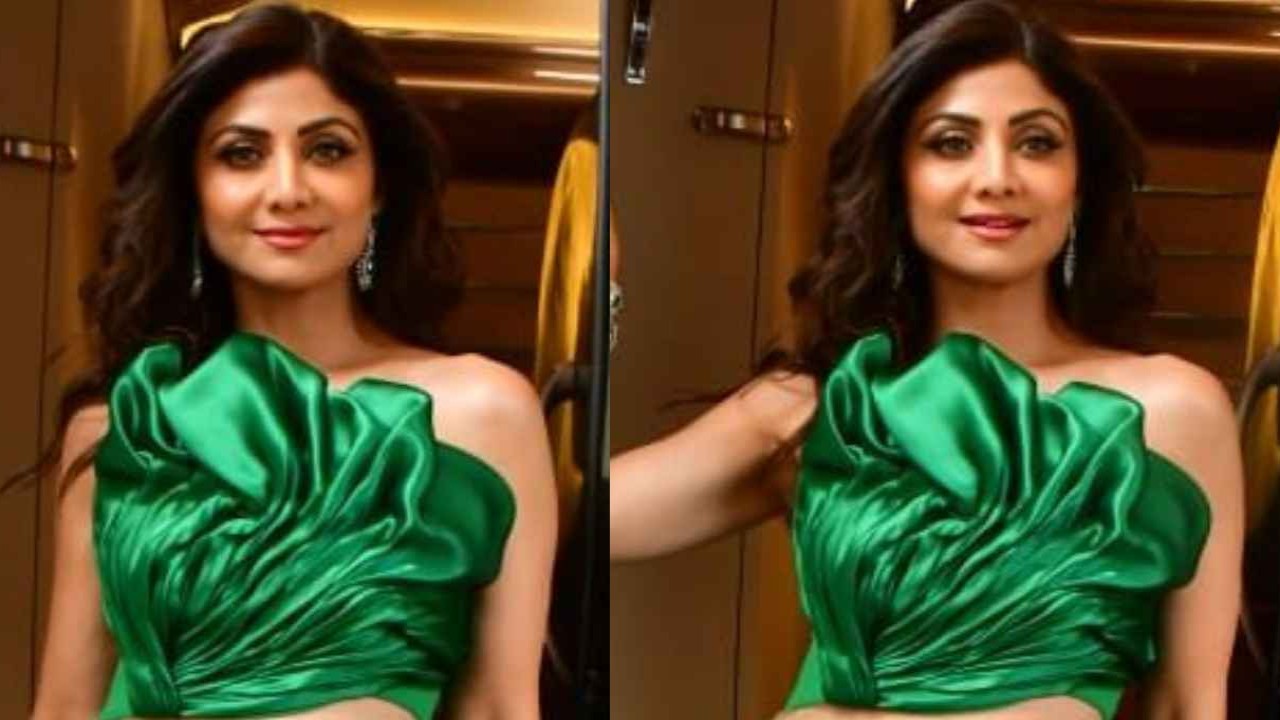 Shilpa's fashion choices are not just limited to outfits but also extend to her attention to detail. She pays meticulous attention to accessories, hairstyles, and makeup, ensuring that every aspect of her look is meticulously curated. This attention to detail adds an extra touch of finesse to her overall appearance.
Beyond her fashion choices, Shilpa Shetty's confidence and poise further enhance her style icon status. She carries herself with grace and exudes a positive energy that resonates with her fans. Her ability to confidently
Shilpa Shetty's show-stopping outfit on the sets of India's Got Talent undoubtedly left a lasting impression. The exquisite floor-length metallic green gown she wore was a true head-turner, accentuating her stunning presence and commanding attention.
The choice of a metallic green color added a touch of glamour and sophistication to the ensemble. It exuded a sense of opulence and made a bold statement on the stage. The floor-length silhouette added a touch of elegance, while the daring thigh-high slit added a hint of allure and drama, elevating the overall impact of the gown.
The meticulous craftsmanship and attention to detail in the gown were evident, showcasing the designer's expertise. The gown was tailored to perfection, accentuating Shilpa Shetty's figure and highlighting her curves. The metallic fabric added a shimmering effect, catching the light and further enhancing the gown's visual appeal.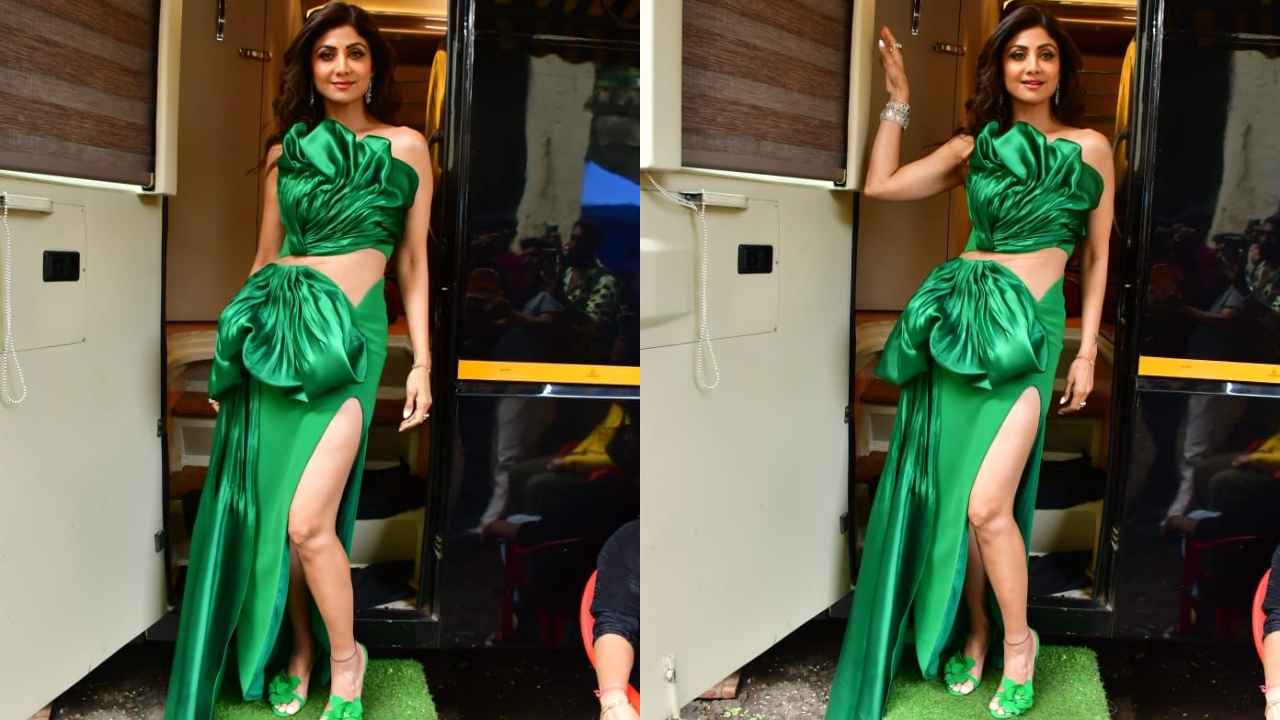 Shilpa Shetty effortlessly carried herself with confidence and grace in the ensemble, commanding the spotlight with her captivating presence. Her choice of such a striking outfit demonstrates her willingness to take fashion risks and her ability to pull off bold and daring looks with ease.
What truly sets Shilpa apart is her ability to wear the outfit with confidence and poise, allowing her to truly shine on stage. Her charisma and magnetic personality further enhanced the impact of the ensemble, making her deserving of the attention she received.
In the movie Rishety, the actress made a bold statement with her choice of a floor-length metallic green gown, showcasing a perfect combination of elegance and allure. The stunning hue of green she chose not only complemented her radiant complexion but also added a touch of glamour to her overall look.
The metallic finish of the gown played a key role in capturing attention. As the light hit the fabric, it created a mesmerizing effect, accentuating her every move and adding a captivating shimmer. This effect added an ethereal glow around her, enhancing the overall impact of the ensemble.
The floor-length silhouette of the gown added a sense of sophistication and elegance to her appearance. It allowed for graceful movements while exuding a sense of regality. The choice of a daring thigh-high slit added a touch of allure, adding a hint of playfulness and sexiness to the ensemble.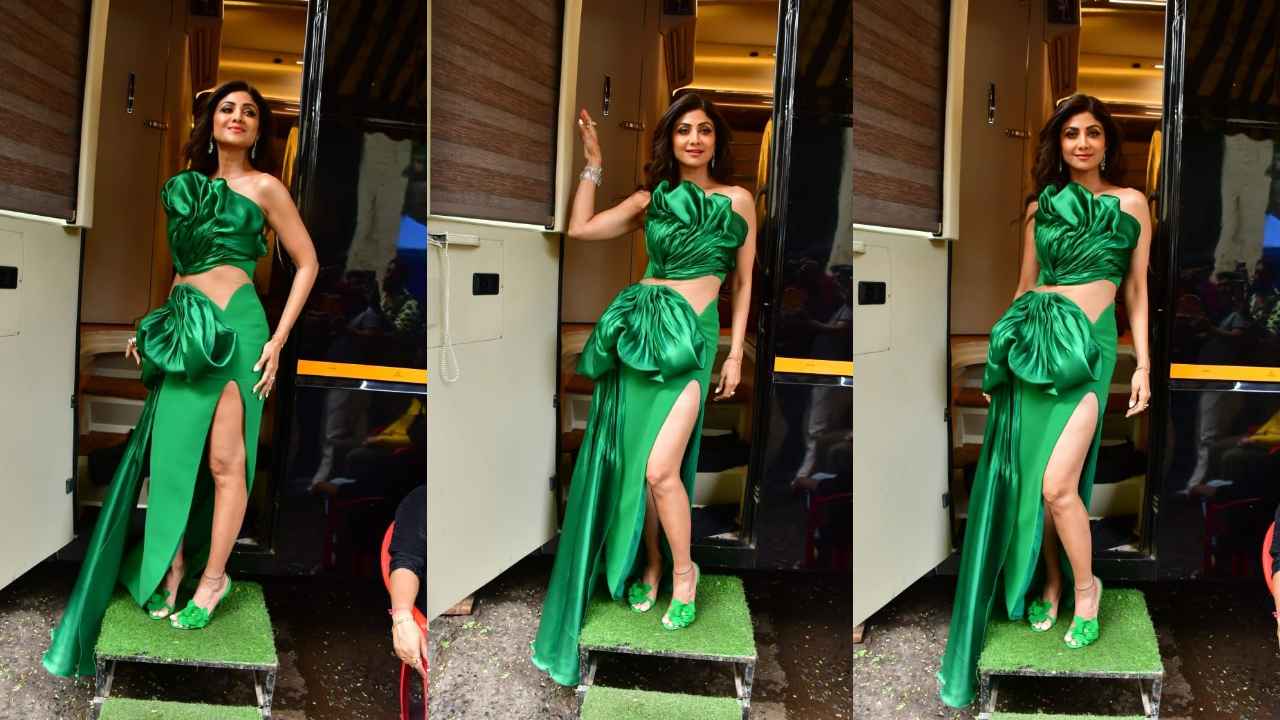 With her confident presence and impeccable style, the actress from Rishety effortlessly carried off this bold look, making a statement on any occasion. Her choice of the floor-length metallic green gown showcased her fashion-forward approach and her ability to embrace unique and eye-catching styles.
Overall, the combination of the stunning metallic green hue, the captivating shimmer of the fabric, and the elegant silhouette made the actress stand out in her floor-length gown. This bold choice allowed her to make a lasting impression and exemplified her impeccable fashion sense and style.
The inclusion of cut-outs at the waist in the gown worn by the Hungama 2 actress added a seductive and alluring appeal to the ensemble. This contemporary twist to the classic silhouette showcased her willingness to embrace bold fashion choices and take risks with her style.
The cut-outs at the waist not only accentuated her figure but also added an element of modernity and edginess to the gown. It created a visually striking detail that caught the eye and added a sense of intrigue to her overall look.
Furthermore, the thigh-high slit in the gown further showcased the actress' confidence and boldness. It not only provided a glimpse of her toned legs but also added a dramatic and sensual element to the ensemble. The thigh-high slit contributed to the overall allure and ensured that all eyes were on her as she made her way.
By incorporating these daring details in her outfit, the actress demonstrated her ability to push boundaries and make a statement with her fashion choices. This choice not only highlighted her fashion-forward approach but also showcased her confidence and ability to carry off daring ensembles with poise.
Shilpa Shetty's careful selection of accessories perfectly complemented her stunning ensemble. The statement earrings, gold bracelet, and matching ring added a touch of sparkle and sophistication without overpowering the gown. These accessories enhanced her overall look, accentuating her style and adding an extra layer of glamour.
One of the most remarkable aspects of Shilpa Shetty's appearance in the floor-length metallic green gown was her undeniable confidence and poise. As she walked the red carpet, she exuded grace and elegance, captivating everyone around her. Her self-assurance shone through, elevating her entire look and making her a captivating presence.
Shilpa's charisma and natural charm further enhanced her overall appeal. Her confident demeanor and radiant smile added to the allure of the ensemble, making her a true fashion icon. She effortlessly carried herself with poise, embodying the essence of grace and elegance.
Shilpa Shetty's impeccable style choices, combined with her innate confidence, make her a true trendsetter. Her ability to effortlessly blend bold and daring elements with sophistication and grace sets her apart in the world of fashion. She continues to inspire and captivate fashion enthusiasts with her unique sense of style and unparalleled confidence.
In conclusion, Shilpa Shetty's choice of accessories, her undeniable confidence and poise, and her innate charisma all contributed to her stunning appearance in the floor-length metallic green gown. Her impeccable style choices and confident presence make her a true fashion icon, leaving a lasting impact wherever she goes.