Shehnaaz Gill shines in DREAMY gold gown with sultry plunge and halter neck
Shehnaaz Gill's transformation from a bubbly personality to a fashion icon has been nothing short of extraordinary. Her journey in the entertainment industry, particularly after her stint on Bigg Boss 13, has seen her evolve not just as a performer but also as a style influencer.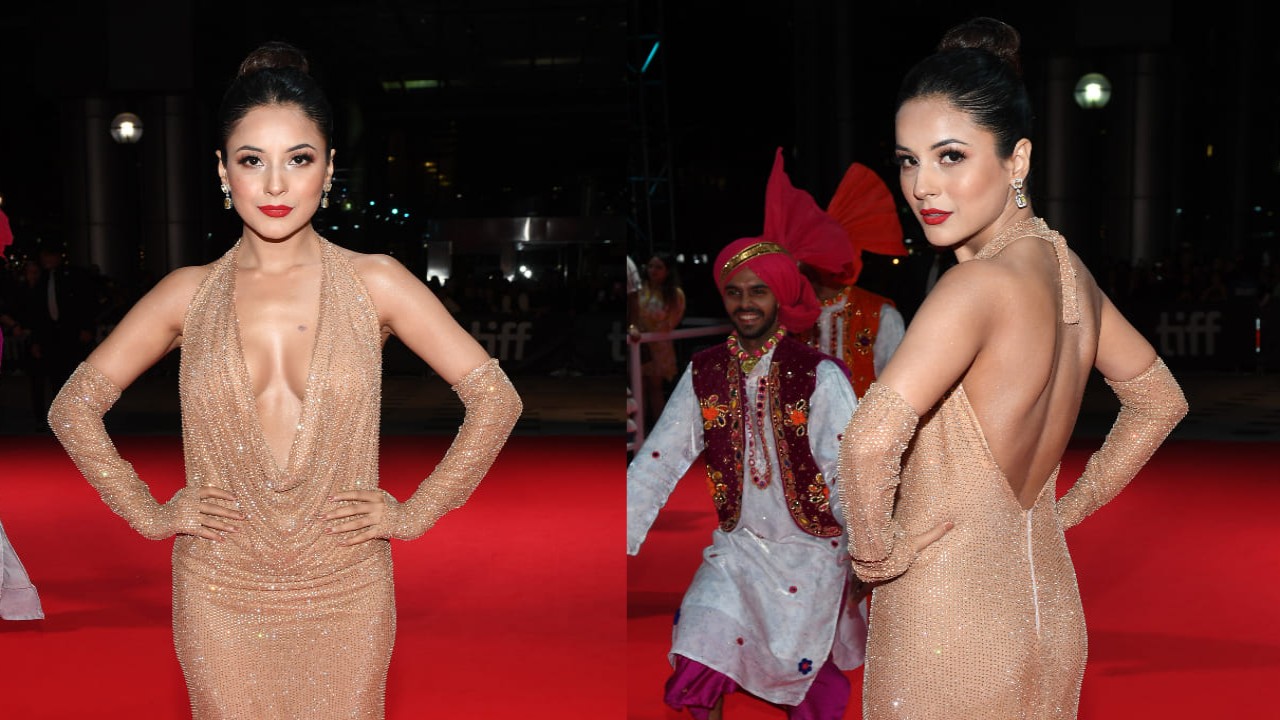 While she might have started her career with subtlety, Shehnaaz Gill has rapidly escalated her fashion game to the next level. She is currently gearing up to unveil her intriguing new style as she promotes her upcoming film, "Thank You For Coming." The film boasts an impressive ensemble cast, including Bhumi Pednekar, Kusha Kapila, Shibani Bedi, and Dolly Singh.
Shehnaaz Gill recently left us all astonished with her new look during the film's promotion in Toronto. This transformation highlights her ability to adapt and experiment with her fashion choices, demonstrating her versatility and her evolving sense of style. As she continues to make waves in the entertainment industry, it's clear that Shehnaaz Gill is not only a talented artist but also a rising fashion icon to watch out for. Her journey from being a reality show contestant to a renowned style influencer is truly remarkable and inspiring.
Shehnaaz Gill made a remarkable fashion statement in a stunning ITRH bespoke gown. The gown was a true showstopper, and every detail of her ensemble was carefully chosen to create a breathtaking look.
The golden shimmering gown featured a halter neckline, which served as a dramatic and eye-catching starting point for her outfit. This neckline not only accentuated her shoulders and neckline but also added a touch of sophistication to her appearance.
As one's gaze moved downward, it was drawn to the plunging draped front neckline of the gown. This dramatic neckline reached down to the waistline, creating a bold and sensual element in the ensemble. It not only added a hint of allure but also showcased Shehnaaz's confidence and poise.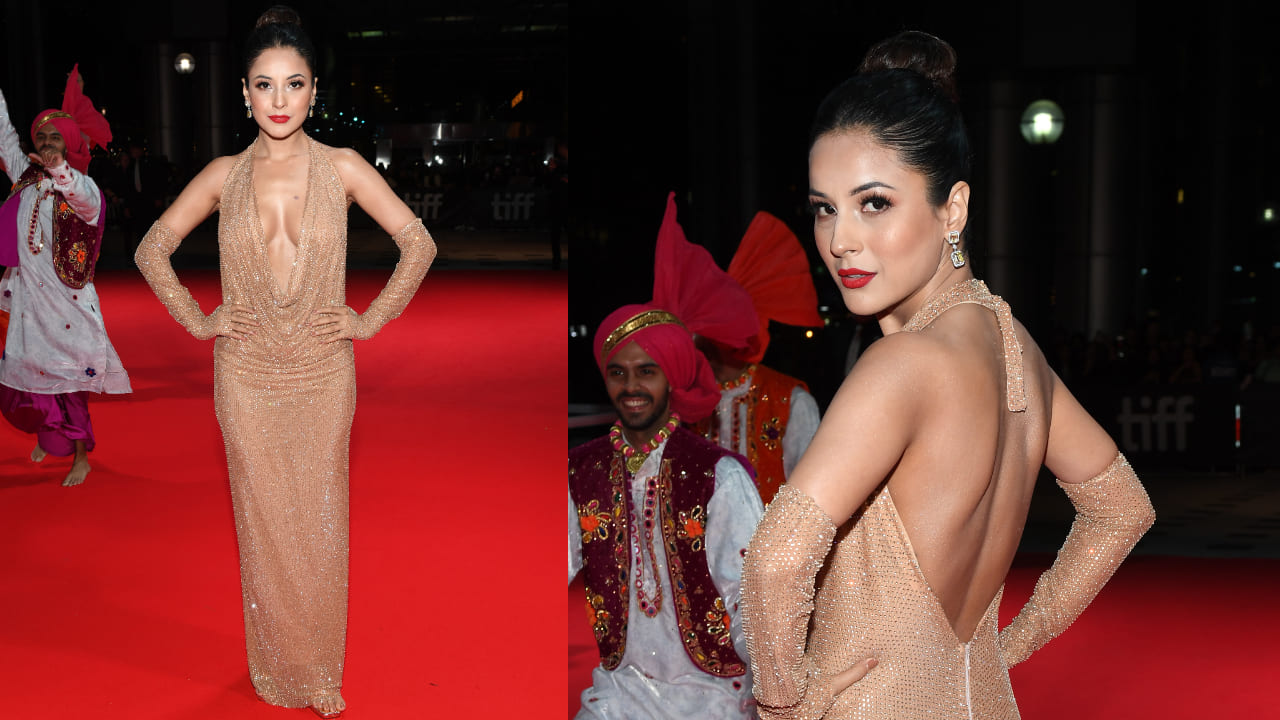 In the floor-length gown, Shehnaaz looked like a genuine diva. Her entire look exuded elegance and grace, capturing the essence of a true fashion icon. The choice of the golden shimmer added a sense of luxury and opulence to her appearance, making her stand out and leave a lasting impression.
Shehnaaz Gill's fashion choices continue to evolve, and her ability to make a statement on the red carpet is undeniable. Her ITRH bespoke gown was a testament to her impeccable style and her willingness to push the boundaries of fashion, cementing her status as a true fashionista.
The addition of hand stockings to Shehnaaz Gill's gown is a remarkable and innovative choice that sets this outfit apart. These hand stockings add a fascinating and unusual aspect to the gown, elevating its attractiveness and making it even more captivating.
The inclusion of hand stockings not only demonstrates a creative and unique approach to fashion but also enhances the overall look of the gown. It brings an element of surprise and sophistication to the ensemble, showcasing Shehnaaz's willingness to experiment with her style.
Shehnaaz Gill's ability to wear this personalized design with ease is a testament to her confidence and fashion-forward sensibilities. Her effortless grace while donning this unconventional accessory makes a lasting impact and has the potential to initiate new fashion trends. She continues to push the boundaries of fashion and inspire others to think outside the box when it comes to their own personal style. Her fashion choices are not just statements; they are an invitation to explore and innovate in the world of fashion.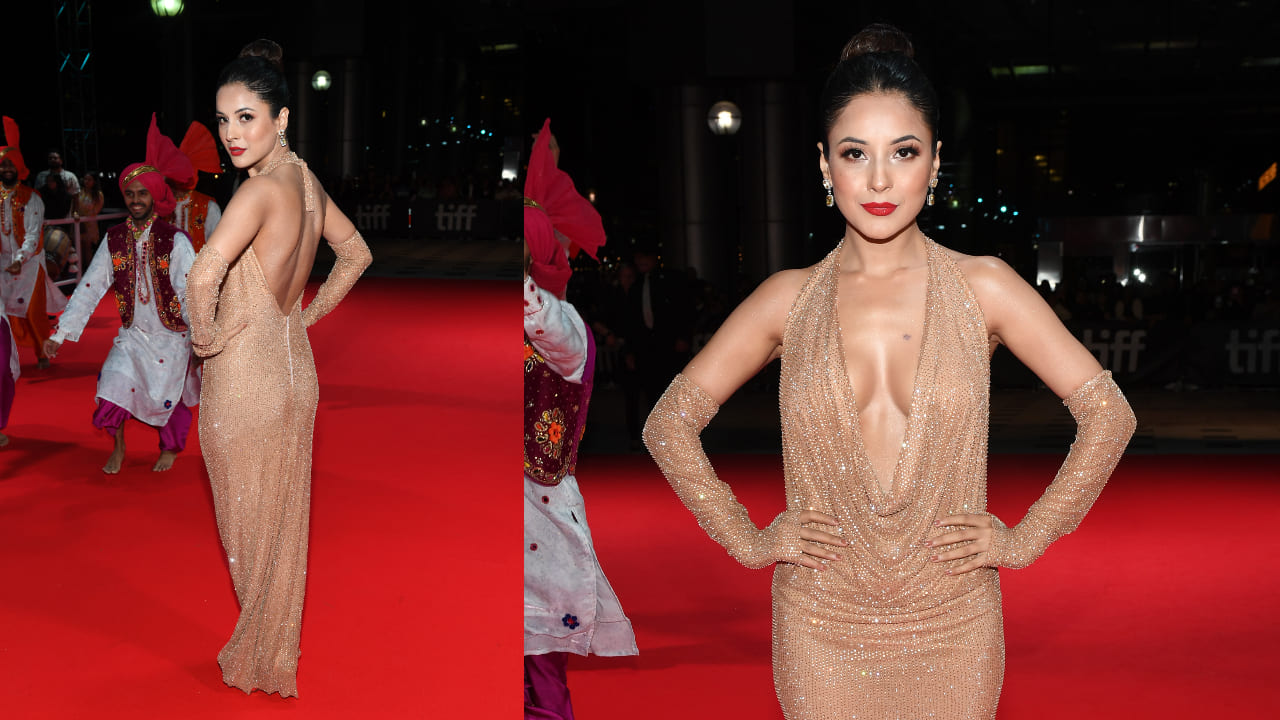 Shehnaaz Gill's gorgeous look is impeccably completed with the addition of delicate dangle earrings from Hyba Jewels. These exquisite earrings are the perfect finishing touch, adding a touch of extravagance and shine to her already stunning golden gown. They frame her face beautifully and enhance the overall elegance of her ensemble.
The well-curated ensemble that Shehnaaz Gill is showcasing is a testament to the expertise of the renowned stylist, Rhea Kapoor. Rhea's keen eye for fashion and attention to detail ensure that every element of the outfit is properly implemented, resulting in a cohesive and breathtaking look. The choice of these delicate dangle earrings perfectly complements the gown, demonstrating the stylist's ability to create a harmonious and captivating ensemble.
With Rhea Kapoor's guidance and Shehnaaz Gill's innate sense of style, they have truly created a fashion moment that is both memorable and inspiring. The combination of the gown, hand stockings, and these elegant earrings from Hyba Jewels showcases their dedication to creating a flawless and fashionable look that stands out in the world of glamour and style.
The creation of this fashion-forward statement was a collaborative effort involving several talented individuals, including Manisha Melwani, Devanshi Tuli, and Abhilasha Devnani. Together, they worked to curate a look that pushed the boundaries of fashion and showcased Shehnaaz Gill's unique style and charisma.
Notably, the stylist's jewelry selection was a key component of the ensemble's success. It not only complemented Shehnaaz Gill's overall beauty but also demonstrated their exceptional taste and eye for exquisite jewelry pieces. The delicate dangle earrings from Hyba Jewels, chosen as part of the ensemble, were a testament to their ability to select accessories that perfectly harmonized with the gown and enhanced its allure.
The collaboration of these creative minds brought forth a fashion statement that is both daring and inspiring. It showcases the fusion of talent, vision, and craftsmanship in the world of fashion and proves that when talented individuals come together, they can create fashion moments that leave a lasting impact and set new trends in the industry.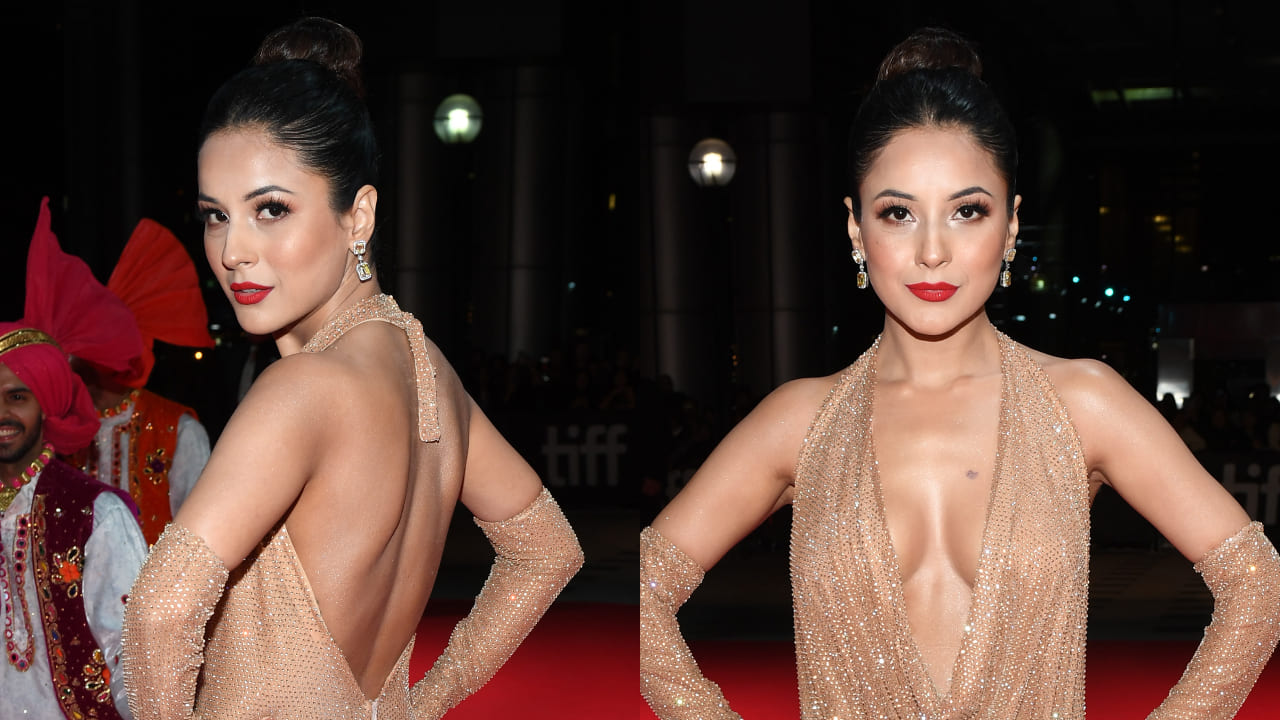 Shehnaaz Gill's makeup was skillfully executed to complement her gorgeous outfit, adding a touch of drama to her overall look. The heavy eyeliner was a bold choice that effectively drew attention to her eyes, creating an appealing charm that enhanced her entire appearance. It added a sense of definition and intensity to her gaze, which worked well with the glamour of her ensemble.
However, it's worth noting that the accentuated glitter on the corner of her eye, as you mentioned, may have been overemphasized, especially considering the gown's already sparkling nature. While some additional shimmer can be a stylish choice, it's essential to strike the right balance to avoid overwhelming the overall look.
On the positive side, her cheeks were perfectly sculpted, emphasizing her cheekbones and providing a gorgeous highlight. This makeup technique added dimension and radiance to her face, enhancing her natural beauty and further elevating her appearance.
Makeup, like fashion, is a matter of personal style and preference, and experimenting with different looks is part of the creative process. Overall, Shehnaaz Gill's makeup added a captivating dimension to her ensemble, and the minor critique aside, it's clear that her makeup artist did an excellent job in enhancing her features and completing her red-carpet look.
The choice of lipstick color is indeed crucial in makeup, and Shehnaaz Gill made a wise decision by selecting a slightly deeper shade of red. This choice not only added a touch of power and confidence to her makeup but also perfectly complemented her golden gown. The deeper red shade added a sense of sophistication and maturity to her overall look, enhancing her presence on the red carpet.
To complete her sophisticated style, Shehnaaz Gill elegantly arranged her hair into a high bun. This hairstyle added a touch of poise and elegance to her ensemble, emphasizing her neckline and the dramatic aspects of her gown. It also allowed her facial features and jewelry to take center stage, creating a well-balanced and visually striking appearance.
Shirley Wu, her outstanding hair and makeup artist, certainly deserves full credit for bringing Shehnaaz Gill's red-carpet look to life. Their collaborative effort resulted in a makeup and hairstyle that perfectly complemented her outfit, highlighting her natural beauty and showcasing her confidence and poise. It's clear that their expertise played a significant role in creating a memorable and fashion-forward appearance.