Shehnaaz Gill SLAYS in a blue custom-made outfit!
Shehnaaz Gill's journey in the entertainment industry has indeed been nothing less than extraordinary. Known for her bubbly persona, she has seamlessly transformed into a style icon, leaving an indelible mark on the fashion world. Her evolution from modest looks to becoming a fashion sensation is a testament to her versatility and innate sense of style.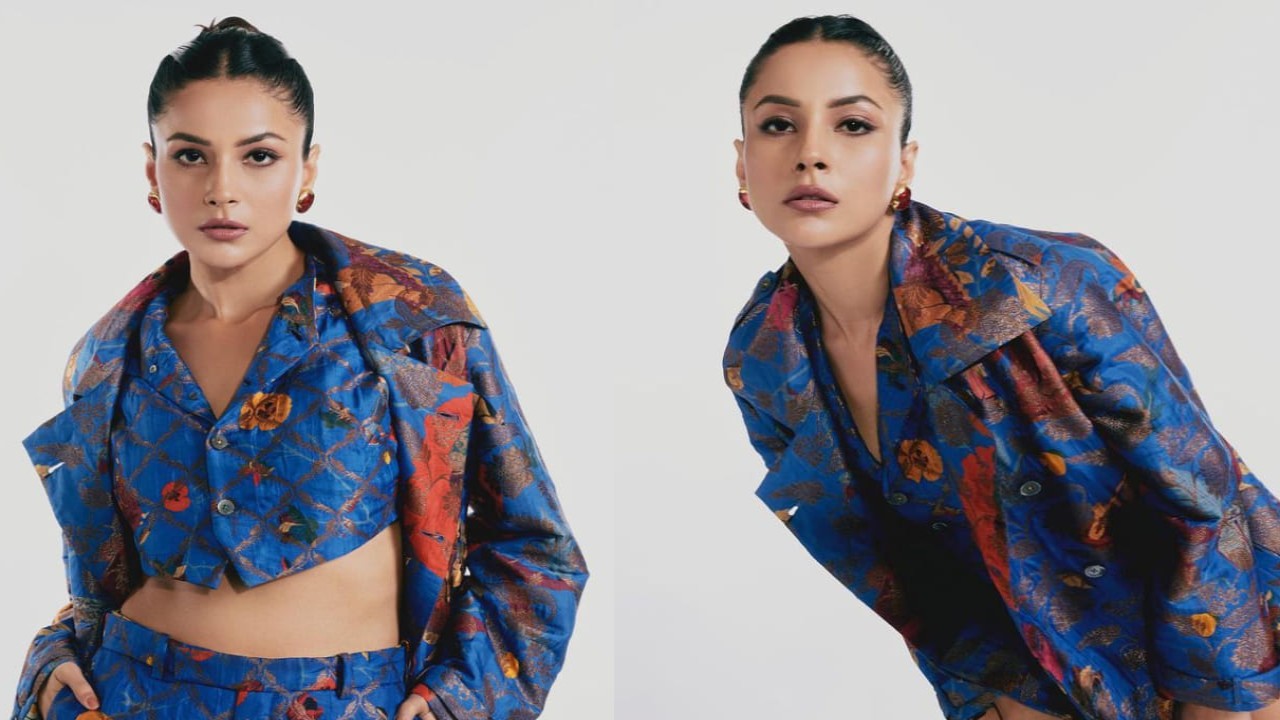 As she prepares to promote her upcoming film "Thank You For Coming," alongside talented co-stars like Bhumi Pednekar, Kusha Kapila, Shibani Bedi, and Dolly Singh, Shehnaaz Gill continues to captivate audiences with her fresh and captivating appearance.
Shehnaaz's ability to effortlessly capture the spotlight with her fashion choices, while maintaining her unique personality and charm, is a reflection of her magnetic presence in the industry. Her journey is an inspiration for aspiring actors and fashion enthusiasts alike, showcasing the transformative power of self-expression and confidence in the world of entertainment and fashion. Shehnaaz Gill's captivating journey is one that many will continue to follow with excitement and admiration.
Shehnaaz Gill's style expertise was on full display in her stunning three-piece attire. The enormous collared jacket, which exuded refinement, was undeniably the focal point of her ensemble. Shehnaaz's choice to wear a cropped shirt beneath the jacket added a fresh and modern twist to the suit, emphasizing her fashion-forward attitude.
Enormous Collared Jacket: The oversized collar on the jacket likely added a sense of drama and sophistication to the entire look. Jackets with unique and eye-catching collars can elevate an outfit, creating a memorable and fashionable appearance.
Cropped Shirt: Shehnaaz's decision to pair the jacket with a cropped shirt showcased her willingness to experiment with fashion. Cropped shirts are known for their ability to add a touch of playfulness and contemporary flair to an outfit. This choice emphasized her fashion-forward approach.
Shehnaaz Gill's three-piece attire highlighted her ability to blend classic elements with modern and trendy details, creating a balanced and eye-catching ensemble. Her fashion choices continue to make her a standout in the industry, and she consistently demonstrates her style expertise with each appearance. Shehnaaz Gill's unique fashion sense is one that continues to captivate fashion enthusiasts and inspire them to experiment with their own style.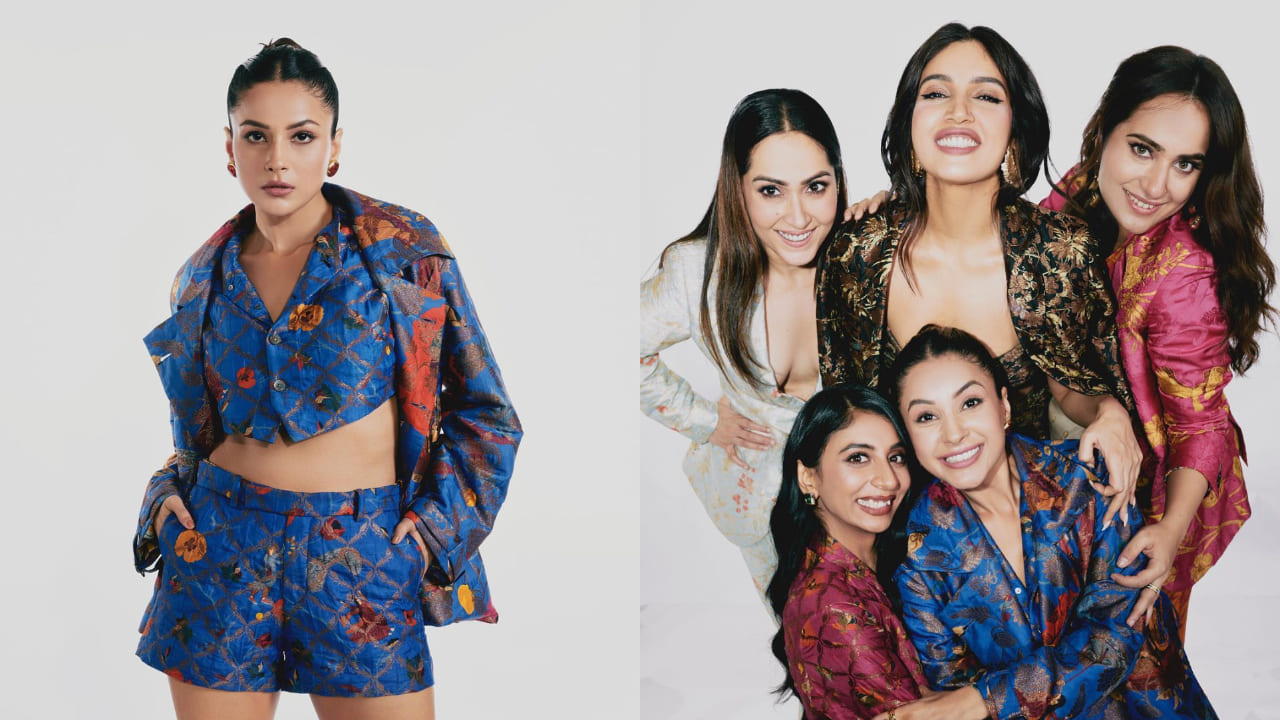 In the world of fashion, it's easy to play it safe and stick to the fundamentals. However, true fashionistas understand that pushing the limits and daring to flaunt the unusual is what sets them apart from the herd. Shehnaaz Gill's custom-made blue costume by Suket Dhir wonderfully exhibited this bold and daring attitude.
Pushing Fashion Boundaries: Shehnaaz's choice of a custom-made costume by Suket Dhir showed her willingness to push fashion boundaries. Custom-made outfits often allow individuals to express their unique style and personality. In this case, it was a departure from the ordinary.
Distinguishing from the Herd: Fashion is all about individuality, and those who dare to be different often stand out. Shehnaaz's decision to opt for an unconventional blue costume showcased her distinctive style and a desire to break away from the norm.
Celebrating Uniqueness: Fashion is a form of self-expression, and Shehnaaz's bold choice celebrated her uniqueness. It reflected her confidence and the belief that fashion is a canvas to showcase one's personality and attitude.
Shehnaaz Gill's custom-made blue costume by Suket Dhir was not just an outfit; it was a statement. It demonstrated her fearless approach to fashion and her ability to embrace the unusual with style and grace. Fashion enthusiasts can draw inspiration from her willingness to step out of the comfort zone and create memorable looks that truly set them apart.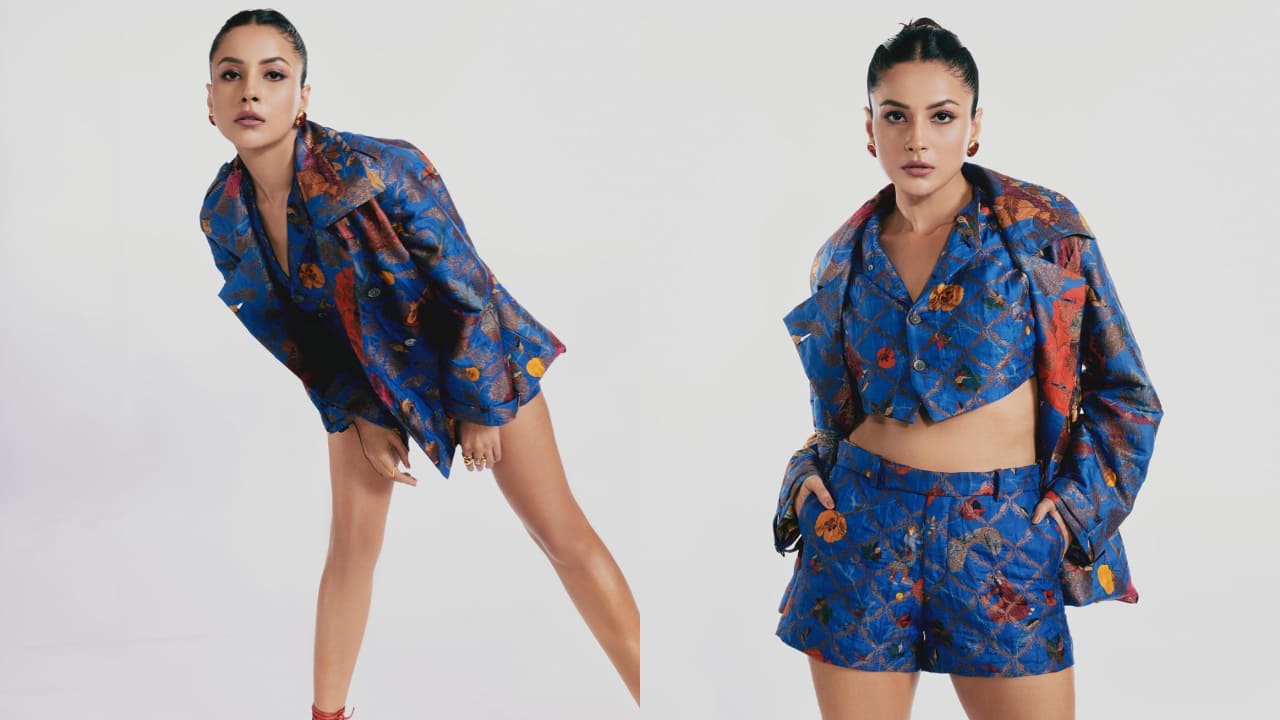 The use of silk brocade fabric in Shehnaaz Gill's dress undoubtedly lent a sense of elegance and luxury, making it truly distinctive. The lesson from her fashion choices is a simple yet valuable one: don't be afraid to step outside of the routine and embrace the unusual.
Embrace Unconventional Fabrics: Unconventional fabrics like silk brocade can add a touch of opulence and uniqueness to your outfit. Exploring different materials and textures can open up new possibilities for creating remarkable looks.
Celebrate Individuality: Fashion is a platform for celebrating your individuality. Don't hesitate to express your unique style and personality through your clothing choices. Daring to be different can lead to fashion moments that are truly memorable.
Experiment with Confidence: Shehnaaz Gill's bold fashion choices reflect her confidence. When you experiment with fashion, do it with self-assuredness. Fashion is an art form, and it's perfectly fine to break away from the ordinary and create your own style narrative.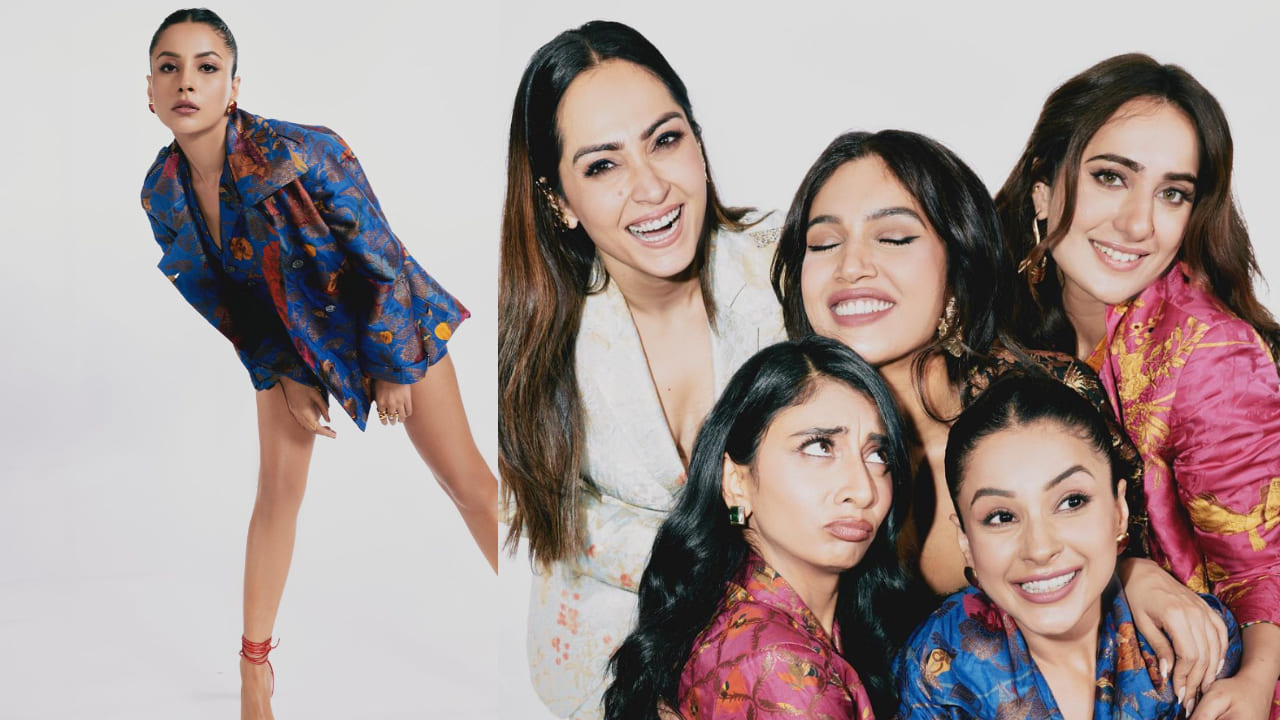 In the realm of fashion, the most memorable and iconic looks often emerge when individuals are unafraid to step outside their comfort zones and embrace the unusual. Shehnaaz Gill's distinctive style is a testament to this philosophy, reminding us all that fashion is about self-expression, creativity, and celebrating our unique personalities through clothing.
Shehnaaz Gill's excellent personal fashion extended beyond her dress, as she meticulously curated every component of her look to perfection. Here's a breakdown of the hairstyling and makeup that complemented her outfit flawlessly:
Sleek Bun by Cheema Baljit: Cheema Baljit's styling of a sleek bun added a touch of refinement to Shehnaaz's overall look. A sleek bun is a classic and elegant hairstyle that can elevate any outfit, showcasing her attention to detail and her desire for a polished appearance.
Makeup by Saba Khan: Saba Khan's makeup artistry featured a lovely matte finish and a pale pink lipstick that matched Shehnaaz's inherent beauty flawlessly. A matte finish provides a clean and sophisticated look, while the pale pink lipstick likely added a subtle and feminine touch to her makeup.
The meticulous coordination of her hairstyle and makeup demonstrated Shehnaaz Gill's commitment to presenting a complete and harmonious look. Her beauty team's expertise in enhancing her natural features and complementing her outfit further emphasized her fashion-forward approach. Shehnaaz Gill's style is a true embodiment of the notion that every detail matters in creating a memorable and striking fashion statement.