Mira Rajput serves Diwali-ready feels in red mirror work embellished Punit Balana saree with gold potli bag
Mira Rajput has consistently been a trailblazer in the world of fashion, known for her exclusive and utterly trendy fashion choices, as well as her elegant sense of style. Her recent appearance on Karva Chauth in 2023 was no exception, as she once again made a striking fashion statement. Dressed in a bespoke and vibrant red and gold mirror work embellished Punit Balana saree, the diva showcased her impeccable taste and fashion-forward approach.
The choice of a Punit Balana saree was a testament to Mira Rajput's flair for embracing contemporary and culturally rich fashion. The vibrant red and gold hues, along with the intricate mirror work, created a captivating and visually stunning ensemble. Her outfit not only celebrated tradition but also incorporated a modern twist, making it a memorable choice for the occasion.
Mira Rajput's appearance on Karva Chauth radiated grace and style, as she effortlessly combined the traditional and the trendy. Her choice of attire left a lasting impact, capturing the hearts of fashion enthusiasts and setting a new standard for fusion fashion. Her fashion game continues to be an inspiration for those who appreciate sophistication and creativity in style.
Shahid Kapoor's wife, Mira Rajput, made a fabulous appearance on the auspicious occasion of Karva Chauth 2023, wearing an incredible and vibrant sheer red saree custom created by Punit Balana. Her choice of attire showcased her distinctive fashion sense and her ability to make a statement on special occasions.
Mira's exclusive mirror-work embellished saree was a true masterpiece. It featured a stunning and intricate gold border and edges, which were laden with mirrorwork, adding a touch of opulence and glamour to the outfit. The combination of the rich red fabric and the detailed mirrorwork created a visually striking ensemble that radiated elegance and charm.
Mira Rajput's choice of this bespoke saree not only celebrated tradition but also incorporated contemporary fashion elements, making her look truly exceptional. Her exquisite sense of style and the selection of this remarkable outfit reflected her status as a fashion-forward trendsetter, leaving a lasting impression on those who admired her Karva Chauth appearance.
The classy and talented diva, Mira Rajput, took her Karva Chauth ensemble to the next level by pairing her elegant ethnic saree with a classy and matching gold and red blouse. This exquisite blouse was a true work of art, featuring mirror work and intricate embroidery that perfectly complemented the saree. The combination of the red and gold hues with these embellishments added a touch of regal beauty to her overall look.
What made the blouse even more remarkable were its design details. It featured broad straps, offering comfort and support, and a deep and sultry sweetheart neckline with a plunging appeal. This daring neckline added a contemporary and alluring element to the traditional outfit, showcasing Mira's ability to blend classic and modern styles seamlessly.
Mira Rajput's choice of a stunning blouse not only accentuated her saree but also highlighted her elegant and fashion-forward approach to dressing for special occasions. The entire ensemble was a true reflection of her impeccable taste and her knack for turning heads with her remarkable fashion choices.
To complete her elegant and classy ethnic ensemble, the stylish diva, Mira Rajput, made sure to pay attention to every detail. She opted for gold sandals, a choice that harmoniously complemented her outfit. The gold sandals not only added a touch of sophistication but also provided a harmonious appeal to her overall look, ensuring that every aspect of her attire was perfectly coordinated.
Mira, who is also a mother of two, chose to accessorize her outfit with carefully selected pieces. She adorned her ears with dangling traditional gold earrings, boasting a unique design that added an element of distinctiveness to her appearance. These earrings, paired with matching embellished bangles and gorgeous statement rings, contributed to the traditional and glamorous allure of her ensemble.
The incredible diva didn't stop there; she also held a well-embellished gold potli bag adorned with intricate embroidery. This accessory perfectly complemented her vibrant and stylish ensemble, adding an extra layer of opulence and cultural richness to her overall look. Mira Rajput's attention to detail in her choice of accessories demonstrated her commitment to creating an incomparable and captivating fashion statement on Karva Chauth.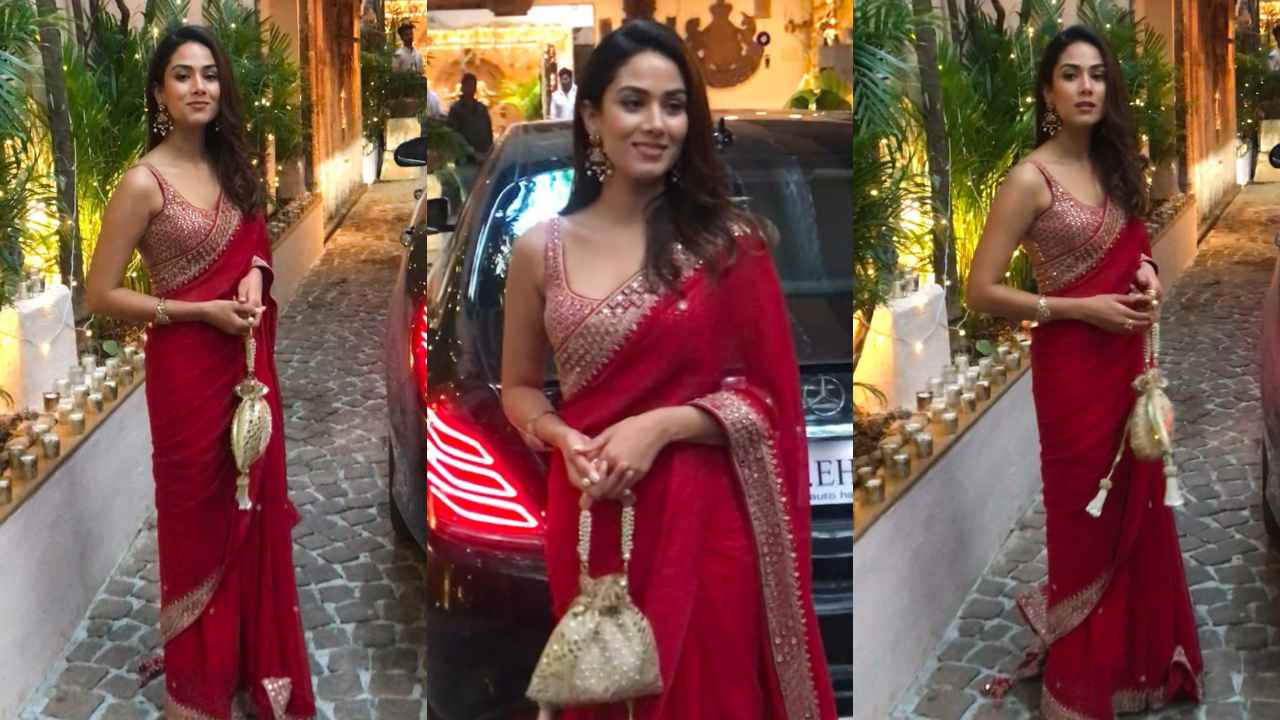 Mira Rajput, Shahid Kapoor's wife, made another exquisite choice by leaving her hair open and styling them into delicate and soft curls. These curls elegantly framed her face, creating a gentle and feminine look that beautifully cascaded down her shoulders. This choice of hairstyle added a touch of grace and charm to her overall appearance, enhancing the elegance of her ethnic ensemble.
To further enhance her Karva Chauth look, Mira opted for a subtle yet glamorous makeup style. Her makeup featured well-shaped eyebrows, mascara-laden eyelashes, subtle eyeshadow that accentuated her eyes, and blush-laden cheeks that added a healthy and rosy glow to her complexion. Highlighted cheekbones provided a refined touch, enhancing her facial features.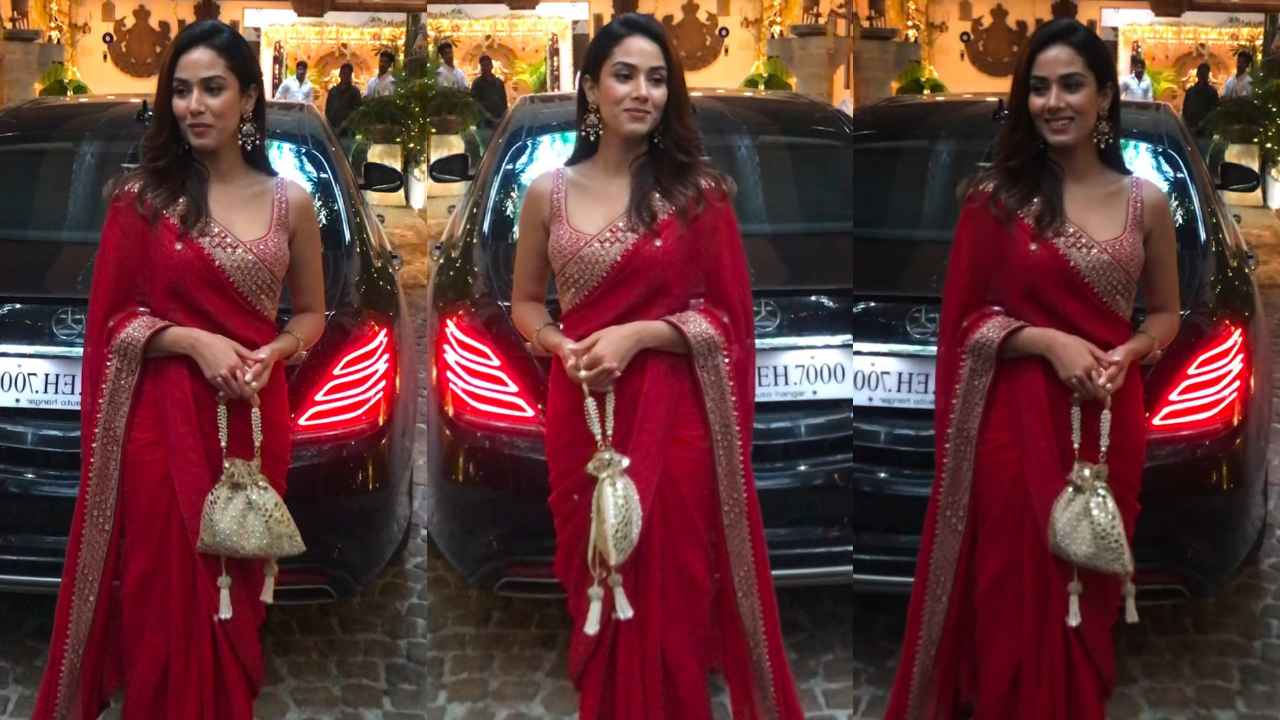 Mira's choice of a classy nude-colored lipstick was the perfect finishing touch, adding a touch of sophistication to her makeup. The gold delicate bindi on her forehead not only held cultural significance but also elevated and beautifully complemented her poised ethnic ensemble. This thoughtfully crafted makeup look emphasized Mira Rajput's innate beauty and showcased her ability to balance style and tradition with grace and finesse, making her appearance on Karva Chauth truly unforgettable.