Mouni Roy's electric blue Victorian corset with fusion drape saree is the ultimate choice for wedding season!
Mouni Roy continues to shine as a resplendent star in the world of fashion, with her recent appearance in an ink-blue ensemble reaffirming her status as a style icon. As fashion enthusiasts, we can't help but be captivated by her sartorial brilliance, as she consistently pushes the boundaries of fashion and makes memorable choices. Her appearance in this stunning ink-blue outfit has reignited our admiration for her, underscoring her ability to effortlessly stand out in the crowded world of celebrity fashion.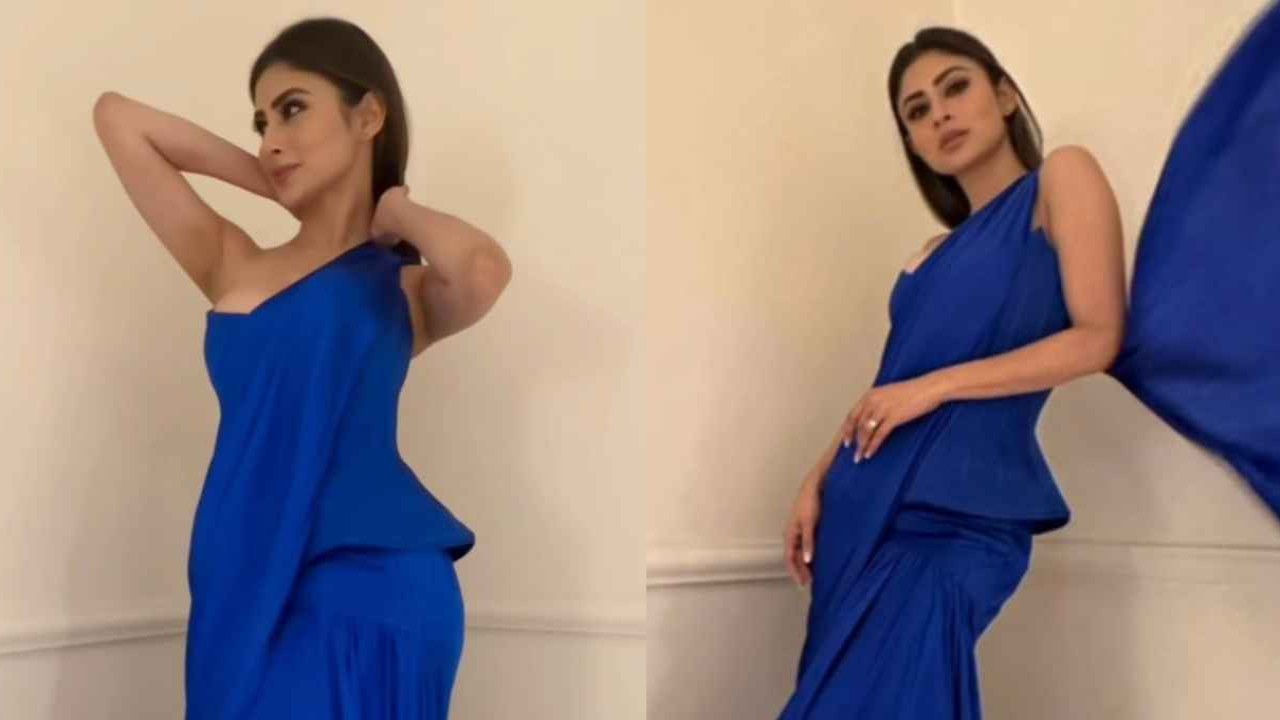 Styled by the virtuoso Rishika Devnani, Mouni Roy's choice of attire transcended the ordinary and emerged as a captivating fusion of tradition and modernity. This fusion is a testament to her keen fashion sensibilities, where she manages to strike the perfect balance between classic elegance and contemporary charm. Her outfit is poised to be a trendsetter and reign supreme during the upcoming wedding season, setting a standard for bridal and festive fashion.
Mouni Roy's fashion choices have consistently demonstrated her ability to make a statement and her willingness to experiment with different styles and elements. Her appearance in this ink-blue ensemble is another addition to her ever-evolving fashion journey, and it reminds us why she remains a beloved figure in the world of celebrity style. As fashion enthusiasts, we eagerly anticipate her next fashion move, knowing that it's bound to be just as spectacular as the last.
One of the most awe-inspiring elements of Mouni Roy's latest fashion ensemble, crafted by designers Karishma and Ashita, was the strapless electric blue Victorian corset. This piece was an absolute showstopper, with its plunging neckline and figure-hugging silhouette that epitomized luxury fashion. Meticulously crafted from premium materials, the corset featured intricate details and a bold design that demanded attention. It served as the foundation of a look that was undoubtedly destined for the spotlight, showcasing Mouni's daring fashion choices and her ability to make a statement.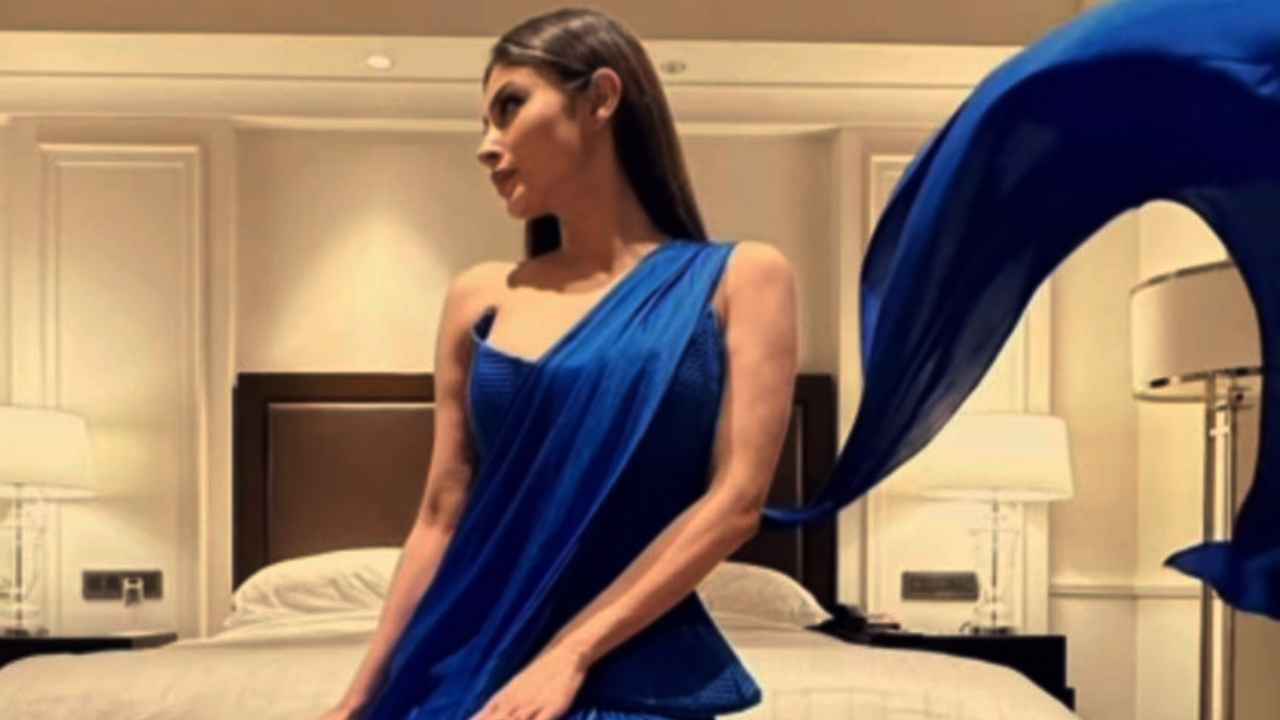 The fusion saree that accompanied this striking corset was nothing short of mesmerizing. It beautifully fused traditional Indian aesthetics with a modern twist, creating a captivating blend of styles. The corset and saree together formed a harmonious ensemble, offering a fresh perspective on the saree as a versatile and contemporary garment.
Mouni Roy's fashion choices have always pushed the boundaries of conventional attire, and her collaboration with Karishma and Ashita is a shining example of how fashion can be a canvas for creativity and self-expression. This ensemble is a reminder that when designers and celebrities come together to create a unique fashion statement, the results can be truly breathtaking, redefining the fashion landscape and inspiring enthusiasts around the world.
The fusion saree that Mouni Roy donned as part of her ensemble boasted a gathered, ruched floor-length skirt, adding a dramatic flair to the overall look while accentuating the silhouette of the Brahmāstra: Part One – Shiva actress. The skirt's ruched design created a sense of texture and movement, making it a key element in the ensemble's unique appeal.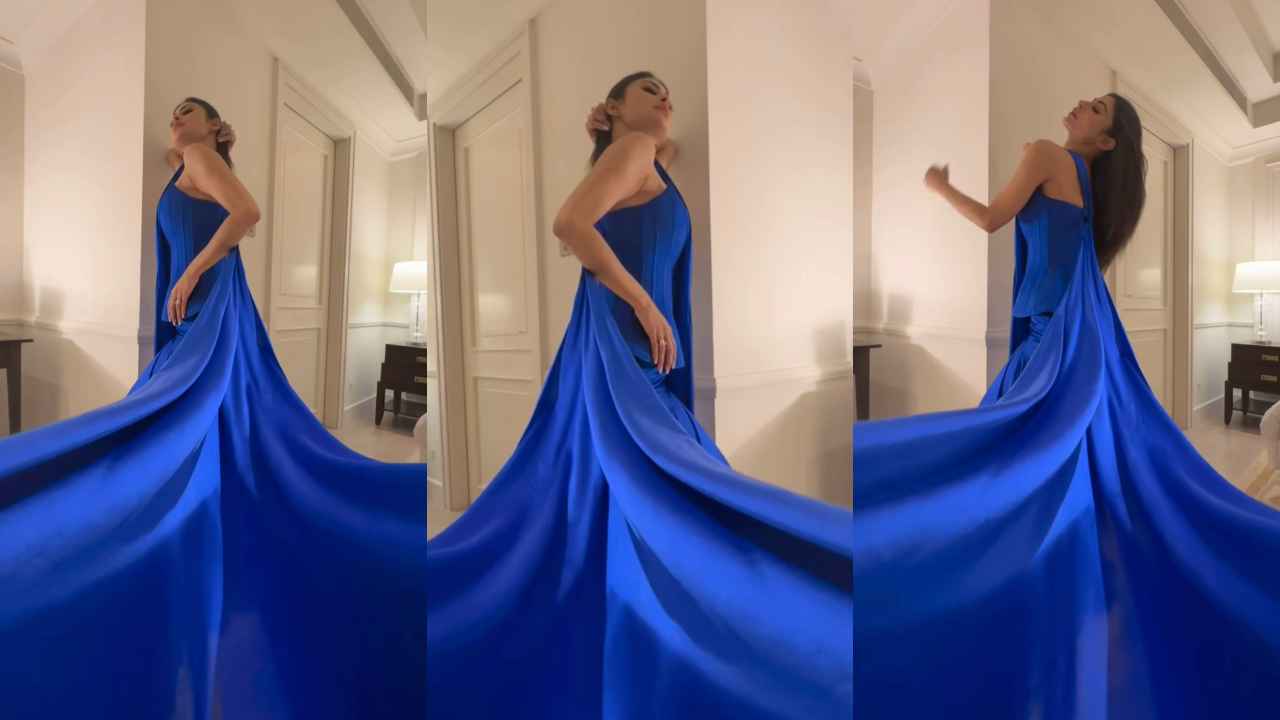 The pièce de résistance, however, was the flowing pallu, which lent an undeniable sense of regality to the entire ensemble. This draped element added an air of sophistication and grace, making the look suitable for a red-carpet event or a grand occasion. The fusion saree, with its combination of the modern corset and traditional saree draping, showcased not just style but also a sense of confidence and allure that Mouni Roy effortlessly exuded. Her choice of this ensemble highlighted her fashion-forward approach, making her a style icon that continues to captivate and inspire.
In a wise fashion choice, Mouni Roy opted for minimalistic accessories, allowing the outfit to take center stage as the true star. She chose to adorn her fingers with a few classy rings that added a subtle touch of sophistication without overshadowing the brilliance of the ensemble. This approach demonstrated her fashion acumen, showcasing her understanding of the principle that sometimes, less is indeed more. By keeping her accessories understated, Mouni ensured that the fusion saree and corset remained the focal points of her look.
Completing the ensemble with a hairstyle that exuded modern elegance, the Romeo Akbar Walter actress opted for a sleek and straight look. This hairstyle added a contemporary touch to the overall appearance, perfectly harmonizing with the fusion of traditional and modern elements in her outfit. The simplicity of her hairstyle complemented the minimalistic approach to accessories, resulting in a look that was both sophisticated and understated.
Mouni Roy's fashion choices are a testament to her innate sense of style and her ability to create a harmonious and memorable look. By understanding the art of balance and the significance of letting the outfit speak for itself, she exemplifies the concept that sometimes, simplicity can be the key to creating a striking and lasting impression in the world of fashion.
Mouni Roy's beautifully styled hair was a perfect complement to the fusion saree, enhancing the overall allure of her look. Her sleek and straight hairstyle added a touch of modern elegance, aligning well with the contemporary elements of her outfit. The simplicity of her hairdo was in sync with the minimalistic approach to accessories and makeup, resulting in a cohesive and sophisticated appearance.
When it came to her makeup, the Devon Ke Dev…Mahadev actress made a sultry statement with a smokey eye. The impeccably applied eyeliner added depth and intensity to her gaze, enhancing the allure of her eyes and making them a focal point of her makeup. This choice highlighted her eyes and added a sense of drama that perfectly matched the boldness of her ensemble.
A touch of blush on her cheeks and a nude lipstick completed her makeup, ensuring that her overall look was in harmony with her fusion saree and corset. The understated blush added a natural flush of color to her complexion, while the nude lipstick maintained a balance between bold and understated. This makeup approach was a testament to Mouni Roy's keen eye for detail and her ability to create a polished and well-rounded look that was both captivating and harmonious.
Mouni Roy's fashion choices are always characterized by their attention to detail and her commitment to creating a look that is not only stylish but also thoughtfully put together. Her hair and makeup were the finishing touches that sealed the elegance of her ensemble, and her appearance at the Formula 1 race in Qatar was a clear testament to her status as a fashion icon in the Bollywood industry.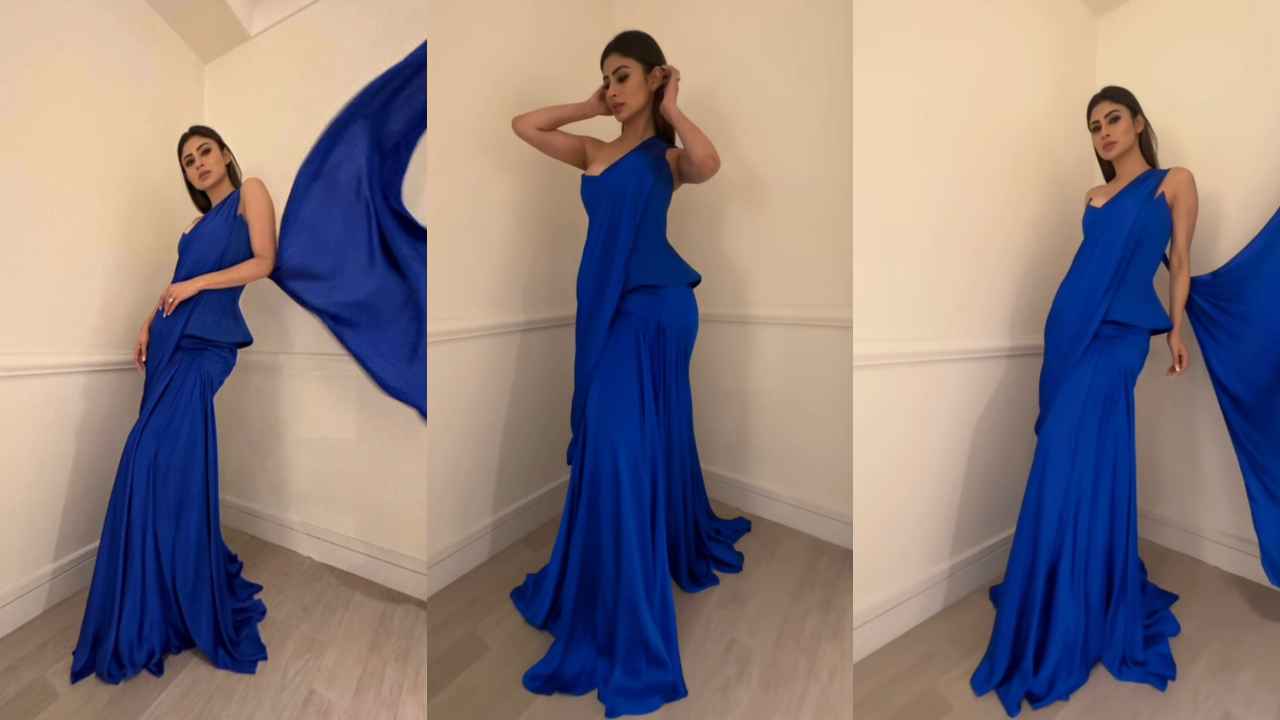 Mouni Roy's fusion saree was far more than just an outfit; it was a fashion statement that perfectly reflected her impeccable taste. The ensemble she chose showcased her ability to seamlessly blend traditional and modern elements, creating a look that was both captivating and unique. As the K.G.F: Chapter 1 actress effortlessly commanded attention and admiration, it became the ultimate choice for the upcoming wedding season.
In the trendy diva's world of fashion, every outfit tells a story of timeless sophistication and enduring charm that is uniquely hers. Mouni Roy's appearance at the event was a reminder that her fashion choices are consistently poised to make a statement. Her fusion saree ensemble was no exception, symbolizing her ability to stand out in the ever-evolving world of celebrity style.
This look is a testament to her continued reign as a fashion icon and her ability to inspire and captivate fashion enthusiasts. Mouni Roy's fashion choices are not just about clothing; they are about creating a memorable narrative that reflects her personality and her innate sense of style. Her fusion saree at the Formula 1 race in Qatar was yet another chapter in her ongoing fashion story, and it's one that continues to set her apart as a timeless and sophisticated trendsetter.