Janhvi Kapoor's Breathtaking Eggshell-Colored Embellished Mini-Dress!
Janhvi Kapoor has proven herself to be a true fashion icon in addition to her talent as an actress. With each public appearance, she leaves a lasting impression with her impeccable fashion choices and distinctive style.
Janhvi Kapoor's keen eye for accessorizing and attention to detail further enhances her fashion statements. Whether it's choosing the perfect jewelry, shoes, or makeup, she ensures that every aspect of her look complements her outfit flawlessly.
Her fashion journey continues to evolve and inspire, making her a sought-after figure for designers and fashion brands. As she consistently sets new trends and showcases her unique style, Janhvi Kapoor remains a prominent figure in the world of fashion, leaving her fans in anticipation of her next dazzling appearance.
Janhvi Kapoor's dedication to creating stylish symphonies with her fashion choices is truly awe-inspiring. Her ability to push the boundaries and go above and beyond in her style experiments has garnered admiration and left us speechless.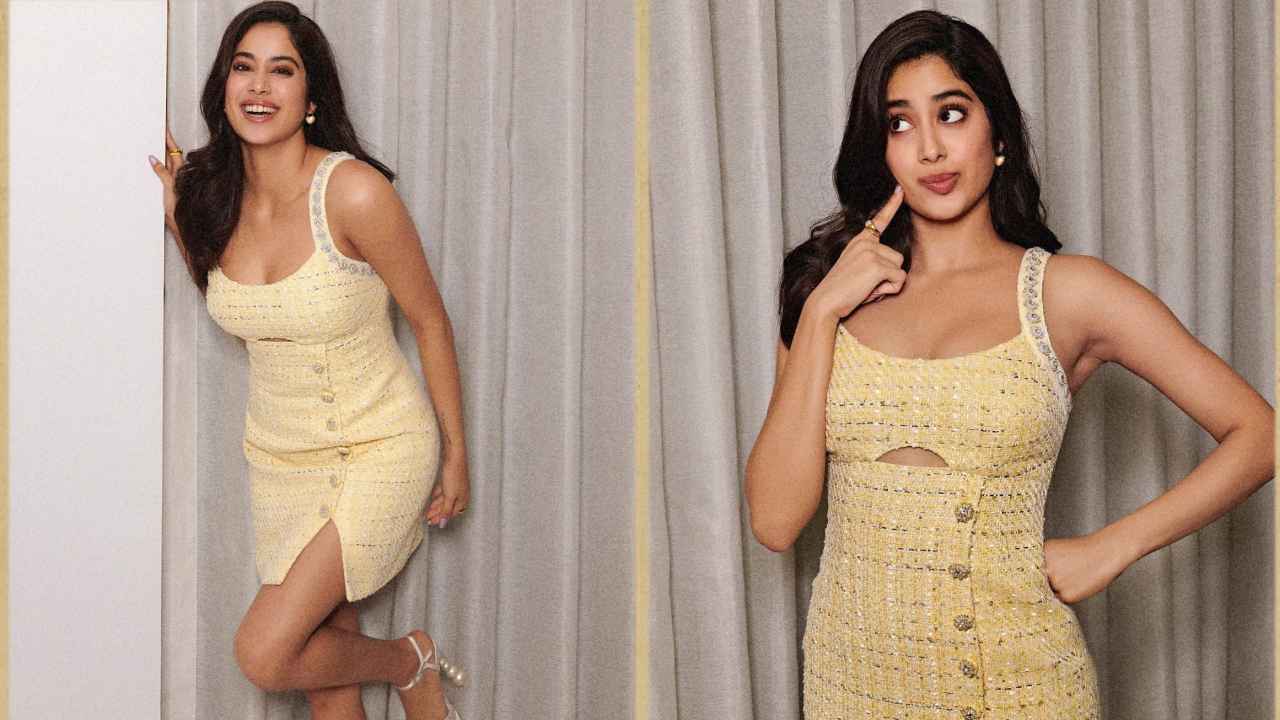 Janhvi's willingness to take risks and venture into uncharted fashion territory showcases her fearlessness and confidence in expressing herself through her style. Each outfit she dons becomes a masterpiece, blending colors, textures, and silhouettes to create a visual symphony that captivates our hearts.
Her keen sense of fashion, coupled with her impeccable taste, has earned her the status of a huge style icon for the modern generation. Young individuals look up to her for inspiration, as she fearlessly embraces her individuality and uses fashion as a form of self-expression.
Janhvi Kapoor's fashion choices are not just about looking glamorous; they also reflect her passion for creativity and artistry. She approaches each appearance as an opportunity to tell a unique fashion story, leaving a lasting impact on the minds of her fans and the fashion world.
As she continues to explore new styles and experiment with her looks, Janhvi Kapoor's fashion journey promises to be a fascinating and evolving one. With every appearance, she sets new standards of style and elegance, making us eager to witness the next mesmerizing symphony she creates. Her influence on the modern generation's fashion sensibilities is undeniable, making her a true trendsetter and style icon for years to come.
Janhvi Kapoor's choice to wear the Bouclé Diamonte-Embellished Dress from Self-Portrait was a perfect example of merging fashion trends and quality to create wearable art. This stunning dress, priced at approximately Rs. 56,766, was a true showstopper at the event.
The thigh-length, eggshell-colored dress featured a plunging neckline, adding a hint of allure and sophistication to the ensemble. The slight slit on the left side of the dress added a touch of playfulness and balanced the overall look.
The stylish cutout design added a modern and edgy element, elevating the dress to a contemporary masterpiece. This combination of classic buttoned style with a twist of modern details is a signature feature of Self-Portrait, making it a go-to brand for fashion-forward individuals like Janhvi Kapoor.
The Bouclé Diamonte-Embellished Dress showcased the brand's commitment to creating wearable art that stands out for its unique craftsmanship and attention to detail. The diamante embellishments added a touch of sparkle and glamour, making Janhvi Kapoor shine even brighter on the red carpet.
To ace mini dresses like Janhvi Kapoor, taking cues from this remarkable fashion choice means embracing designs that strike a balance between classic elegance and modern flair. Opt for dresses with interesting details, such as cutouts, slits, or embellishments, while ensuring a flattering fit that accentuates your figure.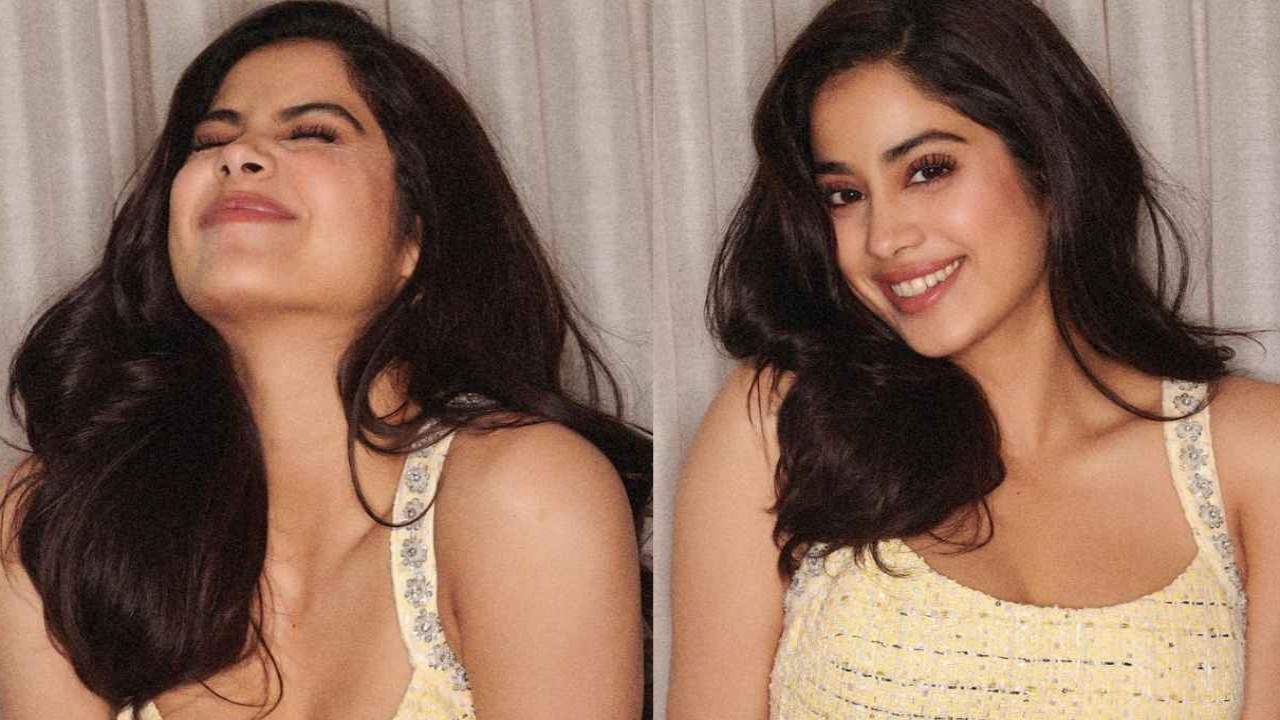 Accessorize thoughtfully to complement the dress, keeping it simple yet chic. A pair of statement earrings or delicate necklaces can add a touch of elegance without overpowering the outfit.
With her stunning appearance in the Bouclé Diamonte-Embellished Dress, Janhvi Kapoor continues to inspire fashion enthusiasts and showcases her impeccable fashion sense, solidifying her position as a true style icon in the industry.
Janhvi Kapoor's choice to complete her outfit with the Natalia Beaded Heel Sandals from Sophia Webster was a perfect addition to the overall look. The delicate sandals, priced at around Rs. 1,05,742, added a touch of elegance and sophistication to the ensemble.
The Natalia Beaded Heel Sandals from Sophia Webster perfectly complemented the Bouclé Diamonte-Embellished Dress from Self-Portrait, creating a harmonious and cohesive appearance. The sandals' intricate beaded design added a subtle touch of sparkle, enhancing the overall glamour of the outfit.
With the thigh-length dress showcasing a stylish cutout design and a slight slit, the choice of delicate heeled sandals added a refined and feminine touch. The heels not only elevated Janhvi Kapoor's height but also contributed to the overall graceful and polished look.
Janhvi's decision to keep the accessories minimal by wearing studded earrings was indeed a wise choice. When wearing a statement dress like the Bouclé Diamonte-Embellished Dress, opting for understated accessories allows the outfit to be the focal point, ensuring a balanced and sophisticated appearance.
This fashion choice exemplifies Janhvi Kapoor's understanding of how to perfectly accessorize and complete a standout ensemble. By embracing the right footwear and minimal accessories, she showcases her impeccable taste and fashion sensibility.
As she continues to make stunning appearances on the red carpet and at various events, Janhvi Kapoor's fashion choices will undoubtedly inspire fashion enthusiasts to embrace elegance, sophistication, and attention to detail in their own style journeys. Her ability to effortlessly curate striking and memorable looks makes her a true style icon in the world of fashion.
anhvi Kapoor's Self-Portrait mini dress added a touch of elegance and sophistication to her overall look. When choosing a mini dress, paying attention to intricate embellishments or unique elements can truly elevate the outfit and make it stand out.
Lace is a classic and timeless embellishment that exudes femininity and grace. It can add a sense of delicacy and refinement to any outfit, making it a perfect choice for a mini dress. Whether it's an all-over lace design or subtle lace accents, the texture and intricacy of lace bring an air of elegance to the ensemble.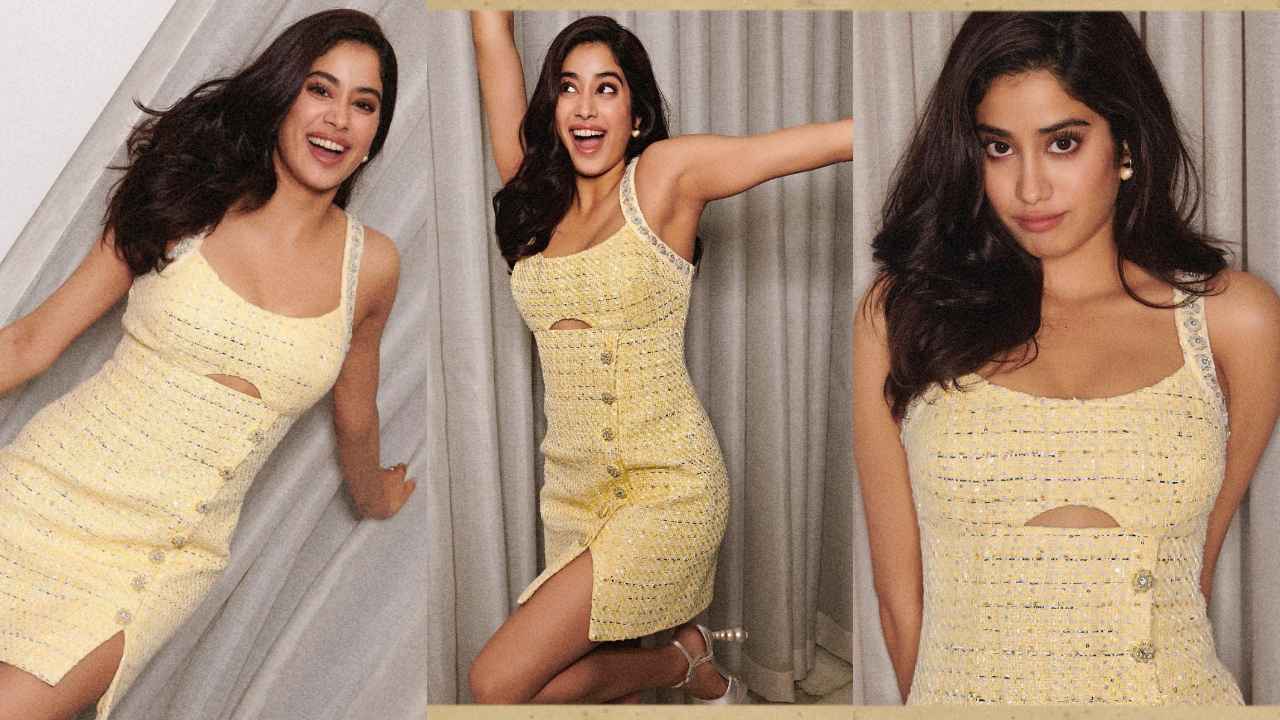 In addition to lace, other embellishments like embroidery, sequins, beading, or appliqués can also add a touch of glamour and individuality to a mini dress. These intricate details catch the light and create visual interest, making the dress truly special and eye-catching.
Unique elements, such as cutouts, asymmetrical hems, interesting necklines, or draping, can set a mini dress apart from the rest. These design features add a modern twist to the classic silhouette, allowing you to make a fashion statement and express your personal style.
When selecting a mini dress, consider the occasion and your personal preferences. Whether you opt for a romantic lace dress, a beaded and glamorous design, or a modern and edgy piece, paying attention to these intricate details will elevate your outfit and make it a standout choice.
Ultimately, fashion is about expressing yourself and embracing your individuality. By carefully selecting a mini dress with unique and intricate elements, you can create a look that not only captures attention but also reflects your own sense of style and fashion sensibility, just like Janhvi Kapoor does with her impeccable fashion choices.
The eggshell color of Janhvi Kapoor's mini dress exuded sophistication and grace, perfectly complementing her radiant complexion. When choosing a mini dress, considering the color is crucial to creating a polished and stylish look.
Neutral and pastel shades, like eggshell, ivory, blush, beige, or light gray, offer a timeless and versatile option for mini dresses. These colors have a classic appeal and can effortlessly transition from day to night, making them ideal choices for various occasions.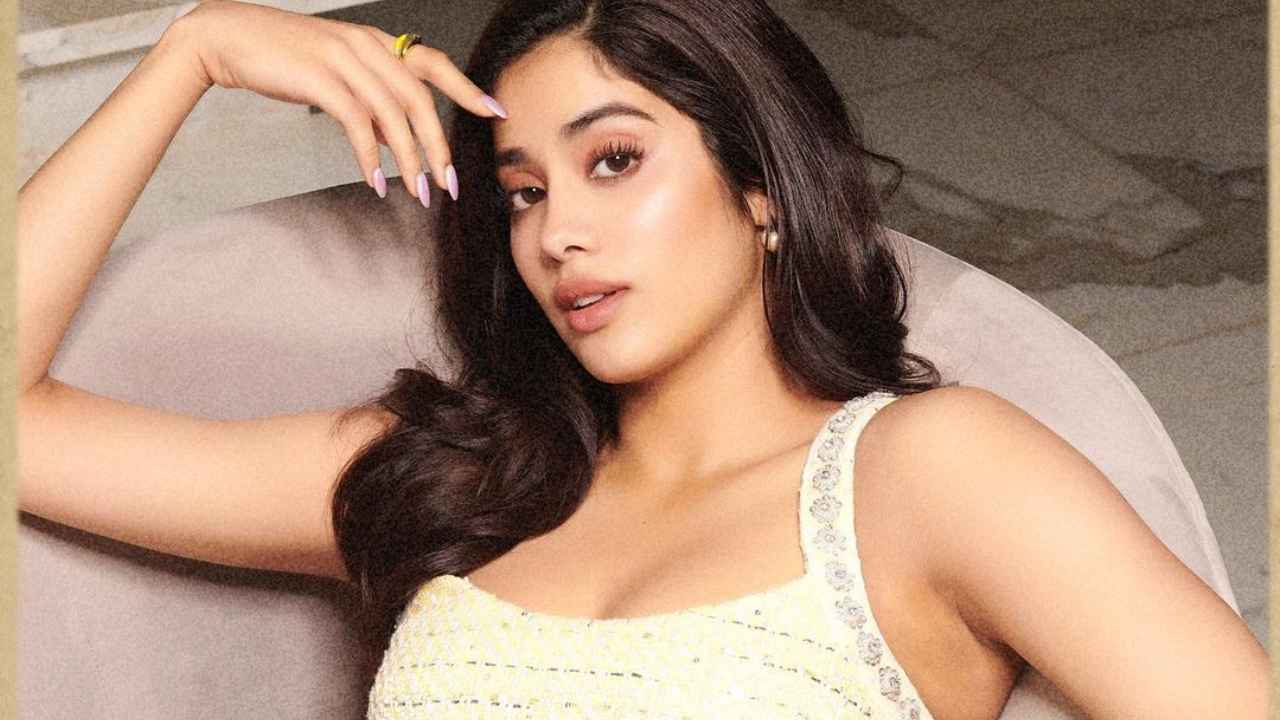 When it comes to versatility, neutral and pastel shades are ideal for both formal events and casual outings. They can be dressed up or down to suit the occasion, making them go-to options for any fashion-conscious individual.
Overall, opting for a mini dress in a neutral or pastel shade, like Janhvi Kapoor's eggshell dress, ensures a timeless and elegant look that exudes sophistication and versatility. It allows you to create a chic and polished appearance effortlessly, making it a staple in your wardrobe for various fashion endeavors.