Janhvi Kapoor rekindles love affair with Manish Malhotra sarees!
Janhvi Kapoor, a rising star in the Bollywood industry, has undeniably made a mark with her talent and fashion choices. Known for her youthful charm and impeccable style, Janhvi has been captivating audiences with her fashion sense, particularly when it comes to sarees designed by the renowned fashion designer, Manish Malhotra.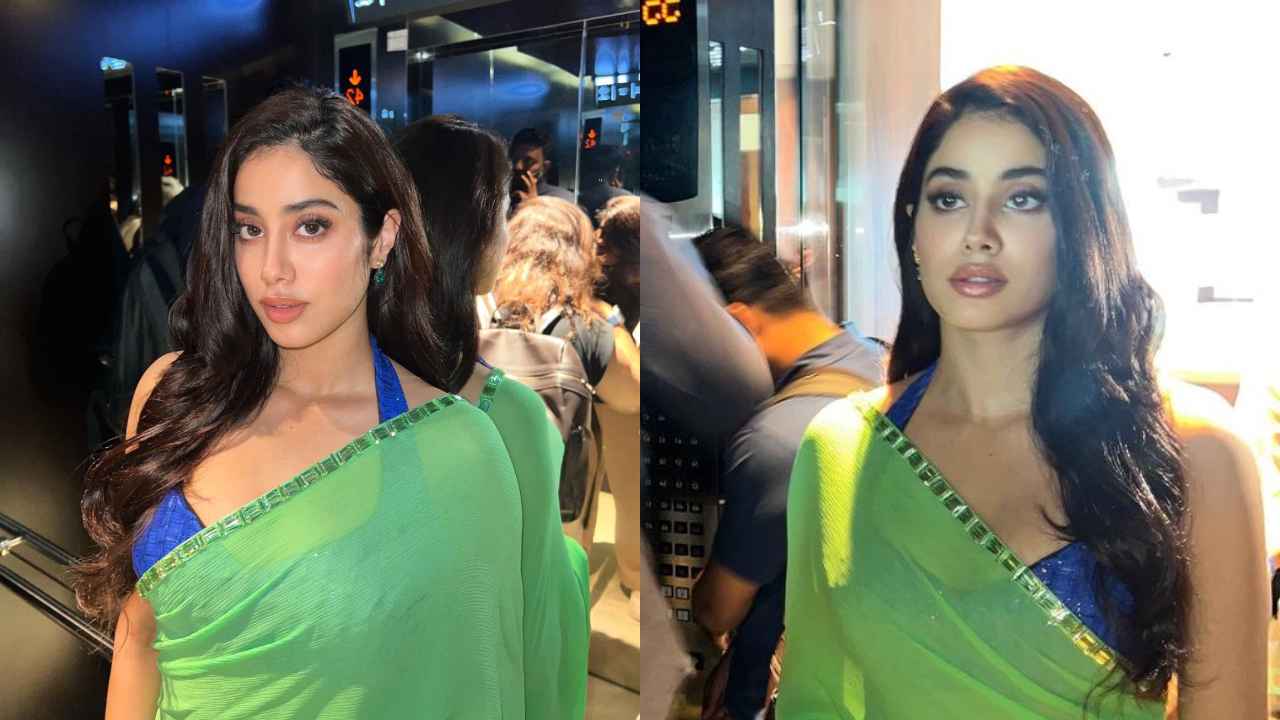 Manish Malhotra is a prominent name in the Indian fashion industry, renowned for his exquisite designs and ability to blend traditional and contemporary elements seamlessly. Janhvi's association with him has resulted in stunning and memorable saree ensembles that have garnered attention and admiration.
Janhvi's love for Manish Malhotra's creations is evident in her red carpet appearances, photo shoots, and public appearances. She often opts for his sarees, which showcase his signature craftsmanship, intricate detailing, and use of luxurious fabrics. From elegant pastels to vibrant hues, each saree reflects a sense of elegance and glamour that complements Janhvi's youthful persona.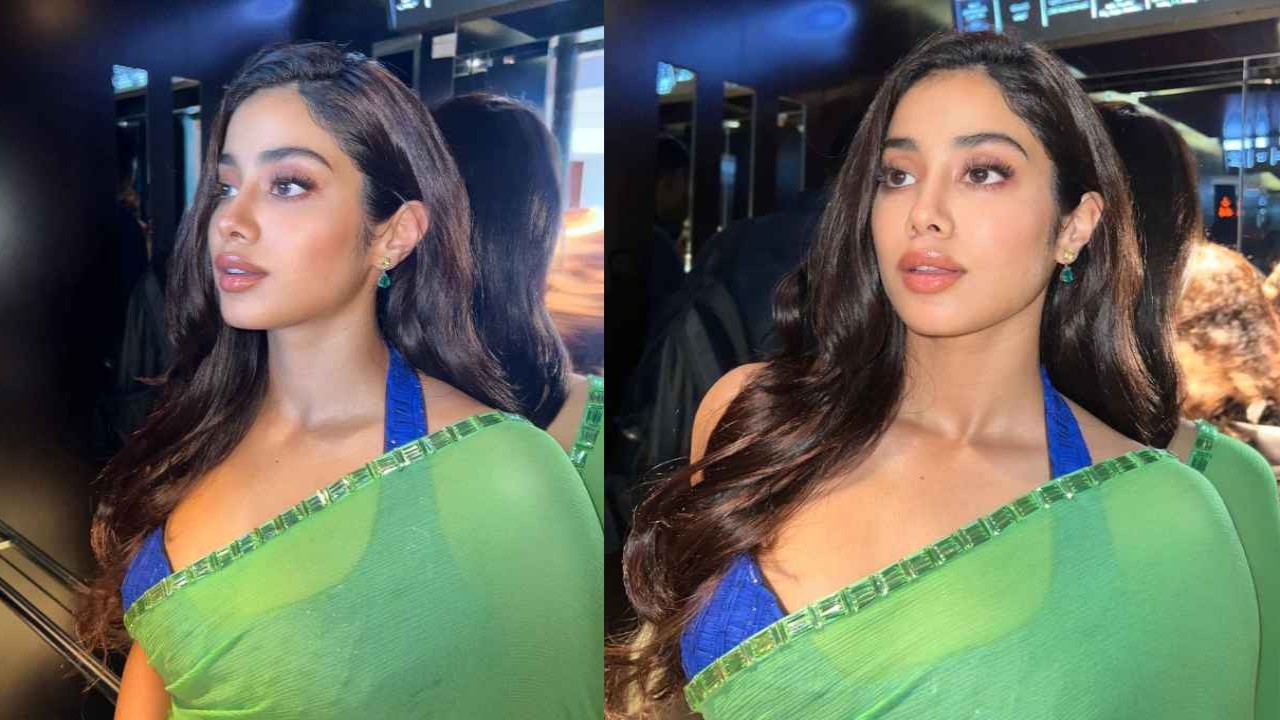 One of the reasons behind Janhvi's choice of Manish Malhotra sarees could be their ability to beautifully blend tradition with contemporary aesthetics. These sarees often feature modern silhouettes, innovative drapes, and unique embellishments, which appeal to the younger generation while still honoring the timeless appeal of the traditional garment.
Janhvi Kapoor's association with Manish Malhotra not only highlights her impeccable fashion sense but also serves as an inspiration for many fashion enthusiasts. Her sartorial choices have often set trends and created buzz in the fashion industry, establishing her as a style icon among the younger generation.
As Janhvi continues to evolve in her career, it will be exciting to see how her fashion choices, especially with Manish Malhotra's designs, continue to make a statement and captivate audiences both on and off the silver screen.
During a recent promotional appearance for her latest movie, Janhvi Kapoor, the talented Bollywood actress, once again captivated everyone with her unparalleled fashion sense. She made a bold and striking fashion statement by adorning a mesmerizing neon green drape, creating ripples in the fashion world and setting a new trend.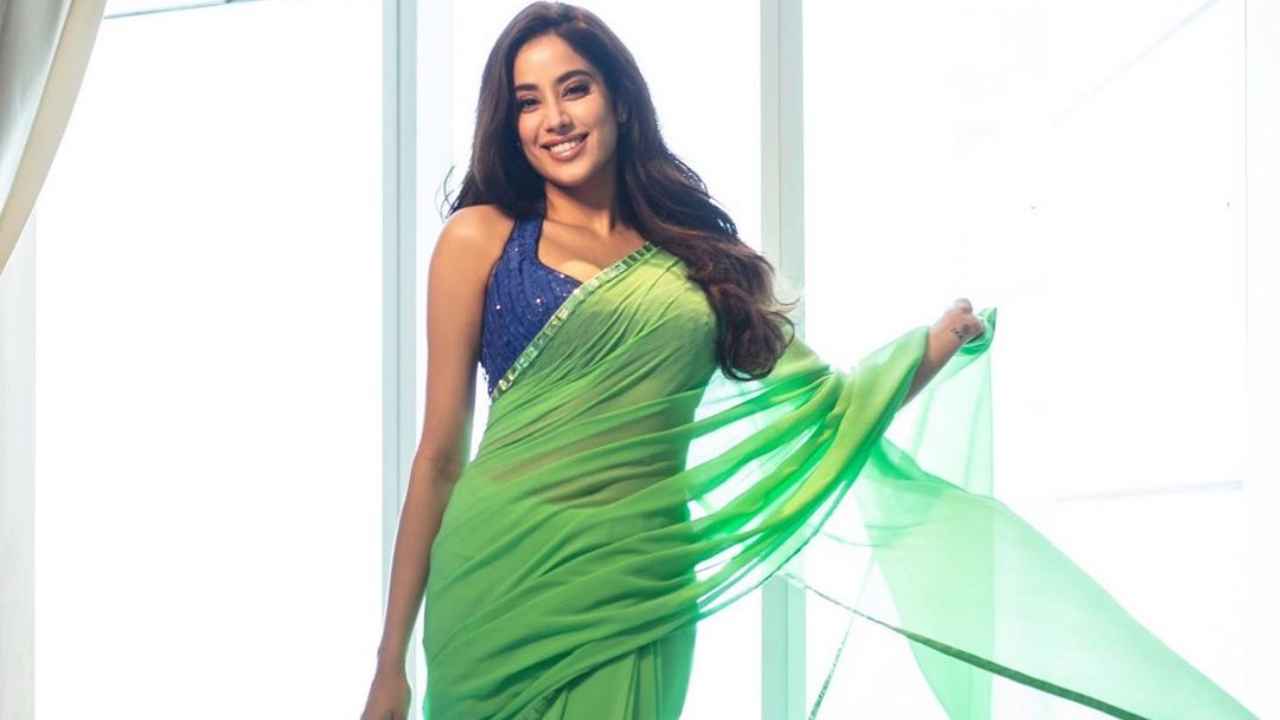 Janhvi's choice of a neon green outfit showcased her fearless and experimental style, as she effortlessly carried off this vibrant and unconventional color. The outfit not only highlighted her youthful charm but also accentuated her radiant personality on the red carpet.
The stunning ensemble was the creation of renowned fashion designer Manish Malhotra, known for his ability to blend traditional elements with contemporary flair. The intricate details of this remarkable fashion ensemble added to its allure and made it a standout piece.
The neon green drape was crafted from luxurious fabric, and its flawless draping and pleating added a touch of elegance and sophistication. The design featured a modern silhouette with a statement-making blouse that complemented the vibrant color of the drape.
Manish Malhotra's unique touch was evident in the exquisite embellishments adorning the ensemble. The outfit was adorned with intricate threadwork, sequins, or perhaps even Swarovski crystals, which added a glamorous and opulent touch to the overall look.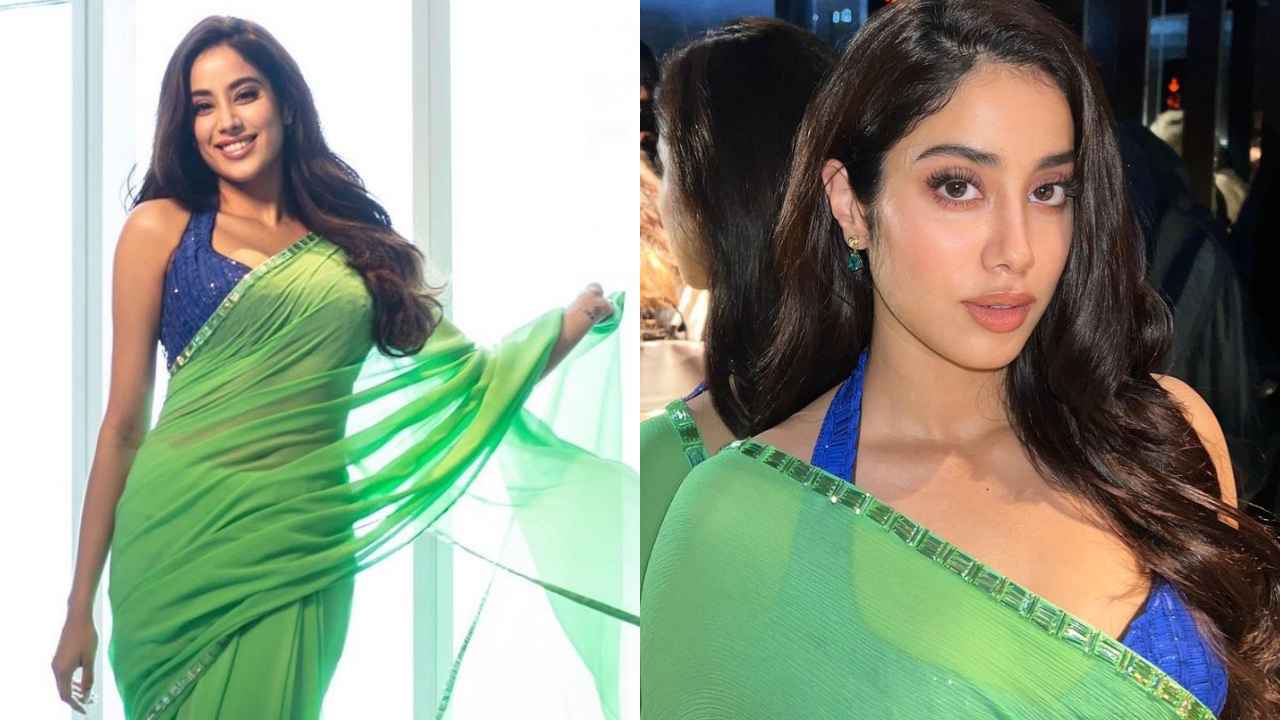 Janhvi Kapoor effortlessly carried the ensemble with her poise and confidence, making heads turn and setting tongues wagging in the fashion world. Her choice to pair the outfit with minimal accessories and sleek, understated hair and makeup allowed the vibrant neon green drape to take center stage.
Janhvi's fashion choices often become trends, and this daring neon green ensemble was no exception. It showcased her fearless approach to fashion and established her as a style icon who isn't afraid to push boundaries and experiment with unconventional colors and designs.
During her latest public appearance, Janhvi Kapoor, the talented Bollywood actress, exuded elegance and style as she graced the event in a stunning neon green saree designed by the renowned Manish Malhotra. The choice of this mesmerizing color immediately captured the attention of fashion enthusiasts and critics alike.
The vibrant neon green hue of the saree was a bold and unconventional choice, reflecting Janhvi's fearless approach to fashion. It beautifully accentuated her youthful charm and radiant persona, making her the center of attention on the red carpet.
What made the ensemble even more captivating was the choice of a complementary blue shade for the blouse. This unexpected pairing showcased Janhvi's constant quest for unique and fresh fashion choices, demonstrating her ability to effortlessly blend contrasting colors.
The neon green saree designed by Manish Malhotra was crafted with meticulous attention to detail, with the fabric draping gracefully and accentuating Janhvi's figure. The intricate work and embellishments added an extra layer of glamour and sophistication to the ensemble.
Janhvi's choice of minimal accessories and understated makeup allowed the vibrant neon green saree to take center stage, ensuring that all eyes were on her and the impeccable design. Her confidence and poise further elevated the overall look, leaving a lasting impression on onlookers.
The combination of the striking neon green hue, the complementary blue blouse, and the exquisite craftsmanship of Manish Malhotra resulted in an ensemble that perfectly balanced style, elegance, and a touch of vibrant energy. It showcased Janhvi Kapoor's innate fashion sense and her willingness to push boundaries, establishing her as a trendsetter and a fashion icon.
Janhvi's fashion choices continue to inspire and influence the industry, and her latest appearance in the neon green saree is yet another testament to her impeccable style and her ability to make a statement on the red carpet.
By embracing this amalgamation, Janhvi Kapoor not only pays homage to the rich cultural heritage of Indian fashion but also demonstrates her forward-thinking approach to style. She showcases the beauty of traditional craftsmanship while giving it a fresh and modern twist, appealing to a younger generation who seeks both cultural roots and contemporary aesthetics.
Janhvi's fashion sense serves as an inspiration to many, encouraging fashion enthusiasts to explore and experiment with their own style choices. Her ability to effortlessly carry both traditional ensembles and contemporary outfits with equal grace and confidence has gained her recognition and admiration within the fashion industry.
As a fashion icon to watch out for, Janhvi Kapoor's fashion journey promises to be a delightful mix of tradition and innovation. Her constant evolution and experimentation with different styles and designers keep her fashion choices exciting and eagerly anticipated by fashion enthusiasts and critics alike.
Janhvi Kapoor's embrace of the amalgamation of tradition and contemporary fashion not only showcases her remarkable sense of style but also cements her status as a fashion icon who continues to set trends and push boundaries in the ever-evolving world of fashion.