Sonam Kapoor serves total Bridgerton vibes in Huishan Zhang's classy black ankle-length flowy tulle midi dress
In the bustling city of Mumbai, a recent prominent event was graced by the enchanting presence of none other than Sonam Kapoor Ahuja. The moment she stepped into the spotlight, her aura exuded grace, and her fashion sense could easily rival that of royalty. The elegant actress, known for her role in "Blind," transported all of us to an era reminiscent of the timeless and regal charm of the hit series Bridgerton.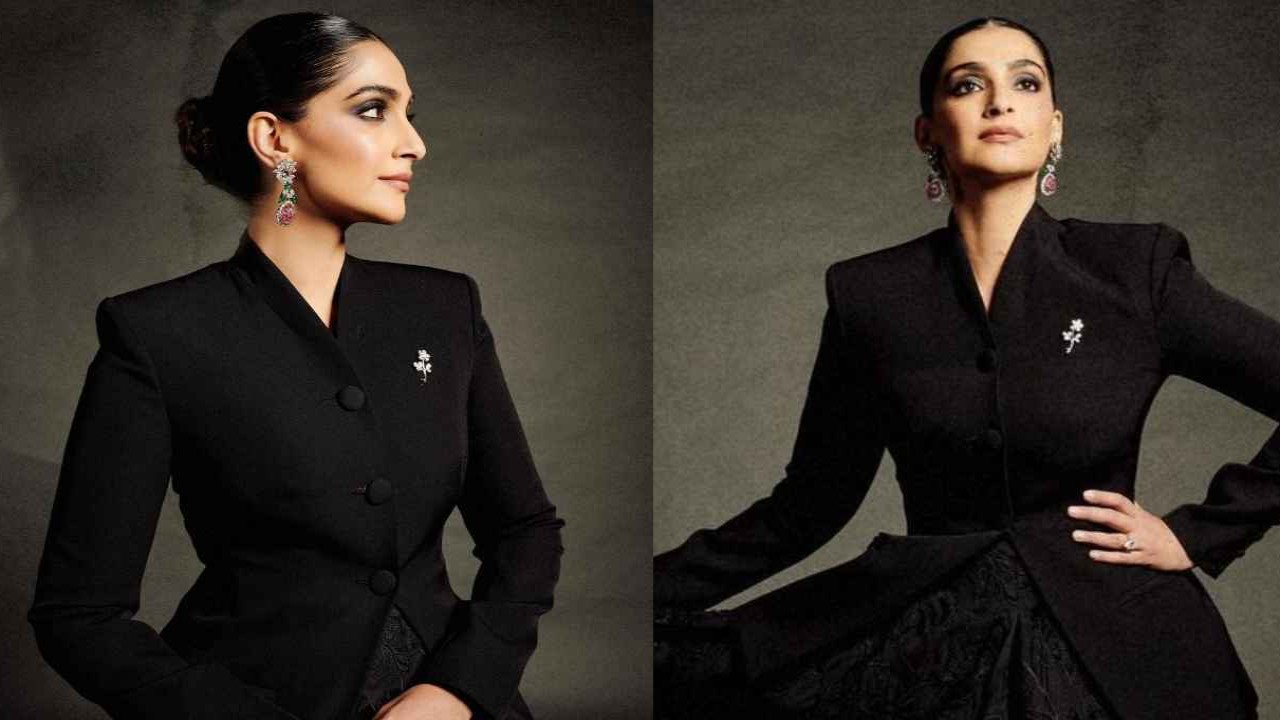 Sonam Kapoor Ahuja's choice of attire was nothing short of exceptional. Draped in an ensemble that redefined elegance, she left onlookers utterly mesmerized. Her black gown, sleek and sophisticated, cascaded gracefully to her ankles, with its fabric a delicate interplay of lace and tulle. It was a true masterpiece, blending classic and contemporary elements in a harmonious fashion.
What truly set her ensemble apart was the formal black blazer she donned. The blazer added a touch of sophistication to the outfit, infusing it with a sense of power and authority while still maintaining its elegant allure. This fusion of a classic black gown with a formal blazer showcased Sonam Kapoor Ahuja's innate ability to experiment with fashion and create a look that was both commanding and captivating.
Sonam's appearance at the event was a masterclass in fashion and style. Her choice of attire not only reflected her impeccable fashion sense but also demonstrated her knack for making a statement through her clothing. Sonam Kapoor Ahuja's presence was nothing short of regal, and she once again proved why she is regarded as a fashion icon in the industry.
Sonam Kapoor's recent appearance at a prominent event in Mumbai was nothing short of stunning, as she donned a classy all-black ensemble designed by Huishan Zhang. Her choice of attire featured a breathtaking black gown that had onlookers absolutely captivated. This was a fashion moment that had everyone in awe.
The heart of her ensemble was a sleeveless lacy and tulle-laden black ankle-length midi dress, a piece of pure elegance and grace. The intricate lace and delicate tulle combined to create a mesmerizing look that exuded timeless charm. The dress was a testament to her impeccable fashion taste and her ability to make a statement through her clothing choices.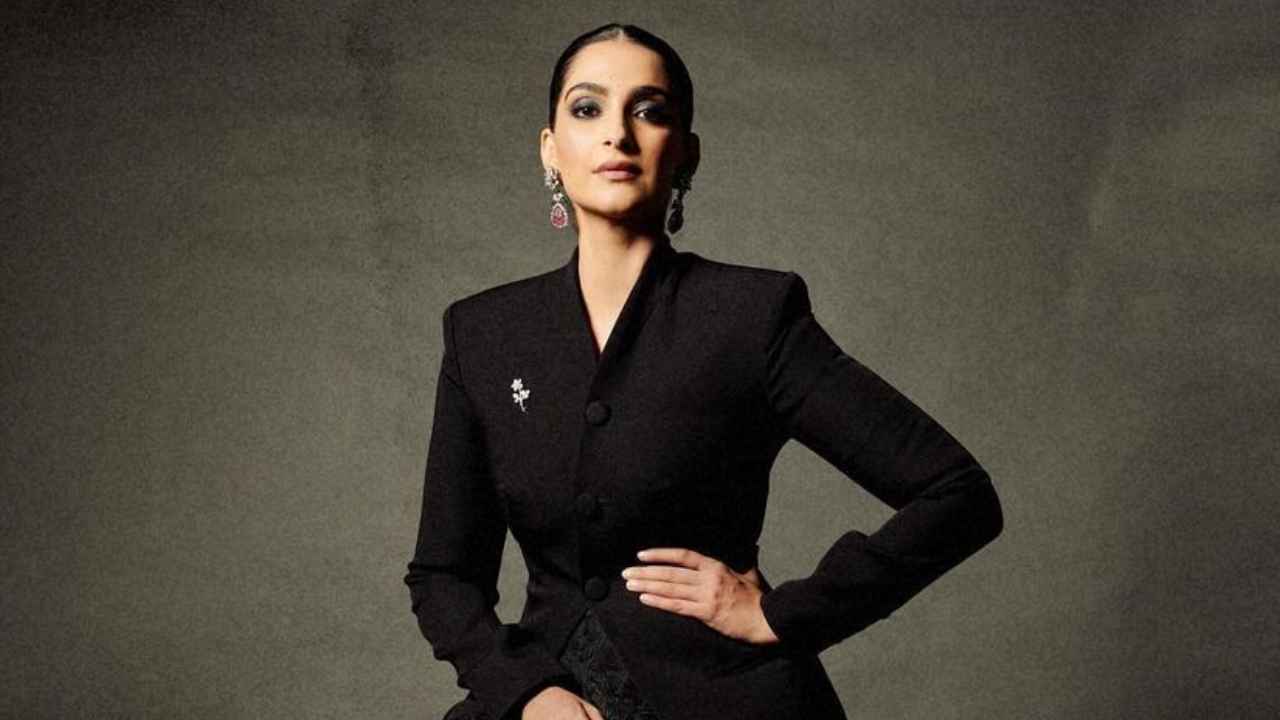 What truly set her outfit apart was the addition of a matching sleek black formal blazer with three buttons. The blazer not only added a sense of sophistication to the ensemble but also infused it with a touch of power and authority. The juxtaposition of the formal blazer with the delicate lace and tulle of the dress was a bold fashion choice that Sonam carried off flawlessly.
The flowy dress itself had subtle gathers at the waistline, which not only added a touch of refinement but also produced a rather pleasing shape. It was this attention to detail that highlighted the designer's craftsmanship and Sonam's ability to select pieces that perfectly complemented her figure, enhancing her overall look.
While the entirety of Sonam Kapoor's ensemble was undeniably impressive, it was the beautiful flower design embroidered with white thread on the black blazer that truly caught our attention. This intricate detail added a touch of modesty yet was strikingly noticeable, serving as a captivating element that elevated the overall allure of the outfit's design. The delicate yet bold contrast of the white thread against the black background showcased a level of craftsmanship and attention to detail that was nothing short of remarkable.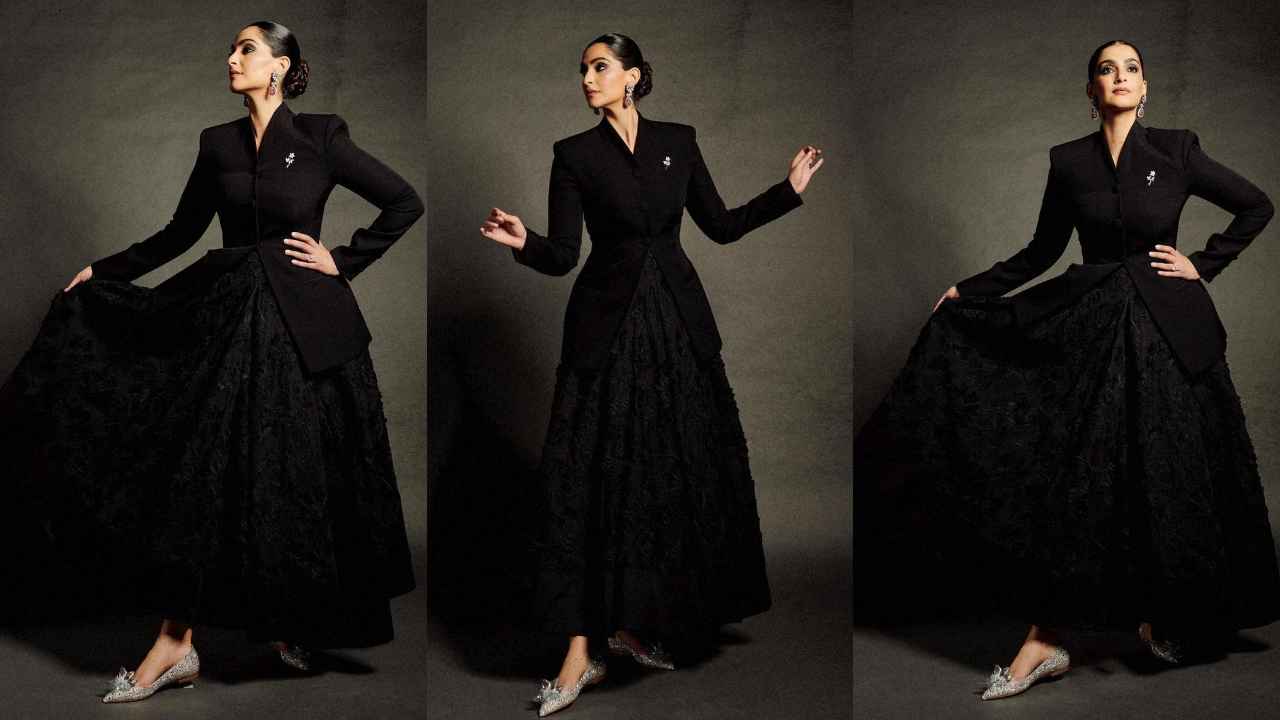 The addition of the embroidered flower design was a brilliant choice, as it provided a focal point for the ensemble and emphasized the fusion of grace and authority in Sonam's attire. It served as a testament to the designer's artistry and Sonam's ability to curate pieces that are not only stylish but also possess a unique and eye-catching charm.
In conclusion, Sonam Kapoor's all-black ensemble, with the exquisite flower embroidery on the blazer, was a testament to her discerning fashion sense. It demonstrated that even in the simplicity of a monochromatic outfit, the right attention to detail can make all the difference. The addition of the embroidered flower design showcased the perfect blend of elegance and statement, reaffirming that black has never looked better. This ensemble truly exemplified the art of combining sophistication and striking fashion, solidifying Sonam Kapoor's status as a fashion icon.
In addition to her impeccable ensemble, Sonam Kapoor made another brilliant choice by pairing her outfit with statement accessories that added an extra layer of sophistication to her overall look. She selected silver and crystal-laden dangling earrings that were nothing short of stunning. These statement earrings served as a focal point and drew attention to her face, creating a harmonious balance with the intricate lace and tulle details of her black dress.
Complementing her earrings, Sonam wore a shimmery matching statement ring that further elevated her elegant and seriously formal outfit. The ring not only added a touch of glamour but also provided continuity with the overall theme of her attire. This choice showcased her ability to harmonize her accessories with her clothing, ensuring a cohesive and polished appearance.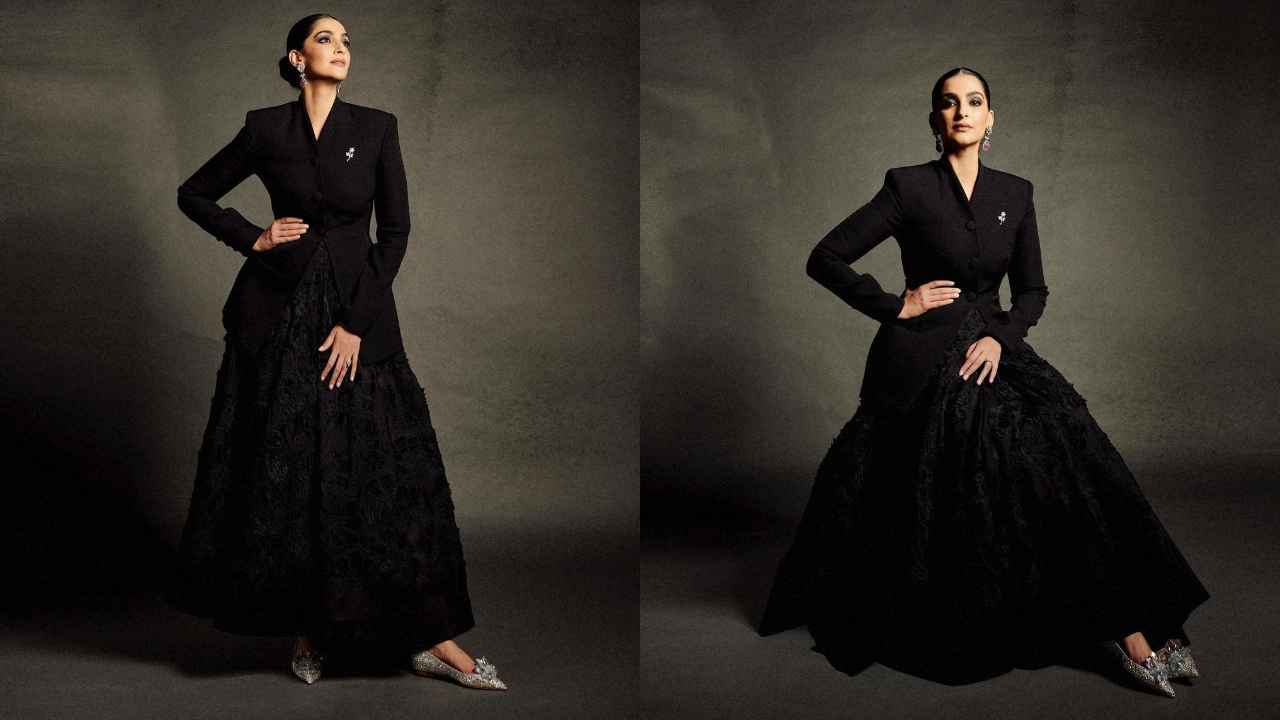 Sonam Kapoor's choice of statement accessories not only enhanced her beauty but also demonstrated her understanding of how to complete a look with the right jewelry. Her impeccable sense of style and attention to detail were evident in her choice of earrings and ring, which perfectly complemented her classy ensemble. It's these subtle yet impactful choices that set her apart as a true fashion icon in the industry.
Not to be overlooked, Sonam Kapoor's hair and makeup were on point, adding the finishing touches to her flawless appearance. The talented actress, known for her role in "Khoobsurat" and "The Zoya Factor," made thoughtful choices to accentuate her overall look. She decided to tie her hair up into a neat and sleek bun, with a precise center parting that showcased her beauty at its finest.
The choice of a sleek bun with a center parting was a brilliant one, as it allowed her striking facial features and the intricate details of her dress to take center stage. The neat and polished bun accentuated her regal and elegant presence, creating a perfect balance with her formal attire. This hairstyle was a reflection of her understanding of how to let her outfit shine while maintaining a look of timeless grace and refinement.
Furthermore, Sonam's makeup was a key component in her overall appearance. Her makeup was expertly executed to enhance her natural beauty. The choice of subtle and well-balanced cosmetics worked seamlessly with her ensemble, contributing to the overall aura of sophistication and allure that she exuded at the event.
In essence, Sonam Kapoor's hair and makeup game perfectly complemented her entire look. Her choice of a sleek bun with a center parting highlighted her beauty while her understated and well-executed cosmetics worked in harmony with her outfit. These decisions showcased her exceptional fashion sense and her ability to create a cohesive and captivating appearance at any event, reaffirming her status as a fashion icon in the industry.
On the makeup front, Sonam Kapoor's look was truly captivating and a testament to her flawless beauty game. The credit for her oh-so-glamorous makeup goes to the talented makeup artist Namrata Soni. The entire look was a sheer work of art that instantly won hearts.
In conclusion, Sonam Kapoor's makeup look, expertly crafted by Namrata Soni, was a work of art that truly elevated her entire appearance. From well-shaped eyebrows to smoky eyeshadow and the perfect nude-colored lipstick, every element was executed flawlessly. It was a demonstration of her commitment to maintaining a harmonious and captivating look at every event, reaffirming her status as a fashion and beauty icon in the industry.