Mouni Roy's shimmery green strapless fit is all about showcasing a 'flare for the dramatic'!
Mouni Roy, the Bollywood diva known for her stunning style and confident demeanor, has always had a special affinity for the timeless beauty of black. Her fashion choices often revolve around this classic and versatile shade, and it's no surprise that she frequently dons ensembles that showcase her love for all things black.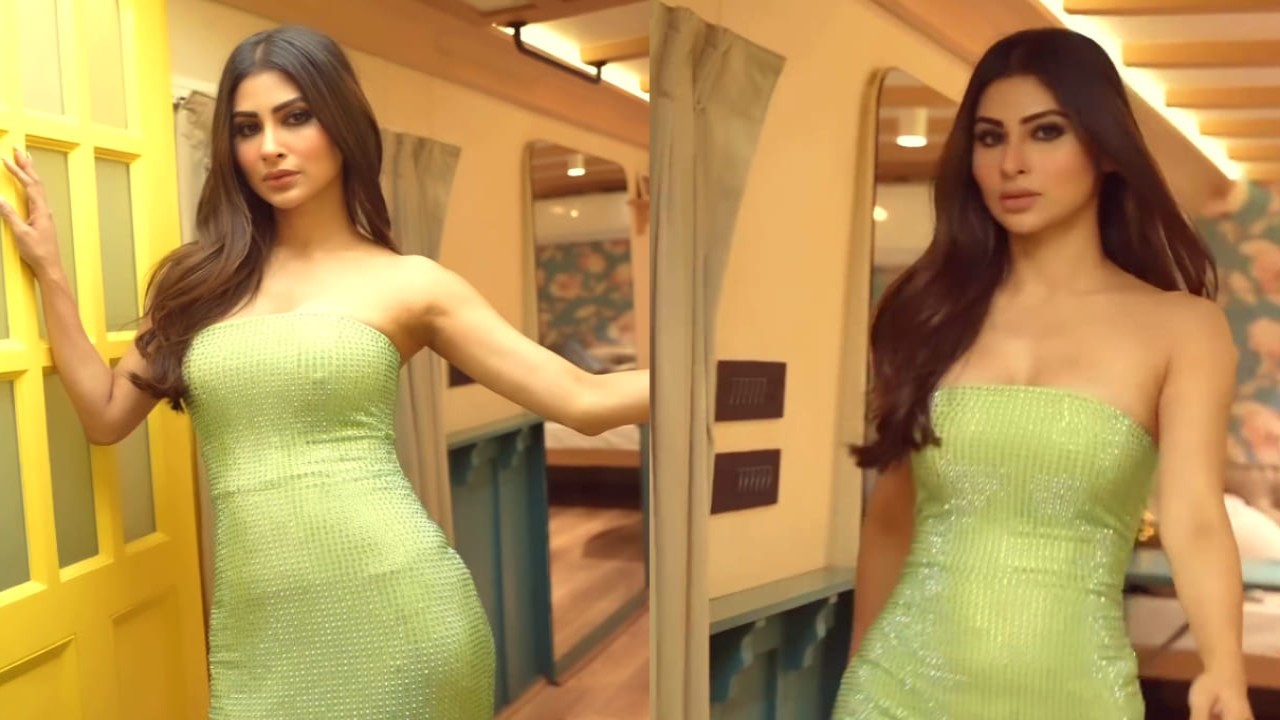 What sets Mouni apart in the world of fashion is her remarkable ability to effortlessly switch up her looks. Whether it's on the red carpet, at social events, or just her casual outings, she consistently surprises her fans and the fashion world with her ever-evolving style. Mouni's knack for reinventing her appearance is something that keeps her followers eagerly anticipating her next stunning look.
Recently, Mouni Roy graced an event in a breathtaking new attire that instantly captured the attention of fashion enthusiasts and critics alike. This fresh ensemble not only highlighted her impeccable sense of style but also showcased her innate elegance and charm. The choice of her outfit, the way she carried it with grace, and the overall impact of her appearance left a lasting impression on the fashion scene. Mouni Roy's fashion choices continue to inspire and set trends in the industry, making her a true fashion icon in her own right.
Mouni Roy has once again proven her ability to turn heads with her fashion choices. Recently, she wowed onlookers and fashion enthusiasts alike in a stunning pastel green suit. The strapless gown she wore was nothing short of scintillating, perfectly hugging her figure and accentuating her curves in all the right places.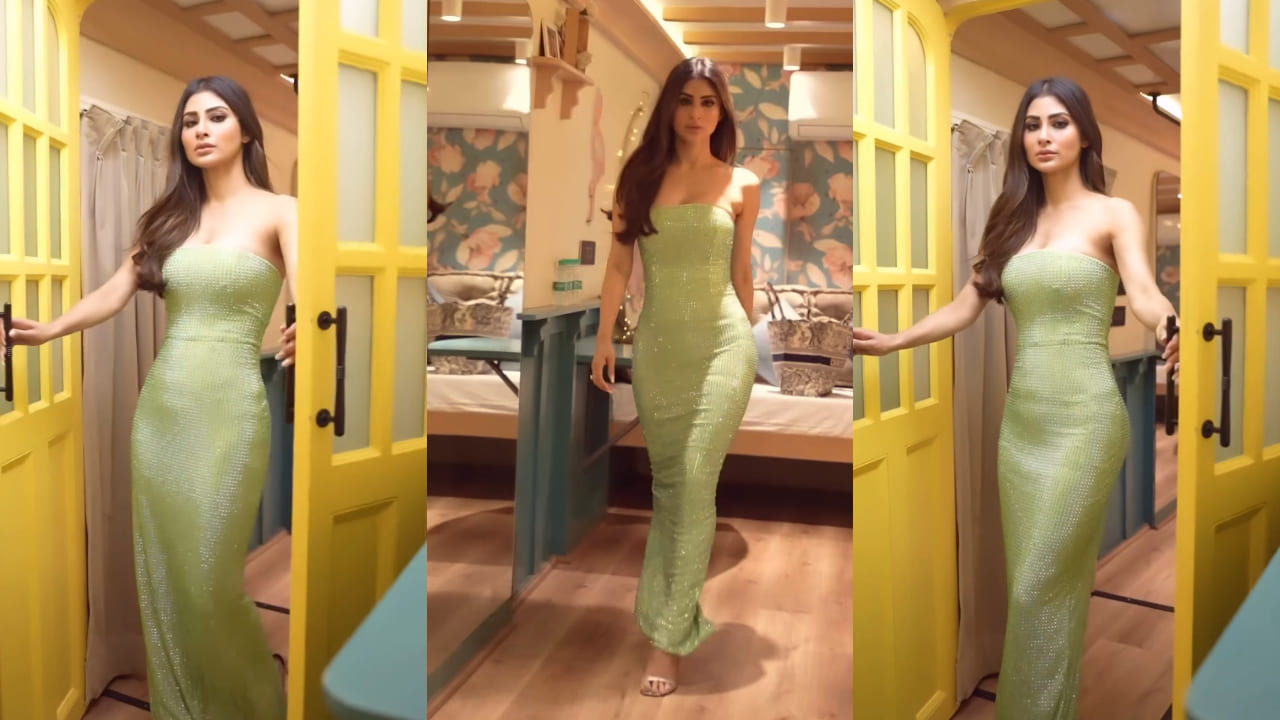 The body-con silhouette of the outfit added a touch of allure to her overall look, making her an undeniable focal point wherever she went. Mouni's confidence and poise further enhanced the appeal of the ensemble, showcasing her undeniable charisma in the world of fashion. Her choice to wear this particular garment was a testament to her ability to command attention and leave a lasting impression.
What truly stole the show, however, were the dazzling silver decorations adorning the garment. These embellishments not only added a touch of glamour but also highlighted Mouni's impeccable taste in fashion. The interplay of pastel green and shimmering silver created a mesmerizing contrast, making her stand out as a style icon with an eye for detail. Mouni Roy's recent fashion statement in the pastel green suit with silver embellishments was undoubtedly a showstopper, reaffirming her status as a fashion sensation in Bollywood.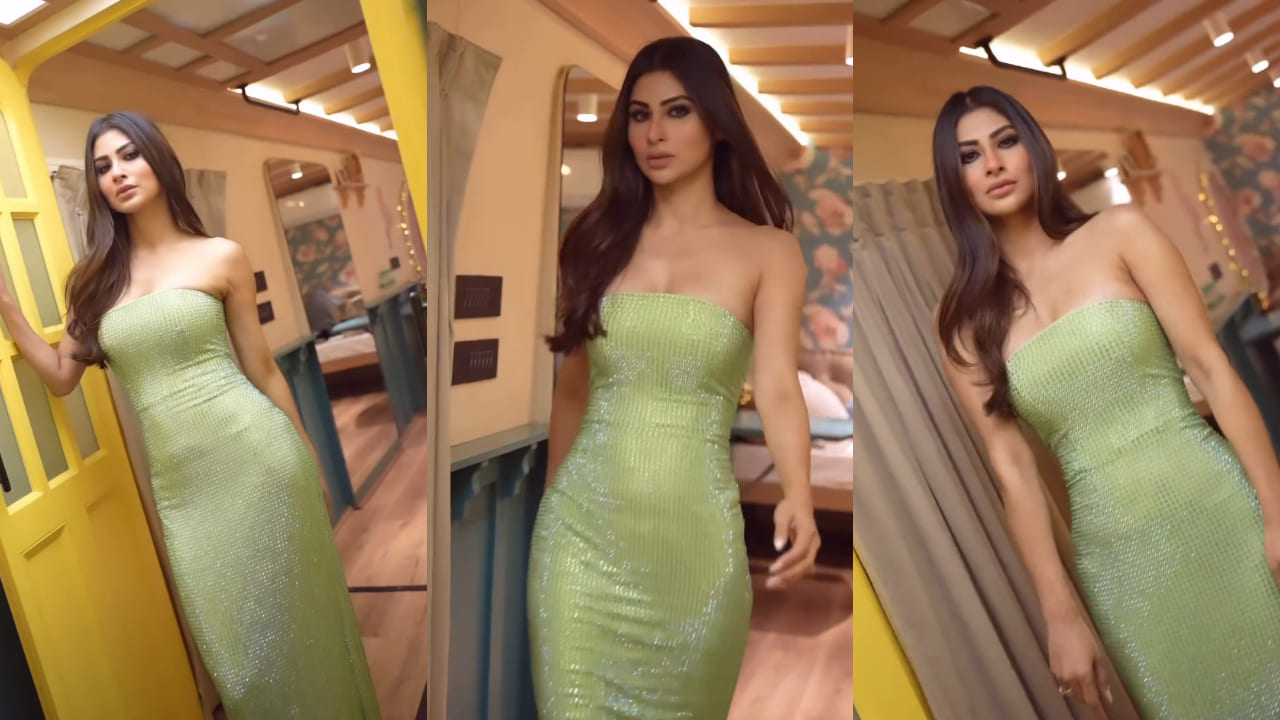 Indeed, the dazzling silver decorations on the pastel green suit added a touch of glamour that elevated the clothing to a whole new level of gorgeousness. Mouni Roy's fashion sensibilities consistently shine through, and her choice of this outfit was a testament to her impeccable taste in combining color and style.
Mouni's fashion versatility is truly awe-inspiring. She effortlessly demonstrates her ability to pull off a wide range of colors and styles, leaving her admirers in complete awe of her fashion choices. Whether it's the timeless beauty of black or a pastel green gown adorned with silver accents, she manages to make every outfit uniquely her own, radiating confidence and charm that captivates the fashion world.
Mouni Roy's fashion journey continues to be a source of inspiration for her fans and fashion enthusiasts, reaffirming her status as a trendsetter and a fashion icon in the ever-evolving landscape of Bollywood style.
Mouni Roy recently set the fashion scene on fire with her scorching ensemble from Oh Polly, a brand known for its stylish and contemporary designs. The outfit came with a price tag of Rs. 9989, showcasing Mouni's penchant for high-end fashion choices that turn heads and make a statement.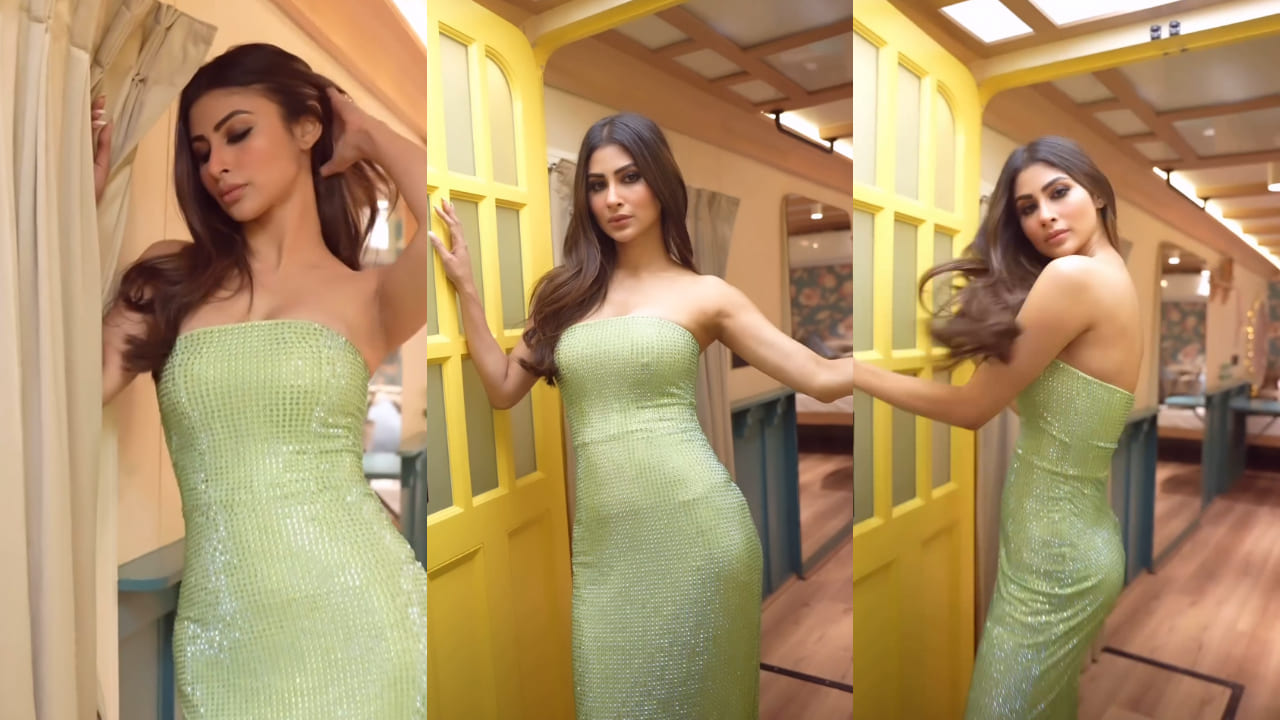 Behind this sensual and captivating look was the creative styling duo, Maneka Harisinghani and Chintan Shah, who worked their magic to curate an attire that perfectly complemented Mouni's gorgeous demeanor. Their acute eye for fashion was evident in the way they brought out the best in the ensemble, highlighting Mouni's natural elegance and grace.
This ensemble not only showcased Mouni's exceptional fashion sense but also her ability to seamlessly pull off any look. From her choice of the fashionable brand, Oh Polly, to the precision in styling, Mouni Roy once again proved herself as a fashion maven who knows how to make a striking impact in the world of fashion. Her ability to effortlessly blend high-end fashion with her unique style is a testament to her status as a true fashion icon.
Mouni Roy's fashion choices often demonstrate her keen attention to detail, and in this scintillating ensemble, she made a deliberate choice to forgo additional accessories. By doing so, she allowed her exquisite garment to take center stage and shine. This decision was not a mistake but a calculated move to let the gown's inherent beauty and glittering details capture all the attention.
It's worth noting that Mouni cannot be blamed for her choice to avoid additional accessories, as it aligns with the principle of less is more in fashion. The gown itself was a dazzling vision of bling, with its silver embellishments and intricate design. By keeping her look minimalist in terms of accessories, she managed to strike the perfect balance, ensuring that her outfit remained the focal point without any unnecessary distractions.
To complete her glamorous look, Mouni Roy opted for a pair of gorgeous golden Steve Madden shoes. This choice not only added to the overall appeal but also complemented the outfit beautifully, creating a harmonious and cohesive look. Mouni's fashion decisions are often well-thought-out, and in this instance, her choice to let the gown shine and select the right shoes was a masterstroke that showcased her impeccable style and sophistication.