Tara Sutaria's floor-length anarkali topped off with jacket spells royalty and is perfect swapping for lehenga!
Hello, fashion enthusiasts! Black has always been a timeless and popular color, and its appeal extends beyond western fashion staples like tank tops, tiny black skirts, and bodycon dresses. In fact, there's a whole subset of individuals who effortlessly incorporate black into their traditional attire, resulting in incredibly lovely and captivating looks. Tara Sutaria's latest appearance is a prime example of how black can seamlessly blend with classic fashion, exuding beauty and grace. Her style choices serve as a reminder that the color black has a universal charm, capable of enhancing any style, be it modern or classic.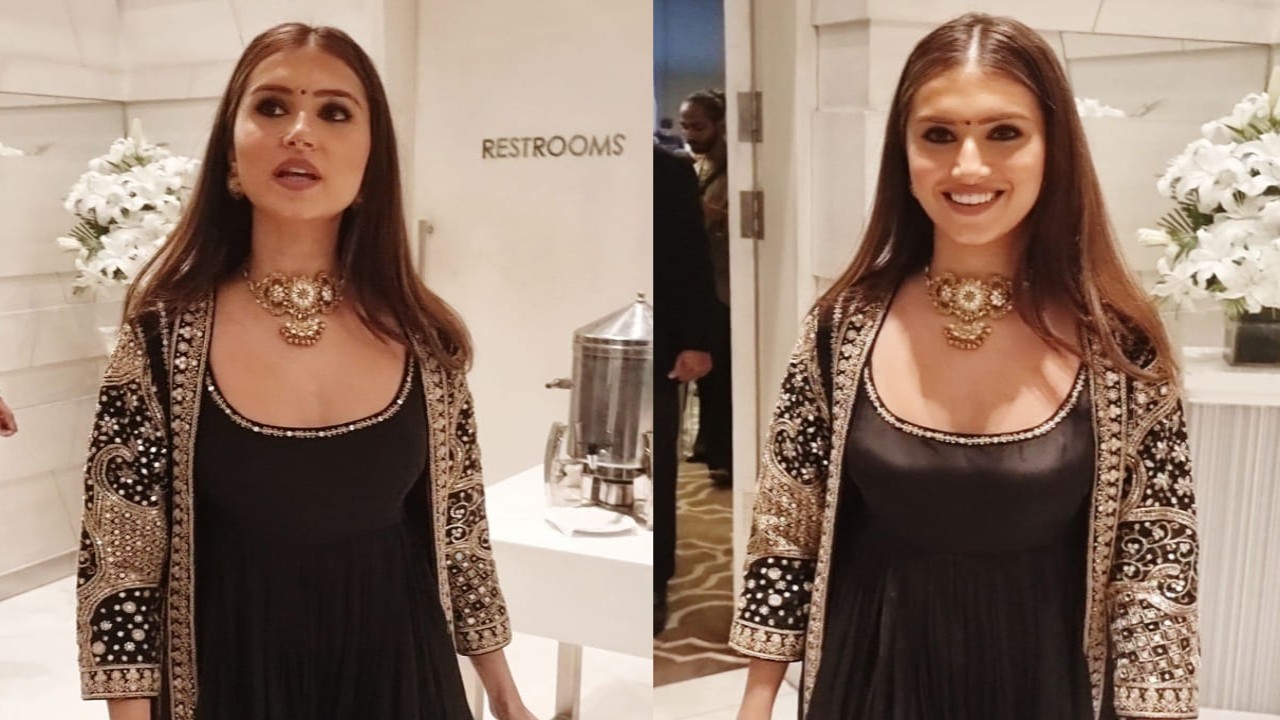 Tara Sutaria's recent outfit is a testament to the versatility of black in the world of traditional fashion. By donning a black traditional costume with beauty and grace, she demonstrated how this color can elevate and add a touch of sophistication to even the most conventional ensembles. It's a reminder for all fashion enthusiasts to embrace the power of black in their traditional wardrobes. Whether you're donning a saree, a kurta, or any other traditional attire, incorporating black can lend a sense of refinement and elegance to your fashion game, allowing you to make a lasting impression with your style choices. So, don't hesitate to explore the timeless allure of black in your traditional fashion journey and witness the magic it can bring to your overall look.
Tara Sutaria's recent fashion choice took the traditional Anarkali kurta combo to a whole new level, leaving everyone in awe. This stunning ensemble was a masterpiece in itself, boasting all the elements of a true fashion statement. It featured a deep scoop neckline, a floor-length design, and elegant empire-line gathers, which combined to create a sense of timeless grace and sophistication.
However, what truly stole the show and had everyone talking was the exquisite embroidery adorning that deep scoop neckline. The intricate needlework was not just eye-catching; it was a work of art. This embroidery effortlessly transformed the simplicity of the Anarkali kurta combo, adding a touch of opulence, tradition, and visual appeal. It was a testament to the power of detailed craftsmanship, and it highlighted the importance of paying attention to the finer details when it comes to fashion. Tara Sutaria's choice showcased her understanding of the art of dressing, and how a touch of embroidery can elevate an ensemble to a whole new level of elegance.
Tara Sutaria's fashion choices never cease to amaze, and she took her appearance to a whole new level of appeal with a brilliant pairing. She elegantly combined her Anarkali kurta with a stunning embroidered jacket, and the result was nothing short of a game changer. This floor-length jacket, featuring long sleeves, was a showpiece in its own right, and it played a significant role in transforming her entire look.
The embroidered jacket was a true standout with its sparkling accents, which added a touch of glamour and made it shine like a star. This piece not only added a layer of complexity to the ensemble but also served as a statement accessory in itself. The way Tara Sutaria effortlessly incorporated the jacket into her look demonstrated her keen sense of style and her ability to elevate her appearance with a single, carefully chosen piece. It was a masterclass in how fashion enthusiasts can experiment with layers and accessories to create a truly captivating and unique look.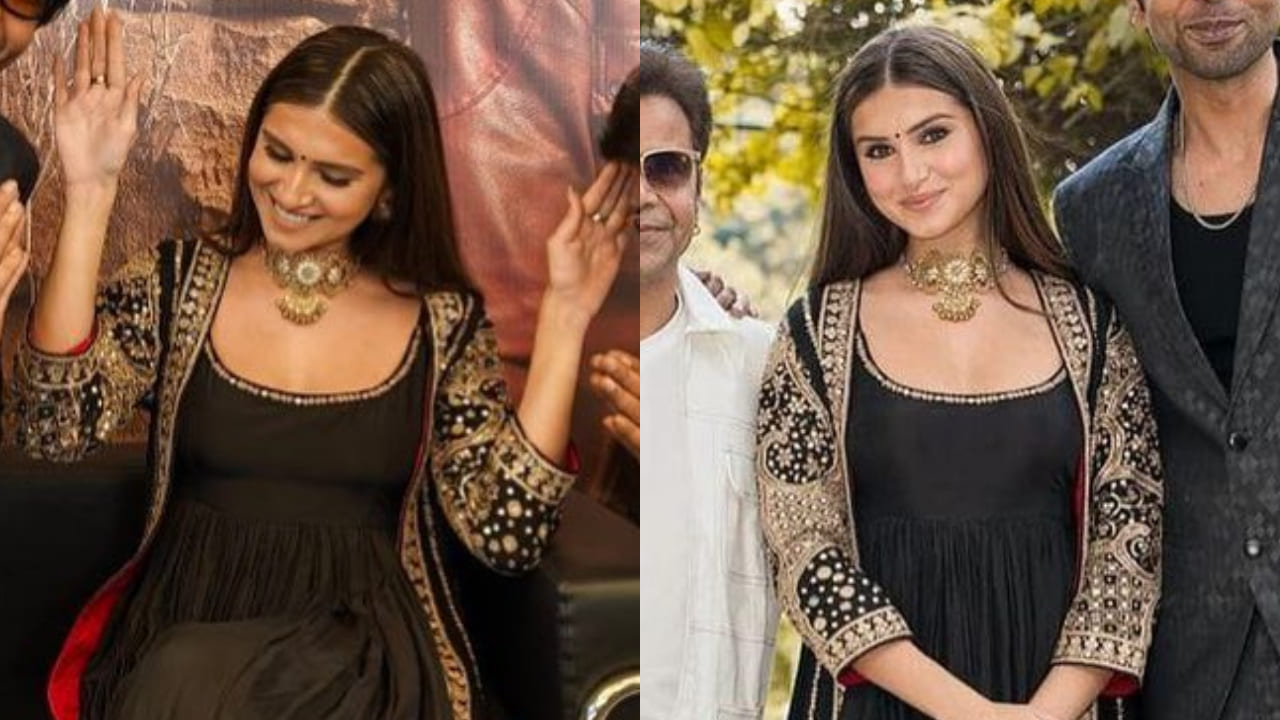 Tara Sutaria's fashion prowess didn't stop at the sparkling accents on her jacket. The mirror work on her ensemble was the real game-changer, infusing her look with a glamorous touch that not only caught the eye but also had a way of reflecting light, making her presence all the more captivating. The mirror work brought a dynamic and shimmering quality to her outfit, ensuring that she stood out in any crowd.
But there was even more to admire about this ensemble. The salma embroidered work on the jacket was nothing short of stunning. It showcased a high level of craftsmanship and an impeccable attention to detail. This intricate embroidery was a testament to the rich traditions and artistry of Indian fashion, and it added a layer of sophistication that truly elevated Tara's outfit from great to magnificent. It highlighted the transformative power of exquisite embroidery in traditional attire, making a statement about the fusion of heritage and contemporary style.
If you were seeking inspiration to spice up your conventional style, you could certainly have taken a cue from Tara Sutaria's fashion choices. Her addition of a stunning embroidered jacket to her ensemble served as a reminder that the right embellishments and intricate details can take your traditional attire to a whole new level of elegance and grace.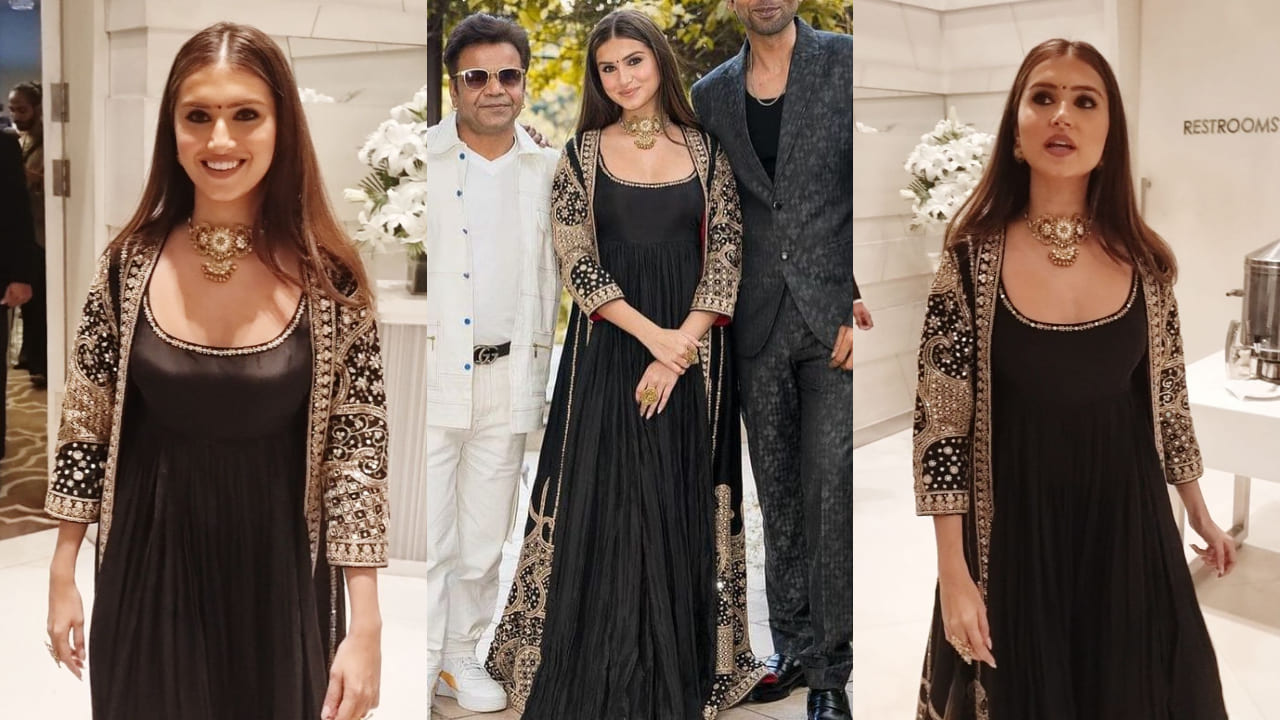 Tara Sutaria's attention to detail extended to her hair, makeup, and accessories, and let's start with the jaw-dropping accessories. She demonstrated a keen eye for selecting the perfect pearls to adorn her neck, and the result was truly impressive. Despite her outfit's deep scoop neckline, the necklace she chose did not get lost; on the contrary, it commanded center stage and was brilliantly accentuated. It served as a valuable lesson in the art of appropriate accessorization, showcasing how the right piece can enhance and not overshadow your overall look.
However, Tara's style choices didn't stop at the necklace. She continued to make a statement with her selection of hair, makeup, and additional accessories. Her commitment to creating a harmonious and captivating appearance was evident in every detail, highlighting her fashion finesse. Her choices demonstrated that achieving a stunning look isn't just about the dress; it's about the skillful coordination of every element, from the jewelry and outfit to the hair and makeup. Tara Sutaria's outfit was a true work of art, with each component contributing to its overall elegance and appeal. It's a testament to her fashion expertise and her ability to create a captivating and harmonious look that leaves a lasting impression.
Tara Sutaria's attention to detail extended to her hair and makeup, and she made some stunning choices. For her hairstyle, Tara opted for a sleek and basic look, featuring straight hair split in the center. It was a classic choice that complemented her overall look perfectly, adding a touch of elegance and simplicity to her appearance.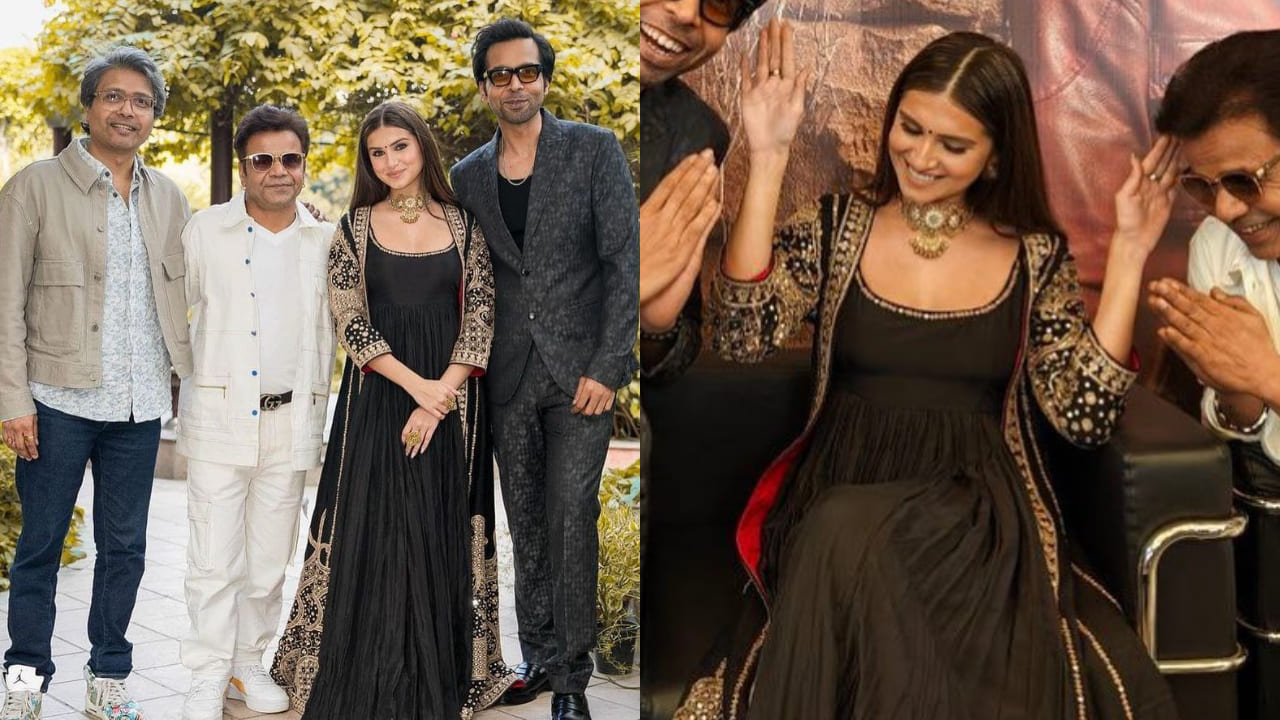 Moving on to her cosmetics game, Tara's eye makeup was undoubtedly a highlight. She went for a strong and powerful look with smeared eyeliner and kohl-rimmed eyes, creating a sense of drama and allure. Her eyes became the focal point of her makeup, exuding a captivating intensity that perfectly matched her stunning outfit. This eye makeup choice emphasized her gaze and added a layer of sophistication to her entire look.
Not to be overlooked were her gorgeous flushed cheeks, which contributed to her charming and youthful sheen. The rosy blush provided a healthy and radiant glow to her complexion, enhancing her facial features and highlighting her natural beauty. Tara's makeup choices were a masterclass in balancing boldness and subtlety, resulting in a look that was both striking and refined. It showcased her makeup artistry and her understanding of how to create a harmonious and captivating appearance.