Alia Bhatt dons an understated and minimalistic fit with Gucci's green top and denim for Milan Fashion Week
The much-anticipated Gucci Spring/Summer 2024 show was indeed a momentous occasion in the fashion world, as it marked Sabato De Sarno's debut as the creative director of the iconic fashion house. Titled 'Gucci Ancora' or 'Gucci Again,' the show aimed to rekindle the global fashion community's affection for the beloved Italian brand. The anticipation surrounding the event was well-deserved, and it's no surprise that Bollywood sensation Alia Bhatt made the journey to Milan to be a part of this spectacular fashion affair.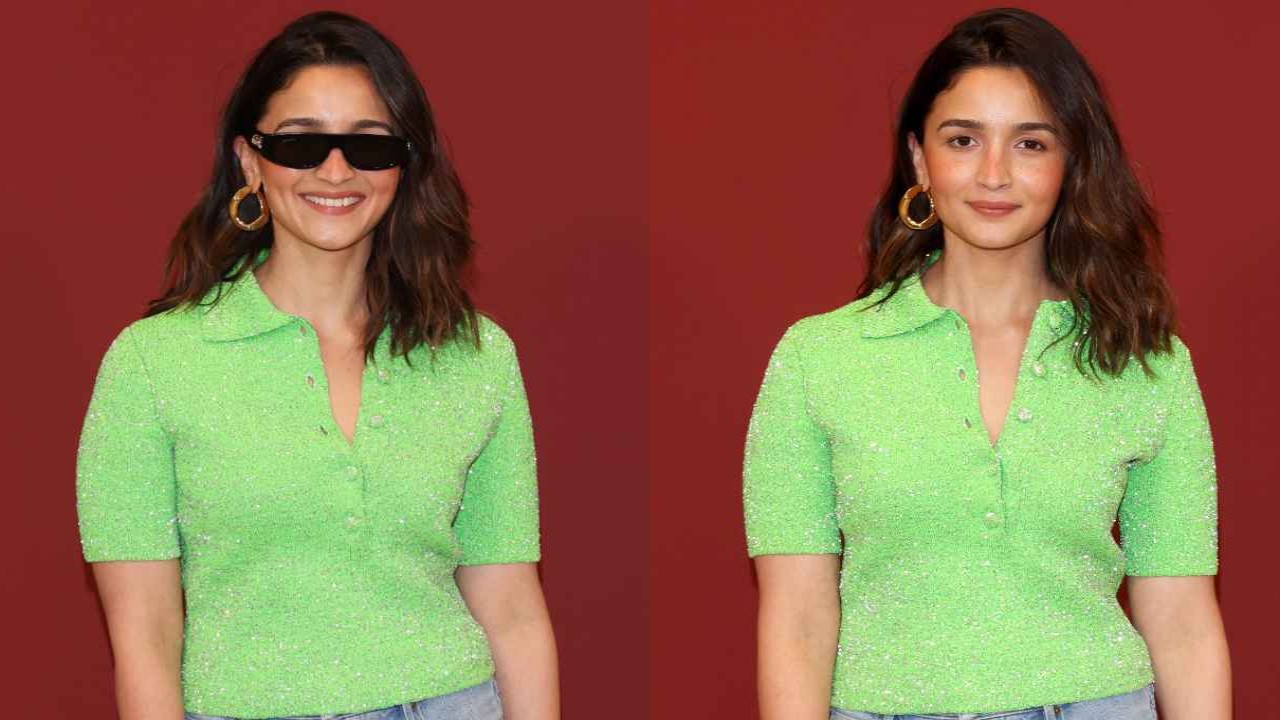 Gucci's reputation for pushing the boundaries of fashion and its fearless embrace of innovation and creativity is legendary. With Sabato De Sarno at the helm, the fashion world eagerly awaited this event to see what the future held for the brand. The show did not disappoint, as it was a captivating display of artistry and style.
Alia Bhatt, the talented actress known for her dynamic roles and fashion-forward choices, graced the occasion in a minimalist and stylish ensemble. Her presence at this prestigious event highlights her status as a fashion icon who can effortlessly navigate the global fashion scene. The choice to attend the Gucci Spring/Summer 2024 show speaks to her keen interest in fashion and her ability to make a statement wherever she goes.
The incredibly talented Alia Bhatt made a striking fashion choice at the Gucci Spring/Summer 2024 show. She opted for a shimmery lime green Gucci top with cap sleeves, adorned with buttons on the front, and featuring a crisp collar. This stylish short top exuded a modern and chic vibe, showcasing her flair for making bold fashion statements.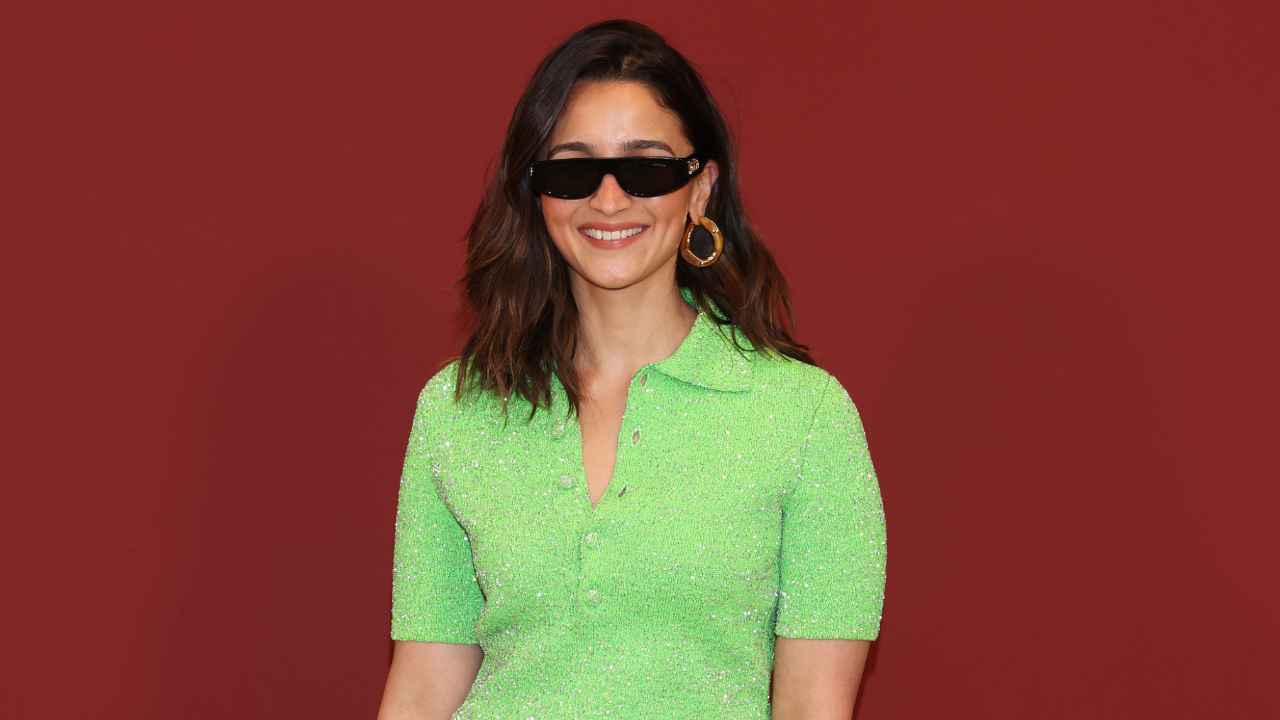 To complement the vibrant green top, the actress paired it with light-blue washed floor-length denim jeans. These jeans had a distinctive '70s-inspired design, with wide legs that resembled the classic bell-bottom style. This choice added a nostalgic and retro touch to her outfit, creating a unique fusion of modern and vintage fashion elements.
Alia Bhatt's ensemble at the Gucci show was a perfect example of her ability to embrace contemporary fashion trends while infusing a hint of retro charm. Her choice of a shimmery top and bell-bottom-like jeans highlighted her fashion-forward approach and her knack for setting new style standards.
Alia Bhatt's fashion ensemble at the Gucci Spring/Summer 2024 show was taken to another level with the addition of Gucci's black Jackie 1961 small shoulder bag, which is valued at approximately Rs. 2,45,760. The Jackie bag, reintroduced for Fall Winter 2020, is a reinvention of a historical Gucci icon, representing a fresh take on a classic piece.
This particular version of the Jackie bag, presented in black leather and featuring an additional detachable shoulder strap, offered a contemporary twist to the archival style. This thoughtful design allowed for multiple ways to wear the bag, making it a versatile and fashionable accessory that perfectly complemented Alia Bhatt's stylish ensemble.
Alia Bhatt, known for her sassy and stylish fashion choices, didn't just stop at the Gucci bag to elevate her outfit at the Gucci Spring/Summer 2024 show. She also opted to accessorize her look with chunky gold hoop earrings, adding a bold and glamorous touch to her ensemble. Chunky gold jewelry has been a prominent trend in recent fashion, and Alia effortlessly incorporated it into her outfit.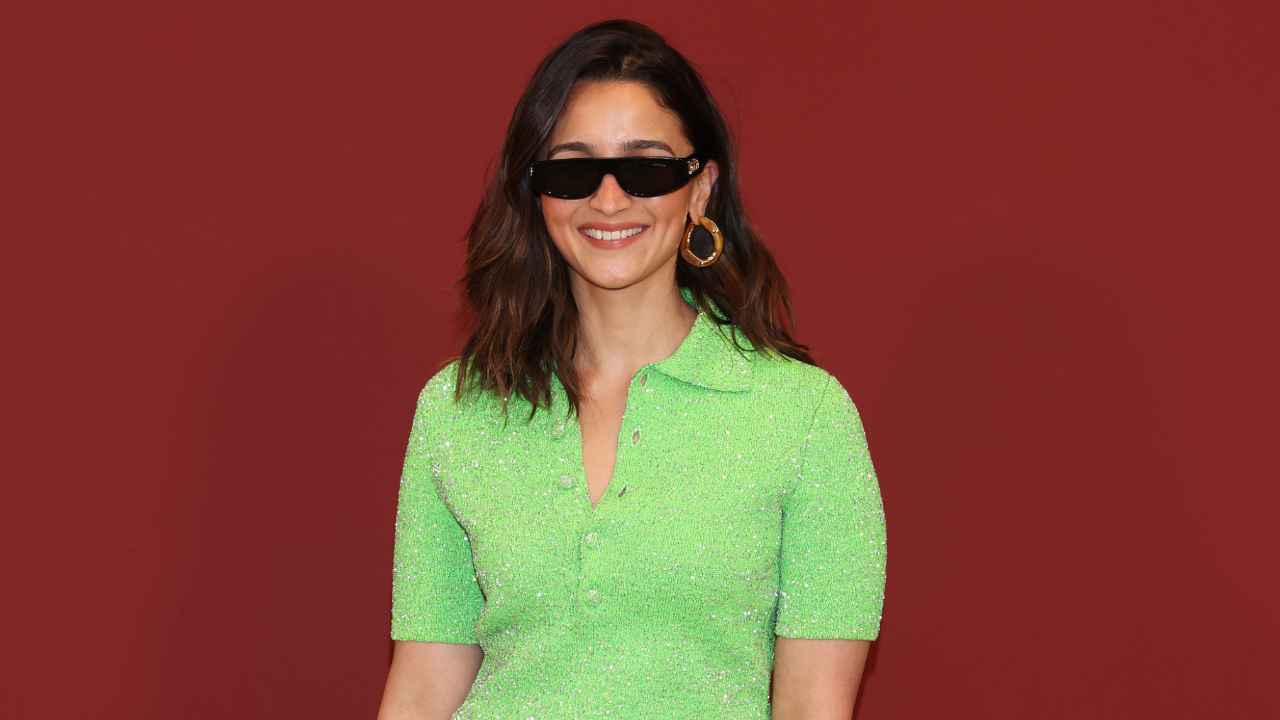 In addition to the hoop earrings, she adorned herself with a matching chunky gold chain bracelet, which further emphasized her keen sense of style and her attention to detail in creating a well-coordinated look.
To complete her fashion-forward ensemble, Alia Bhatt added a pair of black dark-tinted sunglasses from Gucci. Sunglasses are not just a practical accessory but also a fashion statement, and her choice added an element of edginess and sophistication to her overall appearance.
Alia Bhatt's ensemble was a masterclass in accessorizing, demonstrating her ability to effortlessly blend contemporary trends with timeless elegance. Her fashion choices consistently showcase her unique style sensibilities, making her an inspiration for those who want to create a look that's both stylish and memorable.
Alia Bhatt's exceptional hair and makeup at the Gucci Spring/Summer 2024 show added the finishing touches to her stylish ensemble. Her choice to leave her hair open and styled into simple waves was a masterstroke. The waves framed her face perfectly, adding a touch of natural beauty to her look. This hairstyle was a subtle yet elegant choice, ensuring that her fashion-forward outfit remained the center of attention.
When it comes to makeup, Alia Bhatt opted for a subtle and complementary approach, which perfectly matched her ensemble. Her choice of subtle eyeshadow accentuated her eyes without overpowering her look. Well-shaped eyebrows enhanced the structure of her face, contributing to her polished appearance. Her rouged cheeks were highlighted to perfection, adding a healthy and radiant glow to her complexion. The delicate pink lip shade harmonized seamlessly with her outfit, adding a touch of softness to the overall look.
Alia Bhatt was indeed a vision of understated glamour at the Gucci Spring/Summer 2024 show. Her hair and makeup choices highlighted her understanding of how to create a balanced and captivating appearance. Her ability to seamlessly blend her outfit, accessories, hair, and makeup reaffirms her status as a fashion icon to watch, whose style choices continue to captivate and inspire fashion enthusiasts worldwide.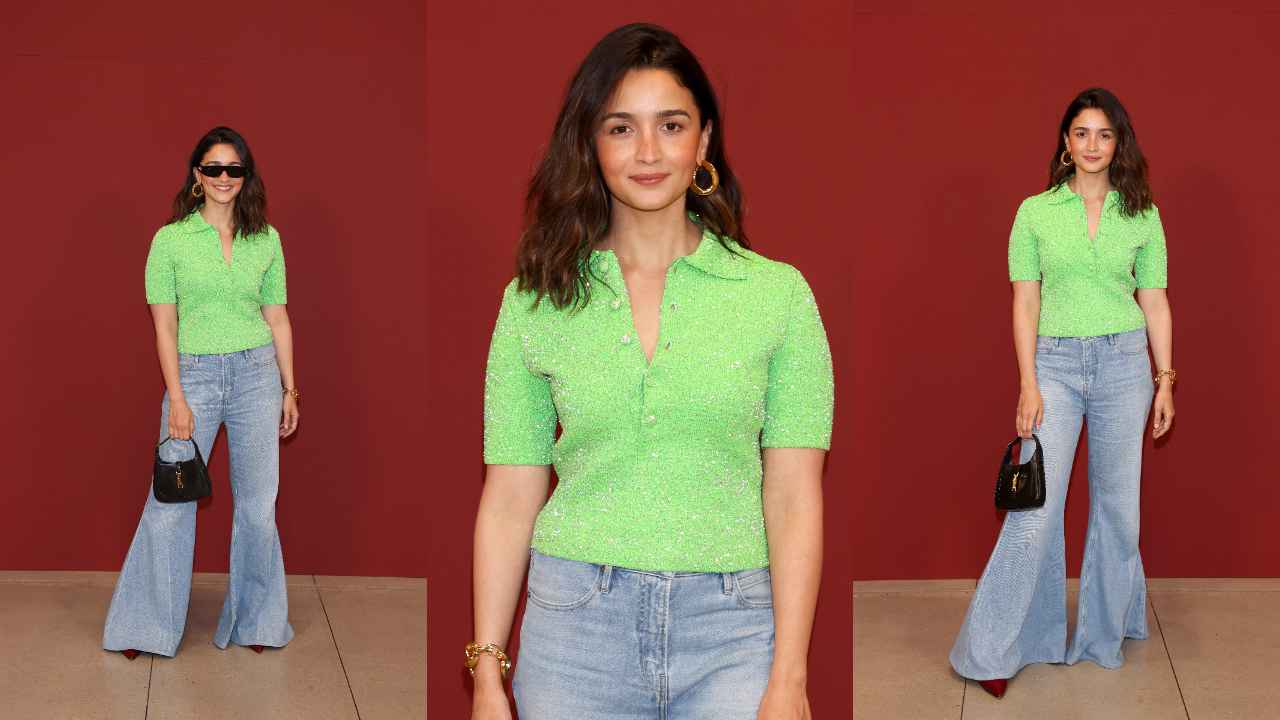 In conclusion, Alia Bhatt's hair and makeup choices at the Gucci event were a testament to her fashion sensibilities and her ability to create a complete and harmonious look. Her understated glamour added a layer of elegance to her ensemble, once again reinforcing her status as a fashion icon who knows how to make a lasting and stylish impression.