Alia Bhatt iconically restyles her Sabyasachi wedding saree; makes powerful sustainable fashion statement
Alia Bhatt, one of our favorite Bollywood actresses, made a striking appearance at the airport early in the morning. She looked lovely in a cute white kurta combination as she prepared to make her way to the national capital to attend the prestigious National Film Awards. Alia's effortless and breezy manner in her airport looks has always drawn attention, and this time was no exception.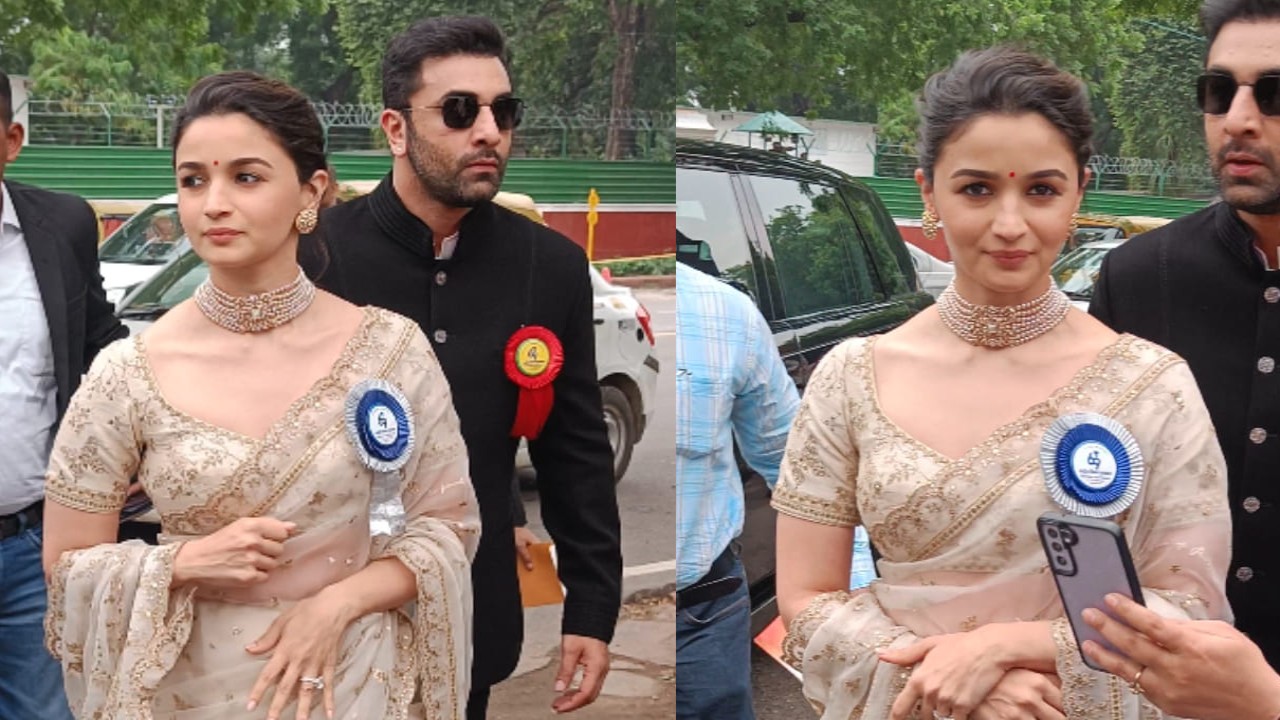 What made her outfit stand out was the fact that she chose to make a powerful sustainable fashion statement. Alia Bhatt decided to wear her wedding saree for this occasion. This choice of attire not only demonstrated her commitment to sustainable and eco-friendly fashion but also reflected her sentimental attachment to this special piece of clothing.
Wearing her wedding saree, Alia blended tradition with her contemporary airport style, showcasing the versatility of this classic Indian garment. Her choice served as a reminder that fashion can be both beautiful and environmentally responsible. It also highlighted the emotional significance of clothing, as her wedding saree held personal memories and meaning for her. In doing so, Alia once again proved her influence as a fashion trendsetter and a mindful advocate for sustainable fashion choices.
Alia Bhatt's choice of attire at the National Film Awards, a stunning pearly white saree with scalloped borders and intricate golden thread work, left everyone in awe. However, the revelation that this saree was, in fact, her wedding saree from her nuptials added a layer of magic and significance to her appearance.
The fact that Alia wore her wedding saree for such an important occasion was a beautiful and heartfelt gesture. It underscored the idea that clothing can hold a deep sentimental value and can be cherished beyond just one special day. Her wedding saree, with its scalloped borders and golden thread work, epitomized timeless elegance and rich tradition, making it an ideal choice for an event as prestigious as the National Film Awards.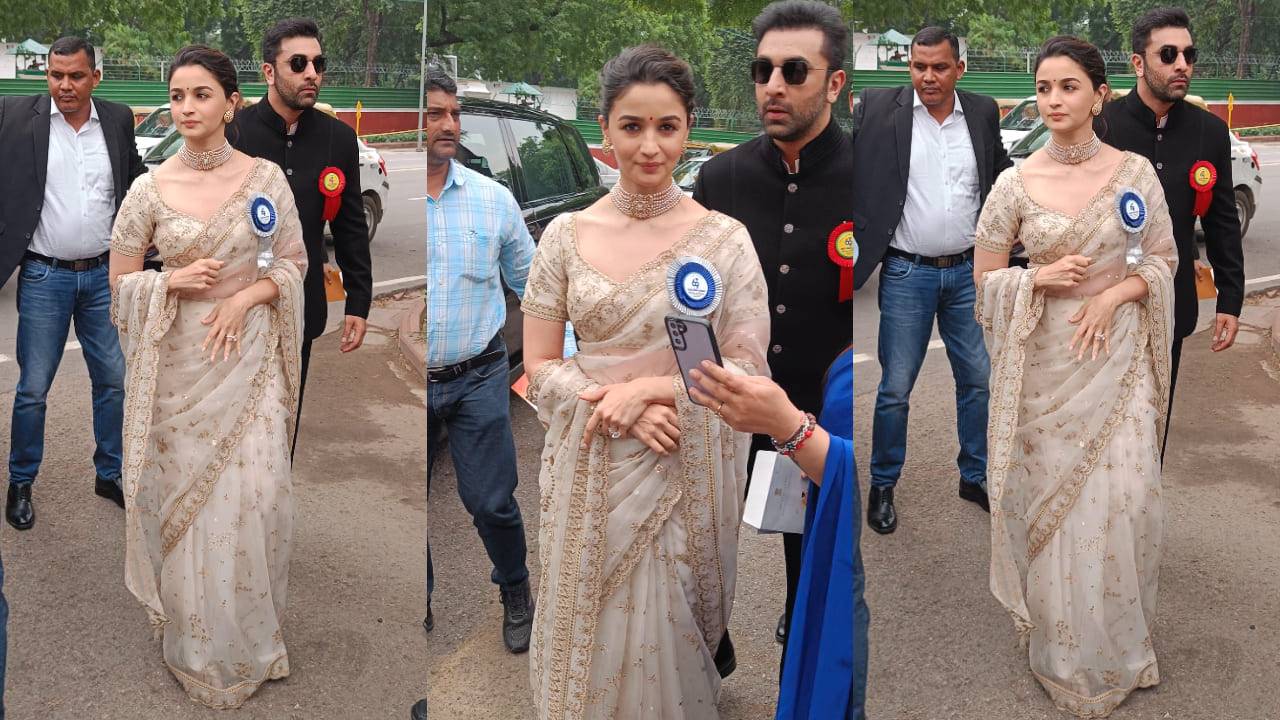 This revelation serves as a reminder that clothing can tell a story and carry memories. Alia's decision to repurpose her wedding saree for a public appearance emphasized her connection to her culture, heritage, and personal milestones. It was a powerful statement that celebrated sustainability and the beauty of reusing and reimagining clothing, making her outfit not just a fashion statement but a heartfelt ode to her own journey and the importance of treasured garments. This revelation is bound to inspire and resonate with those who appreciate the meaningful aspects of fashion and personal history.
Alia Bhatt's outfit at the National Film Awards ceremony, which turned out to be her wedding saree, was an exquisite ensemble that showcased her impeccable sense of style and her ability to effortlessly capture attention. The plunging leaf neck top added a touch of glitz and modernity to her look. The design and neckline choice were both daring and elegant, enhancing the overall appeal of her attire.
But what truly stole the show was the gorgeous butterfly embroidery with opaque sequins. This intricate embellishment added a layer of sophistication and artistry to the saree, making it a true work of fashion. The combination of the plunging neck and the butterfly embroidery created a harmonious blend of tradition and contemporary design, highlighting Alia's unique style and fashion-forward choices.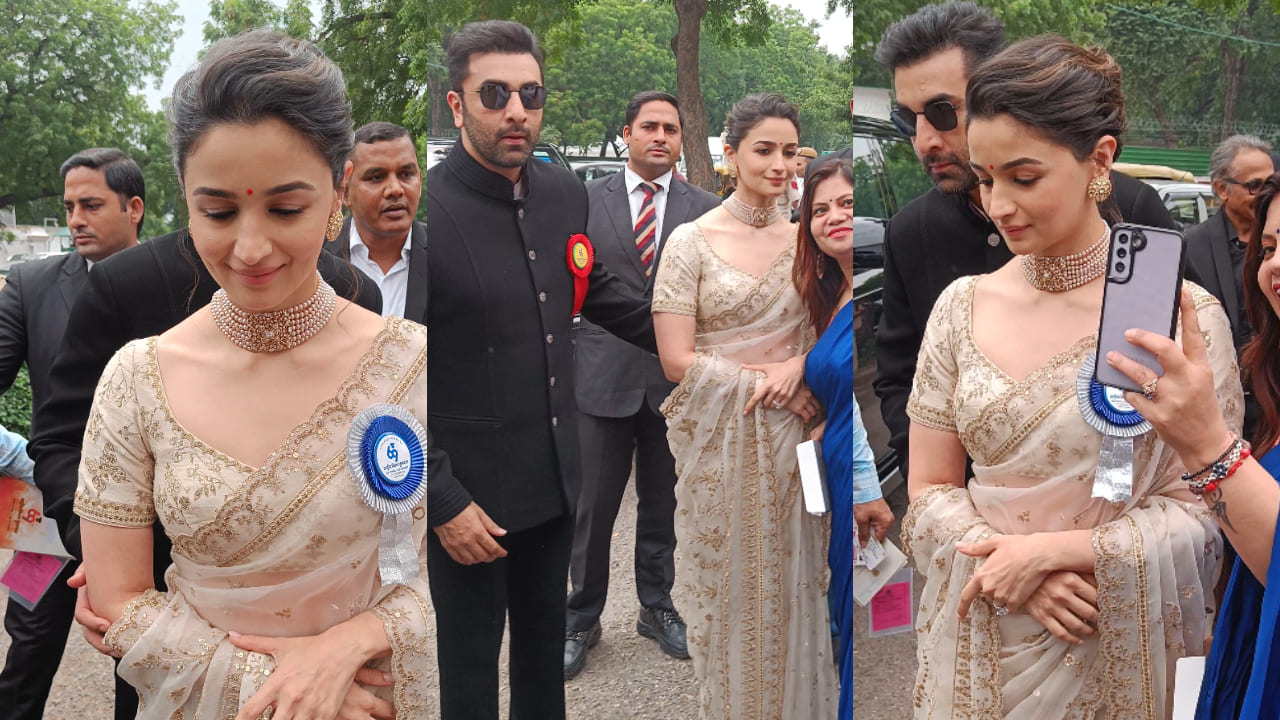 Alia's ability to make a statement with her attire, whether at a prestigious awards event or on her wedding day, is truly remarkable. With this stunning outfit, she managed to strike the perfect balance between heritage and elegance, showcasing her cultural roots while embracing a modern sensibility. It's clear that Alia Bhatt understands how to capture attention and leave a lasting impact, both through her acting and her remarkable fashion choices. Her outfit at the National Film Awards was not just a piece of clothing; it was a work of art that celebrated her journey and personal style in the most captivating way.
Alia Bhatt's fashion choices are always a source of inspiration, and her appearance in a Sabyasachi wedding saree is no exception. She teaches us how to wear this iconic attire without making it look boring, proving that her style is both versatile and elegant.
For her National Film Awards appearance in her wedding saree, Alia selected round earrings and a golden pearl choker as her accessories. These choices were impeccable and complemented her delicate ivory white saree with scalloped edges and intricate golden thread work. The round earrings and golden pearl choker added a touch of elegance to her attire, highlighting her poise and sophistication.
Alia's selection of accessories showcased her knack for achieving a balanced and harmonious look. She proved that it's possible to pair intricate and traditional wedding sarees with the right jewelry to create an ensemble that's both timeless and contemporary. Her outfit serves as a valuable lesson for fashion enthusiasts, emphasizing the importance of selecting accessories that enhance the beauty of the saree without overwhelming it. In doing so, Alia Bhatt once again establishes herself as a style icon and a teacher of fashion for the world of fashionistas.
Alia Bhatt's attention to detail in her National Film Awards appearance was truly remarkable. After carefully selecting her accessories to complement her wedding saree, she added a final touch of traditional flair with a bold red bindi on her forehead. The red bindi was a striking addition that emphasized her connection to her Indian heritage and added a touch of cultural authenticity to her ensemble.
In terms of makeup, Alia chose a minimalistic yet impactful approach. She allowed her natural beauty to shine through by wearing thinly applied eyeliner, which accentuated her eyes without overpowering them. Her choice of bright red lipstick was bold and confident, adding a pop of color to her look and highlighting her lips as a focal point of her face.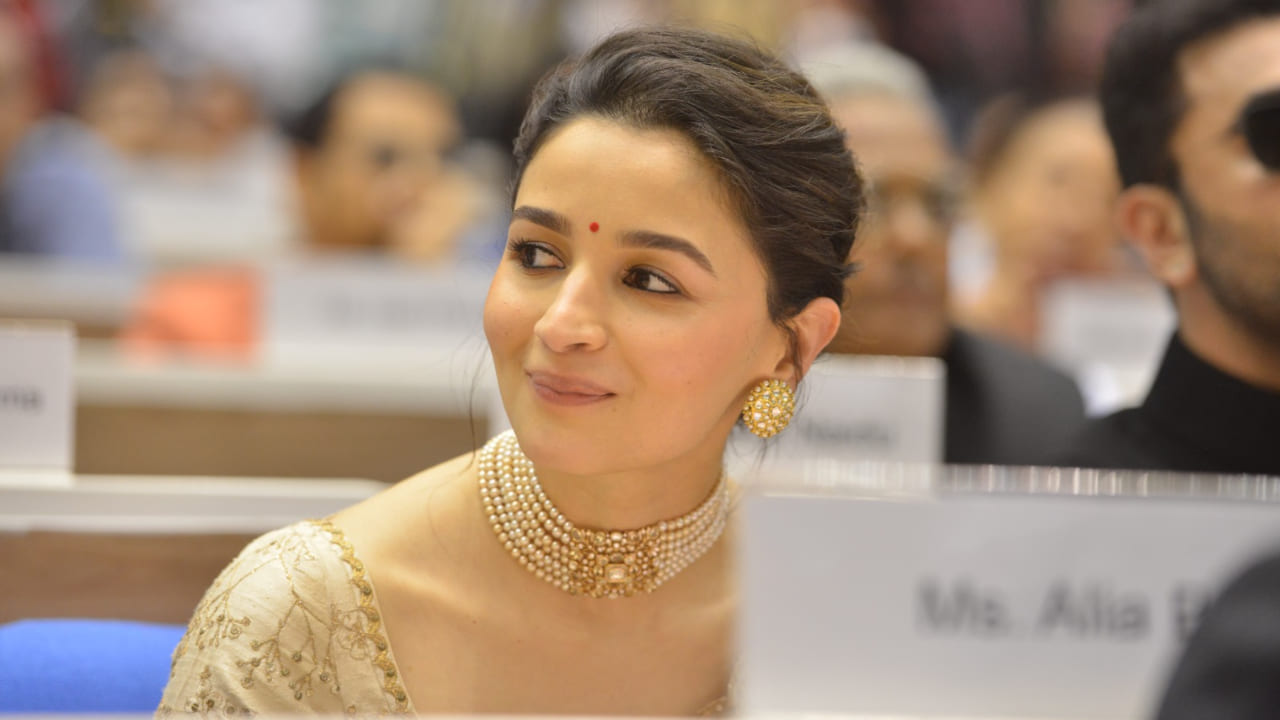 Alia's makeup choices demonstrated her understanding of balance and harmony in fashion. By keeping her makeup understated and letting her attire and accessories take the center stage, she managed to achieve a look that was both elegant and impactful. This final touch of makeup, along with the traditional bindi, completed her appearance at the National Film Awards, once again showcasing her style and grace to the world.