Parineeti Chopra exudes newlywed glamour in neon green kurta set with a pop of pink chooda
The social media world is abuzz with excitement as Parineeti Chopra and Raghav Chadha, the newlyweds, make their way to Delhi as Mr. and Mrs. Chadha. The couple's beautiful wedding ceremony, which took place on September 24 in Udaipur, was nothing short of stunning. After much anticipation, Parineeti Chopra has finally shared a breathtaking snapshot of their wedding attire on social media today.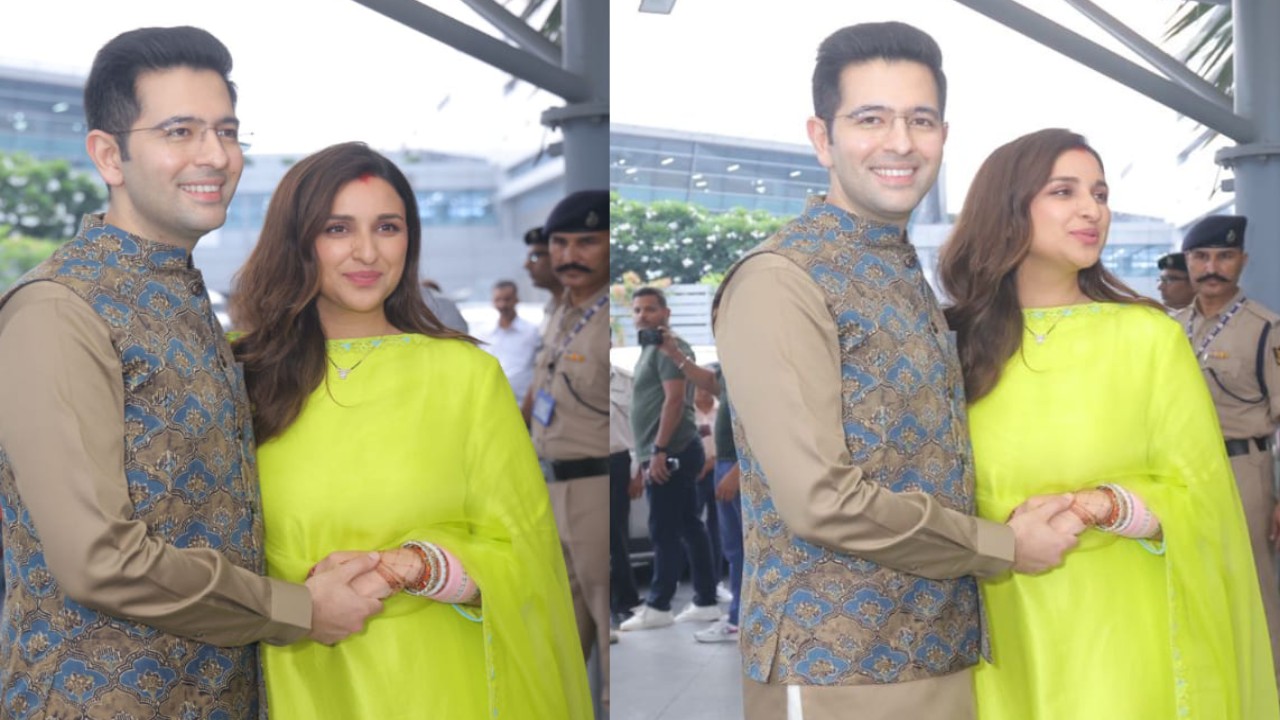 Parineeti and Raghav's wedding has been a much-anticipated event, and their fans and well-wishers have eagerly been awaiting a glimpse of their special day. The photo shared by Parineeti offers a sneak peek into the couple's wedding attire, and it's evident that their wedding was a grand and stylish affair.
The newlyweds' journey as Mr. and Mrs. Chadha is sure to capture the hearts of many, and their wedding attire serves as a testament to their love and style. The world now eagerly awaits more glimpses of their wedding and their life together as a married couple.
Parineeti Chopra graced the occasion in a stunning neon green kurta combo that left everyone in awe. The kurta itself featured long sleeves, adding a touch of sleekness and elegance to the outfit. However, it was the wide-leg trousers adorned with beautiful powder blue threadwork embroidery that truly stole the show. This exquisite detail not only added a splash of color but also introduced a level of sophistication that was hard to ignore.
To complete her look, Parineeti added a dupatta with edges made from the same lovely blue fabric, effortlessly tying the entire ensemble together. The harmonious combination of neon green and powder blue showcased her fashion-forward approach and her ability to make bold yet perfectly balanced style choices. Parineeti Chopra's choice of this gorgeous kurta combo demonstrates her status as a true fashionista who continues to set new trends and inspire fashion enthusiasts worldwide.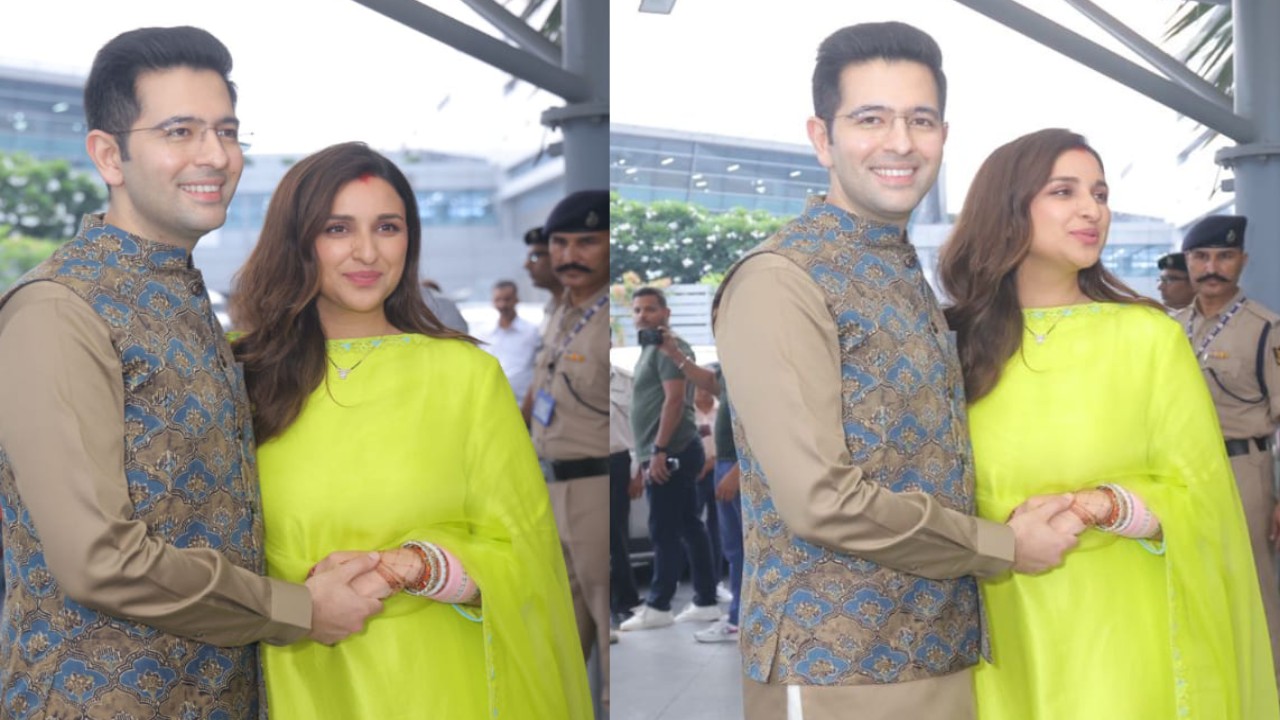 Parineeti Chopra's selection of a neon green kurta combo with intricate powder blue threadwork embroidery highlights her impeccable sense of style. Her ability to effortlessly blend colors, patterns, and details is a testament to her status as a fashion icon. This ensemble exemplifies her commitment to fashion that's both bold and harmonious, and she continues to be a source of inspiration for fashion lovers everywhere.
Parineeti Chopra's eye-catching accessories deserve a closer look, as they added a touch of elegance and uniqueness to her ensemble. She chose to wear a teardrop diamond-cut mangal sutra, which truly stole the stage. The mangal sutra is a traditional and symbolic necklace often worn by married women in India, and Parineeti's choice to wear it in a teardrop diamond-cut design elevated the piece to a whole new level.
What made her choice even more distinctive was the way she wore the mangal sutra. Instead of wearing it around her neck, she draped it atop her dupatta, creating a one-of-a-kind and eye-catching style. This unconventional approach showcased her ability to blend tradition with a contemporary twist, adding a memorable and personal touch to her overall look.
Parineeti Chopra's choice of a teardrop diamond-cut mangal sutra, worn atop her dupatta, reflects her ability to make unique and thoughtful style choices. This piece added a sense of elegance and tradition to her ensemble while also setting a trend for others to follow. Parineeti continues to be a fashion icon who knows how to make a statement and leave a lasting impression with her fashion choices.
Parineeti Chopra's unconventional style decision to wear her teardrop diamond-cut mangal sutra atop her dupatta not only accentuated the beauty of the mangal sutra but also added a sense of refinement to her entire look. This unique choice showcased her ability to blend tradition with modernity, resulting in a look that was both elegant and distinctive.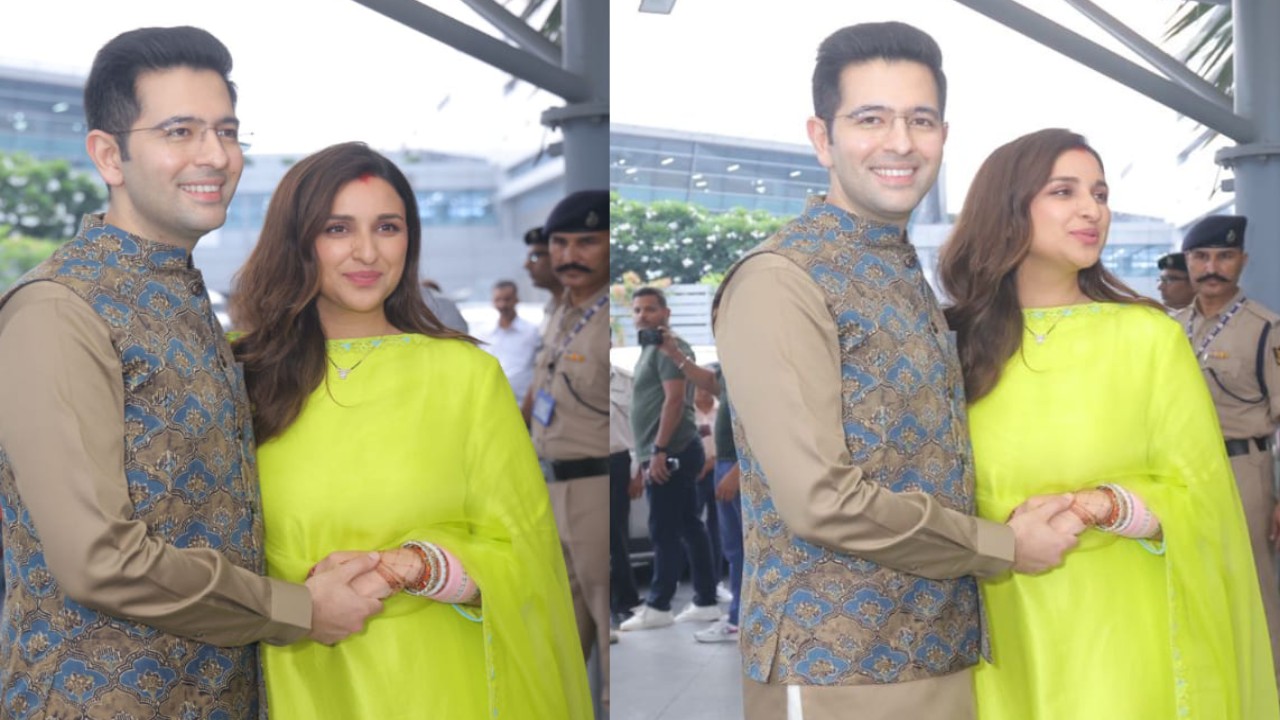 However, her daring fashion choices didn't stop there. Parineeti defied convention by forgoing the customary red chooda and instead opting for a customized pink chooda created by the renowned Mrinalini Chandra label. This bold decision added a contemporary touch to her appearance and highlighted Parineeti's adventurous and fashion-forward sensibilities.
Parineeti's willingness to break away from traditional norms and embrace her own unique style is a testament to her status as a true fashionista. Her choice of accessories and her customized chooda exemplify her commitment to making bold yet stylish choices that inspire and set new trends in the world of fashion.
Parineeti Chopra's fashion choices, from wearing her mangal sutra in a teardrop diamond-cut design to selecting a customized pink chooda, demonstrate her fearless approach to style and her ability to stand out with memorable and trendsetting fashion decisions. Her unique and refined look serves as an inspiration for those who dare to push the boundaries of traditional fashion norms.
Parineeti Chopra's choice of accessories added an extra layer of style to her ensemble. She wore a pair of stylish white circular earrings, the same earrings that she had also worn on her way to Udaipur. This decision displayed her understanding of how the right accessories can tie an entire look together and make a statement. The white circular earrings harmonized with her overall style, adding a touch of modernity and elegance.
Her makeup for the occasion was kept basic and natural, allowing her inherent beauty to shine through. She opted for a light foundation that enhanced her complexion without overpowering her features. This minimalistic approach to makeup highlighted her radiant and natural beauty, which perfectly complemented her elegant attire and unique accessories.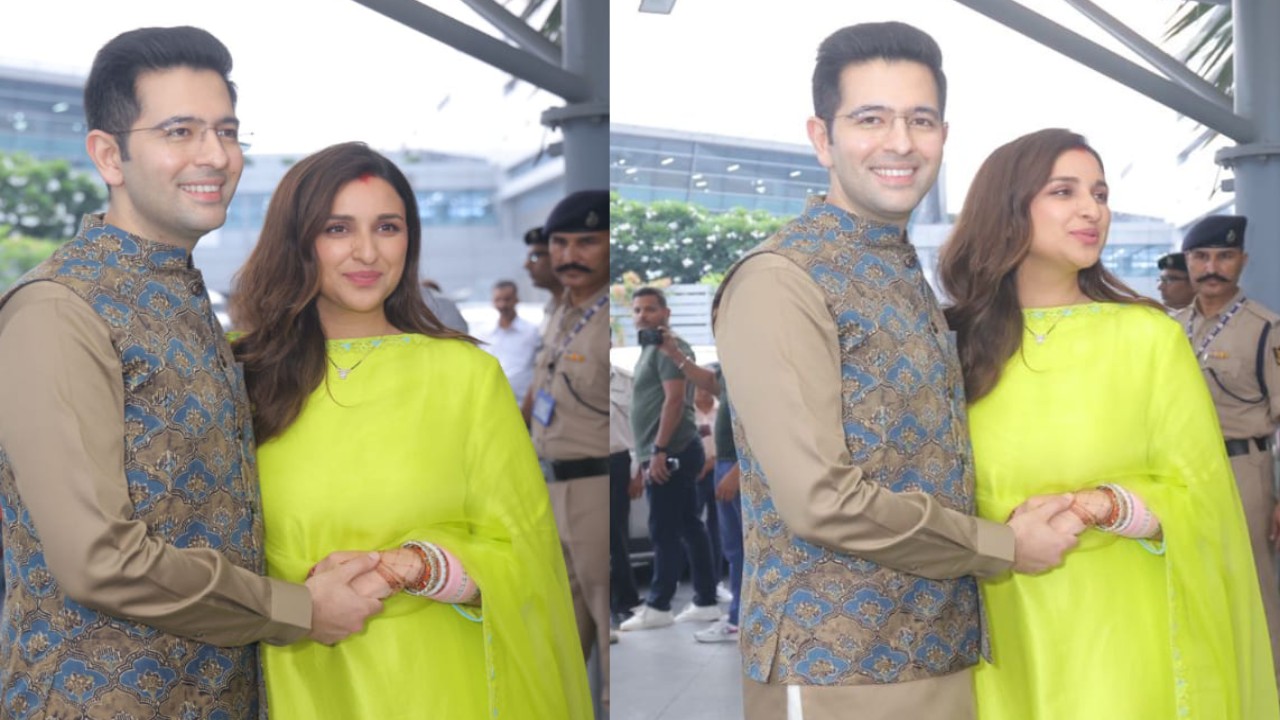 Parineeti Chopra's choice of accessories and makeup showcased her attention to detail and her ability to create a well-coordinated and captivating look. Her selection of white circular earrings added a modern and stylish touch to her ensemble, while her natural makeup approach allowed her inherent beauty to take center stage. Parineeti's fashion choices continue to inspire and reinforce her position as a fashion icon in the industry.
Parineeti Chopra's impeccable fashion sense extended to her hair styling, which was nothing short of flawless. She opted for stunning open hair, styled with a side partition, giving her an effortlessly elegant and timeless look. The flowing locks framed her face beautifully and added a touch of natural beauty to her overall appearance.
To complete her magnificent post-wedding look, Parineeti chose a pair of glistening juttis. These traditional Indian footwear added a touch of classic charm to her modern and stylish ensemble. The combination of contemporary fashion with classic elements showcased her versatility in fashion and her ability to create a harmonious and captivating look.
In conclusion, Parineeti Chopra's attention to detail in her post-wedding look, from her flawless hair styling to her choice of classic juttis, reflects her commitment to creating a style that seamlessly blends modernity with tradition. Her fashion choices continue to make a statement, and her unique ability to balance contemporary and classic elements sets her apart as a true fashion icon. Parineeti's post-wedding ensemble serves as yet another example of her impeccable style and fashion-forward approach.