Shilpa Shetty's red spaghetti top with elegant draped skirt is too ALLURING to handle!
Spaghetti strap shirts have come a long way since their humble origins in the 1990s fashion industry. In those early days, they were predominantly associated with slip dresses, exuding a basic yet exquisite elegance. The simplicity of spaghetti straps was a hallmark of minimalism, emphasizing the wearer's form while offering a touch of delicacy and grace. However, as fashion trends evolve, so does the adaptability of these tiny straps, showcasing their versatility.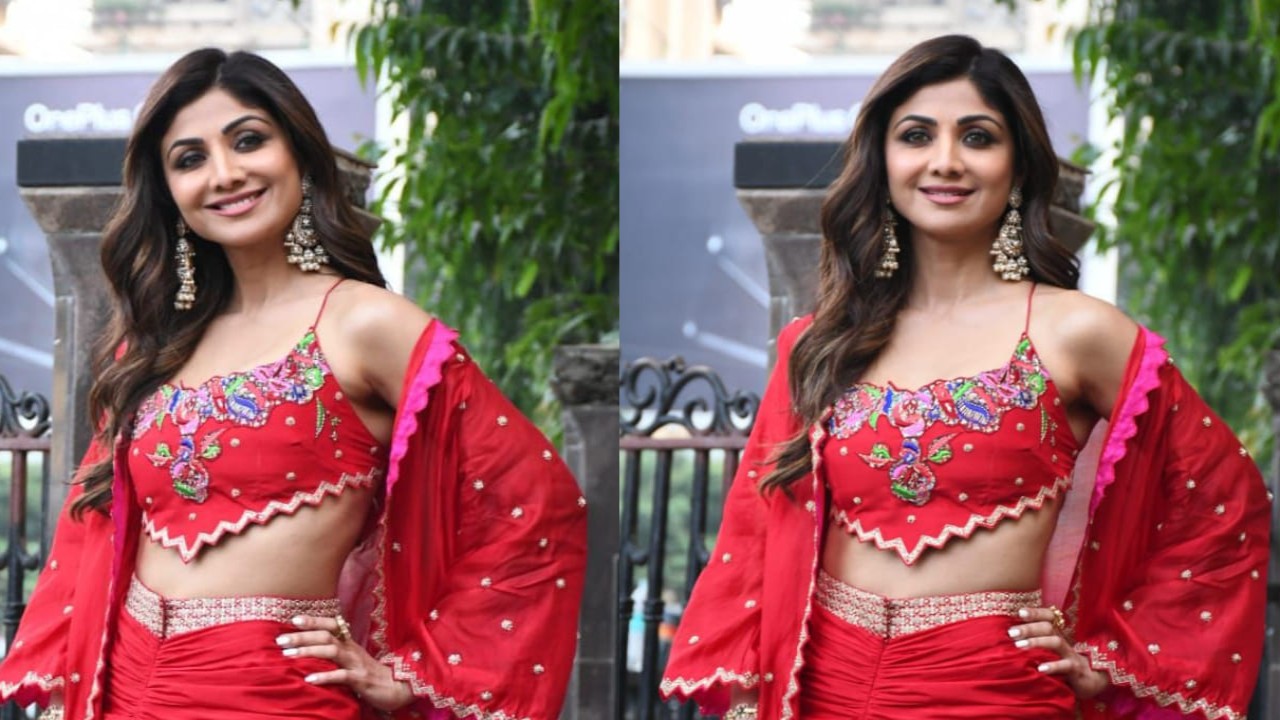 Shilpa Shetty, the renowned Bollywood actress, recently demonstrated how spaghetti straps have evolved and how they can be incorporated into traditional attire. Shilpa's choice of a spaghetti strap top and skirt outfit, while still maintaining a connection to its minimalist roots, incorporated elements of Indian tradition. This fusion of contemporary fashion with traditional aesthetics is a testament to how versatile spaghetti straps have become, capable of bridging the gap between modern and classic styles.
Shilpa Shetty's outfit serves as a compelling example of how fashion can reinvent itself, embracing the old and the new to create a unique and captivating look. It's a reminder that fashion is an ever-evolving art form, and its adaptability knows no bounds. Spaghetti straps, which began as a simple and elegant feature, have now found a place in both contemporary and traditional fashion, thanks to the innovative approaches of fashion icons like Shilpa Shetty.
Shilpa Shetty made a stunning fashion statement when she was seen wearing a gorgeous red spaghetti-strapped top. This eye-catching ensemble featured a scoop neckline that beautifully emphasized her collarbones, adding a touch of elegance and grace to her look. The scoop neckline is a classic choice that showcases the neck and collarbone area, lending a sense of timeless beauty and sophistication to the outfit.
What truly set Shilpa Shetty's top apart was the intricate needlework embellishments. The top was adorned with beautiful and intricate needlework, which added a layer of beauty and class to the garment. This attention to detail and craftsmanship created a visual feast, making the top a true work of art. The needlework not only added a touch of opulence but also gave the outfit a sense of uniqueness and character.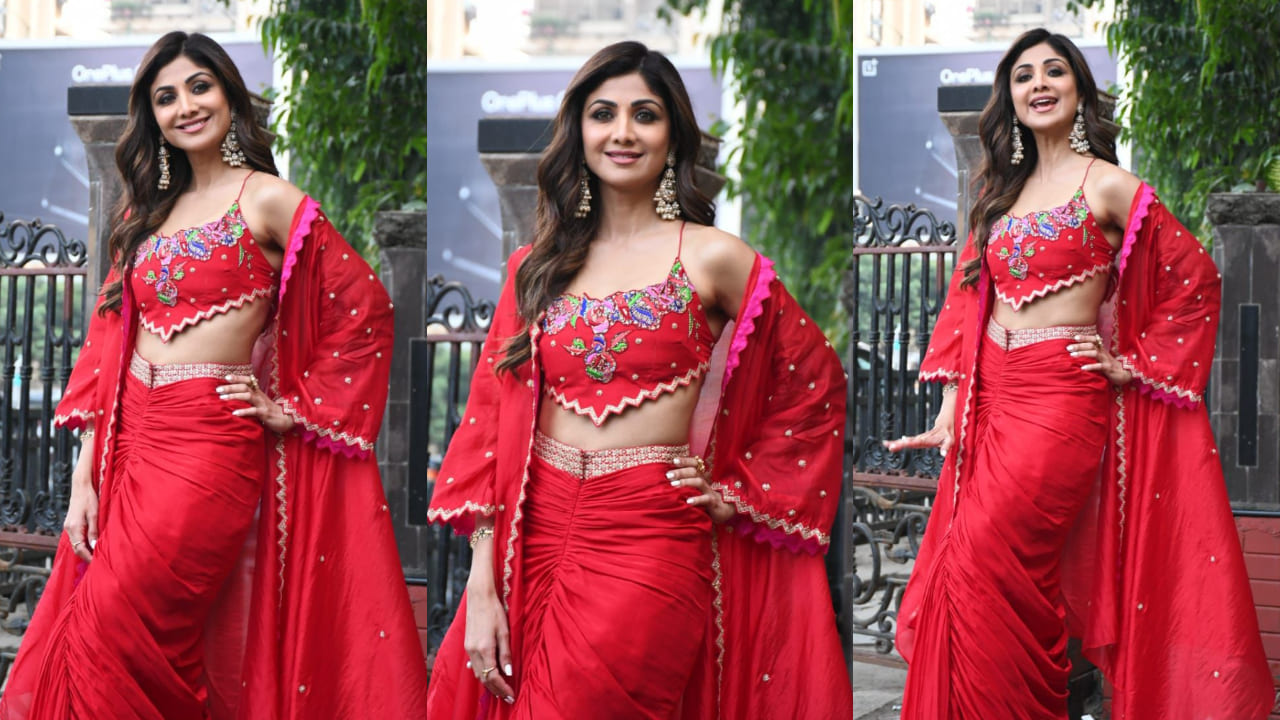 Shilpa Shetty's choice of the red spaghetti-strapped top with its exquisite embellishments is a testament to her ability to select clothing that is both eye-catching and refined. Her sense of style, combined with the elegant design of the top, showcases how fashion can be a means of self-expression and artistry. It's a reminder that fashion, when thoughtfully and creatively approached, can elevate an outfit into a statement of beauty and sophistication.
Shilpa Shetty's red spaghetti-strapped top was not only elegant but also carried unique and stylish details that set it apart. The V-shaped cut at the hem added a contemporary and fashionable touch to the top, giving it an unusual and modern twist. This design element provided an interesting visual break and complemented the overall style of the outfit.
In addition to the V-shaped cut, the zigzag stitching with golden gota work gracing the hemline added an element of shine and splendor to the top. The combination of the zigzag stitching and golden gota work not only enhanced the top's visual appeal but also added a sense of opulence and grandeur. These details were like intricate strokes of art that made the top a true showstopper, showcasing the fusion of traditional Indian craftsmanship with contemporary design.
Shilpa Shetty's top was a perfect example of how small design elements can make a significant impact on an outfit, elevating it to a higher level of style and fashion. The V-shaped cut and the golden gota work were key components that contributed to the top's unique and captivating look, demonstrating how fashion is a canvas for creativity and expression.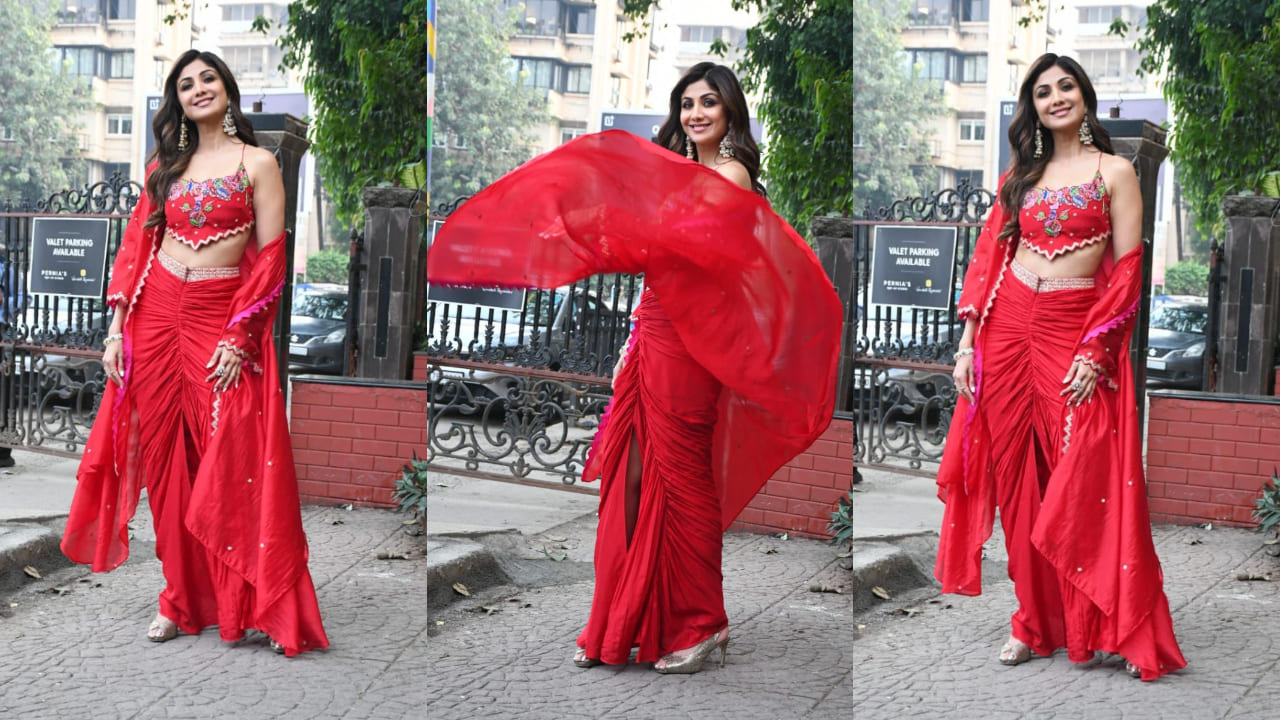 Shilpa Shetty made a mesmerizing statement in her ensemble, pairing a stunning red spaghetti-strapped blouse with a flowing skirt. The skirt's design was characterized by a front adorned with numerous gathers, which contributed to a lively and voluminous appearance. These gathers created a sense of movement and playfulness in the skirt's front, making it a standout feature of the outfit.
The side view of the skirt added an extra layer of intrigue. The draping on the skirt's side was both elegant and captivating, offering a unique and eye-catching element to the overall look. This interesting drapery added depth and texture to the outfit, showing how even small design details can transform a garment from ordinary to extraordinary.
Despite the extra flair and volume in the skirt, Shilpa Shetty's long and statuesque physique carried the outfit with grace and elegance. The clever design ensured that the ensemble did not appear bulky, and it was expertly tailored to fit her proportions perfectly. Shilpa's ability to wear the outfit with poise and confidence highlighted her fashion acumen and her understanding of how to balance bold and intricate design elements with her own body and style.
In summary, Shilpa Shetty's choice of a red spaghetti-strapped blouse and flowing skirt was a stunning and well-executed fashion statement. The clever use of gathers and drapery in the skirt showcased how fashion can be both lively and intriguing. Shilpa's regal posture and confidence in wearing this outfit demonstrated her remarkable fashion sense and her ability to make any attire look effortlessly elegant.
In her fashion-forward ensemble, Shilpa Shetty didn't stop at the red spaghetti-strapped top and the flowing skirt. She added a stunning cape twist to her outfit, elevating its charm to a whole new level. The cape look has been a popular trend embraced by many actresses before Shilpa, but she managed to make it uniquely her own.
The cape she chose was a masterpiece of design, as it was adorned with gorgeous gold embroidery. This embroidery mirrored the zigzag hem of the top, creating a sense of harmony and cohesion throughout the entire outfit. The golden embroidery not only added a touch of opulence but also tied together the various elements of her attire, resulting in a dazzling and unified look.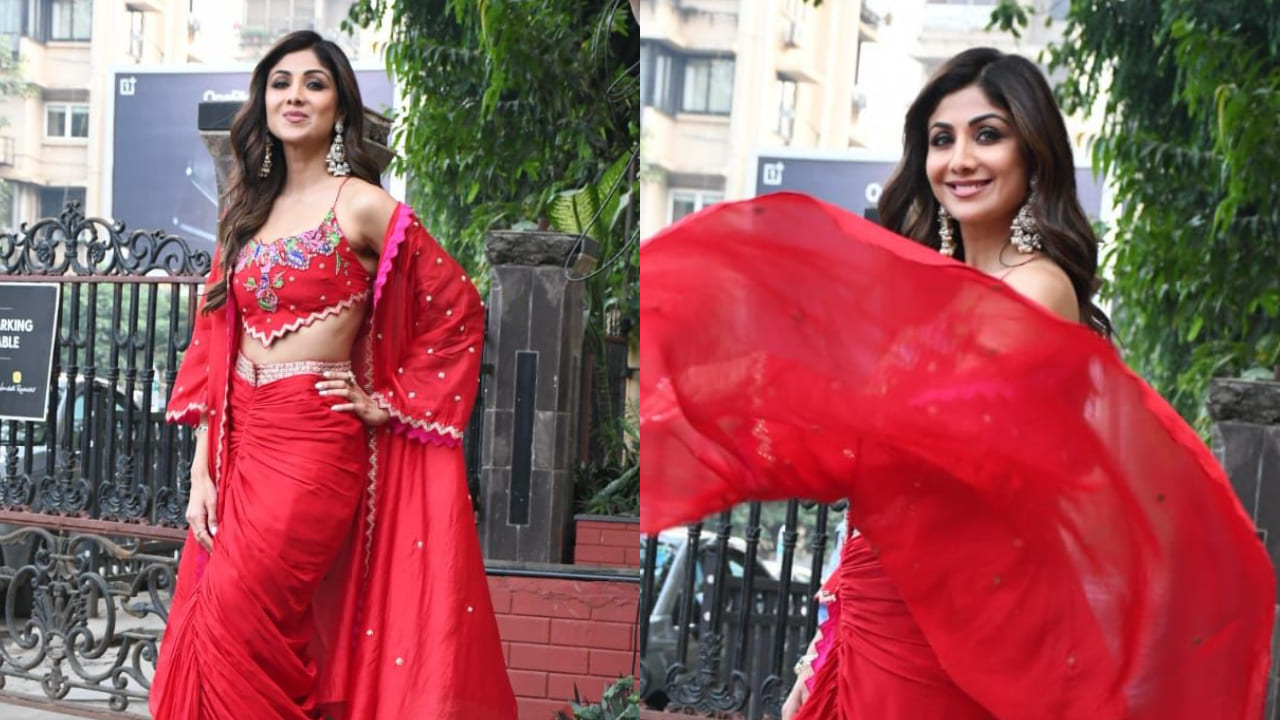 Shilpa Shetty's cape twist was a testament to her ability to take a popular fashion trend and give it a distinctive and personal touch. It showcased her keen fashion sense and creativity, as well as her understanding of how to use embroidery and embellishments to enhance an outfit's overall appeal. The harmonious fusion of the cape with the rest of the ensemble made her outfit a true showstopper and a shining example of how fashion can be a canvas for personal expression and creativity.