Shilpa Shetty Kundra decks up in embroidered lehenga and gold blouse look as she celebrates Ganesh Chaturthi
In the dazzling galaxy of Bollywood stars, where style meets substance, one name consistently shines like a radiant star, and that name is none other than Shilpa Shetty Kundra. This stunning actress doesn't just follow fashion trends; she sets them while redefining the very essence of style. Known for her roles in movies like "Sukhee," Shilpa Shetty Kundra is a true style maestro, and her sartorial choices are as enchanting as her acting skills.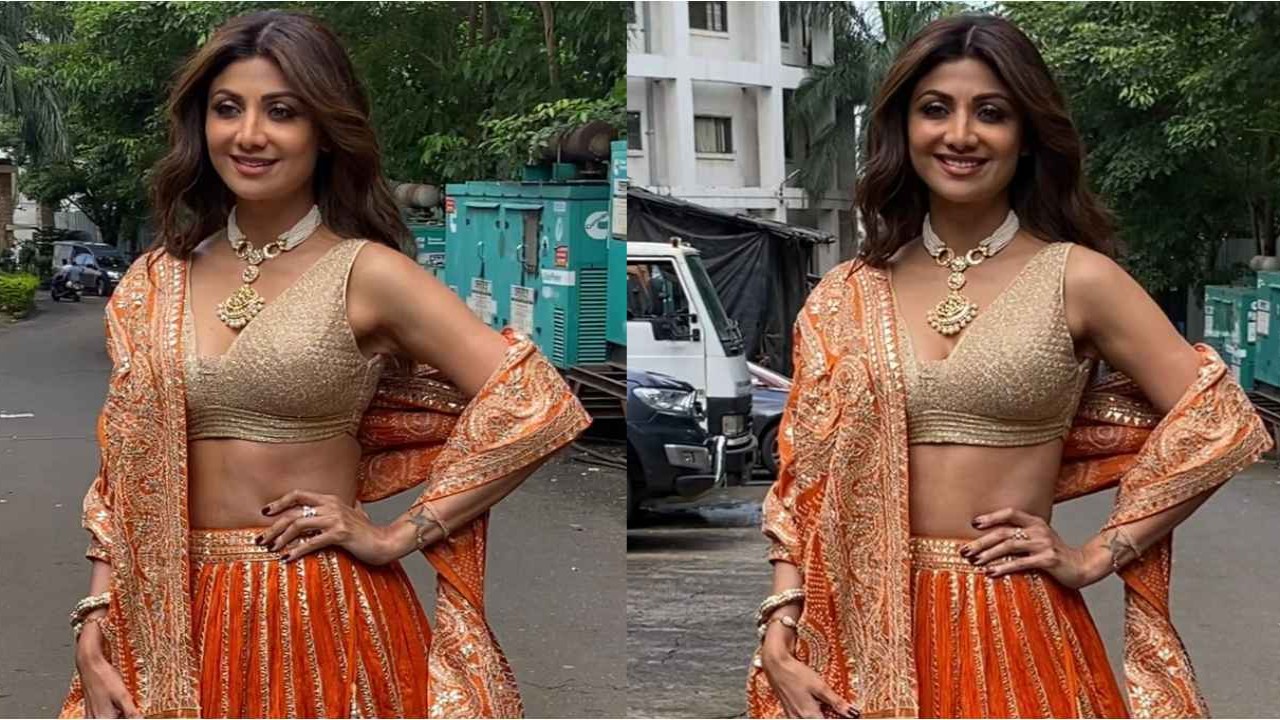 This special diva has a unique ability to blend tradition with trendsetting, captivating every red carpet, event, outing, market, and celebration with her impeccable sense of fashion. Shilpa Shetty Kundra is not just a Bollywood icon; she's a fashion icon who continues to inspire and amaze with her captivating style and elegance.
Shilpa Shetty Kundra, the talented actress known for her role in "Dhadkan," recently caught the attention of paparazzi as she headed for a shoot. For this special occasion, she opted for a glorious and wide vibrant orange lehenga skirt adorned with gold lines embroidered into the fabric. This floor-length skirt exuded grace and elegance as it swayed with every step she took.
To complete her ensemble, the "Baazigar" actress paired the vibrant lehenga skirt with a sleeveless gold blouse featuring wide straps and a v-shaped, deep-plunging neckline that added a sultry and alluring touch to her look.
Shilpa Shetty Kundra's fashion choices have always been a sight to behold, and this stunning orange and gold ensemble was no exception. It showcased her ability to effortlessly blend tradition with modernity, leaving everyone in awe of her impeccable style.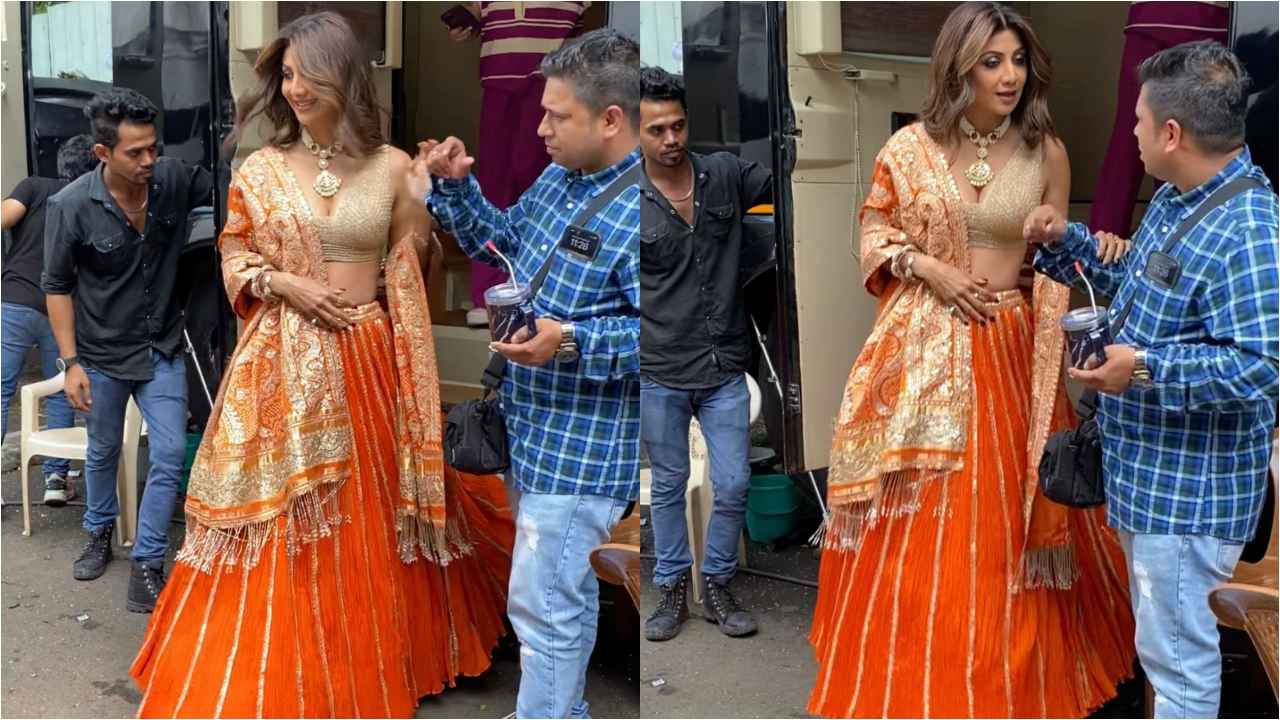 The gorgeous lehenga ensemble was further adorned with intricate shimmery gold embroidery, adding a touch of opulence and glamour to the overall look. Completing the set was a heavily embroidered printed dupatta featuring striking gold and orange embroidery, as well as an elaborate edge adorned with beautiful designs. This exquisite lehenga set not only showcased Shilpa Shetty Kundra's impeccable fashion sense but also allowed her to flaunt her well-toned midriff with confidence.
With this stunning ensemble, Shilpa Shetty Kundra left a lasting impression, once again highlighting her ability to blend tradition and modernity while maintaining her position as a true style icon in Bollywood. Her fashion choices continue to inspire and captivate fashion enthusiasts, and she effortlessly stands out as a trendsetter in the industry.
The talented Nikamma actress completed the outfit with sassy gold sandals. Furthermore, the gorgeous Hungama 2 actress chose to accessorize her ethnic elegant outfit with a beaded necklace and intricately designed gold necklace, matching gold bracelets, and a simply beautiful gold ring.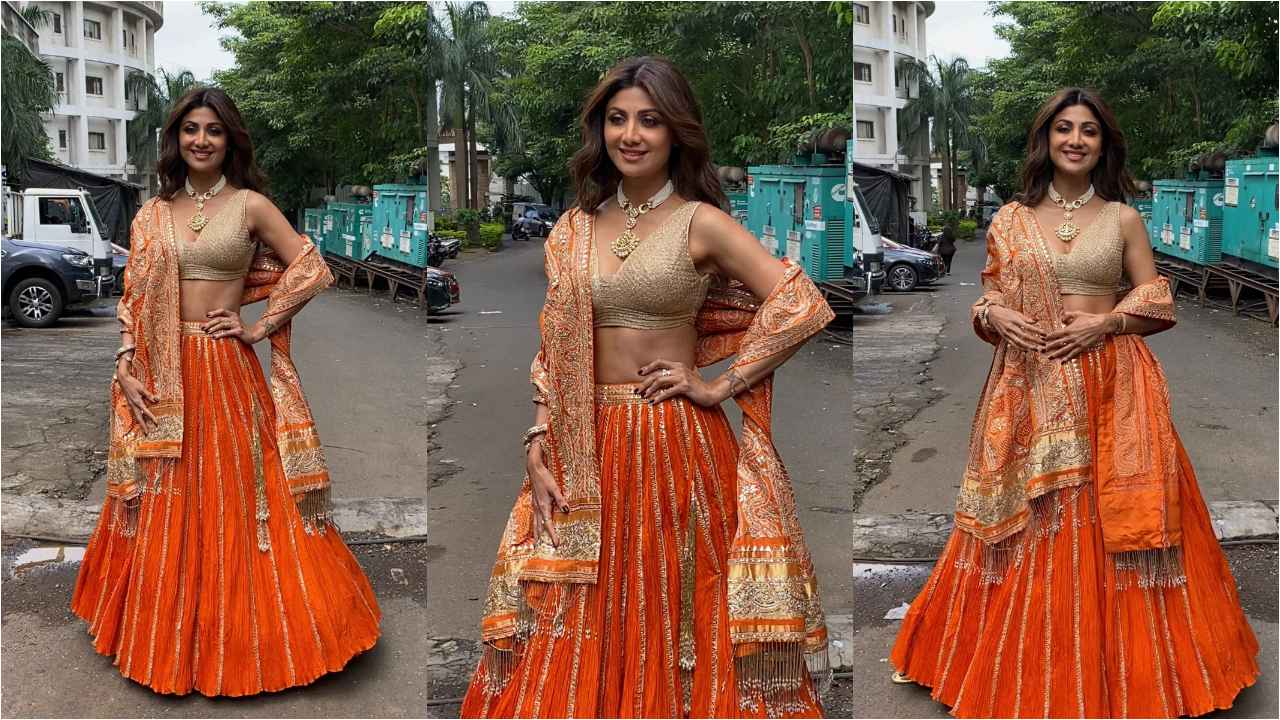 Each of these elegant traditional pieces added an extra layer of allure to the diva's already classy outfit. Furthermore, the talented "Main Khiladi Tu Anari" actress left her hair open, allowing her tresses to be styled into beautiful waves that cascaded gracefully down her shoulders. This hairstyle added a touch of softness and femininity to her overall look, perfectly complementing the traditional elegance of her attire.
Shilpa Shetty Kundra's ability to strike a balance between traditional and contemporary elements in her fashion choices is truly remarkable. Her fashion sense continues to dazzle and inspire, making her a true style icon in Bollywood and beyond.
On the other hand, Shilpa flaunted an oh-so-glamorous makeup look that included shimmery eyeshadow, mascara-laden eyelashes, pretty blushed cheeks, a highlighted face, and a pinkish-brown lipstick. Her makeup perfectly accentuated her features and added a touch of glamour to her overall appearance.
Together with her stunning hair and makeup, Shilpa Shetty Kundra looked nothing short of enchanting. Her ability to combine traditional attire with modern makeup and hairstyling is a testament to her fashion-forward sense. Whether it's on the set of "India's Best Dancer" or at any event, Shilpa Shetty Kundra consistently leaves us spellbound with her impeccable style, grace, and timeless beauty.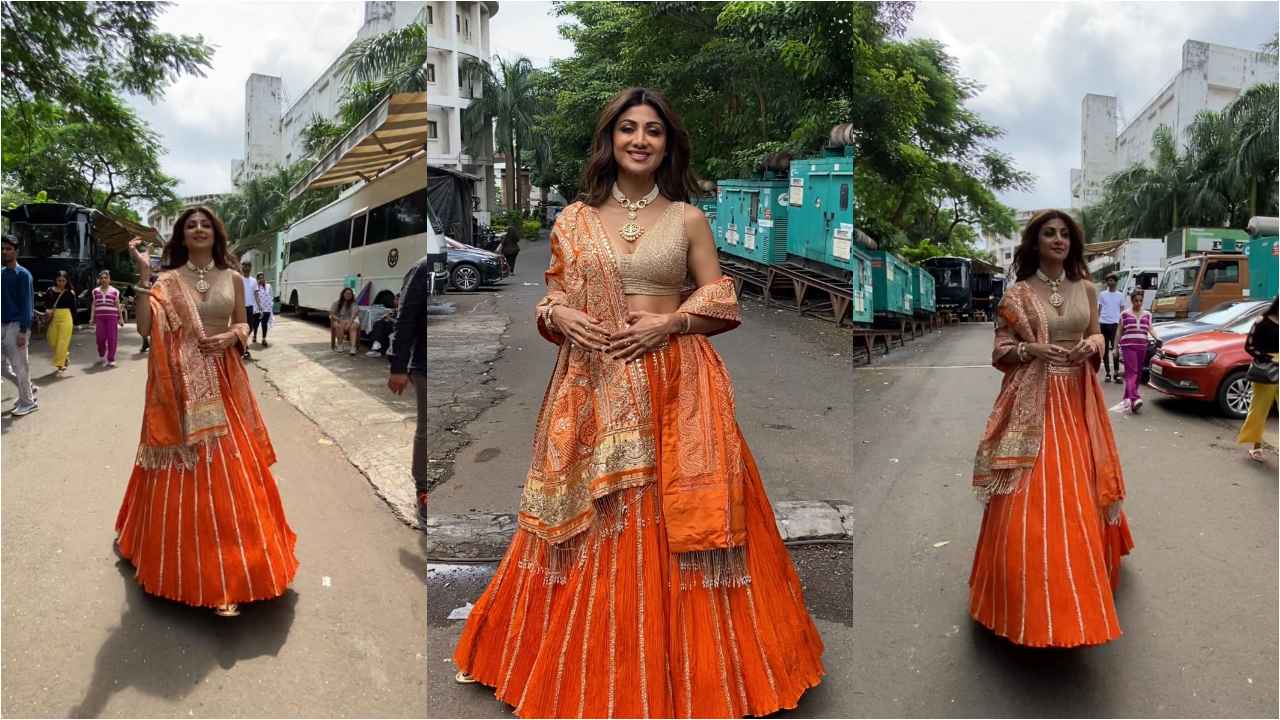 She continues to inspire us all to embrace tradition with a touch of contemporary flair, and her choice of attire and accessories exemplifies her status as a fashion icon in the Indian entertainment industry.