Kareena Kapoor Khan makes case for the subtle art of acing minimalism in delicate floral Sabyasachi saree
Kareena Kapoor Khan's enduring influence in both the entertainment and fashion industries is indeed remarkable. Her status as the OG fashionista of Bollywood is well-deserved, as she continually pushes boundaries and sets new standards with her captivating looks. Kareena Kapoor Khan's ability to consistently deliver looks that resonate with her audience while leaving them in awe is a testament to her timeless appeal and enduring magic.
In her recent appearance wearing a graceful and minimalistic Sabyasachi saree, the Heroine actress once again solidified her status as the OG diva of B-town. This choice of attire not only turned heads but also showcased her innate sense of style and elegance, leaving an indelible mark wherever she went. Kareena Kapoor Khan's ability to effortlessly blend tradition with contemporary fashion trends makes her an enduring source of inspiration and admiration for fashion enthusiasts and cinephiles alike.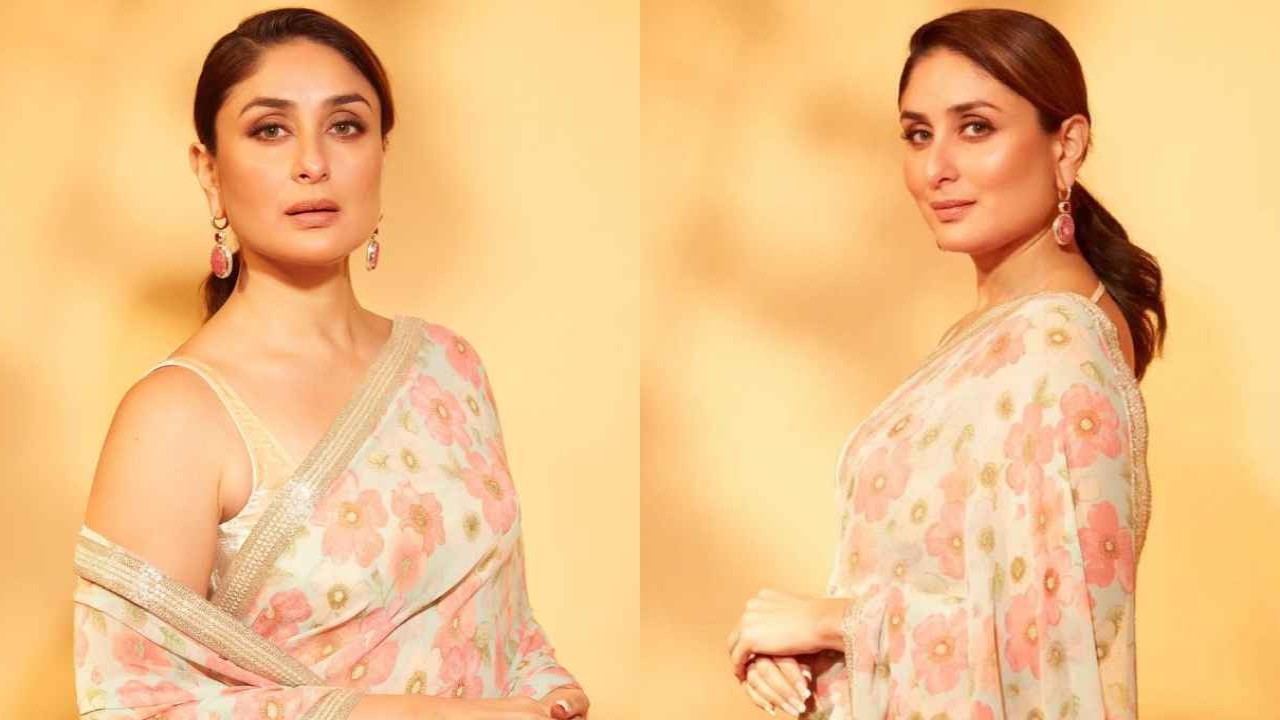 Kareena Kapoor Khan's choice of a white saree by Sabyasachi indeed showcased the iconic label's unique and exquisite design sensibilities. Let's delve further into the details of her elegant ensemble:
The White Saree: The saree featured a beautiful print of peach-colored flowers with tiny green leaves, creating a visually stunning and harmonious contrast against the white fabric. The print added a touch of femininity and grace to the saree, enhancing its overall appeal.
Gold Embellished Border: The edges of the drape were adorned with a gold embellished border, elevating the saree's allure and adding a hint of opulence to the ensemble. This border beautifully complemented the white fabric and print, creating a balanced and cohesive look.
Champagne Gold Blouse: To complete her look, Kareena Kapoor Khan paired the saree with a simple yet elegant champagne gold blouse. The blouse featured wide straps and a deep scooped back, adding a contemporary twist to the traditional saree ensemble. This choice of blouse allowed the focus to remain on the saree while adding a touch of modernity to the overall outfit.
Kareena Kapoor Khan's choice of this Sabyasachi saree, with its intricate details and thoughtful design elements, exemplified her ability to effortlessly blend tradition with contemporary fashion trends. Her minimalist yet sophisticated look further solidified her status as a fashion icon in Bollywood.
Kareena Kapoor Khan's attention to detail in draping the saree added an extra layer of elegance and sophistication to her overall look. Here's how she expertly draped the saree:
Floor-Length Pleats: The actress opted for well-formed floor-length pleats in the front of the saree. This draping style not only showcased her meticulous attention to detail but also added a sense of structure and poise to the ensemble. Well-arranged pleats are essential for a polished and graceful saree drape.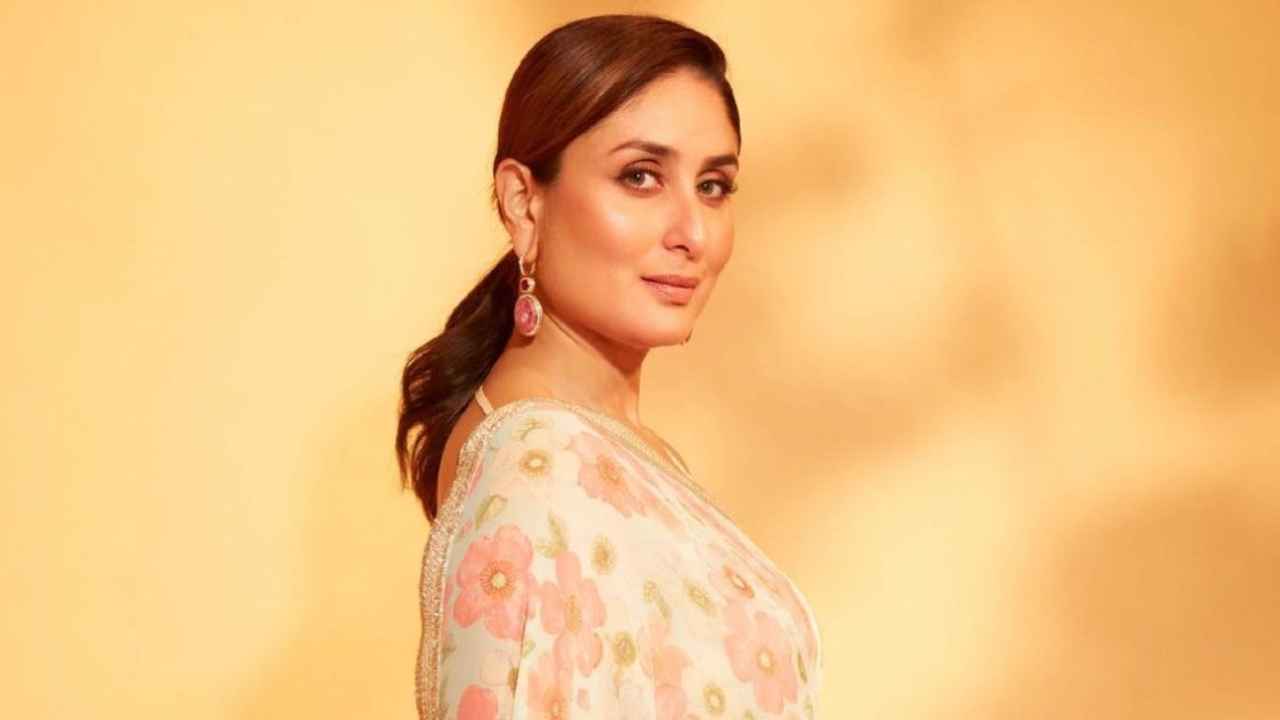 Pallu Cascading Down the Left Shoulder: Kareena Kapoor Khan chose to let the pallu of the saree cascade down her left shoulder without any folds. This draping style created an effortlessly graceful and fluid look. By allowing the pallu to flow naturally, she achieved a sense of ease and elegance in her saree drape.
The way Kareena Kapoor Khan draped her saree not only highlighted her impeccable style but also emphasized the beauty and intricate details of the Sabyasachi creation. It's these thoughtful touches that set her apart as a true fashion icon in Bollywood.
Kareena Kapoor Khan's choice to accessorize her elegant Sabyasachi saree with simple gold droplet earrings featuring a peach-colored crystal was a brilliant decision that truly showcased her fashion sensibility and understanding of the principle that "less can often be more." Here's why her accessory choice was a masterstroke:
Minimalistic Earrings: The gold droplet earrings with a subtle peach-colored crystal were understated yet refined. They added a touch of sophistication without overpowering the overall look. The choice of minimalistic earrings allowed the focus to remain firmly on the saree and Kareena Kapoor Khan's graceful presence.
Enhancing the Saree: The peach-colored crystal in the earrings beautifully complemented the peach-colored flowers in the saree's print, creating a harmonious and visually appealing connection between the saree and the accessories. This attention to color coordination demonstrated Kareena's meticulous approach to styling.
Total Attention to the Ensemble: By opting for minimalistic earrings, Kareena ensured that the saree took center stage and received the attention it deserved. This decision highlighted her fashion prowess and her ability to make strategic choices to enhance the overall impact of her outfit.
Kareena Kapoor Khan's fashion choices consistently reflect her understanding of balance, elegance, and sophistication. Her minimalist approach to accessorizing this beautiful Sabyasachi saree further solidified her status as a fashion icon who knows how to make a statement with subtlety and grace.
Kareena Kapoor Khan's overall look at the event was truly stunning and well-coordinated. Here's a breakdown of her hairstyle and makeup:
Hairstyle: Kareena Kapoor Khan's choice of a side-parted ponytail was a simple yet elegant hairstyle that allowed her beautiful face to take center stage. The side-part added a touch of sophistication, and the ponytail kept her hair neatly in place, creating a clean and polished look.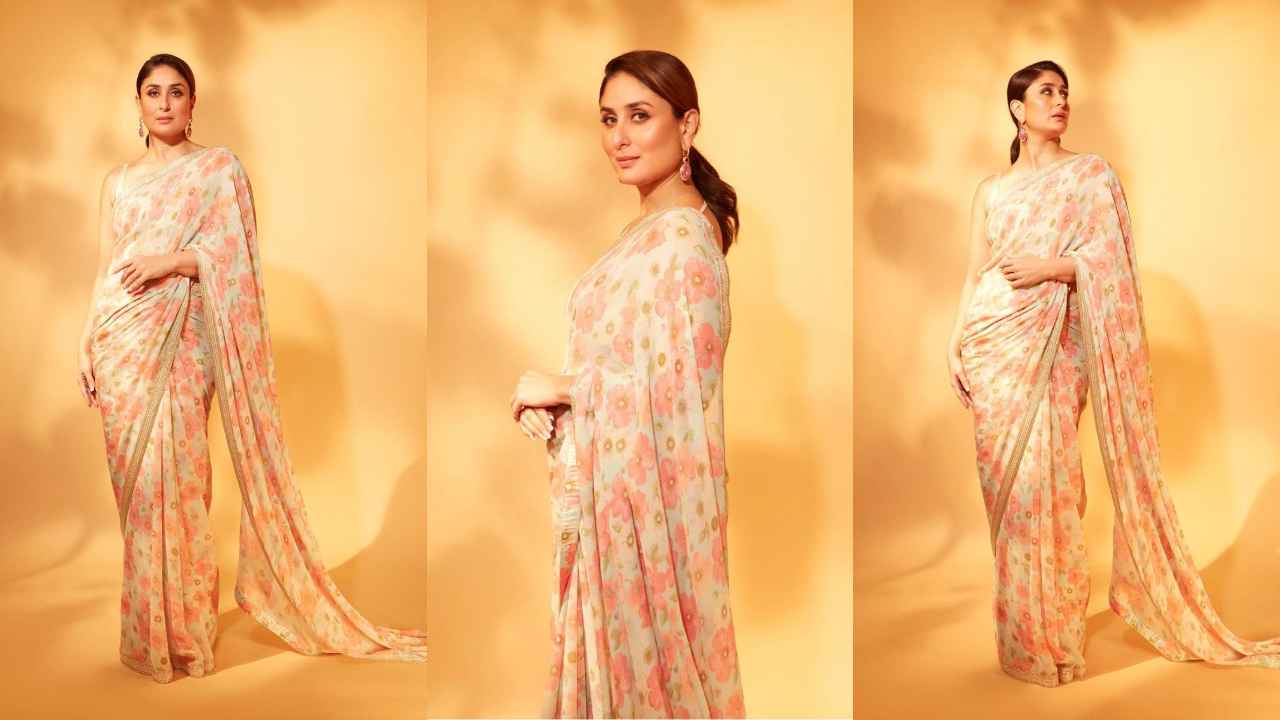 Makeup: Her makeup look was perfectly in tune with the overall aesthetic of her outfit. The use of peach-ish eyeshadow enhanced her eyes, while mascara-laden eyelashes added depth and definition. The gorgeous rouged and bronzed cheeks contributed to a warm and radiant complexion. The application of highlighter provided a subtle glow to her skin, and the matching peach-colored lipstick tied the entire look together.
Kareena Kapoor Khan's makeup was expertly done to enhance her natural beauty while maintaining a sense of minimalism and elegance. It complemented her saree and accessories beautifully, ensuring that all elements of her look worked harmoniously to create a stunning overall appearance. Her charming smile, as always, added an extra layer of grace and charm to her ensemble, making her truly captivating.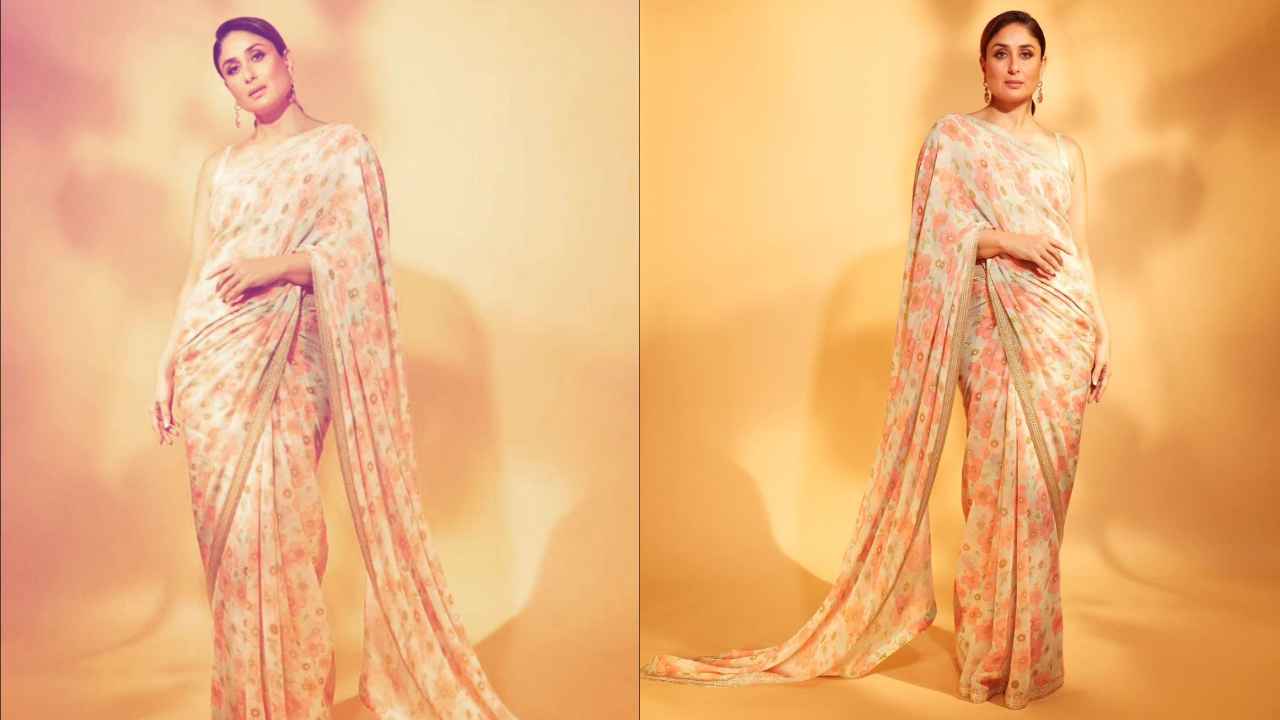 Absolutely! Kareena Kapoor Khan is undoubtedly a style icon, often referred to as the epitome of grace and elegance in the world of Bollywood fashion. Her ability to effortlessly carry off a wide range of styles, from traditional Indian wear to contemporary chic, is what sets her apart. Her fashion choices are a perfect blend of trendsetting, timeless, and uniquely her own, making her a true fashionista and an inspiration for many. The way she carries herself with confidence and charisma further adds to her allure, making her a role model for fashion enthusiasts and admirers of beauty and style.