Kareena Kapoor Khan cements her status as the OG diva in Gaurav Gupta's exceptional black floor-length gown
Kareena Kapoor Khan is undoubtedly one of the most prominent figures in the world of celebrity fashion. Her fashion choices have consistently captivated her fans and have had a significant influence on the fashion industry. Her recent appearance at the Tira Beauty launch event, where she donned a black floor-length gown by renowned designer Gaurav Gupta, is yet another example of her ability to effortlessly steal the spotlight.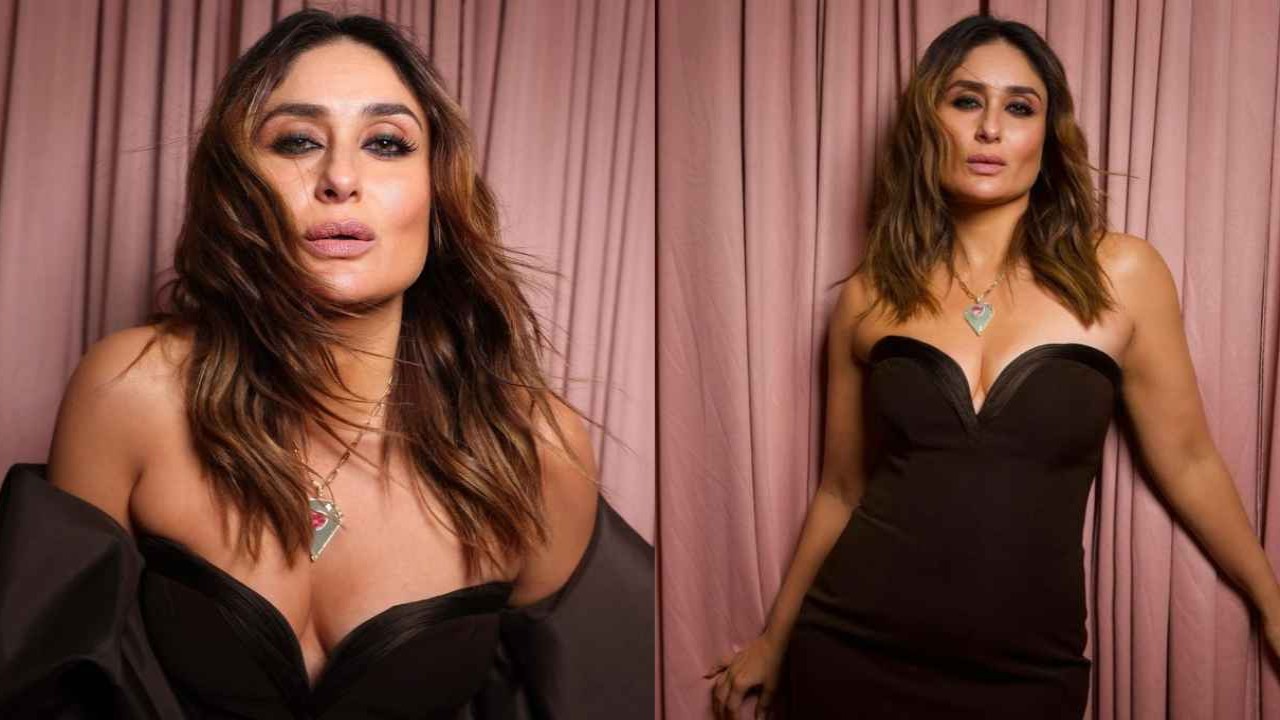 Kareena Kapoor Khan's enduring appeal in the fashion world can be attributed to her ability to transcend ever-changing trends. She has established herself as a timeless icon of style, redefining elegance and sophistication with each of her sartorial choices. Her fashion sensibilities have a way of setting trends rather than merely following them, and she continues to be a source of inspiration for fashion enthusiasts and designers alike.
Her choice of the black gown for the event exemplifies her knack for making a bold and elegant statement. Black is a classic color known for its versatility and timeless allure, and it appears that Kareena Kapoor Khan effortlessly harnessed its power to leave a lasting impression.
Kareena Kapoor Khan's fashion influence goes well beyond red carpet events, as she consistently showcases her style prowess in her everyday looks. Whether she's sporting casual ensembles or high-fashion outfits, she does so with equal flair and confidence. Her ability to effortlessly transition between different fashion styles reflects her versatility as a fashion icon.
Several key elements contribute to Kareena Kapoor Khan's fashion success. Her natural beauty serves as an excellent canvas for experimenting with various looks. She possesses a keen eye for pairing the right accessories, which can elevate an outfit to a whole new level. Additionally, her mastery of makeup and the ability to choose the ideal hairstyle for each outfit showcase her deep understanding of fashion as an art form.
Kareena Kapoor Khan's approach to fashion serves as an inspiration to many, as she effortlessly combines elegance, comfort, and trendiness in her everyday looks. Her fashion choices are relatable and attainable, making her a style icon for people from all walks of life.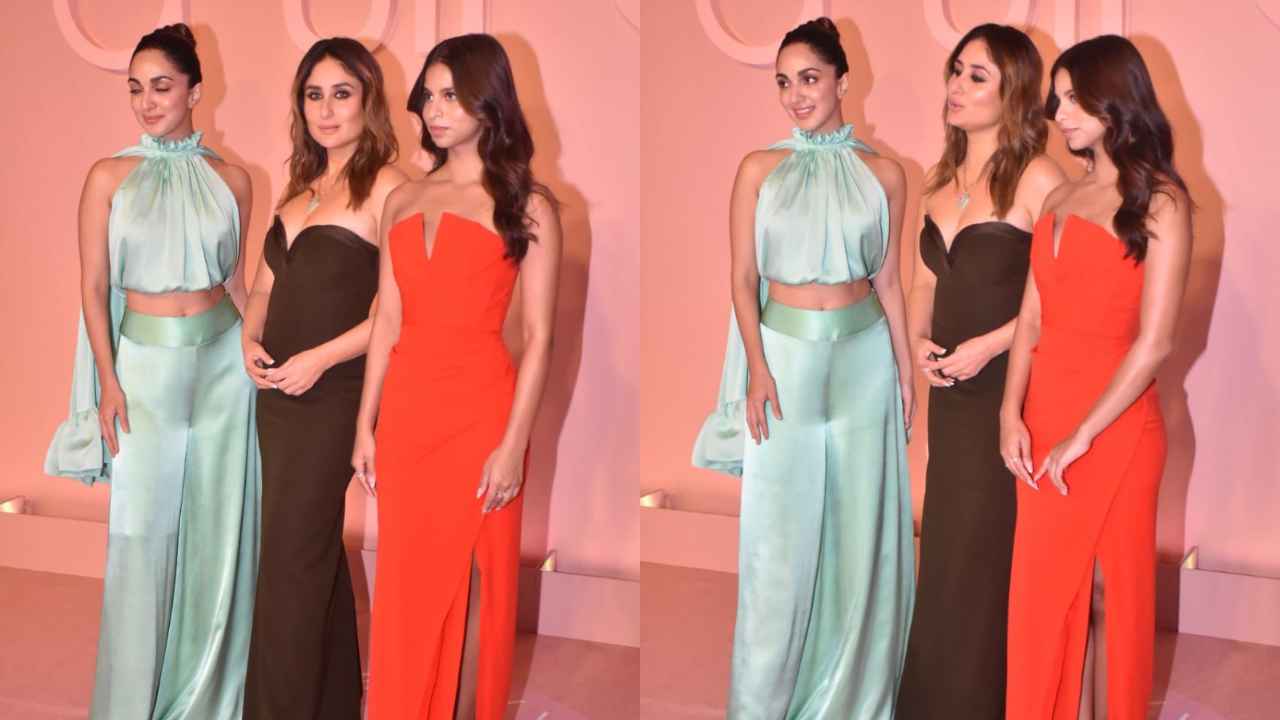 Getting up close and personal with her classy ensembles would undoubtedly provide valuable insights into her fashion choices and styling secrets, offering a glimpse into the world of a true fashion icon who has made a mark in both the glamorous world of Bollywood and the everyday fashion scene.
Kareena Kapoor Khan's appearance in the Gaurav Gupta dress at the event sounds truly mesmerizing. The carefully selected gown, courtesy of stylist Lakshmi Lehr, seems to have been a masterpiece that perfectly complemented the actress's timeless beauty. The dress's design elements, including its sleeveless style, plunging neckline, and figure-hugging silhouette resembling a corset, all appear to have combined harmoniously to highlight her curves and contours, making her the center of attention at the event.
Gaurav Gupta is renowned for his creations that exude sophistication and a unique sense of style. It's no surprise that his gown was once again the embodiment of elegance and class, earning admiration from both fashion enthusiasts and critics. Such a combination of a talented designer, a skilled stylist, and a charismatic actress often results in a fashion moment that leaves a lasting impression and sets new trends in the industry. Kareena Kapoor Khan's choice of attire for this event seems to have achieved just that.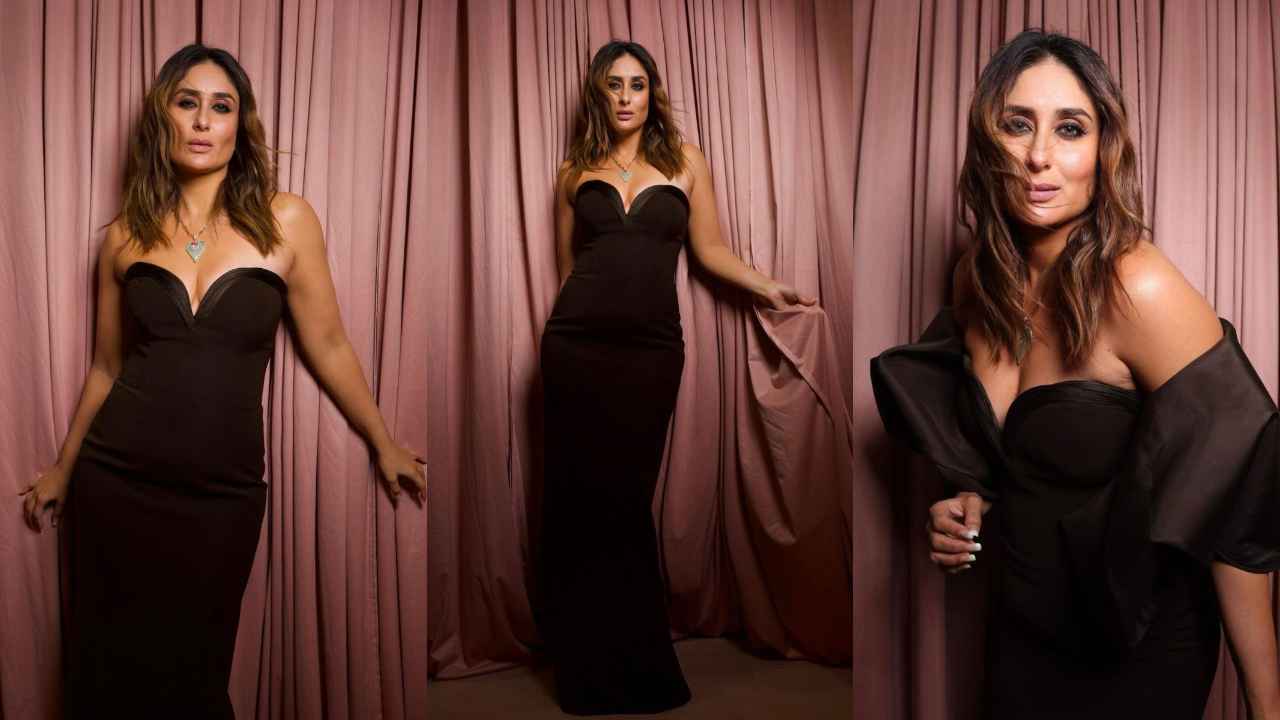 Kareena Kapoor Khan's ensemble at the event was indeed elevated by her impeccable sense of restraint when it came to accessories. Her decision to embrace minimalism and wear only a single stunning pendant showcased her refined fashion sensibilities. By doing so, she allowed the gown to take center stage and shine on its own.
This choice exemplifies Kareena Kapoor Khan's innate understanding of the "less is more" concept in fashion. Sometimes, a single, well-chosen accessory can make a more significant impact than an array of jewelry. In this case, the pendant harmonized flawlessly with her look, adding a touch of elegance without overpowering the overall ensemble.
Kareena's ability to balance her outfit with just the right amount of accessories is a testament to her fashion expertise. It's a reminder that the key to a standout look often lies in the careful curation of accessories that enhance, rather than compete with, the main attire. Her approach to accessorizing in this instance perfectly complemented the sophistication of the Gaurav Gupta gown, allowing it to speak for itself and make a lasting impression.
Kareena Kapoor Khan's hairstyling and makeup choices at the event further emphasized her sense of simplicity and beauty, enhancing her overall look with grace and elegance.
Her loose waves, cascading down her shoulders, added a touch of romanticism and softness to her appearance. This hairstyle not only framed her face beautifully but also complemented the enchanting aura of her ensemble.
The makeup artist's meticulous work seemed to have brought out the best in Kareena Kapoor Khan's features. The black smokey eye, expertly defined with mascara and shimmery eyeshadow, likely added a hint of drama and intensity to her gaze, while still maintaining an overall sense of sophistication. This choice harmonized well with her flawless complexion, creating a striking contrast that drew attention to her eyes.
The perfect balance of blush, highlighter, and contour is crucial in makeup application, and it appears that Kareena's makeup artist achieved just that. These elements would have added depth and dimension to her visage, enhancing her natural beauty.
The choice of a pink-ish nude lipstick completed the makeup look, radiating an air of understated charm. This choice, in particular, is in line with the overall sense of minimalism and elegance that Kareena Kapoor Khan seemed to embrace for the occasion. It's clear that her hairstyling and makeup choices were well-coordinated, enhancing her timeless beauty and resonating perfectly with the event's theme and atmosphere.
Kareena Kapoor Khan's appearance at the Tira Beauty launch event was undoubtedly a significant milestone in her style journey. The collaboration between the exceptional black gown by Gaurav Gupta and the artistic finesse of stylist Lakshmi Lehr transformed her into a vision of elegance and sophistication.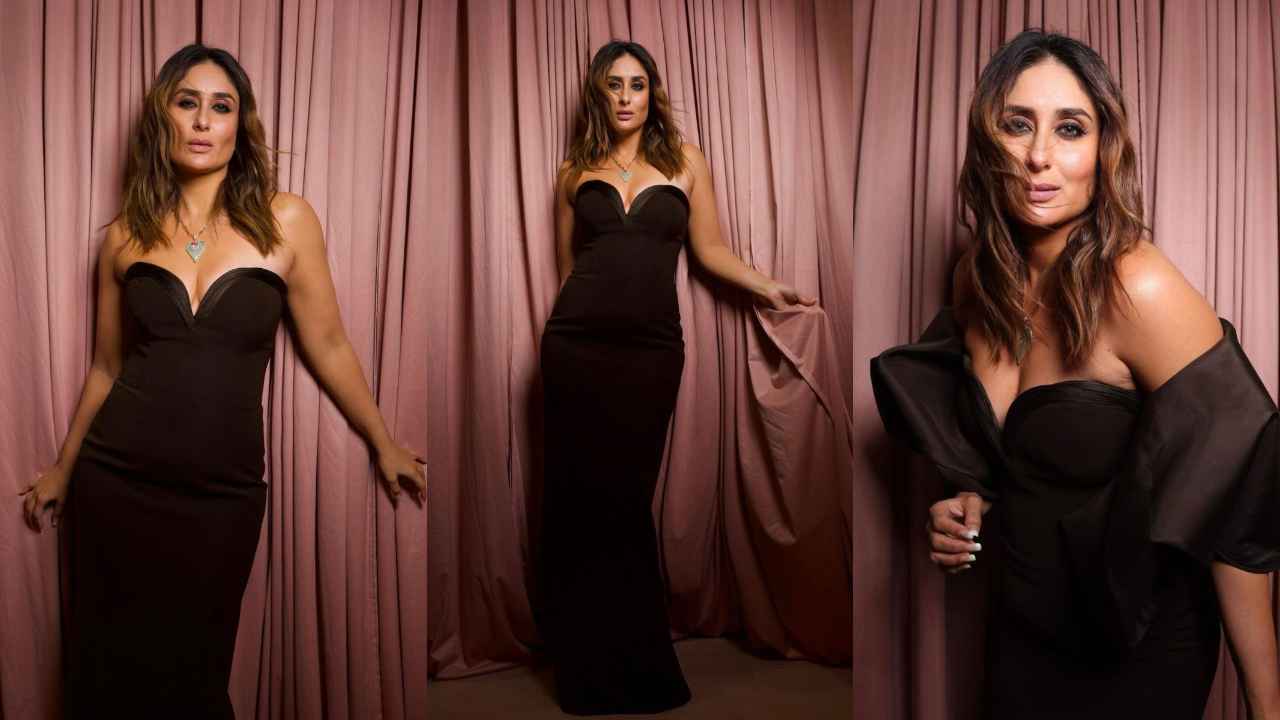 Her presence at the event served as a reminder of her status as an OG diva of the fashion world, a title she has rightfully earned over the years. Kareena Kapoor Khan's fashion choices consistently make a statement, and her ability to adapt to evolving fashion trends while maintaining her unique style is truly commendable.
In a world where fashion is constantly evolving, Kareena Kapoor Khan remains a beacon of inspiration. Her style not only showcases what she wears but also how she carries herself with confidence and grace. Her enduring appeal and timeless elegance continue to inspire many, making her a true icon in the world of fashion and beauty.