On Monday, 11th October 2021, the veteran actor of Bollywood, Amitabh Bachchan, revealed that he has stepped down as an ambassador for the Kamla Pasand pan masala.
The announcement comes after a national anti-tobacco organization asked that the megastar drops out of the pan masala campaign, stating that it would help prevent children from being addicted to tobacco. 
The statement released by the team of Mr. Bachchan stated that Mr. Amitabh Bachchan wasn't fully aware of the brand details. When he signed the contract, he had no knowledge that the campaign falls under the category of 'surrogate advertising.'
For those unversed, Surrogate advertising is a type of advertising in which regulated products, such as cigarettes and alcohol, are advertised as if they were another product. To hammer the brand name into consumers' heads, this kind of advertising uses a product from a related category, such as club soda or mineral water in the case of alcohol, or a product from an entirely different sort. Customers may not be exposed to the prohibited product (alcohol or cigarettes) but rather to another product under the same brand name. People immediately associate that brand with its primary outcome (the alcohol or cigarette) whenever that brand is mentioned.
The statement also mentioned that Mr. Bachchan has written a letter of termination to the brand and has also returned all the money he had received as compensation for the promotion.
The advertisement aired around mid-September and includes Amitabh Bachchan and Ranveer Singh. In the advertisement, while promoting the brand, Mr. Bachchan plays the father and Ranveer Singh of the son.
The advertainment became a talk on social media as soon as it was aired. Several social media users criticized the commercial, and more comments were made towards Mr. Bachchan for his participation.
A social media user asked Mr. Bachchan why he chose to endorse the pan masala brand. To which Big B has this to say, "If some people are getting benefits from an industry, we should not think as to 'why am I getting associated with it?' If it is an industry, then we too should think of it as our industry. Now, you may think that I should not be doing it, but I get paid for it."
In September, Amitabh Bachchan received a letter from the National Organization For Tobacco Eradication (NOTE) requesting that he stop marketing the Pan Masala brand. Following Mr. Bachchan's decision to stop promoting the pan masala brand, the president of NOTE stated, "NOTE welcomes Amitabh Bachchan's decision to withdraw from all surrogate advertisements related to tobacco products with immediate effect and would like to congratulate the superstar for showing solidarity with the government and non-governmental organizations in the fight against tobacco."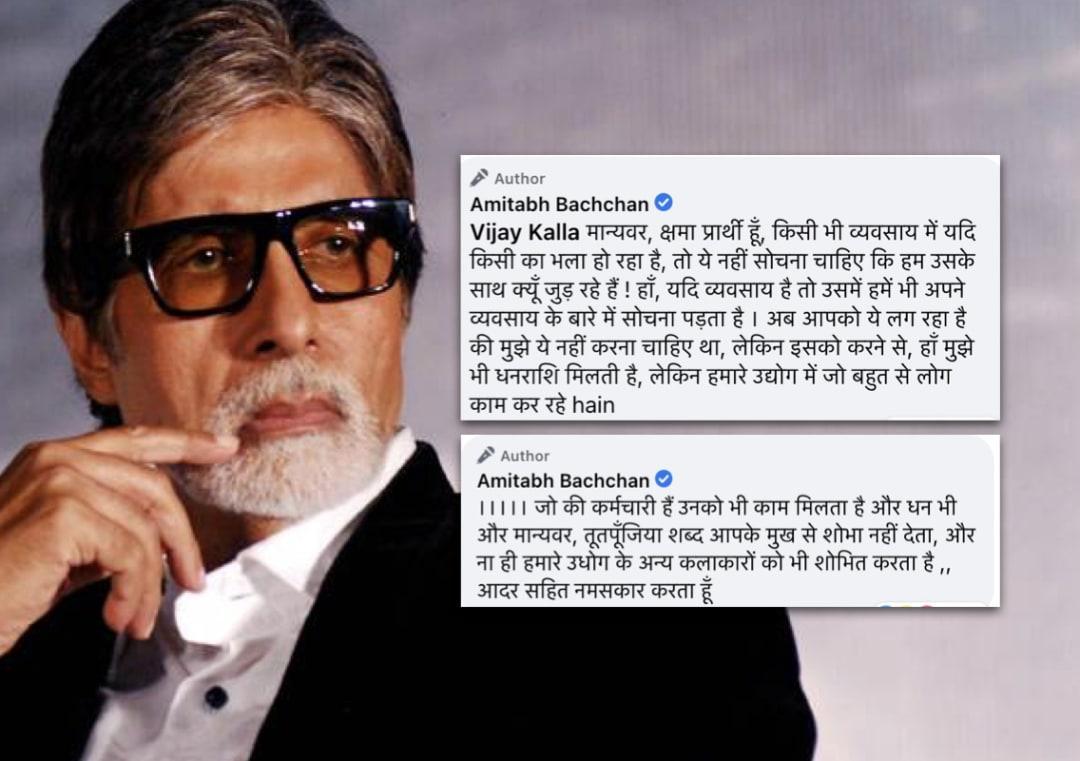 As per the research conducted in 2020 by the IMARC Group, the Pan Masala market has reached a value of Rupees 45,585 crores and will increase more in the coming years.   
Another instance was when Hollywood actor Pierce Brosnan was named the brand ambassador for Pan Bahar, a pan masala brand. He became embroiled in a scandal in 2018. He subsequently admitted that he was deceived into supporting a product with a health hazard that the business failed to mention. Other celebrities featured in a pan masala promotion are Shah Rukh Khan and Ajay Devgn for Vimal Elaichi.
11th October 2021 was also the 79th birthday of Big B. The Shahenshah of Bollywood started his birthday bash with the producer of his upcoming movie, Anand Pandit. The star also shared a post on Instagram and captioned,"…. walking into the 80th…". To know about Big B's birthday celebration, read our story, 'Big B celebrates his 79th Birthday'.
On the work front, the Angry Young Man of Bollywood is hosting the 13th season of Kaun Banega Crorepati. He will be seen in theaters in his upcoming movies Ponniyin Selvan and Mayday.
Stay Tuned For More!
Edited by Urvashi Gupta