Kareena Kapoor Khan's organza bralette and drape skirt look is your perfect option for a sundowner party
Kareena Kapoor Khan's reputation as a fashion trailblazer is well-deserved, and her preference for solid-colored outfits is a testament to her style sensibilities. Let's delve into what makes her a master of carrying solid-colored dresses with incredible elegance:
Impeccable Elegance: Whether it's a brilliant red, a striking emerald green, or a classic black, Kareena Kapoor Khan knows how to carry a solid-colored dress with impeccable elegance. Her ability to exude sophistication and grace in monochromatic ensembles is a hallmark of her fashion expertise.
Variety of Styles: Kareena's collection of one-piece beauties showcases her immaculate taste and versatility. From body-hugging designs that accentuate her curves to flowing maxi styles that exude an air of effortlessness, her wardrobe is a testament to her ability to experiment with different silhouettes while staying true to solid colors.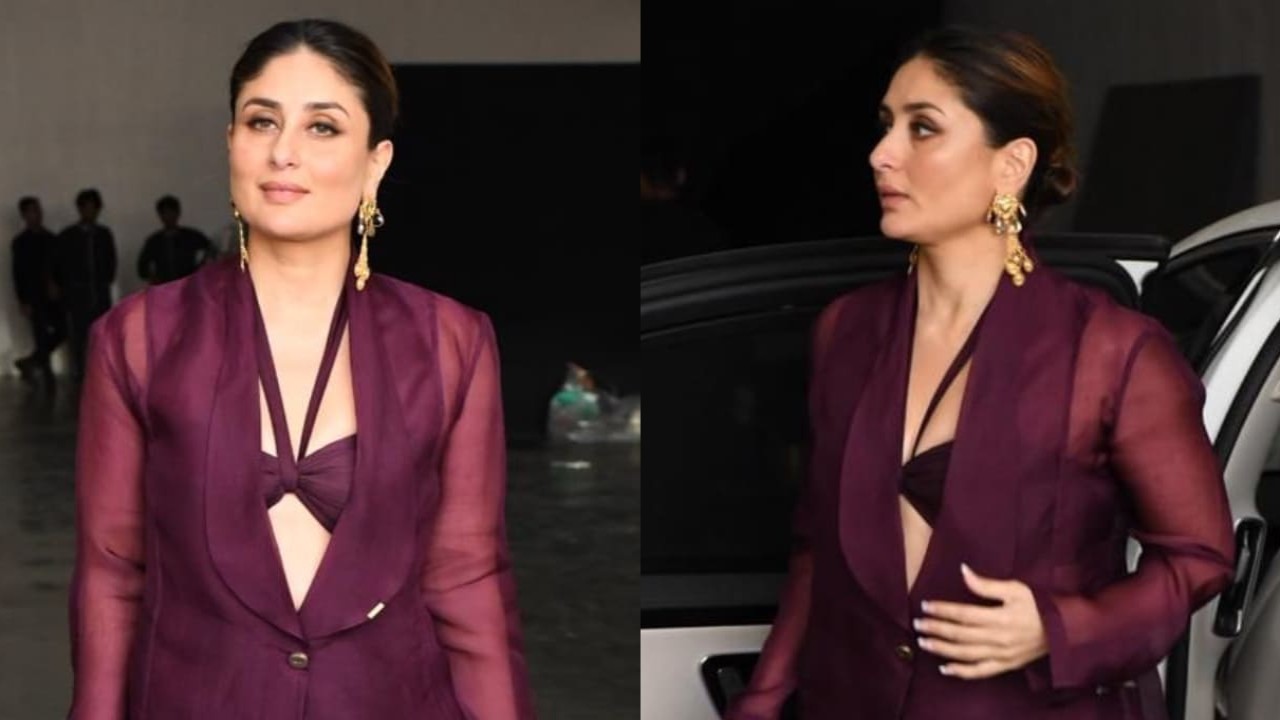 Bold and Timeless: Solid-colored outfits have the power to make a bold statement while remaining timeless. Kareena's affinity for such dresses highlights her understanding of how simplicity and sophistication can go hand in hand in the world of fashion. Solid colors allow her to command attention without overwhelming the look with patterns or prints.
Kareena Kapoor Khan's mastery of carrying solid-colored dresses with elegance has cemented her status as a fashion icon. Her ability to choose the right hue and style for the occasion, paired with her innate grace, has made her a role model for those seeking to make a powerful yet understated fashion statement. Her collection of monochromatic ensembles continues to inspire fashion enthusiasts around the world.
Kareena Kapoor Khan's approach to creating a great fashion statement is indeed a masterclass in combining drama with elegance. Here's how she does it:
Dramatic Accessories: Kareena understands that accessories play a pivotal role in elevating an outfit. By incorporating dramatic accessories, she adds an element of flair and excitement to her solid-colored ensembles. Whether it's bold statement jewelry, a striking clutch, or eye-catching footwear, these accessories serve to enhance the overall impact of her look.
Precise Contoured Beauty Look: Kareena's beauty game is always on point. Her precise contoured beauty look, including perfectly sculpted cheekbones and flawless makeup, adds a layer of sophistication to her appearance. This attention to detail ensures that her makeup complements her outfit and completes the overall statement.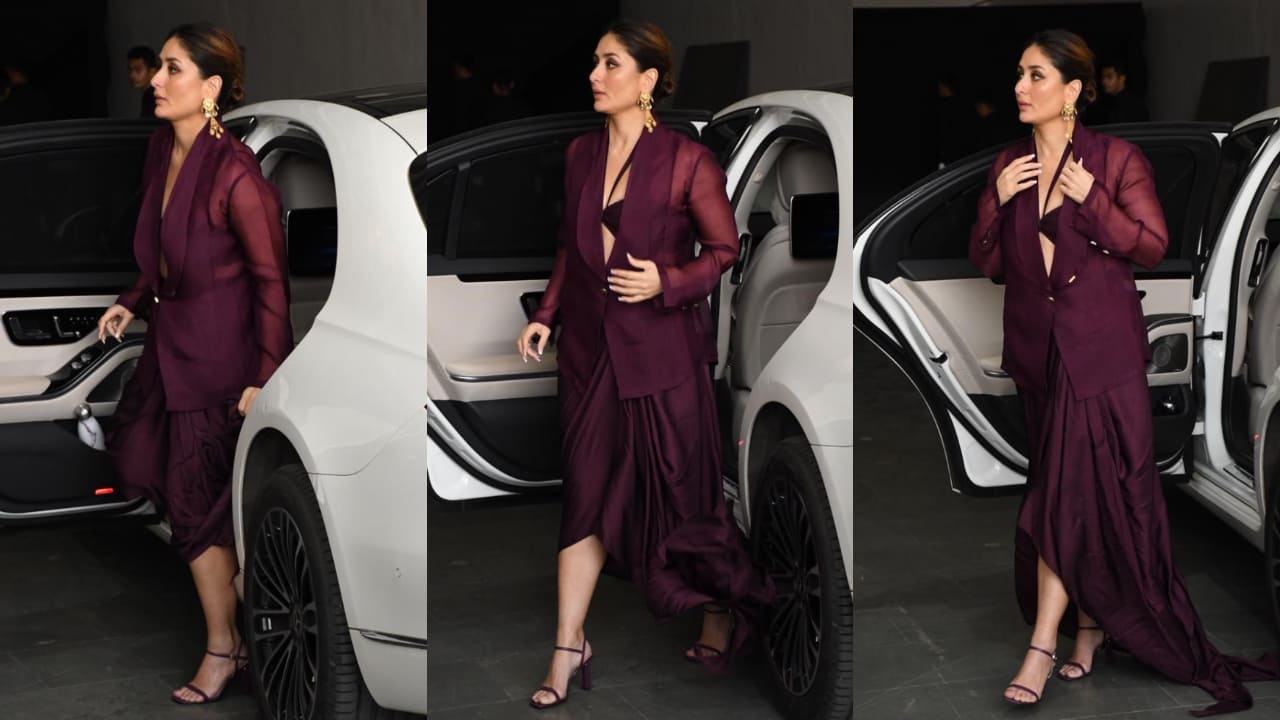 Kareena Kapoor Khan's recent choice of a blazer set indeed showcased her impeccable sense of style and fashion finesse. Let's break down what made this ensemble so exceptional:
Refinement and Glamour: Kareena's three-piece suit exuded refinement and glamour, emphasizing her ability to make striking style statements. The combination of a blazer, flowing skirt, and halter neck top highlighted her fashion-forward sensibilities and her knack for putting together elegant yet daring outfits.
Sheer Design: The sheer design of the blazer added an element of dominance and boldness to her outfit. Sheer fabrics have the power to create a captivating and alluring look, and in this case, it brought a sense of intrigue to the ensemble.
Fluid and Beautiful Movement: The flowing skirt not only added fluidity and beautiful movement to Kareena's appearance but also introduced a sense of grace and charm. It created a dynamic contrast with the structured blazer, showcasing her ability to balance different elements within an outfit.
Sultry Halter Neck Top: The sultry halter neck top was the perfect addition to the combination, offering a touch of sensuality while perfectly complementing the overall aesthetic. It added a layer of sophistication and allure to the ensemble.
Richness and Grace: The wine-colored co-ord set, crafted from organza fabric and modal satin, exuded richness and grace. The choice of materials and color palette contributed to the overall opulence of the look, highlighting Kareena's keen eye for luxurious and tasteful fashion.
Kareena Kapoor Khan's ability to effortlessly carry off such a striking and unique blazer set reflects her status as a fashion icon. Her choice of this ensemble, with its sheer elements, fluidity, and rich fabric, is a testament to her ability to push fashion boundaries while maintaining a sense of elegance and sophistication.
Kareena Kapoor Khan's choice of the Arohi Baked Clay Organza Blazer Set for her event appearance not only showcased her impeccable style but also added an air of sophistication and grace to her look. Let's delve into the details of her outfit and accessories: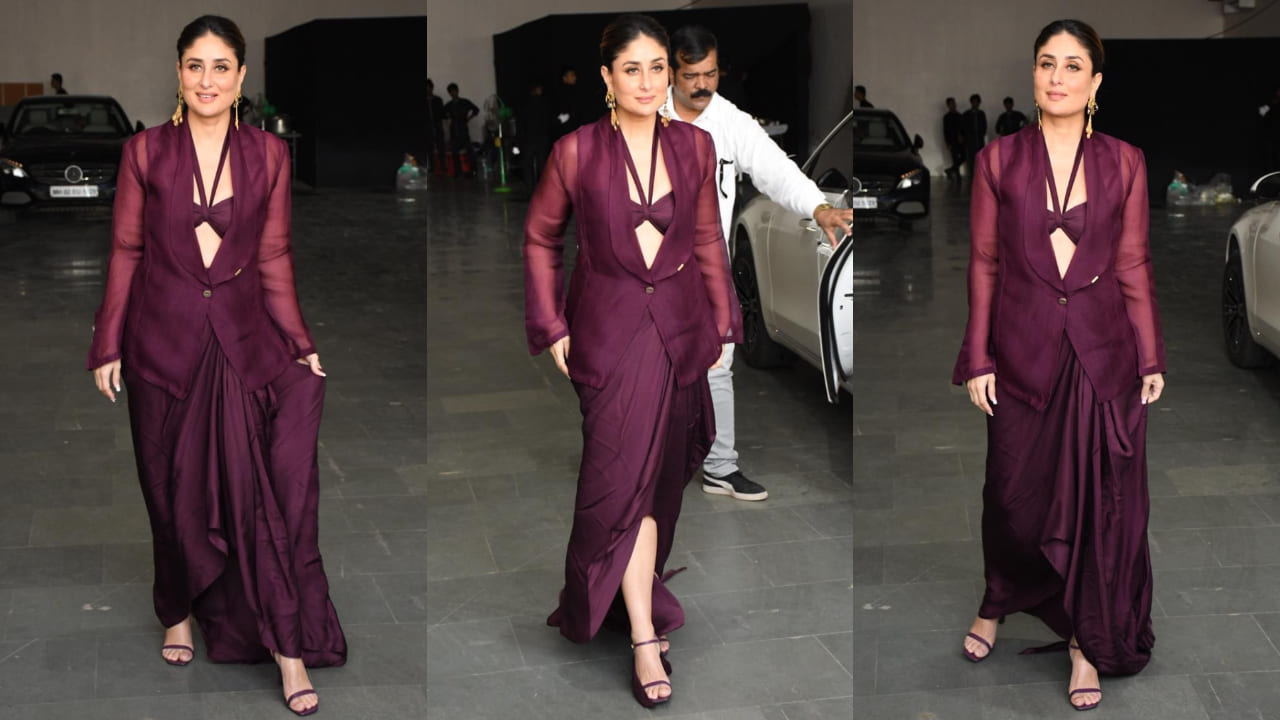 Arohi Baked Clay Organza Blazer Set: Kareena's stunning blazer set by Arohi, priced at Rs. 28,975, radiated elegance and refinement. The choice of the baked clay shade, combined with the organza fabric, added richness and depth to her ensemble. The blazer set served as the centerpiece of her outfit, highlighting her ability to make a fashion statement with grace.
Kareena Kapoor Khan's choice of accessories to complement her wine-colored attire was indeed a masterful display of elegance and glamour. Here's a closer look at the elements that added finesse to her ensemble:
Charles and Keith Sculptural Heel Sandals: The deep purple Sculptural Heel Sandals by Charles and Keith, priced at Rs. 7,999, served as a breathtaking addition to her outfit. These sandals not only introduced a captivating pop of color but also created a subtle yet fascinating contrast with her wine-colored attire. They showcased her ability to make thoughtful and fashion-forward choices in her accessories.
Radhika Agarwal Jewels' Pine Handcrafted Filigree Danglers Earrings: Kareena's choice of Pine Handcrafted Filigree Danglers Earrings by Radhika Agarwal Jewels, priced at Rs. 5,150, added a touch of magnificence to her appearance. These dangler earrings not only enhanced her overall look but also exuded a sense of refinement and sophistication. They perfectly complemented the elegance of her outfit.
Kareena Kapoor Khan's ability to unite elegance and glamour in her accessorizing is a testament to her fashion prowess. Her choices of stunning purple sandals and magnificent dangler earrings added depth and charm to her ensemble, showcasing her impeccable taste and attention to detail. It's clear that she understands the art of accessorizing to perfection, elevating her fashion statements to new heights.
Kareena Kapoor Khan's choice of the 18k gold-plated Pine Handcrafted Filigree Danglers Earrings by Radhika Agarwal Jewels sounds absolutely exquisite. These earrings, with their timeless beauty characterized by multi-teardrops, delicate filigree cutwork, floral patterns, and encrusted Swarovski crystals, are a testament to the craftsmanship and attention to detail in fine jewelry. They complemented her attire perfectly and added an extra layer of sophistication to her look.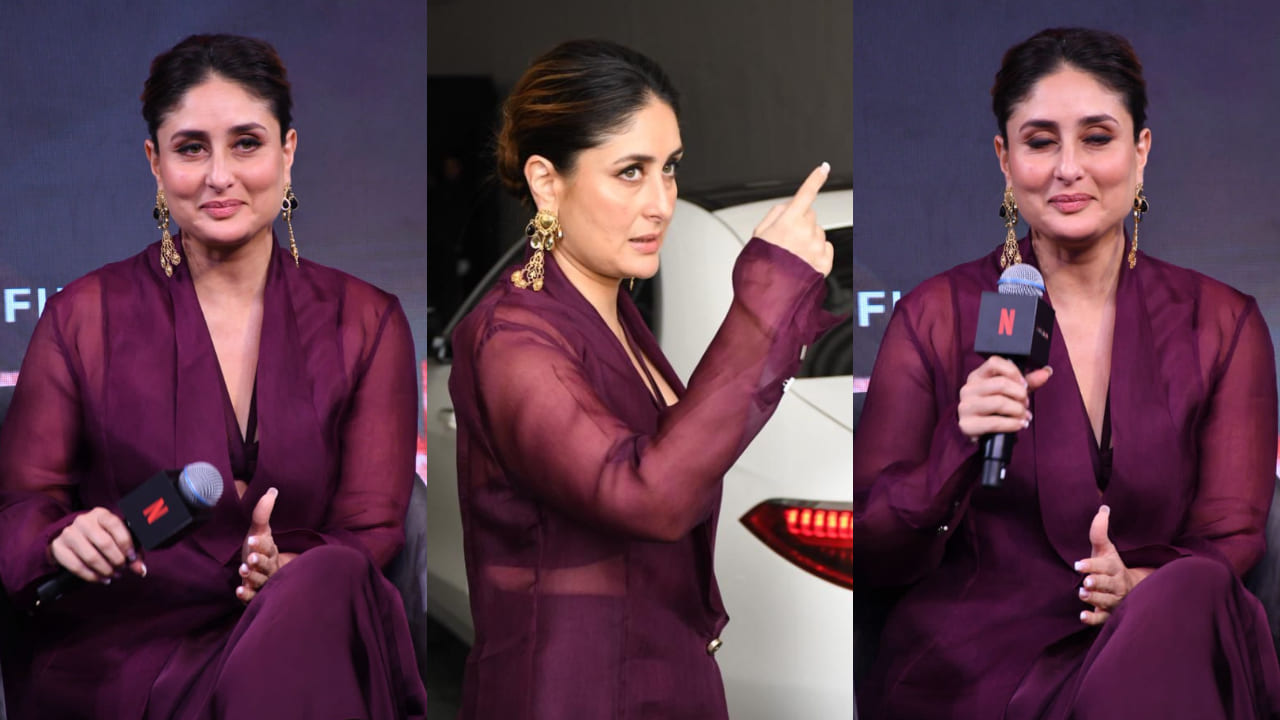 Kareena's affinity for solid hues, in this case, her wine-colored outfit, combined with her exquisite accessories, exemplified her innate sense of style and her ability to create a harmonious and captivating fashion statement. Her fashion choices continue to captivate and inspire, showcasing her as a true fashion icon with an eye for detail and an appreciation for timeless elegance.