Kriti Sanon takes the minimalistic approach to accessorize with dark green ruched midi-dress
Kriti Sanon's minimalistic yet elegant fashion choices have garnered attention and admiration in the world of Bollywood. Let's explore her recent sartorial choice at the success party of the movie Gadar 2: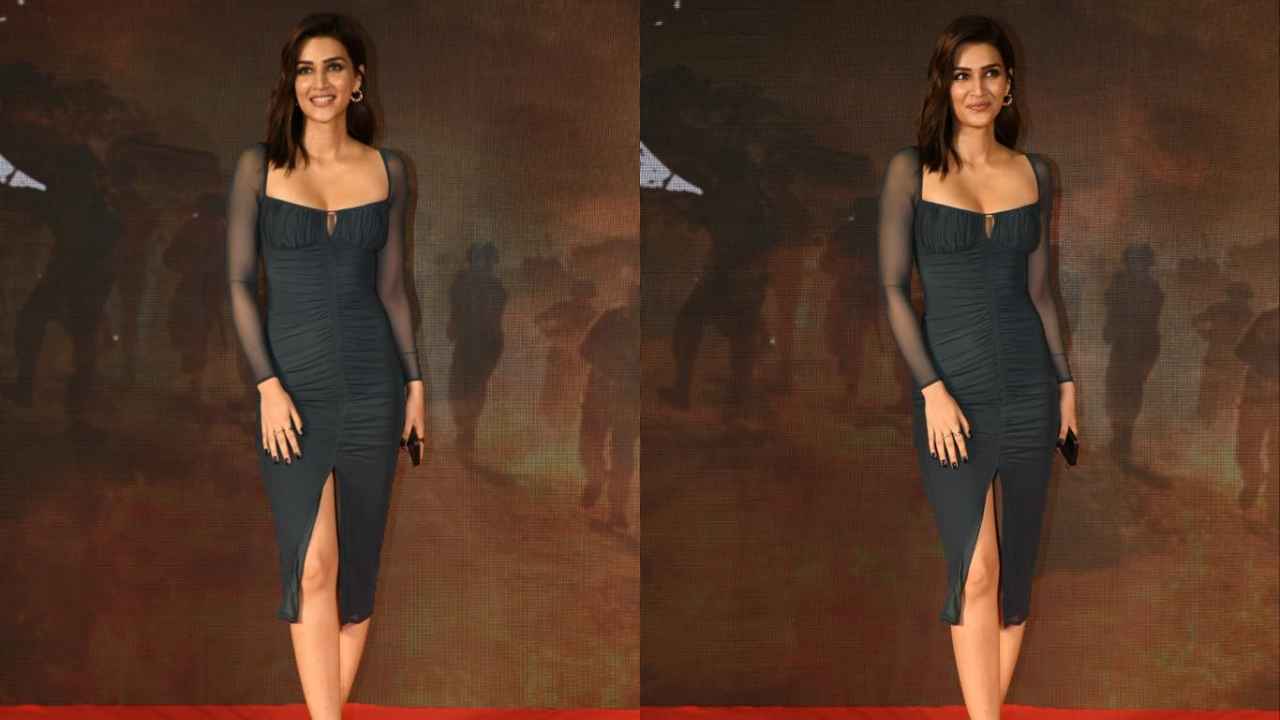 Dark Green Ruched Midi-Dress: At the success party, Kriti Sanon made a statement in a dark green ruched midi-dress. This choice not only showcased her excellent fashion taste but also left fashion enthusiasts spellbound. The midi length adds a touch of sophistication, while the ruched detailing adds a hint of texture and flair to the outfit.
Confidence and Sass: Kriti Sanon is known not only for her fashion choices but also for her confidence and sass, which shine through in her overall demeanor and how she carries herself in any outfit. Her choice of this elegant yet subtly daring dress reflects her unique sense of style.
Kriti Sanon's ability to stand out in a minimalistic and elegant outfit amidst the opulence of Bollywood's fashion scene is a testament to her fashion sensibilities. Her fashion choices continue to inspire those who appreciate timeless elegance with a touch of modern flair.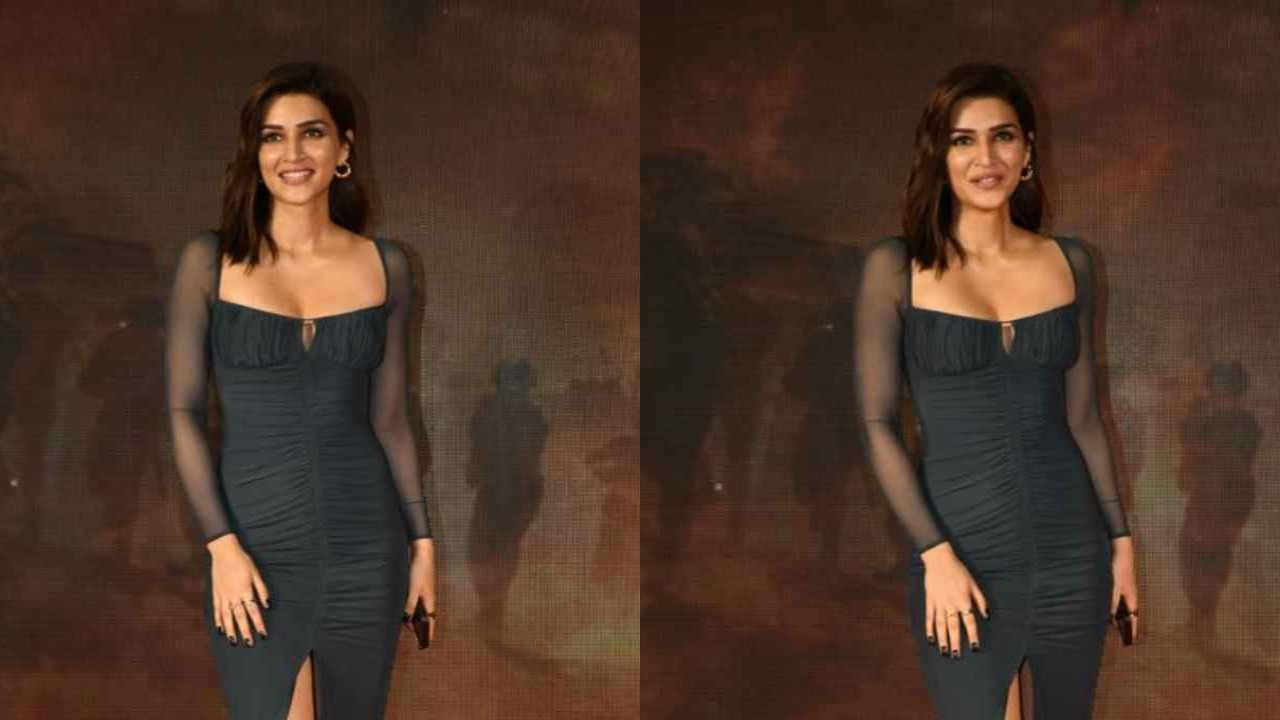 Kriti Sanon's choice of a dark green ruched midi dress from Self-Portrait for the Gadar 2 success party indeed showcased her impeccable fashion taste. Let's delve into the captivating elements of her dress:
Figure-Hugging Bodycon Silhouette: The dress featured a figure-hugging bodycon silhouette that celebrated Kriti Sanon's enviable curves. This design choice accentuated her hourglass figure, making it a standout piece.
Ruched Detailing: The ruched detailing on the dress added a layer of texture and interest to the outfit. Ruching is often used to create visual interest and can be both flattering and stylish.
Midi Length: The midi length of the dress added an element of sophistication to the ensemble. Midi dresses are known for their versatility and ability to strike a balance between chic and formal.
Kriti Sanon effortlessly carried this Self-Portrait dress, and her choice of such a meticulously curated piece demonstrated her keen fashion sense. The dress not only celebrated her curves but also exuded sophistication and charm, making her a showstopper at the event. Her fashion choices continue to inspire and leave a lasting impact on the fashion industry.
The elegant gathered detailing on Kriti Sanon's Self-Portrait dress indeed added depth and texture to the overall look, transforming it from simple to splendid. This subtle yet significant touch enhanced the dress and made it visually captivating.
Additionally, the inclusion of long sheer sleeves in the midi-dress demonstrated a thoughtful design choice. These sleeves not only added an air of sophistication but also balanced the sensuousness of the front slit with a touch of modesty, achieving the perfect equilibrium in the outfit. This attention to detail further highlighted the dress's meticulous design and Kriti Sanon's fashion-forward sensibilities.
The plunging sweetheart neckline, a signature element of Self-Portrait, undoubtedly added a dash of allure to Kriti Sanon's dress. It was tastefully daring without being exorbitantly provocative, striking a perfect balance between sensuality and sophistication.
The inclusion of a zip fastening in the dress demonstrated the fusion of practicality with style. This not only ensured a comfortable and secure fit but also added a touch of contemporary charm to the ensemble, making it easier to wear and move in.
What's even more noteworthy is that Kriti Sanon's classy dress comes with an affordable price tag, valued at approximately Rs. 37,000. This accessibility in fashion choices showcases her down-to-earth and relatable approach to style, making her fashion choices even more relatable and inspirational to her fans and fashion enthusiasts.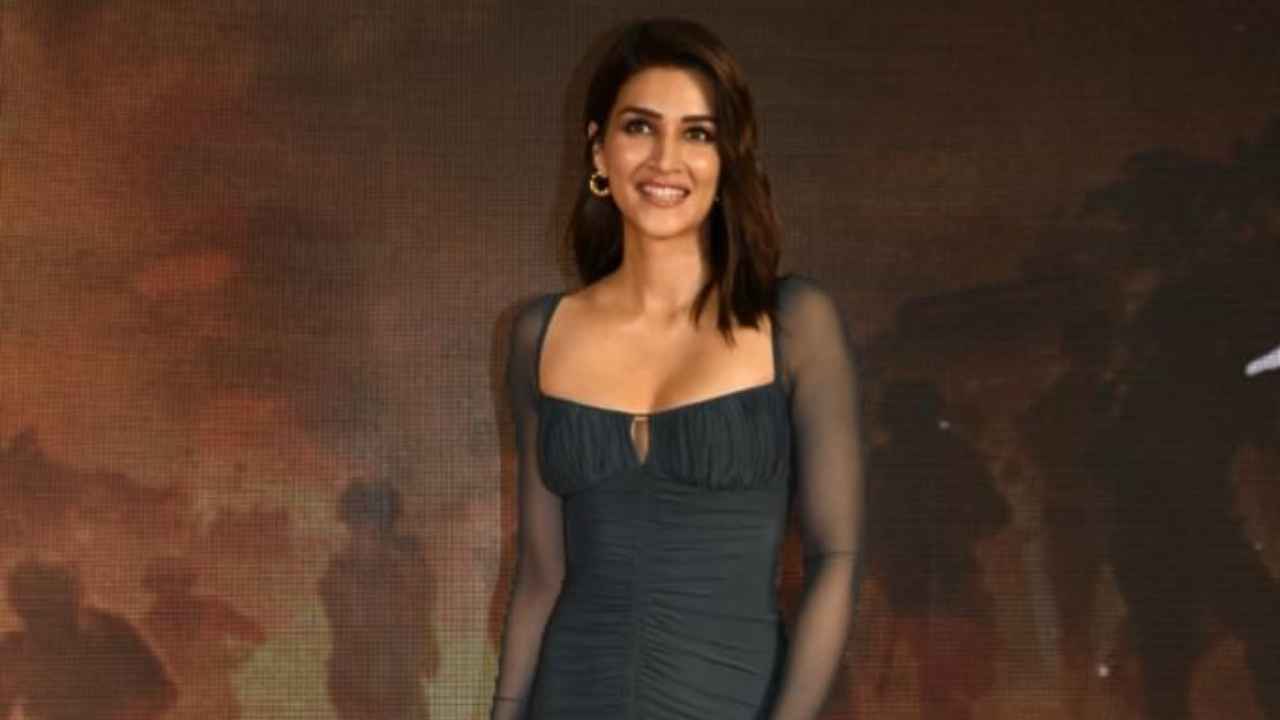 Kriti Sanon's fashion choices indeed reaffirm that style doesn't always have to be synonymous with exorbitance. Let's further explore her choice of footwear and how it complemented her overall look:
Jimmy Choo Erin 85 Suede Slingbacks: The choice of exquisite Jimmy Choo Erin 85 suede slingbacks was the perfect complement to the dress. These brown suede leather slingback pumps, valued at approximately Rs. 55,412, featured an adjustable ankle strap, covered heel, and a leather sole. Not only did they harmonize perfectly with the dress in terms of color and style, but they also provided both comfort and elegance, showcasing Kriti Sanon's attention to detail and her ability to blend luxury with practicality.
Kriti Sanon's complete ensemble, from the meticulously curated dress to the carefully chosen footwear, demonstrated her knack for achieving a cohesive and sophisticated look while embracing both style and practicality. Her choices continue to resonate with fashion enthusiasts, illustrating that fashion can be accessible and elegant at the same time.
Kriti Sanon's choice of minimalistic accessories indeed added a touch of sophistication to her overall look, emphasizing that sometimes, less is more. Let's delve into her accessories and their impact on her ensemble:
Simple Ring: Kriti Sanon adorned her fingers with a simple ring, allowing the focus to remain on the dress. This minimalist approach highlighted her dress as the centerpiece of her look, demonstrating her fashion-forward sensibilities.
Small Gold Gen-Z-Approved Hoop Earrings: Her choice of small gold Gen-Z-approved hoop earrings added a subtle glint to her overall look. These earrings were a testament to her fashion sensibility, showcasing that even a single earring can make a statement. The understated elegance of these hoops further emphasized her minimalist yet impactful approach to accessorizing.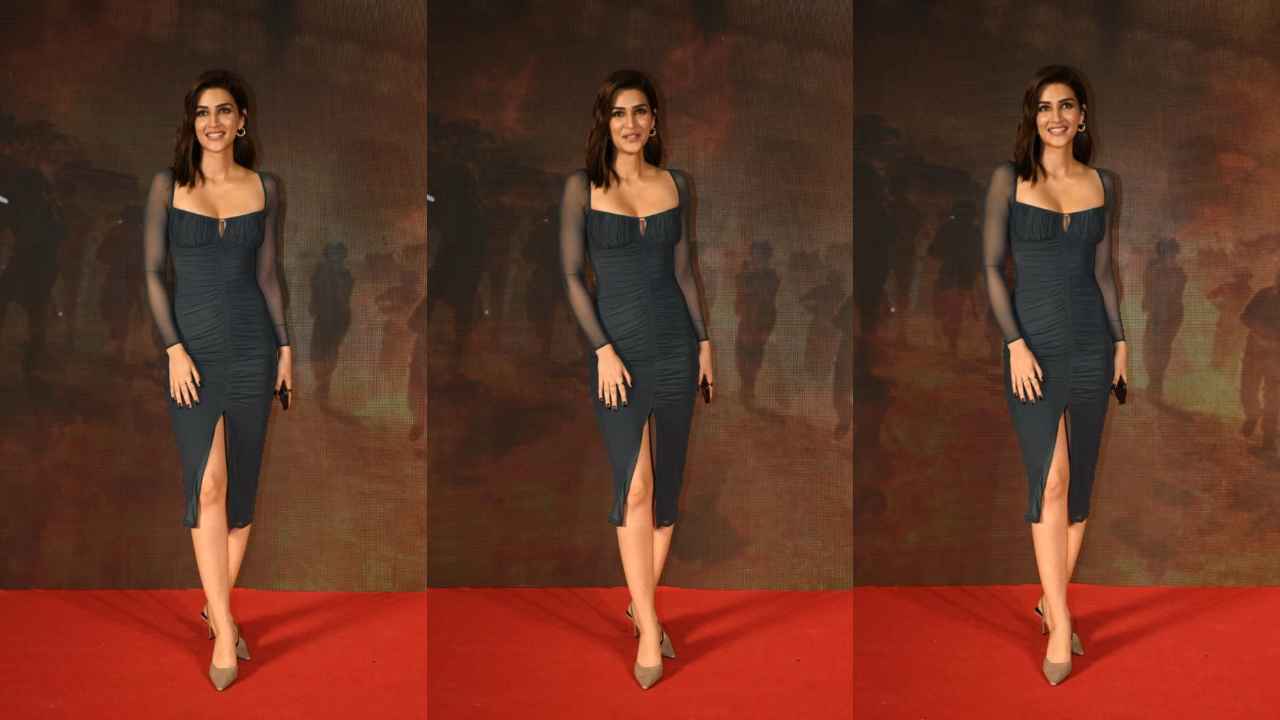 Kriti Sanon's understated accessories demonstrated that in the world of fashion, sometimes, the most powerful statement is made with subtlety. Her ability to let the dress shine while adding just the right touch of sophistication through her accessories exemplifies her unique fashion sense and ability to strike a perfect balance in her style choices.