Sonam Kapoor Ahuja cements her status as the OG fashionista in VNV's grunge denim-on-denim ensemble
Sonam Kapoor Ahuja, known for her impeccable sense of style, continues to captivate the fashion world with her latest Instagram posts. Let's explore her recent collaboration with VegNonVeg, a fashion-forward brand founded by her husband, Anand Ahuja, and the outfit that seamlessly blends grunge aesthetics with denim-on-denim:
Grunge Aesthetics and Denim-on-Denim: Sonam's collaboration with VegNonVeg showcases an outfit that marries the edgy and rebellious style of grunge aesthetics with the timeless charm of denim-on-denim. This fusion of two distinct fashion elements is a testament to her ability to experiment and create unique looks.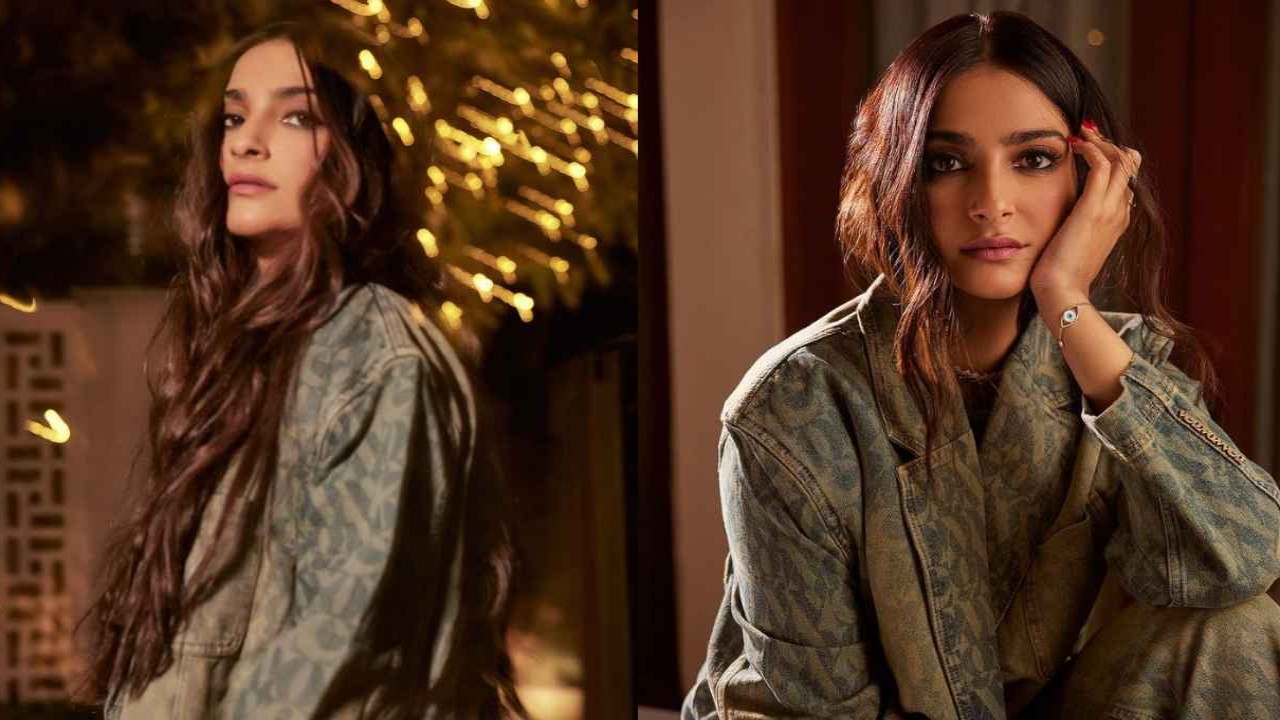 Setting Trends: Sonam Kapoor Ahuja has long been regarded as a style icon who not only sets trends but also redefines fashion norms. Her collaboration with VegNonVeg demonstrates her innovative approach to fashion, where she combines different styles to create something fresh and exciting.
Fashion Maven: Sonam's status as a Bollywood sensation and fashion maven is well-deserved, as she consistently pushes the boundaries of style and presents fashion-forward looks that inspire others in the industry and fashion enthusiasts worldwide.
Sonam Kapoor Ahuja's ability to blend grunge aesthetics with denim-on-denim in her collaboration with VegNonVeg showcases her unique fashion sensibilities and her knack for making a statement in the world of fashion. Her posts on Instagram continue to be a source of inspiration for those who appreciate bold and innovative fashion choices.
The unveiling of VegNonVeg's latest collection on Sonam Kapoor Ahuja's Instagram feed certainly caught the fashion world's attention, and the remarkable denim-on-denim look took center stage. Let's explore the details of this outfit:
"Moss" Monogram Denim Blazer: The focal point of this outfit is the "Moss" monogram denim blazer, valued at Rs. 6,000. This blazer features broad notch-lapel collars, long sleeves, front patch pockets, side slits, and an expansive silhouette, all of which contribute to its stylish and unique design.
Grunge-Inspired Design Philosophy: The blazer embodies the grunge-inspired design philosophy that the collection exudes. Grunge fashion is known for its rebellious and edgy aesthetic, and Sonam's choice of the denim blazer aligns perfectly with this style.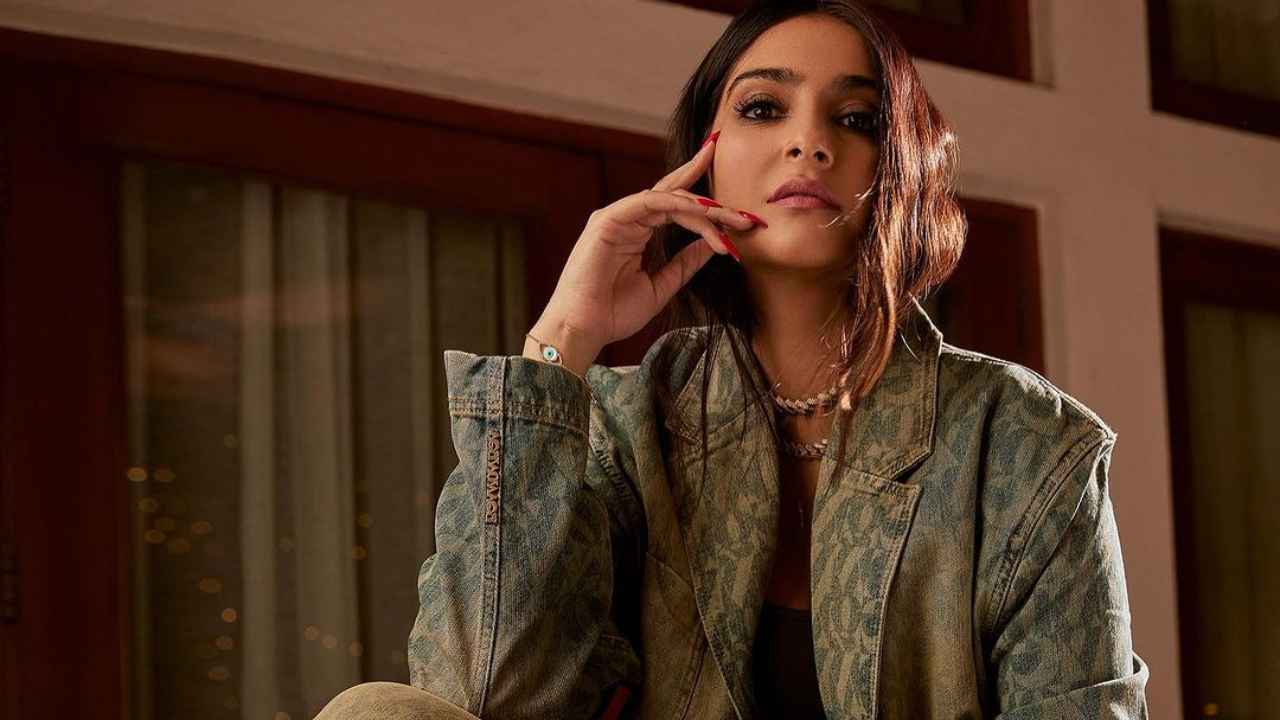 Sonam Kapoor Ahuja's ability to effortlessly blend grunge-inspired fashion elements with denim-on-denim showcases her keen eye for unique and innovative looks. Her Instagram posts continue to serve as a source of inspiration for those who appreciate fashion that pushes boundaries and redefines style norms.
Sonam Kapoor Ahuja's choice of the Relaxed Monogram Denim Pants to complement the blazer is another fashion-forward move. Let's delve into the details of these pants:
Relaxed Monogram Denim Pants: Sonam opted for the Relaxed Monogram Denim Pants, which are priced at Rs. 4,800. These jeans feature a high-rise waistline, relaxed fitting, and a straight-leg hem, offering both comfort and style. The choice of a relaxed fit aligns with the grunge-inspired and rebellious fashion aesthetics.
Muddy-Blue Acid-Washed Shade: The pants come in a muddy-blue acid-washed shade, adding an element of vintage charm and uniqueness to the denim-on-denim pairing. This quirky pattern contributes to the overall edgy and distinctive look.
Sonam Kapoor Ahuja's fashion choices consistently showcase her ability to blend comfort and style seamlessly. The Relaxed Monogram Denim Pants, along with the "Moss" monogram denim blazer, create a dynamic and fashion-forward ensemble that encapsulates her innovative approach to fashion. This look further solidifies her status as a true fashion icon who continuously pushes the boundaries of style.
Sonam Kapoor Ahuja's addition of a black bra top to her denim ensemble certainly adds a sultry and contemporary twist to her overall look. Let's explore the details of her accessories and footwear:
Black Bra Top: Sonam paired her denim duo with a black bra top featuring noodle straps, a plunging neckline, a fitted silhouette, and a cropped hem length. This bold choice not only added a modern twist to her outfit but also showcased her confidence in experimenting with fashion.
Layered Chain-Link Necklace, Evil-Eye Bracelet, and Statement Rings: To accessorize, the talented actress adorned herself with a layered chain-link necklace, a dainty evil-eye bracelet, and statement rings. These accessories accentuated her grunge-meets-chic aesthetic and added a touch of edginess and elegance to her look.
Chunky Sneakers and Pearl-Adorned Hoop Earrings: Sonam's choice of chunky sneakers and pearl-adorned hoop earrings perfectly illustrates her ability to blend edginess with elegance. The chunky sneakers and hoop earrings add a sporty yet stylish dimension to her ensemble.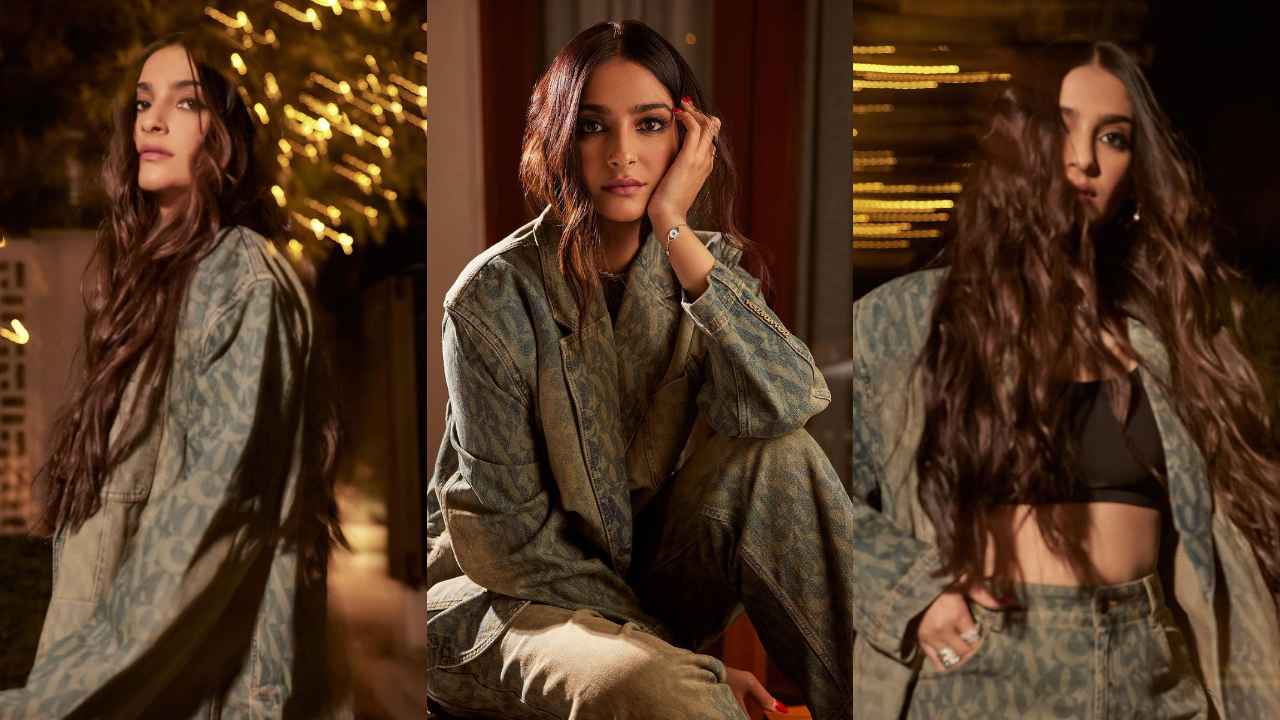 Dunk High x AMBUSH Shoes: Completing her look, Sonam wore the Dunk High x AMBUSH shoes, worth Rs. 15,995. These sneakers not only added a sporty edge but also perfectly complemented the grunge vibe, enhancing the overall fashion-forward look.
Sonam Kapoor Ahuja's outfit and choice of accessories and footwear highlight her distinctive and innovative approach to fashion. Her ability to blend various elements into a cohesive and captivating look sets her apart as a true fashion icon. This ensemble showcases her knack for combining edginess with elegance and continuously pushing the boundaries of style.
Sonam Kapoor Ahuja's choice of the Mina 16 Small embellished leather crossbody bag from Alaïa adds a touch of luxury and sophistication to her look. Let's delve into the details of this exquisite accessory:
Mina 16 Small Embellished Leather Crossbody Bag: The Alaïa bag, valued at approximately Rs. 2,31,831, showcases the brand's dedication to architectural design. It features faux pearls embellishing the exterior, top handles threading through the body, and a removable shoulder strap. This bag is a testament to Sonam's impeccable taste in accessories and adds a sense of opulence to her ensemble.
Makeup: Sonam Kapoor Ahuja's makeup choices for this look are both glamorous and elegant. She opted for feathered brows, subtle smoky eye shadow, a glossy mauve lip shade, mascara-coated lashes, bold eyeliner, smudged kohl, beaming highlighter, rouge-tinted cheeks, and blood-red nails. This makeup enhances her natural beauty and adds a touch of glamour to her overall appearance.
Hairstyle: The center-parted open wavy locks chosen by Sonam provide the perfect finishing touch to her look, exuding effortless elegance and complementing her entire ensemble.
Sonam Kapoor Ahuja's attention to detail, from her choice of accessories to her makeup and hairstyle, showcases her commitment to creating a complete and polished look. Her impeccable taste and ability to combine luxurious elements with edgy fashion choices highlight her status as a true fashion icon. Her fashion-forward approach continues to inspire and leave a lasting impact on the fashion industry.