Shehnaaz Gill SLAYS in metallic blue attire and sleek swept-back hairdo, a fitting party wear OOTN
Shehnaaz Gill's journey in the world of entertainment has been truly remarkable. Starting as a participant in Bigg Boss 13, she has transitioned into a style icon and has achieved significant success in her Bollywood career. Her transformation from a cheerful personality to a rising star in the industry has been inspiring and has garnered her a dedicated fan base. Shehnaaz's charisma and talent continue to shine brightly, and she is undoubtedly making a significant impact in the world of showbiz.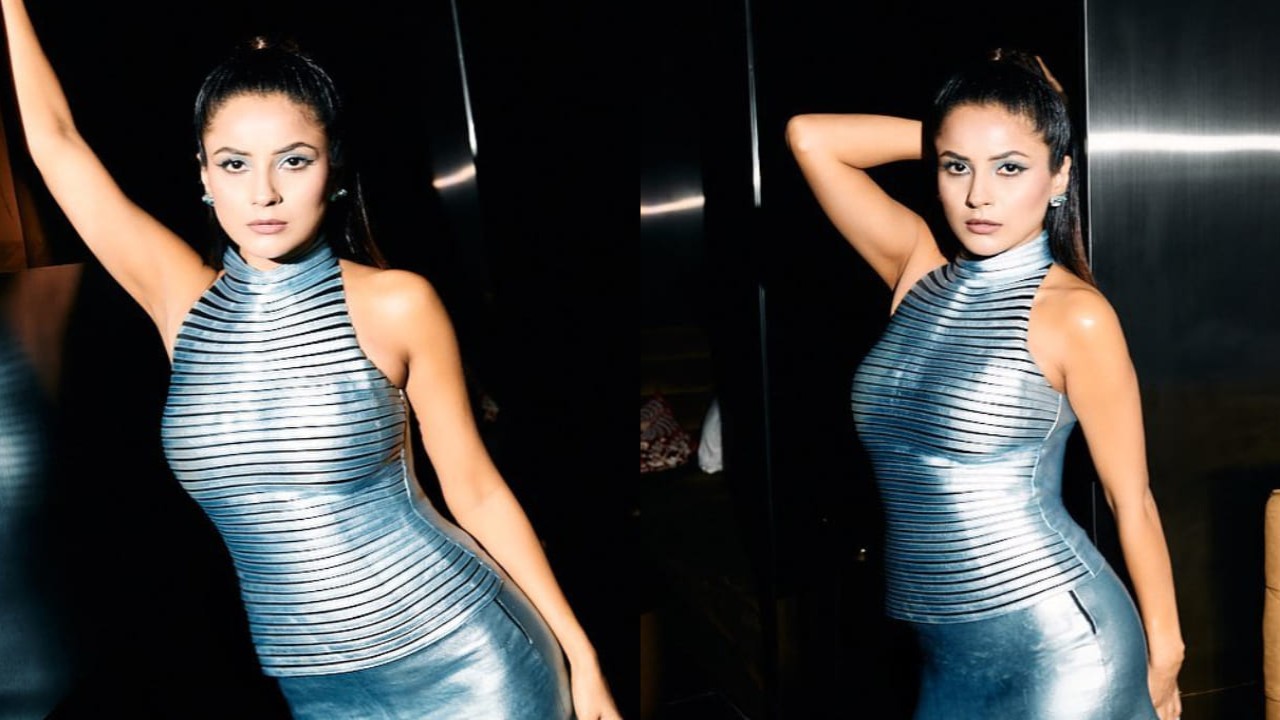 Shehnaaz is gearing up to showcase her distinctive and captivating style as she prepares for her upcoming film, "Thank You For Coming." This highly-anticipated movie has generated quite a buzz, and fans are eagerly awaiting Shehnaaz's performance. The fact that she is sharing the screen with talented co-stars like Bhumi Pednekar, Kusha Kapila, Shibani Bedi, and Dolly Singh only adds to the excitement surrounding the project.
Recently, Shehnaaz unveiled a jaw-dropping new look, leaving everyone in awe. Her transformation has been nothing short of remarkable, and it has certainly piqued the curiosity of her fans and the media alike. Shehnaaz has always been known for her unique style and charming personality, and her latest appearance is no exception.
Her new look is a testament to her dedication and hard work in preparing for her role in the film. Shehnaaz's fans are thrilled to see her take on a new character and are eager to learn more about the movie's storyline and her role in it. Her ability to adapt to different roles and portray them convincingly is a testament to her versatility as an actress.
The anticipation for "Thank You For Coming" continues to grow as more details about the film emerge. Shehnaaz's stunning appearance is just the beginning, and fans can't wait to see how she brings her character to life on the big screen. Her unique and enticing style, combined with her acting prowess, is sure to make this film a memorable one.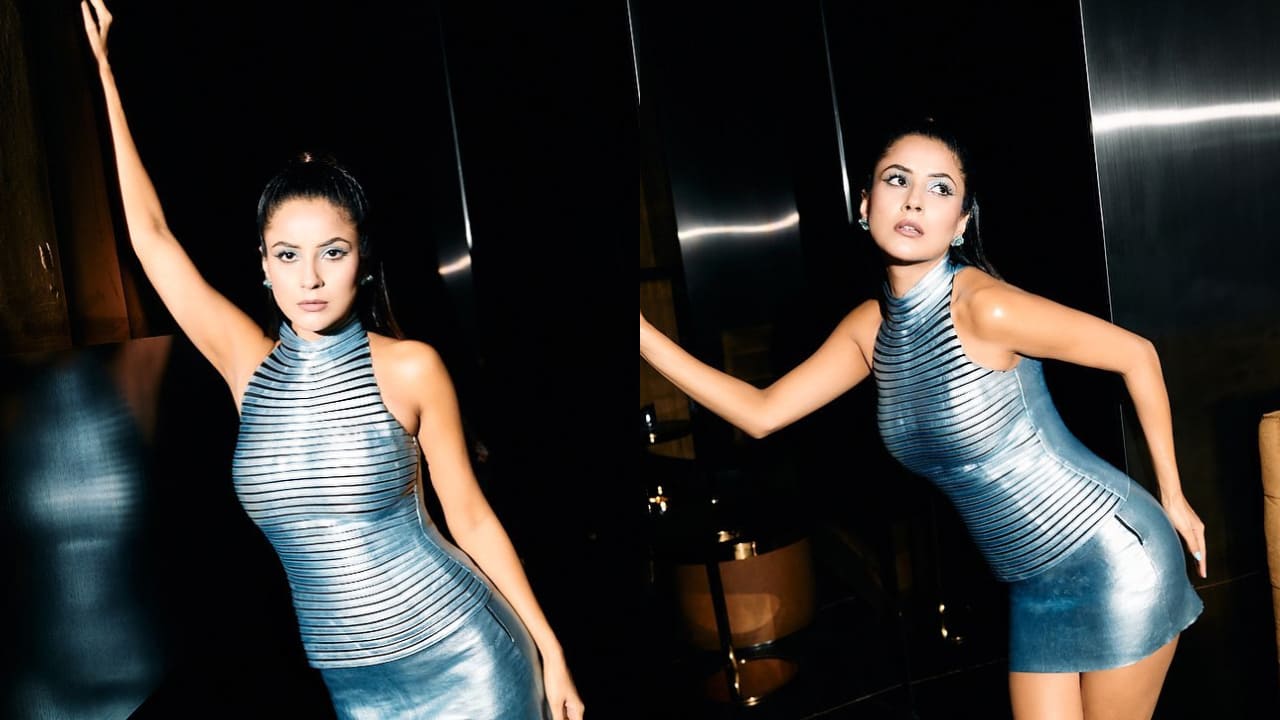 In conclusion, Shehnaaz's new appearance has taken everyone by surprise and has heightened the excitement surrounding her upcoming film, "Thank You For Coming." Her ability to captivate audiences with her style and acting talent is something to look forward to, and fans are eagerly counting down the days until they can see her shine on the silver screen once again.
Shehnaaz Gill made a striking fashion statement in a dazzling blue outfit from the renowned brand Jitrois. The upper portion of this exquisite attire featured radiant horizontal lines, creating a captivating visual effect. The gown was designed with a round neck halter style, exuding an aura of elegance and sophistication.
The choice of the color blue undoubtedly accentuated Shehnaaz's beauty and complemented her unique style. The glowing horizontal lines on the dress added a touch of modernity and glamour to her overall look, making her stand out and leave a lasting impression.
The round neck halter style not only showcased Shehnaaz's graceful neckline but also added a touch of sophistication to her ensemble. This choice of neckline is known for its timeless appeal and ability to exude class and charm.
Overall, Shehnaaz Gill's choice of a stunning blue outfit by Jitrois with glowing horizontal lines and a round neck halter style was a fashion triumph that left everyone in awe. Her ability to effortlessly carry such a striking and elegant look speaks volumes about her fashion sense and style.
The combination of Shehnaaz Gill's Jitrois blue outfit with a matching basic blue skirt showcased a seamless balance of flair and simplicity. The choice to pair the eye-catching upper garment with a coordinating skirt allowed for a harmonious and well-put-together look. This ensemble demonstrated Shehnaaz's keen fashion sense and her ability to strike a balance between making a statement and maintaining a touch of simplicity.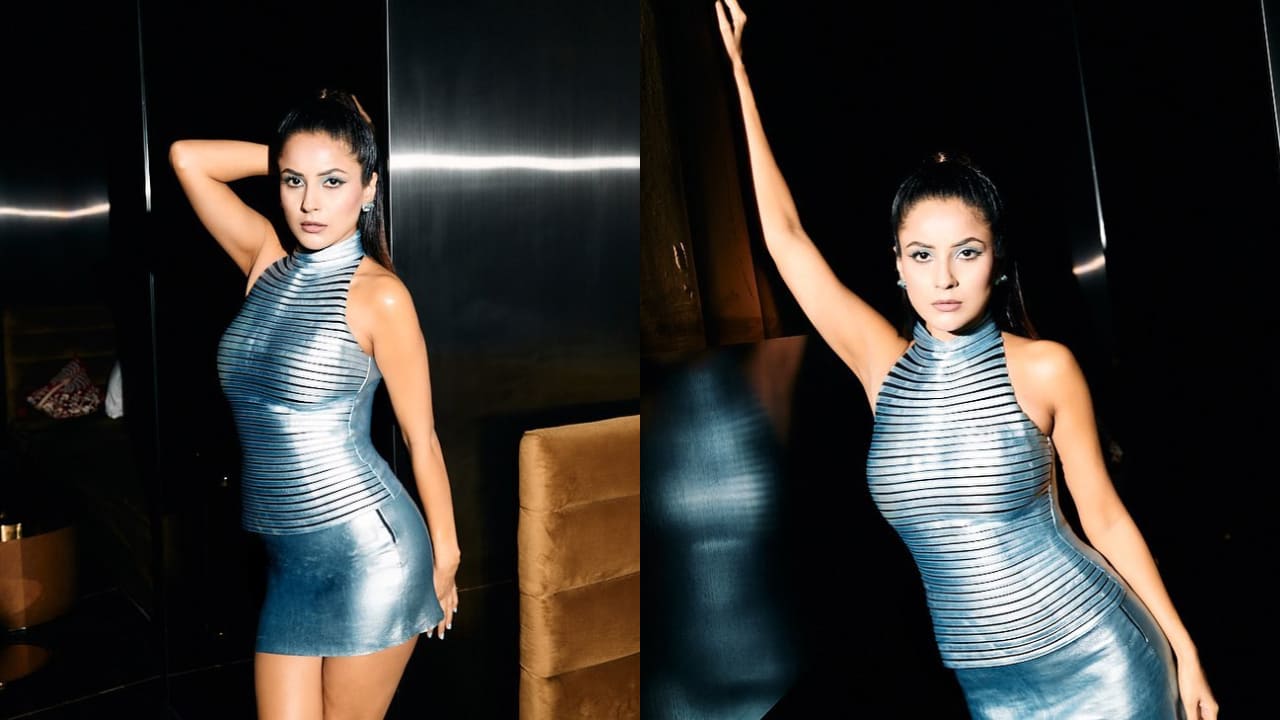 One of the standout features of Shehnaaz's appearance was the metallic shimmer of her outfit. The metallic elements added a captivating and glamorous touch to her overall look. The shimmer and shine of the garment undoubtedly contributed to her stunning and radiant appearance, making her truly stand out.
Shehnaaz Gill's fashion choice of pairing her Jitrois blue outfit with a matching basic blue skirt created a harmonious and visually appealing ensemble. The metallic shimmer of the outfit added a touch of glamour, making her look extremely gorgeous and leaving a lasting impression on those who saw her. It's evident that Shehnaaz has a knack for selecting outfits that perfectly balance style and elegance.
Shehnaaz Gill's choice of dazzling earrings from Ayanah Jewellery was a perfect complement to her spectacular attire. These earrings not only enhanced her overall look but also seamlessly matched the metallic and glittery finishes of her outfit. They added a touch of shine and elegance that beautifully harmonized with her entire ensemble.
The choice of jewelry can often make or break a look, and in this case, Shehnaaz made an excellent choice. The Ayanah Jewellery earrings not only brought attention to her facial features but also accentuated the glamorous and captivating elements of her outfit. Their sparkle and design added a sense of refinement and sophistication to her appearance.
Shehnaaz Gill's choice of dazzling earrings from Ayanah Jewellery was a fashion-savvy decision that enhanced her overall look. These earrings effortlessly complemented her outfit's metallic and glittery finishes, providing that extra touch of shine and elegance, further solidifying her status as a fashion icon.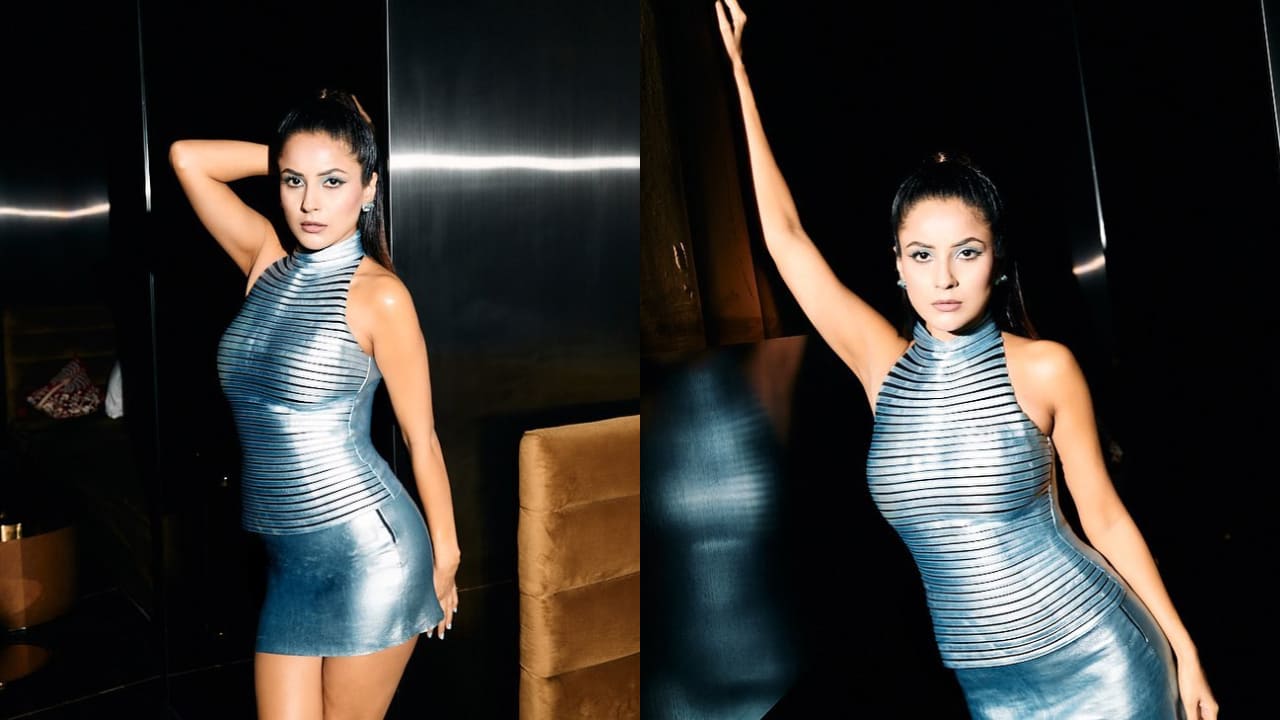 The meticulously curated ensemble worn by Shehnaaz Gill is a testament to the incredible talent of the renowned stylist, Rhea Kapoor. Rhea Kapoor's expertise in the world of fashion shines through as she methodically ensures that every aspect of the look is flawlessly executed. Her ability to create a cohesive and fashion-forward statement is truly remarkable.
Collaborating with creative individuals like Manisha Melwani, Devanshi Tuli, and Abhilasha Devnani has undoubtedly played a significant role in bringing Shehnaaz's look to life. These talented professionals, along with Rhea Kapoor's vision, have collectively contributed to crafting an ensemble that not only reflects Shehnaaz's unique style but also makes a bold fashion statement.
Rhea Kapoor's involvement in the styling process is a testament to her reputation as a prominent figure in the fashion industry. Her attention to detail and knack for combining various elements to create a harmonious and striking look have consistently left a mark on the world of fashion.
Shehnaaz Gill's makeup was an impeccable match for her outfit, thanks to the coordinated dramatic winged eyeliner and blue eyeshadow. These bold makeup choices not only added a touch of glamour but also harmonized perfectly with the dazzling metallic sheen of her ensemble. They contributed to the overall wow factor of her look.
The dramatic winged eyeliner and blue eyeshadow were daring choices that added a pop of color and intrigue to her makeup. They enhanced the visual appeal of her eyes, making them a focal point of her face and accentuating the uniqueness of her outfit.
Additionally, the thoroughly contoured face makeup provided Shehnaaz with a flawless and polished appearance. Proper contouring can help sculpt the face, enhancing its natural features and creating a well-defined look. In Shehnaaz's case, it further elevated her overall aesthetic and ensured that every aspect of her appearance was impeccably executed.
In summary, Shehnaaz Gill's makeup was a masterful complement to her outfit, with the dramatic winged eyeliner, blue eyeshadow, and expertly contoured face makeup all contributing to her stunning and polished appearance. The coordination of her makeup with her attire showcased a high level of attention to detail, resulting in a truly remarkable look.