Tara Sutaria effortlessly transitions from playfully pretty to sophisticated chic ensembles in 24 hour
Tara Sutaria, the dynamic Bollywood star, is known for her incredible style sense, and she recently showcased it not once but twice within a 24-hour period. Despite her busy schedule, Tara consistently manages to make a fashion statement with her impeccable eye for style.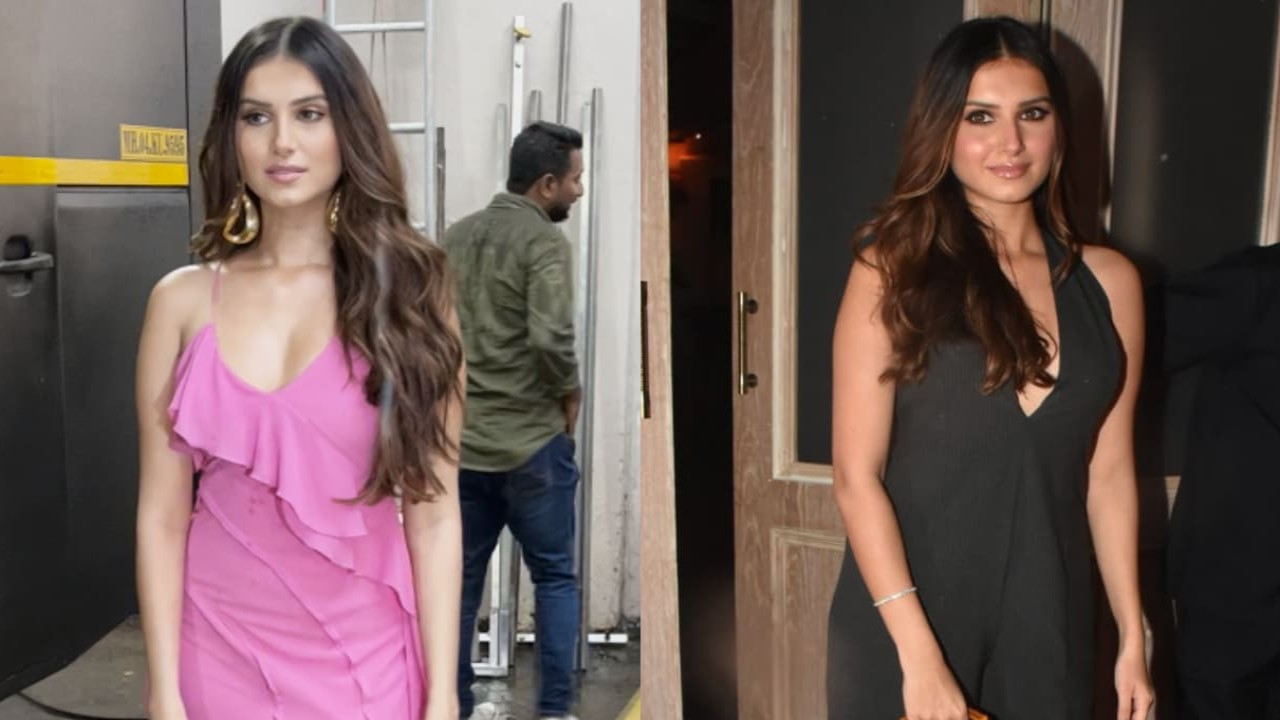 Her ability to consistently impress with her fashion choices, even in the midst of a demanding schedule, highlights her commitment to her image and her standing as a style icon in the entertainment industry. Let's delve into the details of her recent stylish appearances!
Tara Sutaria's fashion choices are consistently captivating, whether she's enjoying her leisure time or gracing an event. Her innate knack for seamlessly transitioning from casual chic to unparalleled sophistication sets her apart from the crowd. In the span of just one day, she effortlessly made two significant fashion statements, leaving an indelible impression.
Tara possesses an incredible ability to dress for every occasion, effortlessly embracing laid-back yet fashionable casual looks that resonate with her fans and admirers. Her versatility in fashion is a testament to her style sensibilities and her status as a trendsetter in the world of Bollywood fashion.
Tara Sutaria looked absolutely stunning in Mango's pink plain maxi dress, showcasing her impeccable style. The dress featured exquisite shoulder straps that added a touch of elegance to the overall look. Tara has a remarkable ability to make even simple outfits like this one stand out, and her choice of the pink maxi dress demonstrates her fashion flair and eye for detail.
The dress's vibrant pink color complemented her complexion and radiated a fresh and vibrant aura. Tara's fashion choices continue to inspire and set trends, making her a fashion icon in the Bollywood industry. Whether it's on the red carpet or during her leisure time, she consistently manages to leave a lasting impression with her impeccable style.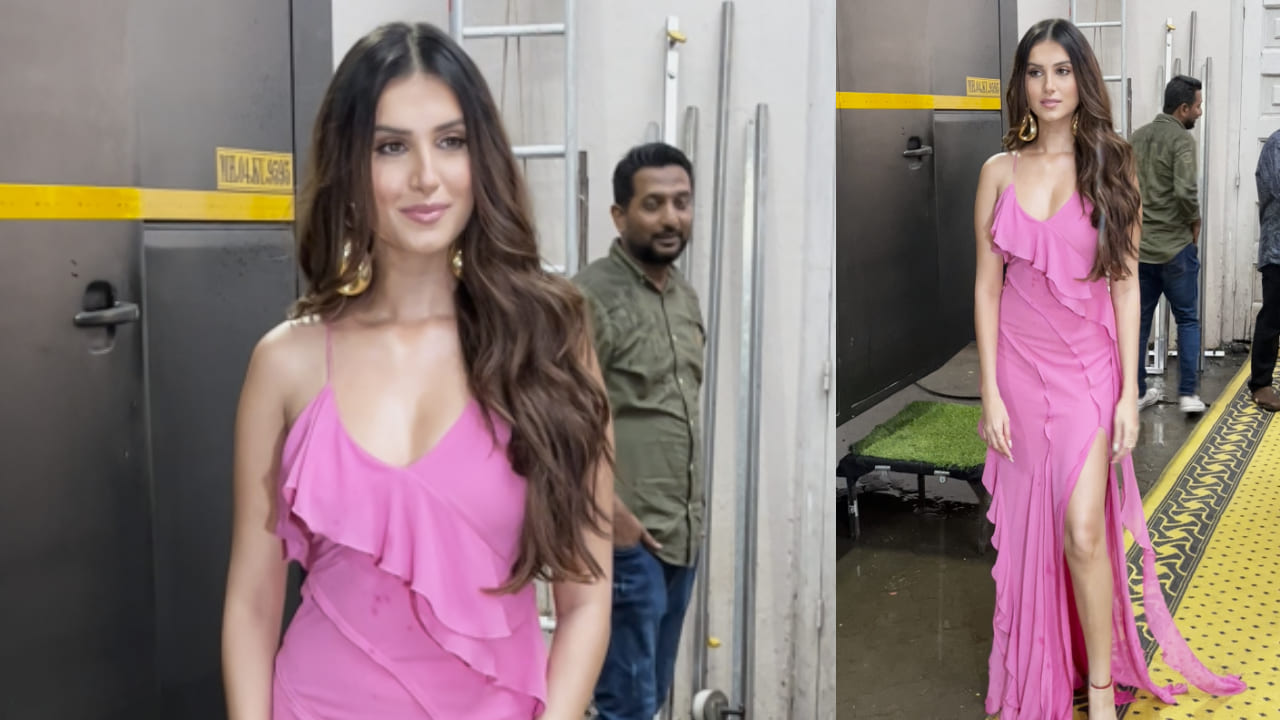 The pink maxi dress Tara Sutaria wore had a side split that beautifully accentuated her figure, adding a touch of allure to the overall look. The sleeveless design highlighted her elegant arms and contributed to the dress's chic and summery vibe. However, what truly made the dress spectacular were the layers of ruffled accents, which infused a distinct and playful mood into the ensemble.
The dress's enormous length and flared hem exuded refinement and beauty, creating a graceful silhouette. Tara's choice of this dress showcased her fashion-forward approach, as she effortlessly combined elegance with a touch of whimsy. Her ability to choose outfits that not only flatter her but also reflect her unique style is one of the reasons why she's celebrated in the fashion world.
Tara Sutaria's finishing touches to the ensemble were on-point. Her choice of huge golden earrings added a touch of elegance and sophistication, perfectly complementing the dress. Her blush pink makeup further enhanced the overall look, harmonizing seamlessly with the dress's vibrant hue.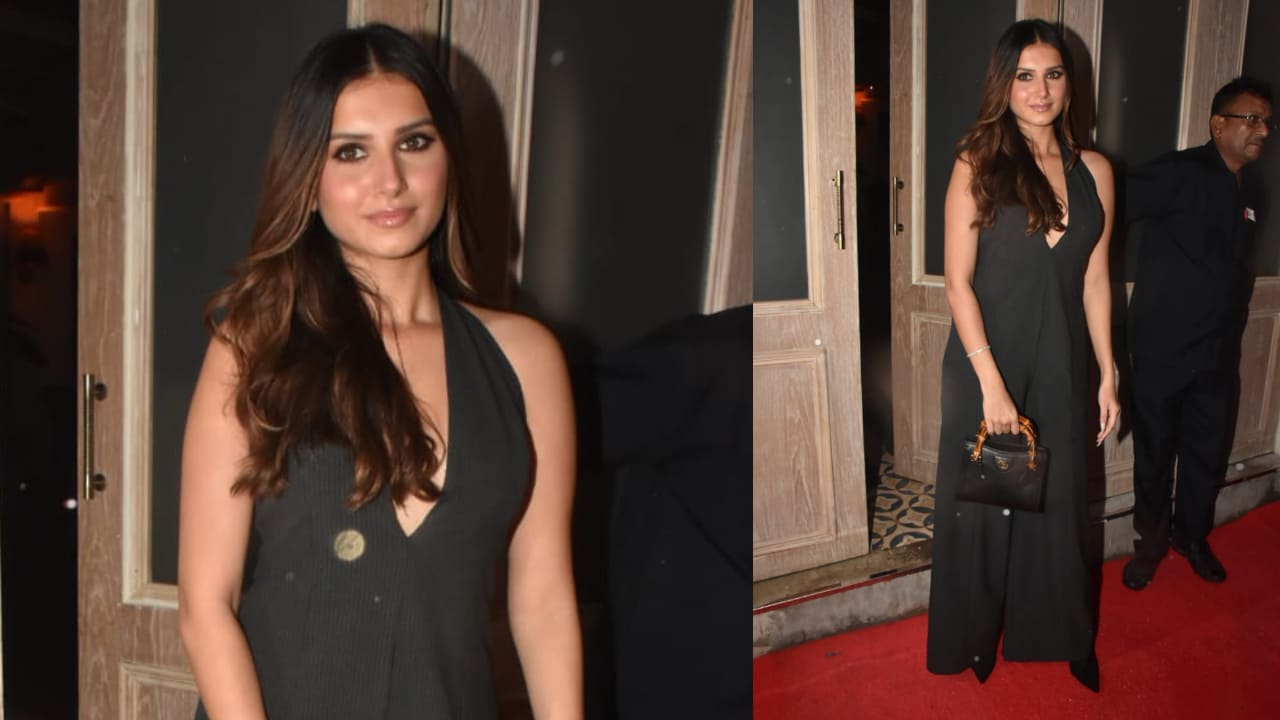 Tara's loose locks cascading over her shoulders added a charming touch, beautifully echoing the ruffles on her outfit. The combination of her makeup, hair, and accessory choices perfectly encapsulated the essence of femininity and flair, making this look a standout fashion moment for Tara Sutaria. Her attention to detail and ability to create cohesive and visually appealing ensembles continue to make her a fashion icon.
In the magical late evening hours, Tara Sutaria once again captivated everyone with her outstanding solid black attire. She looked absolutely stunning in a halter neck jumpsuit featuring a deep V front, exuding confidence and undeniable appeal. The choice of the jumpsuit showcased her fashion-forward approach and her ability to make a statement with her style.
To accessorize her sleeveless dress, Tara opted for a stylish Gucci Diana tiny tote bag, which added a touch of refinement and luxury to her overall appearance. Her wrist was adorned with a sparkling silver bracelet, introducing a hint of glitz and dazzle to the ensemble. Tara Sutaria's knack for balancing elegance and glamour was on full display in this chic black jumpsuit, proving once again that she is a true fashion icon in the making.
Tara Sutaria's choice of hairstyle for the evening was simple, allowing her inherent beauty to shine through effortlessly. However, what truly stole the show was her dramatic black eye makeup, which perfectly complemented her attire and intensified her mesmerizing gaze.
These fashion choices within a span of 24 hours once again showcased Tara's exceptional taste and her remarkable ability to captivate onlookers with her style. Her confidence, elegance, and innate sense of glamour continue to establish her as a rising fashion star in the industry, leaving fashion enthusiasts eager to see her next sartorial move.
Tara Sutaria's latest fashion choices have indeed highlighted the timeless appeal of one-piece dresses. Her ability to effortlessly transition between two breathtaking looks within just 24 hours has left us all in awe. Whether it's a chic and ruffled pink maxi dress or a sultry black halter neck jumpsuit, Tara continues to prove her fashion prowess and captivate the fashion world with her style versatility and elegance.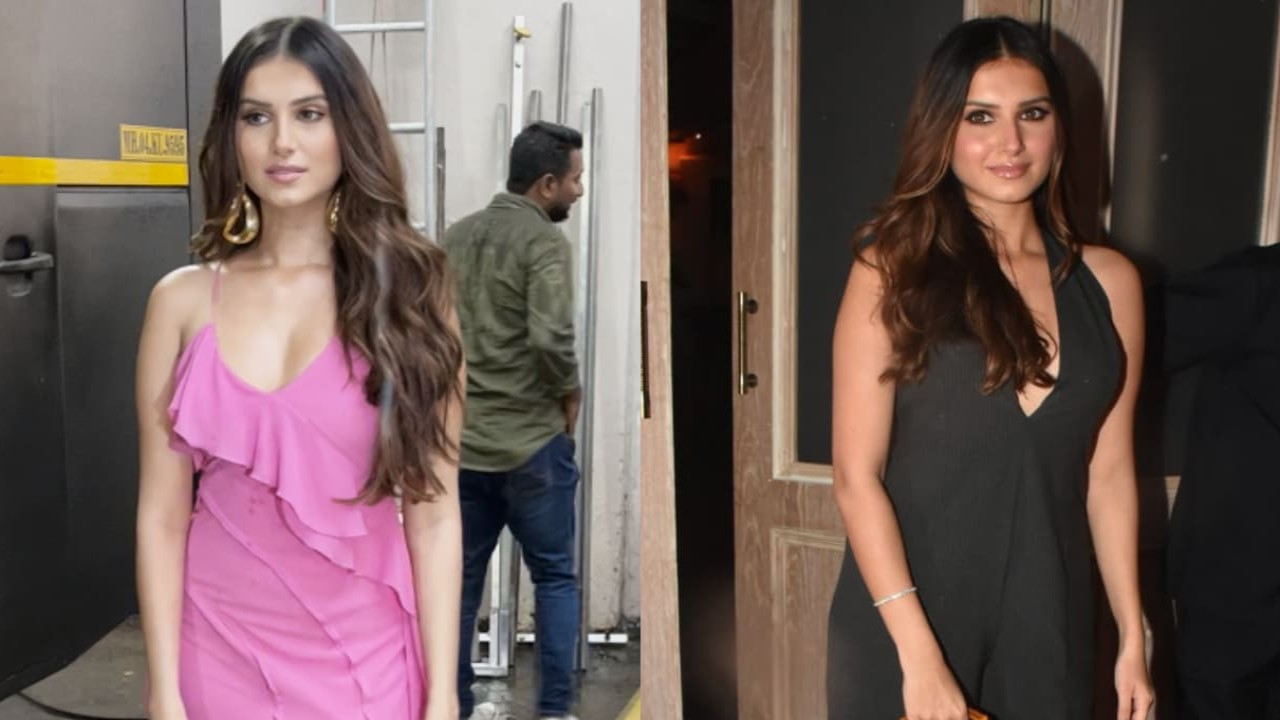 Her sartorial selections serve as a constant source of inspiration for fashion enthusiasts and reinforce her
status as a rising fashion icon.
Indeed, Tara Sutaria's ability to make a fashion statement in a single garment is truly remarkable. Throughout her style journey, she has remained loyal to her unique aesthetic, showcasing that style doesn't have to be complicated. The actress effortlessly illustrates how simple yet distinctive clothing choices can leave a lasting impact.
Tara's grace and confidence while donning these outfits serve as a shining example that dressing up is all about embracing your individuality and expressing yourself through your clothing choices. Her fashion choices are a testament to the fact that you can make a statement with your style while staying true to your personal preferences and personality. Tara Sutaria continues to inspire many with her elegant and genuine approach to fashion, proving that authenticity is the key to a standout style.