Tara Sutaria transforms herself from boardroom boss to party diva in just 24 hours
Tara Sutaria, the vivacious star of Bollywood, recently caught the attention of paparazzi not once but twice in a span of just 24 hours, highlighting the fast-paced nature of her busy schedule filled with various commitments. Despite her demanding agenda, this busy bee consistently dazzles with her impeccable fashion sense.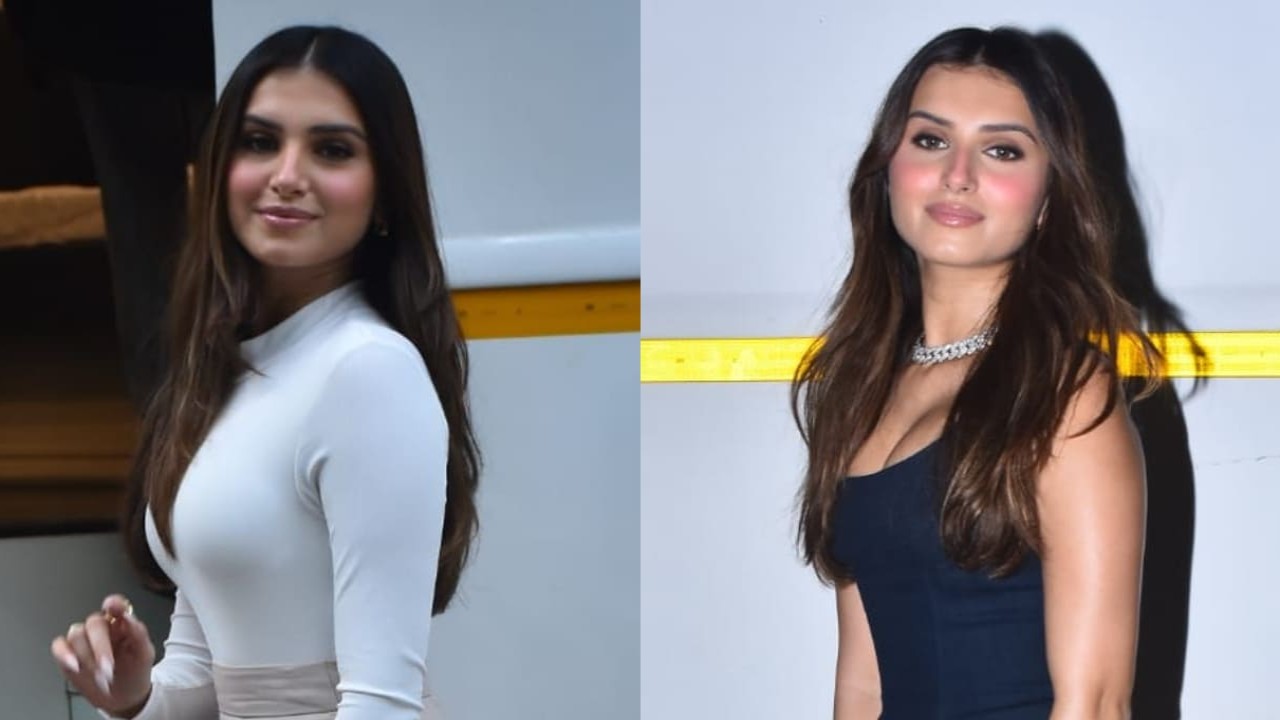 Tara Sutaria has become known for her versatile style and her ability to make a fashion statement whether she's on the red carpet, attending events, or simply going about her day. Her fashion choices often serve as a source of inspiration for her fans and the fashion-forward audience.
With her hectic schedule and constant media attention, Tara Sutaria's fashion choices continue to be a talking point in the entertainment industry. Her ability to effortlessly blend different styles and make a statement in every appearance reinforces her status as a rising fashion icon in Bollywood.
Tara Sutaria effortlessly captivates with her style choices, whether she's taking a break or making a high-profile appearance at events. Her natural ability to transition from casual chic to unrivaled refinement sets her apart from the crowd, making her a standout in the world of fashion.
In just a single day, Tara manages to make not one but two significant fashion statements, leaving an unforgettable impact wherever she goes. Her versatility shines through as she seamlessly customizes her outfits for any occasion, effortlessly embracing laid-back yet trendy casual styles or exuding unmatched elegance when the situation calls for it.
Tara's fashion sensibilities demonstrate her understanding of the power of style to convey personality and confidence. Her ability to effortlessly adapt to different fashion aesthetics and settings underscores her versatility as a style icon in Bollywood. Whether it's her red carpet glamour or her casual street style, Tara Sutaria continues to inspire and impress with her impeccable fashion choices.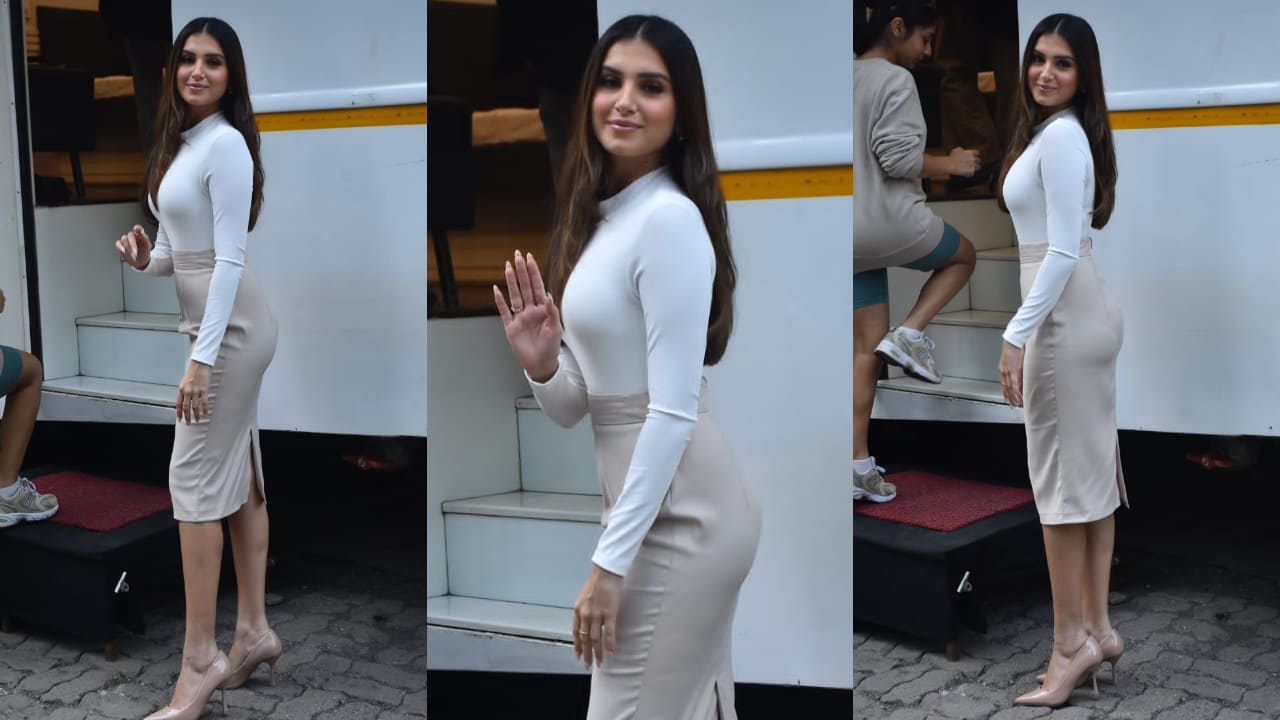 Tara Sutaria kicked off her day with a stunning formal ensemble that exuded beauty and grace. Her choice of outfit was a white full-sleeved shirt with a figure-hugging silhouette and a classic round collar. This classic and timeless piece added an air of sophistication to her look.
To complement the shirt, Tara opted for a short beige skirt with a slit at the back, which added a touch of modernity and flair to the overall ensemble. The combination of white and beige created a chic and elegant look, perfectly suited for a formal occasion.
Tara's makeup was thoughtfully chosen to complement her outfit, with blush pink tones that enhanced her natural charm. The glossy lipstick added a finishing touch of glamor to her overall look. She completed her formal ensemble with pointed-toe stiletto shoes, which lent a sleek and polished finish to her attire.
Tara Sutaria's fashion choices are a testament to her ability to effortlessly transition between different styles and looks. Her formal outfit exemplified her keen sense of style and sophistication, showcasing her as a true fashion icon in Bollywood.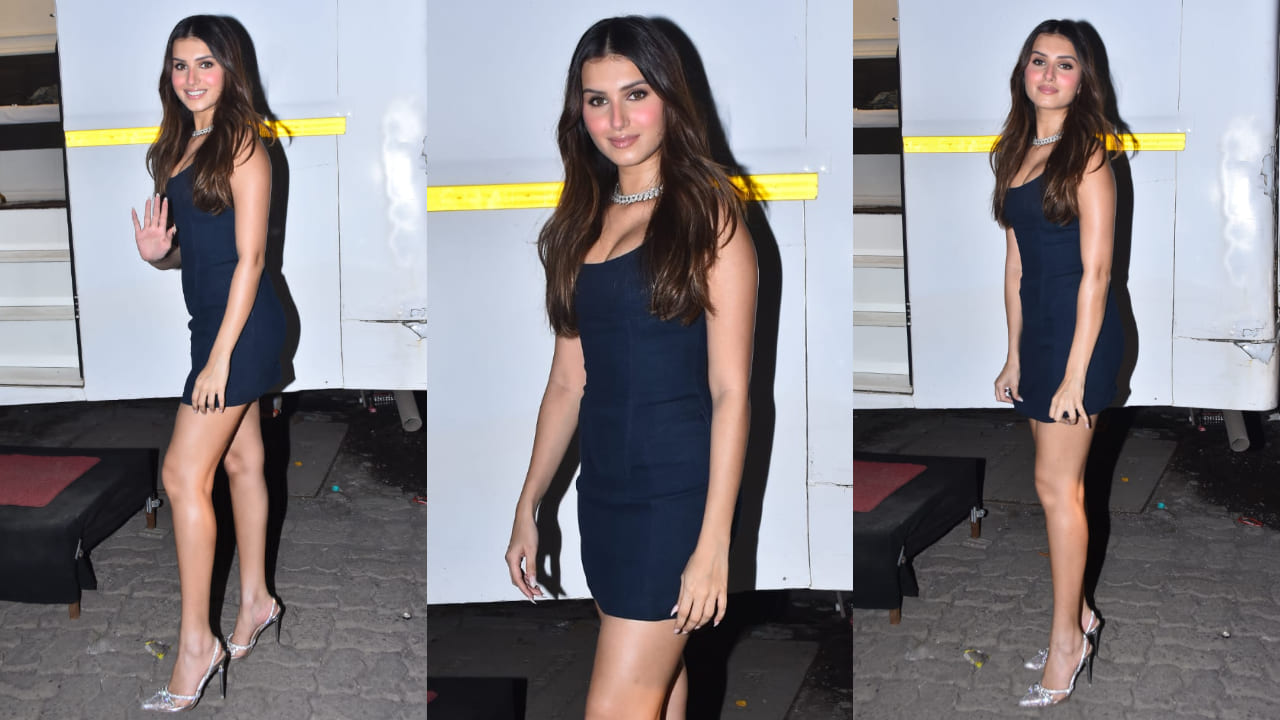 Tara Sutaria certainly took her fashion game to the next level in the evening with her choice of a mesmerizing black mini-dress. This bodycon dress, despite its simplicity in silhouette, was anything but plain, thanks to her impeccable styling and choice of accessories.
One standout accessory was the beautiful sparkly chain choker she adorned, which added a touch of opulence and glamour to her ensemble. The choker not only elevated the overall look but also showcased Tara's flair for selecting the perfect accents to complement her outfit.
Tara's makeup choices were equally captivating, featuring a dark and sensual eye makeover that harmonized flawlessly with her overall appearance. This makeup added an element of intrigue and sophistication, aligning perfectly with the elegant yet alluring statement her outfit made.
To complete her chic evening look, Tara opted for sparkly pointed-toe shoes adorned with a gorgeous 3D white-colored bow. Her choice of footwear not only added a touch of dazzle but also demonstrated her meticulous attention to detail in coordinating her entire ensemble.
Tara Sutaria's fashion choices continue to inspire and impress, showcasing her ability to effortlessly blend style, sophistication, and a hint of glamour, making her a true fashion icon in the industry.
Tara Sutaria's fashion choices are undeniably a great source of inspiration for fashion enthusiasts, offering a blend of elegance and style. Here are some key takeaways from her mesmerizing nighttime style:
Figure-Hugging Designs: Embrace figure-hugging designs that accentuate your curves and provide a sleek and sophisticated look. Tara's choice of a white full-sleeved round-neck shirt is a classic example of this style, offering a timeless and flattering silhouette.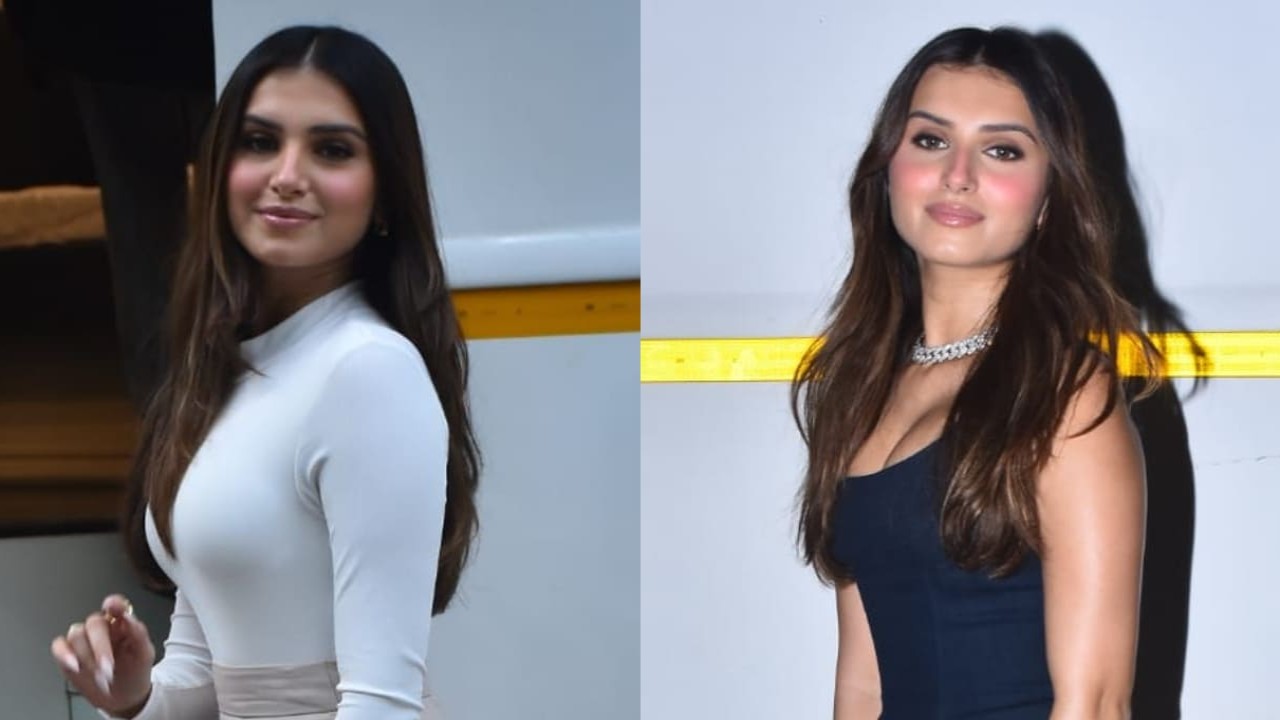 Classic Necklines: Opt for classic necklines like round-necks, which are versatile and universally flattering. They provide a timeless and elegant look that can be dressed up or down for various occasions.
Subtle Cuts: Incorporate subtle cuts and design elements into your outfit to add a touch of uniqueness and sophistication. Tara's tortilla beige skirt, with its unusual color choice, adds charm and visual interest to the ensemble.
Unconventional Color Choices: Don't be afraid to experiment with unconventional color choices that suit your personal style. Tara's decision to pair a white shirt with a tortilla beige skirt creates an appealing contrast and adds a sense of individuality to the look.
Tara Sutaria's fashion sensibilities showcase the importance of classic pieces, subtle details, and a willingness to explore unconventional elements to create captivating and stylish ensembles. Whether you're dressing for a formal event or a night out, drawing inspiration from her fashion choices can help you curate your own elegant and alluring style.