Khushi Kapoor wears blouson sleeves dress!
The fashion landscape is currently undergoing a transformative shift led by the Gen Z generation, and at the forefront of this fashion revolution are casual evening dresses that have captured the hearts of style enthusiasts. While Suhana Khan has undeniably been a trailblazer in this trend, she is not the sole fashionista who has fallen head over heels for the allure of cinched cuffs and tie-detailed outfits. Another Gen Z sensation who is making a significant impact in the world of fashion with her charismatic choices is Khushi Kapoor.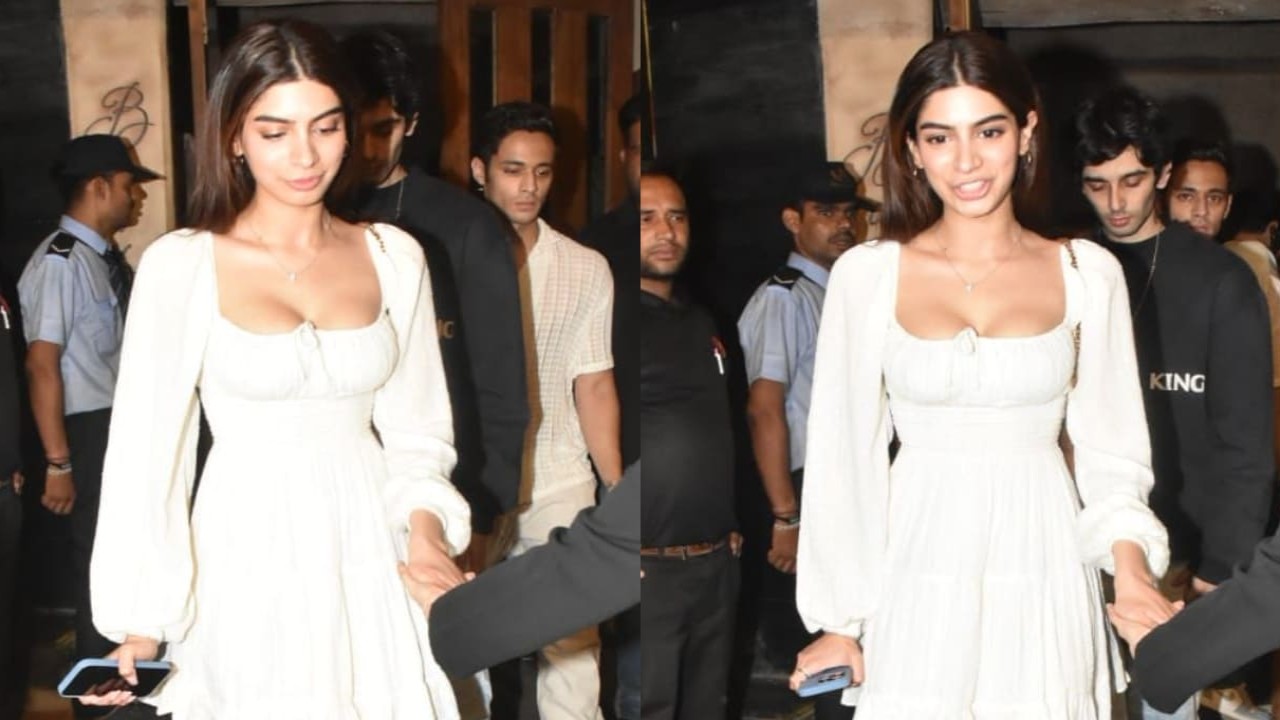 Khushi Kapoor, on the other hand, has also emerged as a formidable force in the world of fashion. Her fearless and confident approach to style is evident in her choice of outfits, which often feature cinched cuffs and tie-detailed elements. Khushi's fashion choices resonate with the Gen Z audience, who appreciate her ability to make a fashion statement that reflects their modern and youthful sensibilities.
Khushi Kapoor recently graced a party function in a stunning casual evening dress that captured the essence of effortless elegance and youthful appeal. This outfit, while casual, exuded a chic and contemporary vibe that resonated with fashion enthusiasts. Let's delve into the details of her stylish dress and take notes on how to embrace her unique style.
Khushi's choice of a casual evening dress showcased her fashion-forward sensibilities. The dress, designed to strike the perfect balance between comfort and style, emphasized the importance of easy elegance. It's a reminder that fashion doesn't always have to be elaborate to make a statement; sometimes, simplicity can be the most striking choice.
The key to Khushi's style lies in the subtle details of her dress. While it may appear simple at first glance, upon closer examination, you'll notice the elements that make it stand out. Perhaps it's a unique neckline, a cinched waist, or intricate tie-detailed cuffs. These details add a touch of sophistication and elevate the overall look, showing that it's the little things that make all the difference in fashion.
Khushi Kapoor's style is a reflection of her generation's approach to fashion—effortless, bold, and unapologetically modern. Her dress embodies the concept of easy elegance, allowing her to shine at a party while maintaining a relaxed and youthful appeal.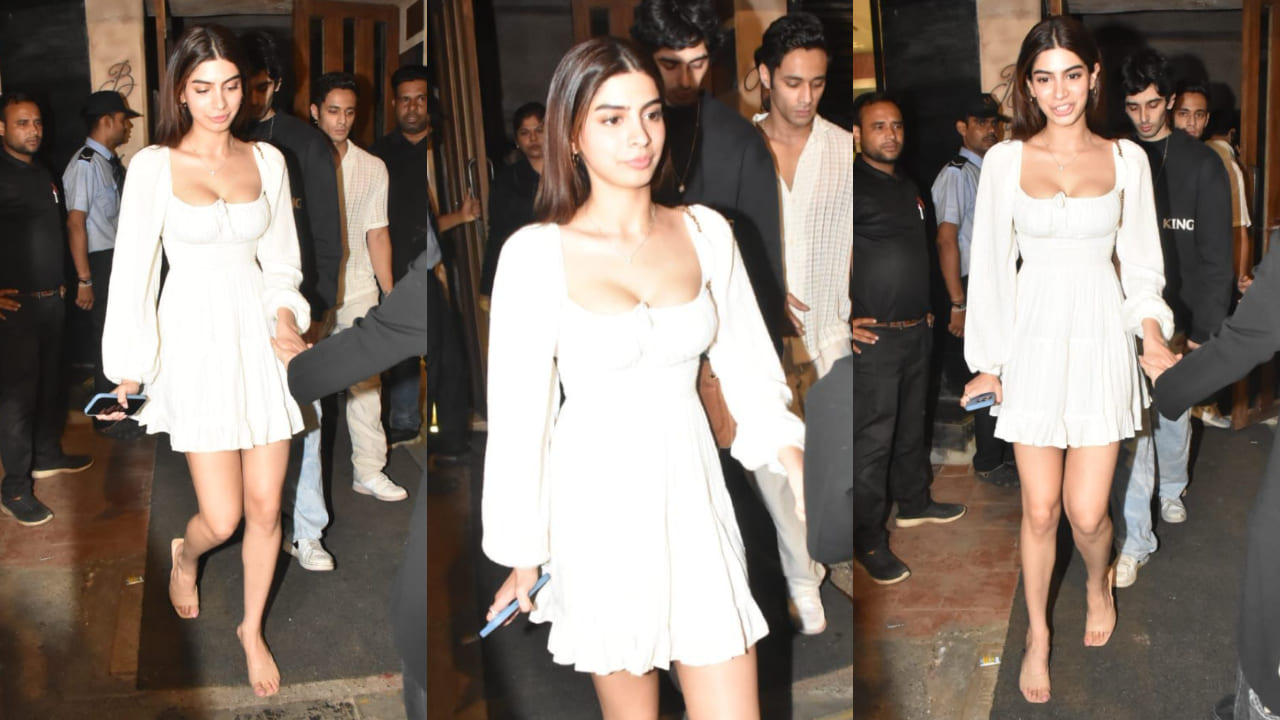 Get ready to be enchanted by Khushi Kapoor's latest fashion selection—an exquisite white casual dress that effortlessly radiates an air of relaxed charm. This pull-on style dress stands as a testament to comfort and ease, making it the perfect choice for laid-back evenings when you still want to make a fashionable statement. What sets this dress apart are its blouson sleeves with ruched cuffs, which introduce an element of drama and flair that elevates the entire ensemble.
In the ever-evolving landscape of fashion, Gen Z is undeniably obsessed with innovative and eye-catching designs. One particular element that has captured their attention is the tie design at the bust, which adds a modern and whimsical edge to any garment. Khushi Kapoor's dress features this captivating design detail, which serves as a nod to the fashion-forward sensibilities of her generation. The tie design at the bust not only infuses the dress with a contemporary twist but also showcases Khushi's willingness to embrace modern trends.
But there's more to Khushi's stunning ensemble. The dress also boasts a smocked waist, which plays a crucial role in emphasizing her body's natural contours and adding a touch of femininity to the overall look. Smocking is a technique known for its ability to create a fitted and flattering silhouette, making it a favorite choice among fashion enthusiasts who appreciate both style and comfort. Khushi's choice of this design element illustrates her commitment to combining fashion-forward aesthetics with comfort and wearability.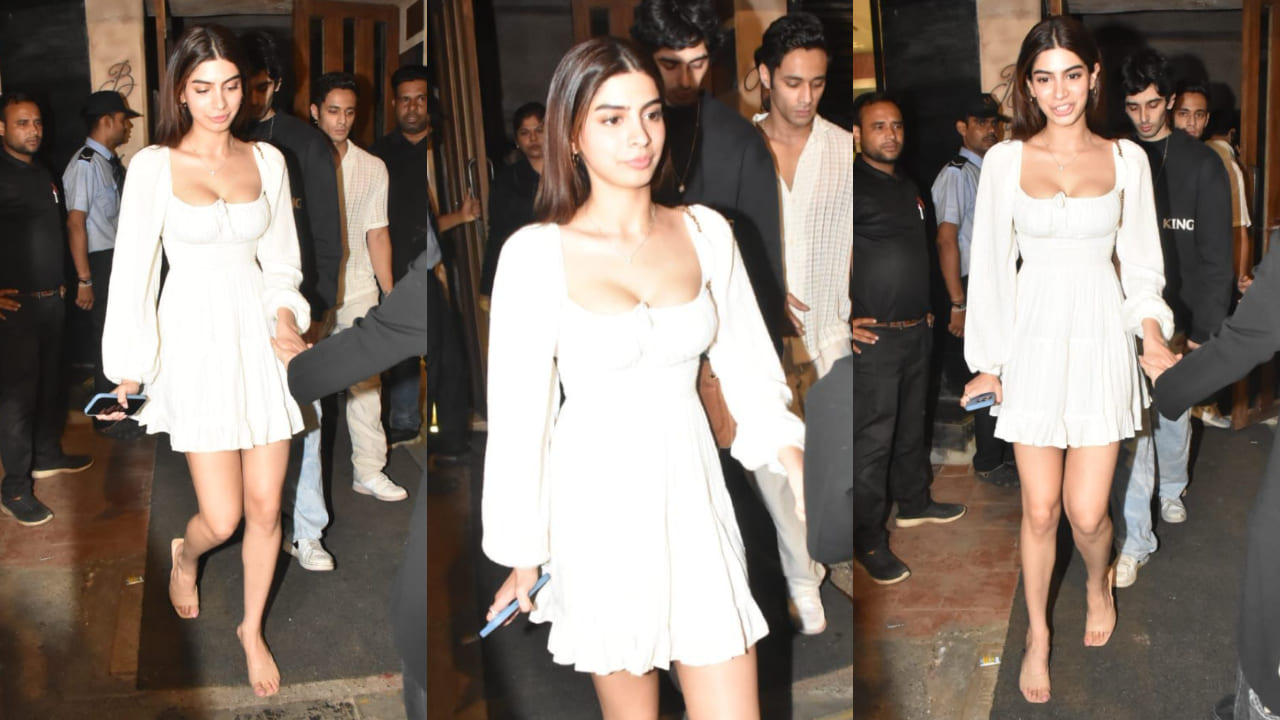 For those who wish to embrace Khushi Kapoor's effortless style, the good news is that this stunning ensemble is available at L Space for Rs. 18,399. The price tag reflects the quality and design of the dress, making it a worthwhile investment for those who want to make a fashion statement while enjoying comfort and ease.
Khushi Kapoor's fashion finesse extends beyond her choice of clothing, as she also demonstrates a keen understanding of how to complete her breathtaking white evening gown with the perfect accessory choices. In this instance, she opted for a lovely tiny purse that effortlessly combined beauty and class, elevating her overall look. Her choice of Chanel's quilted lambskin brown bag was a true testament to luxury and sophistication, perfectly complementing her ensemble.
Accessories play a pivotal role in fashion, and Khushi Kapoor's choice of a tiny purse was a masterstroke. This petite bag not only added a touch of elegance but also served as a functional accessory to carry her essentials. Its size and design were perfectly in sync with the overall aesthetic of her outfit, showcasing her ability to harmonize different elements of style.
Chanel's quilted lambskin brown bag is a symbol of luxury and sophistication in the fashion world. The brand is renowned for its timeless and iconic pieces, and Khushi's selection further emphasized her appreciation for high-quality accessories. The rich brown color and quilted texture of the bag added depth and visual interest to her look, while the Chanel logo stood as a symbol of prestige and taste.
These shoes not only contributed to the visual appeal but also prioritized comfort—a factor often overlooked in fashion. The balance between style and comfort in her choice of footwear underscores Khushi Kapoor's ability to create outfits that are not only visually striking but also practical for real-life occasions.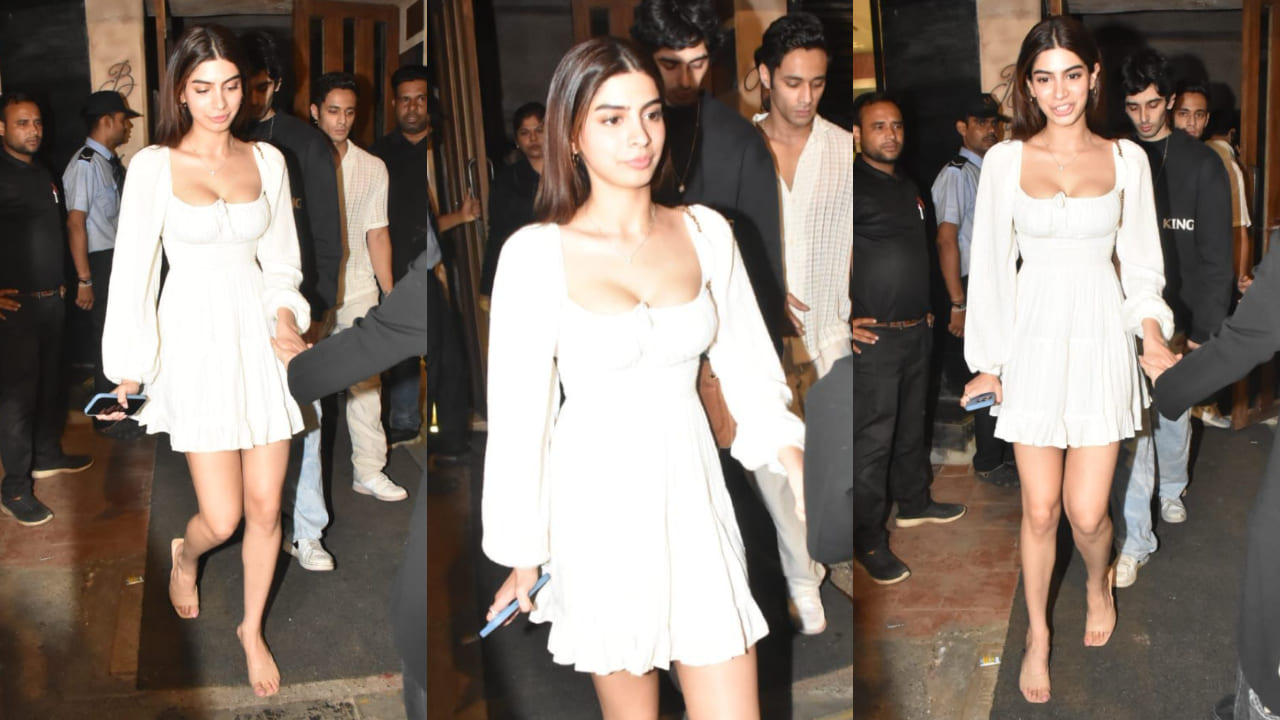 Khushi Kapoor's fashion prowess extends beyond her clothing choices, as she masterfully demonstrates the art of simple yet impactful style. While her white evening gown undoubtedly stole the spotlight, Khushi also showcased her ability to elevate her overall look with understated accessories and a refined hairstyle. She effortlessly donned little hoops in her ears and a delicate chain with a pendant around her neck, proving that sometimes, less is more when it comes to accessorizing.
The choice of minimalist jewelry, such as small hoops and a dainty pendant necklace, speaks volumes about Khushi's fashion sensibility. It highlights her understanding that accessories should complement rather than overpower the outfit. These subtle pieces added a touch of elegance to her ensemble while allowing her gown to remain the focal point.
Khushi's crisp straight hair, styled in an open hairstyle, added to the overall sophistication of her look. The sleek and polished hairdo created a clean and modern aesthetic, aligning perfectly with the simplicity and grace she exuded. Her choice of hairstyle further underscored her commitment to letting her outfit and accessories take center stage.
In conclusion, Khushi Kapoor's ability to enhance her evening appearance with minimalistic accessories and a refined hairstyle is a testament to her innate fashion flair. Her choice of subtle jewelry and a sleek hairstyle added an air of sophistication and elegance to her overall look, highlighting her understanding of the importance of balance and restraint in fashion. Khushi continues to inspire and captivate with her ability to make every fashion choice count, further solidifying her status as a true style icon.