Kiara Advani blends varied aesthetics in her airport look!
In a recent appearance at the Mumbai airport, Kiara Advani, the renowned actress known for her role in "Satyaprem Ki Katha," made a striking statement by effortlessly redefining airport fashion. Her ensemble masterfully blended sophistication and comfort, making a bold fashion statement in the process. However, it wasn't just her choice of attire that caught everyone's attention. Kiara's decision to go au naturel, opting for minimal makeup and eschewing excessive accessories, allowed her innate beauty and confidence to take center stage. To say that she looked incomparably gorgeous would be an understatement.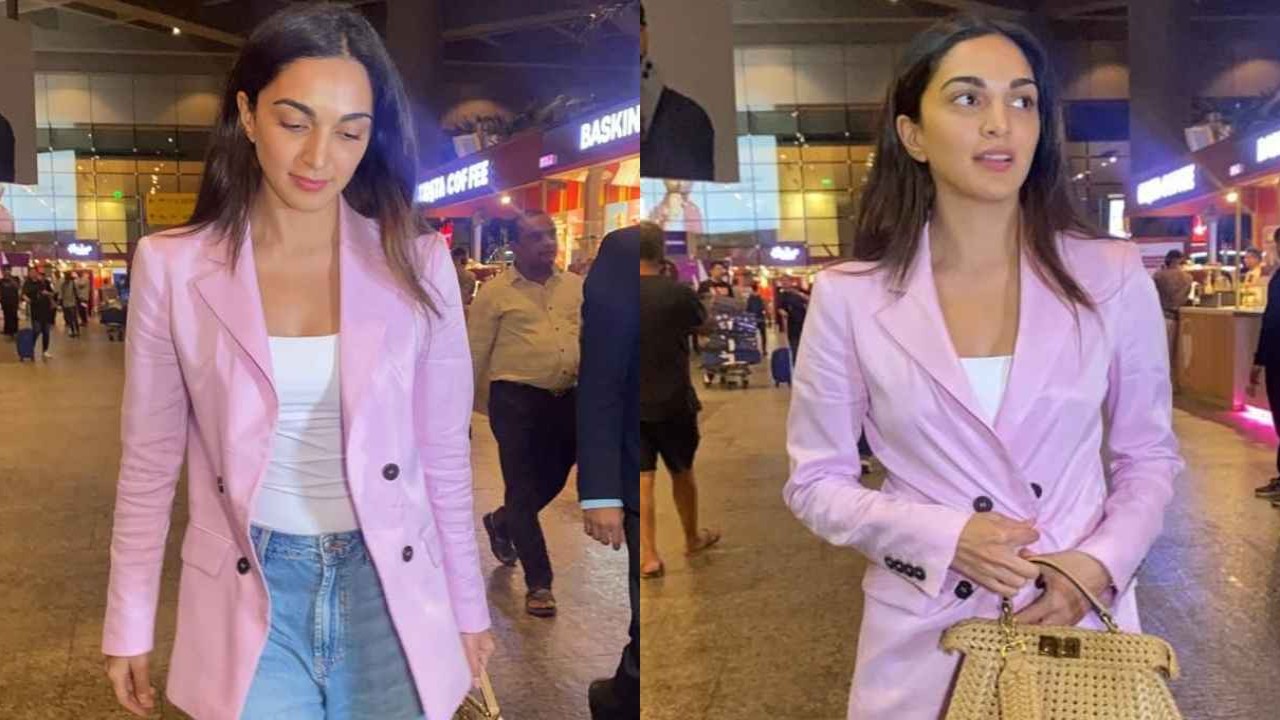 Kiara Advani's airport fashion demonstrated her knack for combining style with ease. Her ensemble was the perfect example of how one can be both comfortable and fashion-forward while traveling. The outfit showcased her fashion sensibility, proving that one can make a statement without sacrificing comfort.
What truly set Kiara apart was her choice to go without heavy makeup or excessive accessories. This decision allowed her natural beauty to shine through, emphasizing her confidence and self-assuredness. Kiara's au naturel look was a testament to her belief in embracing one's authentic self and letting her inner beauty radiate.
The talented Kiara Advani made a recent appearance in an effortlessly stylish ensemble that turned heads and showcased her impeccable fashion sense. Her outfit choice consisted of a classic white top as the base, which she artfully layered with a full-sleeved baby pink blazer. This blazer, characterized by its comfortable fit, featured crisp lapels, multiple pockets, button-embellished sleeves, and classy shoulder pads, combining elements of sophistication and comfort into one chic look.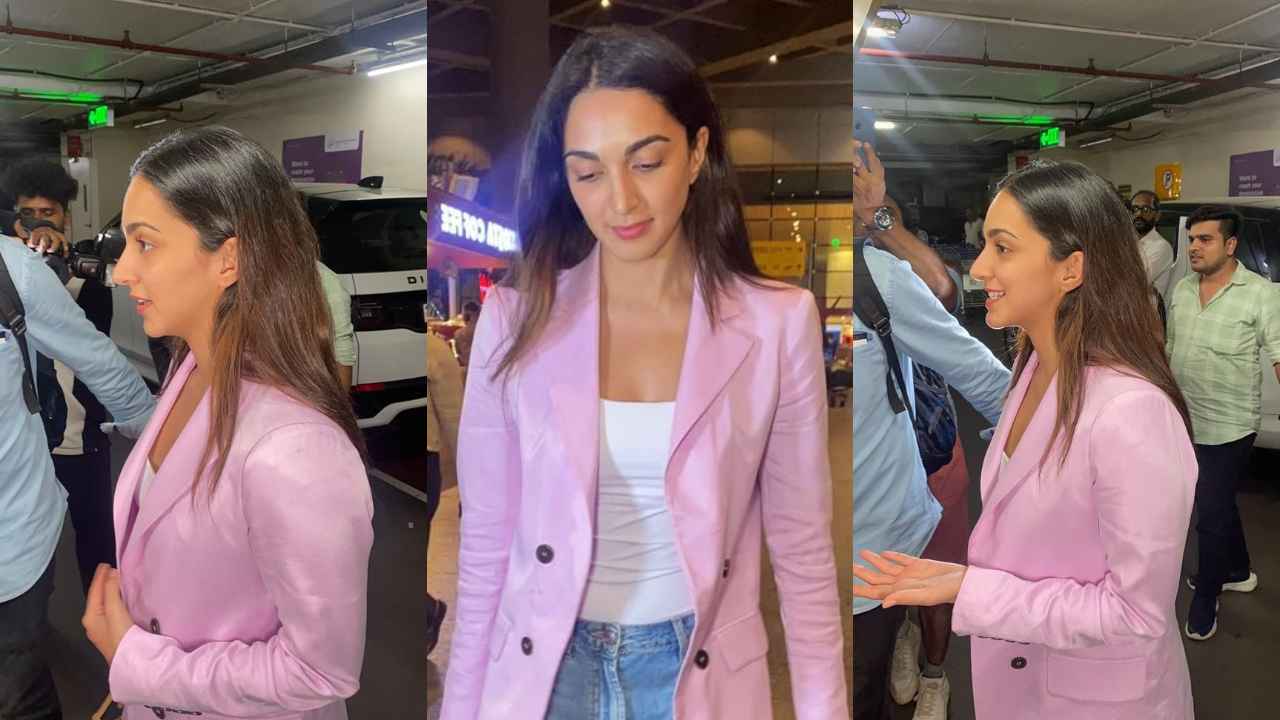 Kiara's choice of a classic white top as the foundation of her outfit is a testament to the timeless appeal of simplicity. White tops are renowned for their versatility and ability to serve as a canvas for various styles. In this case, it allowed the baby pink blazer to take center stage and make a bold fashion statement.
The baby pink blazer itself was a standout piece in Kiara's ensemble. Its comfortable fit provided both style and ease, making it a perfect choice for a fashionable yet practical airport look. The crisp lapels and button-embellished sleeves added a touch of refinement, while the inclusion of multiple pockets contributed to the overall functionality of the blazer.
Furthermore, the addition of shoulder pads enhanced the structure of the blazer, giving it a slightly retro-inspired and power-dressing feel. This choice added a unique element to the ensemble, showcasing Kiara's ability to experiment with different fashion elements.
The talented diva, Kiara Advani, made a fashion-forward choice by pairing her white top and baby pink blazer with wide-legged and baggy light blue denim jeans. These jeans were not only comfortable but also boasted a super stylish fit, adding a trendy and relaxed element to her ensemble. The choice of wide-legged jeans showcased Kiara's ability to blend comfort and style seamlessly, making it a key element of her effortlessly chic look.
Kiara's decision to complete her outfit with comfortable sneakers was both practical and fashionable. Sneakers have become a staple in modern fashion, and they were the perfect choice to complement her laid-back yet stylish airport look. The sneakers provided her with ease of movement while maintaining the overall casual and contemporary vibe of her ensemble.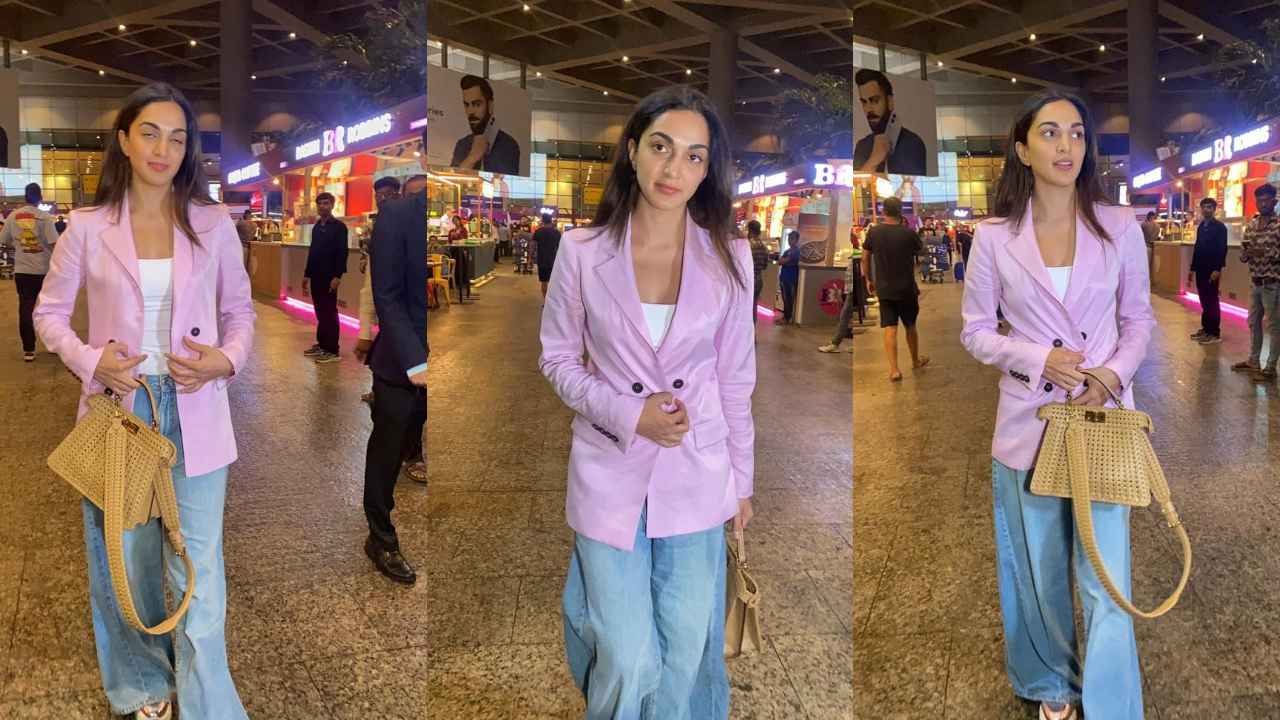 In addition to her stylish ensemble, the incredible Kiara Advani carried an exquisite accessory—a Peekaboo ISeeU small brown interlace leather bag from Fendi. This exclusive bag, meticulously crafted in Italy, is a true work of art. It features rich brown leather and boasts hand-crafted, tone-on-tone interlace embellishments on its borders and front panel, adding a touch of luxury and sophistication to her overall look.
The Peekaboo ISeeU bag from Fendi is known for its iconic design and impeccable craftsmanship. Its intricate interlace detailing and impeccable finishing make it a statement piece that perfectly complements Kiara's fashion-forward sensibilities. The choice of this bag not only added a touch of opulence but also served as a testament to Kiara's appreciation for high-quality accessories.
Kiara Advani's decision to carry the Peekaboo ISeeU small brown interlace leather bag from Fendi was a brilliant accessory choice that added a luxurious touch to her ensemble. This bag, known for its craftsmanship and iconic design, perfectly complemented her airport look and showcased her impeccable taste in accessories. Kiara continues to inspire and captivate with her ability to make every fashion choice count, solidifying her status as a true style icon in the world of Bollywood.
The Peekaboo ISeeU small brown interlace leather bag from Fendi is not just a fashion statement; it's a meticulously designed piece of luxury. This iconic bag features a soft nappa leather lining, which adds to its overall opulence and comfort. It is thoughtfully divided into two compartments separated by a stiff partition, ensuring practicality and organization for its users. Inside, there's an inner pocket secured with a button, providing additional storage options.
The gold-finish metalware adds a touch of elegance and sophistication to the bag's design, perfectly complementing the rich brown leather and interlace detailing. It's these intricate details that make Fendi bags highly coveted among fashion enthusiasts.
For added convenience, the Peekaboo ISeeU bag comes with a detachable shoulder strap, allowing for versatility in how it can be carried, whether in hand or worn crossbody.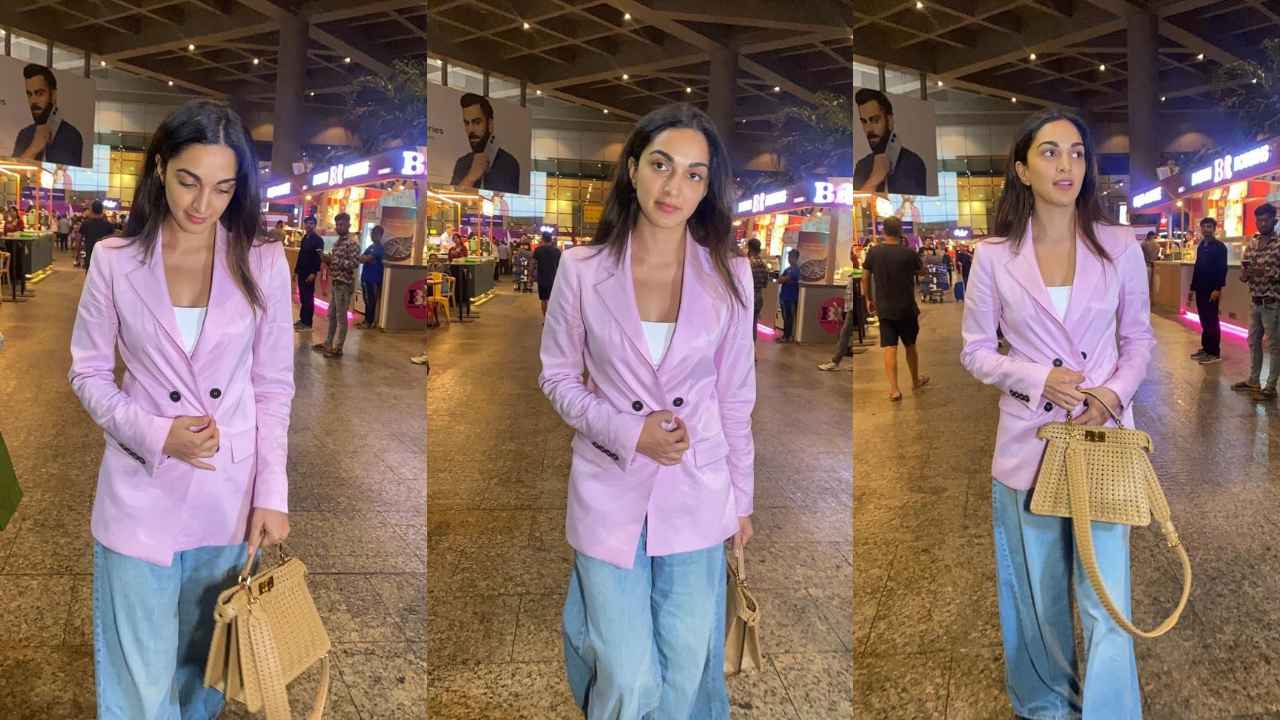 However, luxury of this caliber comes with a hefty price tag. The Peekaboo ISeeU small brown interlace leather bag from Fendi is priced at approximately Rs. 4,21,716, reflecting the quality, craftsmanship, and exclusivity of the piece.
Kiara Advani's fashion choices have always been a reflection of her confidence and style, and her recent airport appearance was no exception. Notably, she opted for a bold no-makeup and no-accessory look, allowing her natural beauty to shine in the most authentic way possible. Her decision to forego heavy makeup and excessive accessories emphasized her belief in embracing her genuine self, making a powerful statement about self-confidence and inner beauty.
In addition to her minimalist approach to makeup and accessories, Kiara left her hair open and styled it into a sleek, straight look. This hairstyle framed her face perfectly and added a touch of modernity and sophistication to her overall appearance. Her dark tresses cascaded beautifully down her shoulders, creating a polished and chic look that perfectly complemented her ensemble.
Kiara Advani's choice to go for a no-makeup and no-accessory look, combined with her sleek hairstyle, exemplified her confidence and belief in the power of natural beauty. Her airport appearance was a testament to her ability to make a striking statement without relying on heavy embellishments, showcasing that true beauty comes from self-assurance and authenticity.
In conclusion, Kiara Advani's bold choice to go for a no-makeup and no-accessory look, paired with her sleek and straight hairstyle, highlighted her natural beauty and innate confidence. Her airport look was a perfect example of how simplicity can be the most striking choice, emphasizing that embracing one's genuine self is the key to making a lasting and beautiful impression. Kiara continues to inspire with her authentic approach to beauty and fashion.