Karishma Tanna's black glittery Manish Malhotra saree is EVERYTHING an ethnic lover desires
In the glamorous realm of Bollywood fashion, where elegance effortlessly merges with opulence, only a select few divas manage to carve a distinct niche and leave an indelible mark. Karishma Tanna Bangera undoubtedly belongs to this elite league. The talented actress, known for her role in "Scoop," recently made a dazzling appearance at the Busan International Film Festival 2023, embodying the essence of a true ethnic diva. Adorned in the sheer magic of a Manish Malhotra creation, her black saree glistened with the enchantment of sequins, and it was impossible for the world not to take notice.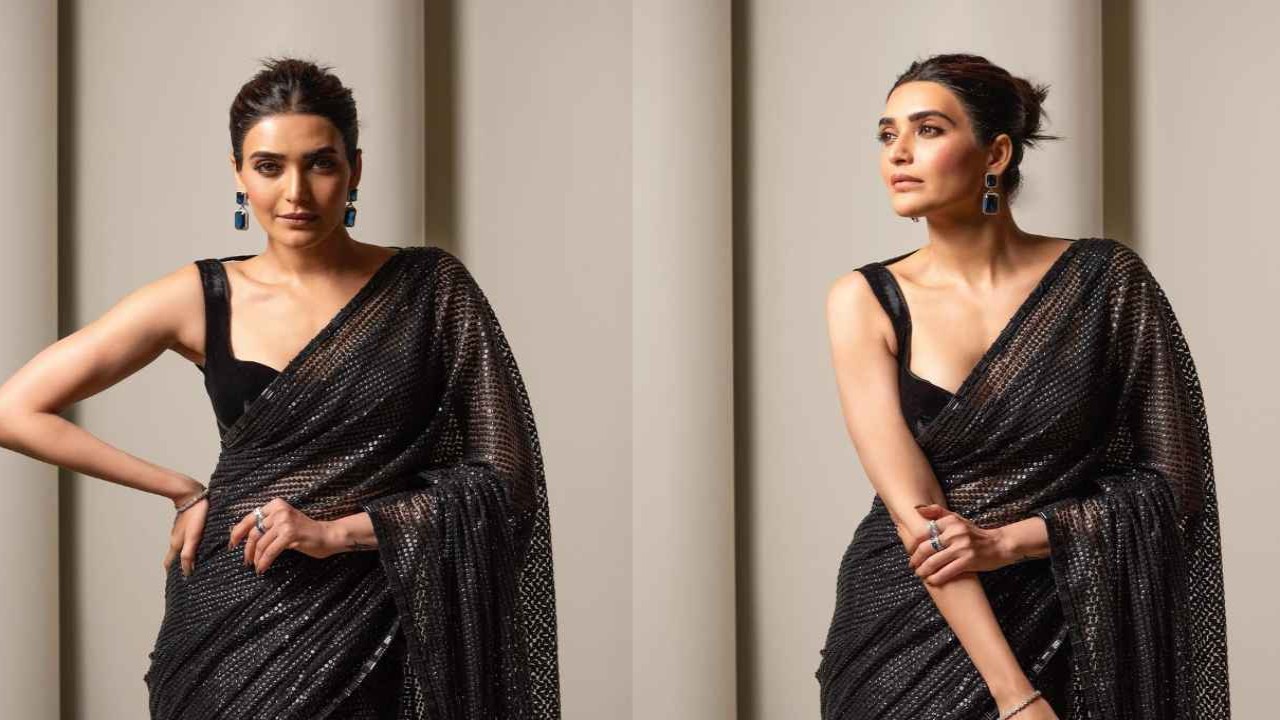 Karishma Tanna's choice of a Manish Malhotra creation for such a prestigious international event is a testament to her impeccable fashion sense. The renowned designer is synonymous with luxury and craftsmanship, and his creations are coveted by fashion enthusiasts worldwide. Karishma's black saree, shimmering with sequin embellishments, not only exemplified her refined taste but also celebrated the artistry of Indian fashion on a global stage.
The black saree's sequin enchantment added a touch of opulence and allure to Karishma's look, reflecting the grandeur of Bollywood fashion. Sequins are known for their ability to catch and reflect light, creating a mesmerizing play of sparkle and shimmer. In this attire, Karishma radiated elegance and sophistication, capturing the attention of onlookers and photographers alike.
Karishma Tanna's appearance at the Busan International Film Festival 2023 underscores her status as a fashion icon who can effortlessly blend tradition with contemporary style. Her choice of this Manish Malhotra saree was a masterstroke, making a bold statement and leaving an unforgettable impression. In the world of fashion, Karishma's name is undoubtedly etched in the books of those who appreciate the artistry of Indian couture and the glamour of Bollywood style.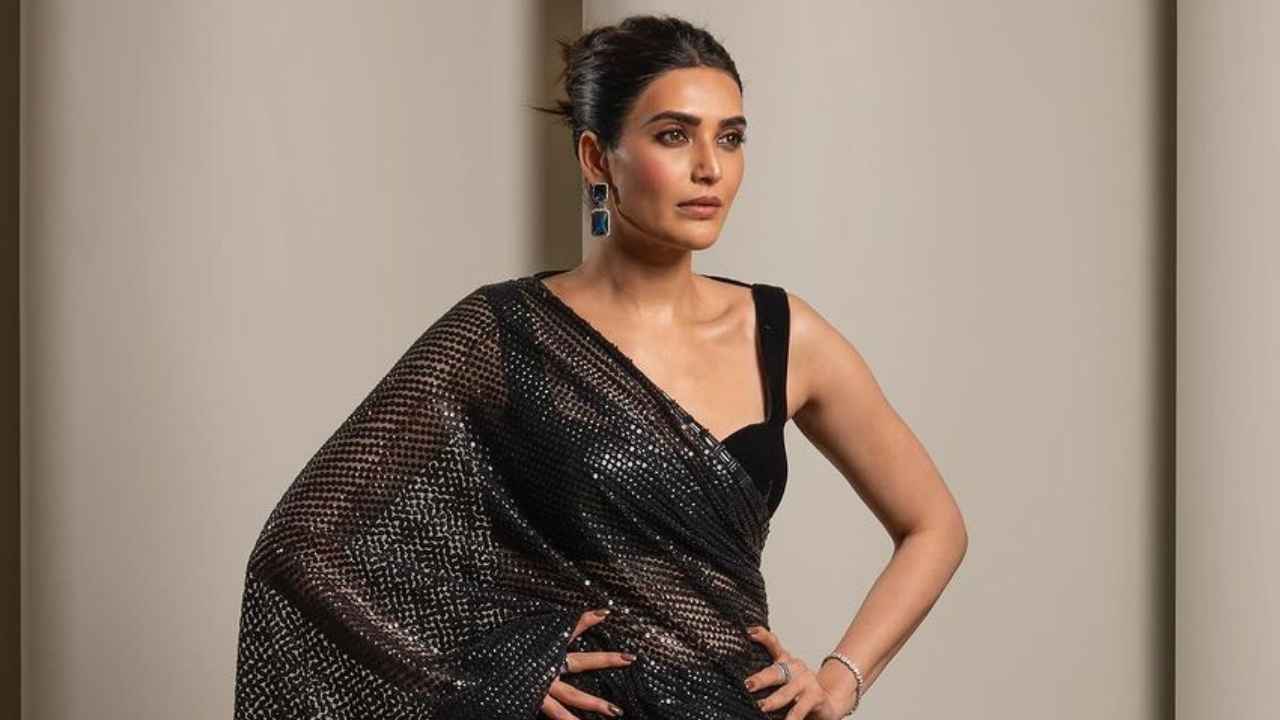 Karishma Tanna made a striking fashion statement recently by donning a breathtaking black semi-sheer saree, and the genius behind this exquisite creation was none other than Bollywood's beloved fashion maven, Manish Malhotra. This sequin-laden masterpiece was adorned with intricate sparkly embroidery throughout, adding a touch of glamour and elegance to her look. However, what truly set this saree apart was the uniquely crafted geometric and colorful embroidery at the edge of her pallu, making it a truly special and unforgettable piece.
Manish Malhotra's designs have always been synonymous with luxury and sophistication, and his ability to fuse tradition with contemporary style is truly remarkable. Karishma Tanna's choice of this stunning saree by the iconic designer further solidifies her status as a fashionista with impeccable taste. The semi-sheer fabric and the meticulously placed sequin embellishments added an element of sensuality and opulence to the ensemble, showcasing her understanding of fashion aesthetics.
What made this saree truly exceptional was the distinctive geometric and colorful embroidery that adorned the edge of her pallu. This artistic touch not only showcased the intricacy of Indian craftsmanship but also added a vibrant and playful element to the overall look. It served as a delightful surprise, elevating the saree to a work of art and making Karishma's appearance all the more memorable.
Karishma Tanna's choice of the gorgeous black semi-sheer saree by Manish Malhotra was a testament to her fashion-forward sensibilities and her appreciation for fine craftsmanship. This stunning piece, with its sequin embroidery and unique pallu detailing, was a reflection of both the designer's and Karishma's ability to create fashion moments that leave a lasting impression. It's clear that in the world of Bollywood fashion, Karishma Tanna continues to shine as a true style icon.
Karishma's decision to complete her dreamy ethnic ensemble with matching black strappy heels was a stroke of fashion genius. The choice of strappy heels not only complemented the color and style of the outfit but also provided a harmonious and cohesive feel to the overall look. It's a choice that emphasized her attention to detail and her commitment to creating a flawless and elegant appearance.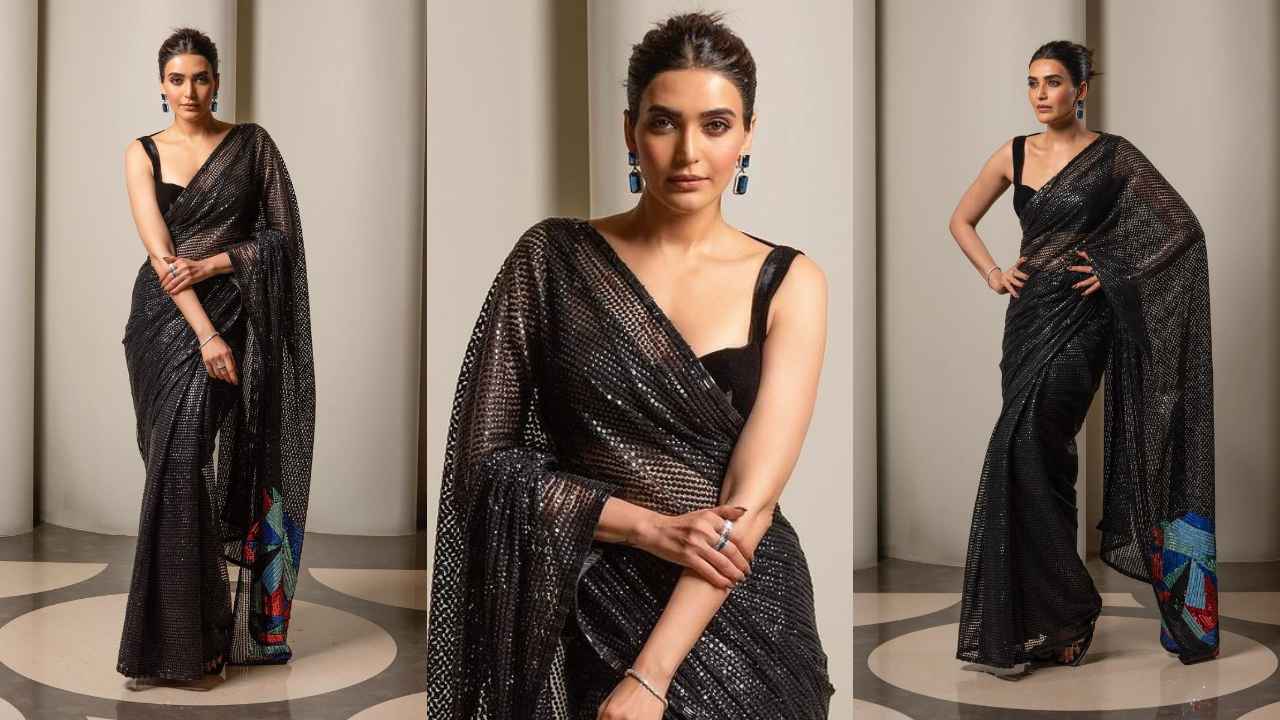 Karishma Tanna's meticulous fashion choices, including the matching black velvet blouse and strappy heels, showcased her ability to create a harmonious and captivating ethnic ensemble. Her attention to detail and her understanding of how different elements can come together to create a balanced and alluring look further solidify her status as a true fashion icon. Karishma continues to inspire and captivate with her impeccable fashion sense and her ability to make every appearance a fashion statement.
The addition of sapphire droplet earrings was a delightful and unexpected touch. The rich blue hue of the sapphires added a pop of color and vibrancy to her overall look, while the droplet design lent an air of grace and delicacy. These earrings perfectly balanced the sparkle of the diamonds and the sheen of the sequins on her saree, creating a harmonious and visually striking combination.
Karishma Tanna, known for her role in "Tina and Lolo," left no detail untouched when it came to her makeup, opting for a glamorous and captivating look. Her makeup artist ensured that every element was perfectly executed, resulting in a stunning overall appearance. Her eyes took center stage with mascara-laden lashes, well-defined eyebrows, and expertly applied eyeliner that accentuated her gaze. The subtle eyeshadow added depth and dimension to her eyes, enhancing their natural beauty.
Karishma's makeup look extended to her flawless complexion, with the perfect contouring and blushed cheeks that highlighted her cheekbones beautifully. Contouring added definition and sculpted her face, while the blush provided a healthy flush of color, giving her a radiant and youthful appearance. The highlighted cheekbones added a touch of luminosity and brought out her bone structure, adding to her overall allure.
The finishing touch to Karishma's makeup was the choice of a perfect neutral-colored lipstick. This choice not only complemented her bold eye makeup but also maintained a sense of balance and sophistication. The neutral lip color allowed her eyes and the intricate details of her saree to take the spotlight while ensuring that her lips remained an elegant and complementary part of the overall look.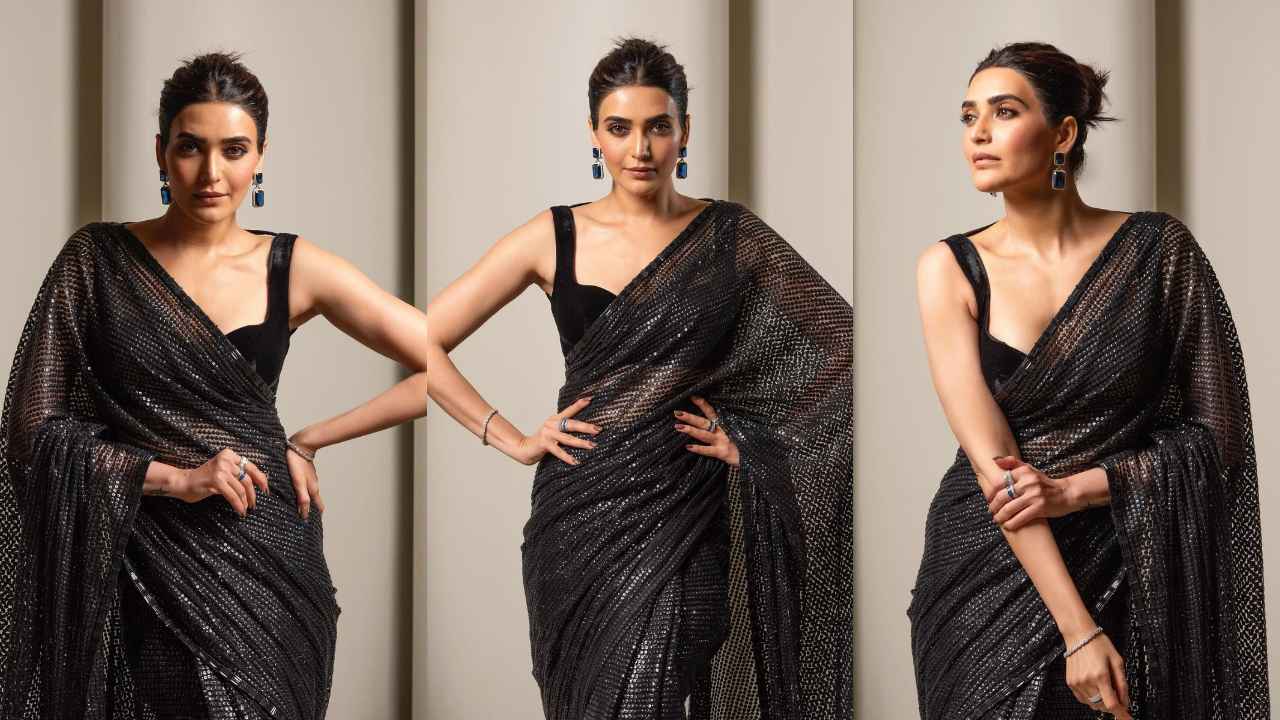 In conclusion, Karishma Tanna's makeup look was a testament to the skill and artistry of her makeup artist. Every element, from her eyes to her complexion and lips, was meticulously executed to create a glamorous and captivating appearance. Karishma's commitment to perfection in her makeup choices further solidifies her status as a true fashion and beauty icon in the world of Bollywood. Her attention to detail and her ability to create flawless looks continue to inspire and captivate her fans and fashion enthusiasts alike.