Rani Mukerji's Electrifying Black Saree Look: A Fusion of Sabyasachi Mukherjee's Magic and Sultry Winged Eyeliner
Rani Mukerji's recent appearances at the Indian Film Festival of Melbourne showcase her ability to effortlessly navigate both western and traditional fashion, capturing the essence of contemporary trends while maintaining her classic charm.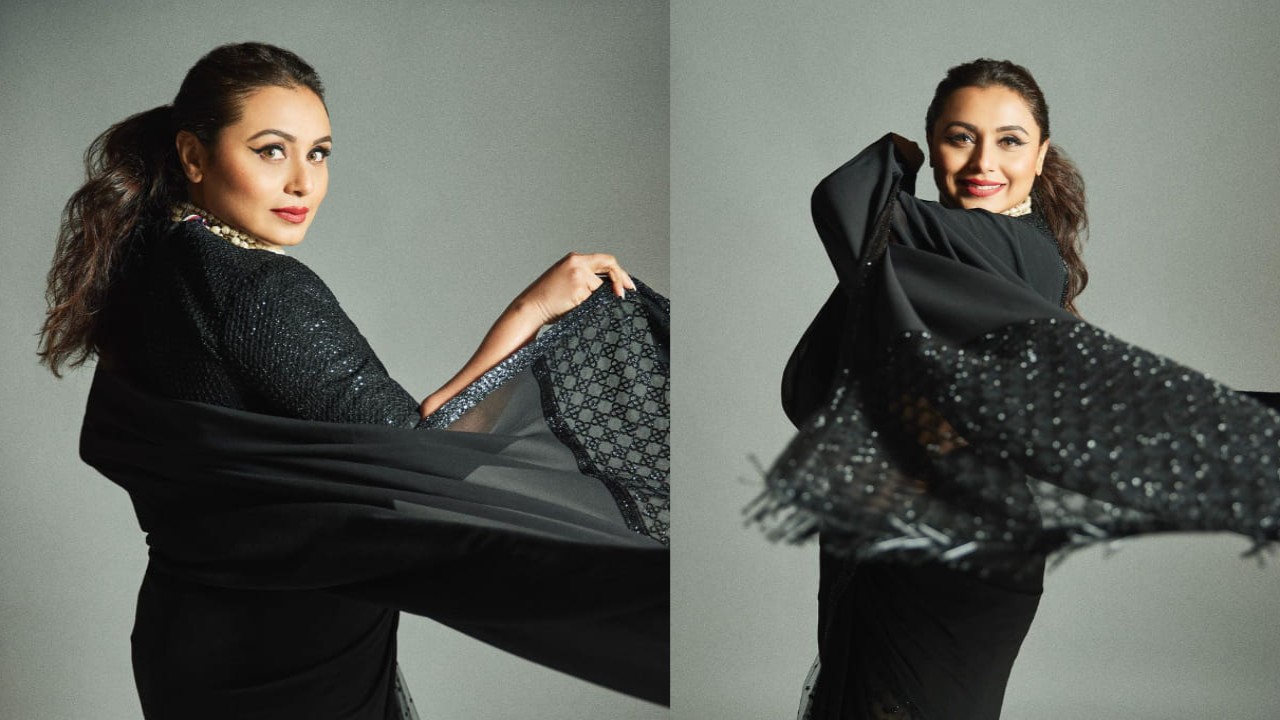 Her beige pantsuit look is a testament to her evolving style. The choice of a western pantsuit demonstrates her willingness to embrace modernity and adapt to current fashion trends. The beige color exudes elegance and neutrality, allowing the outfit's structure and tailoring to take center stage. This ensemble not only reflects her fashion-forward approach but also highlights her confident demeanor, making a statement that resonates with the current fashion landscape.
Furthermore, her classic yet contemporary appearance in a Sabyasachi saree speaks volumes about her understanding of fashion's intricacies. Rani Mukerji masterfully combines modern edginess with traditional richness, resulting in an ensemble that bridges generations. Sabyasachi is renowned for his ability to infuse traditional attire with a contemporary twist, and Rani's choice exemplifies this fusion.
The careful balance of modern and traditional elements in her outfits captures the essence of versatility. Rani Mukerji's fashion choices celebrate her journey as an actress and her ability to adapt to changing times while retaining her signature style.
Rani Mukerji's choice to wear a Sabyasachi saree for her appearance at the Indian Film Festival of Melbourne highlights the brand's enduring artistry and her own appreciation for intricate craftsmanship. Sabyasachi Mukherjee is celebrated for his ability to create pieces that seamlessly blend traditional aesthetics with modern sensibilities, and Rani's saree moment exemplifies his design philosophy.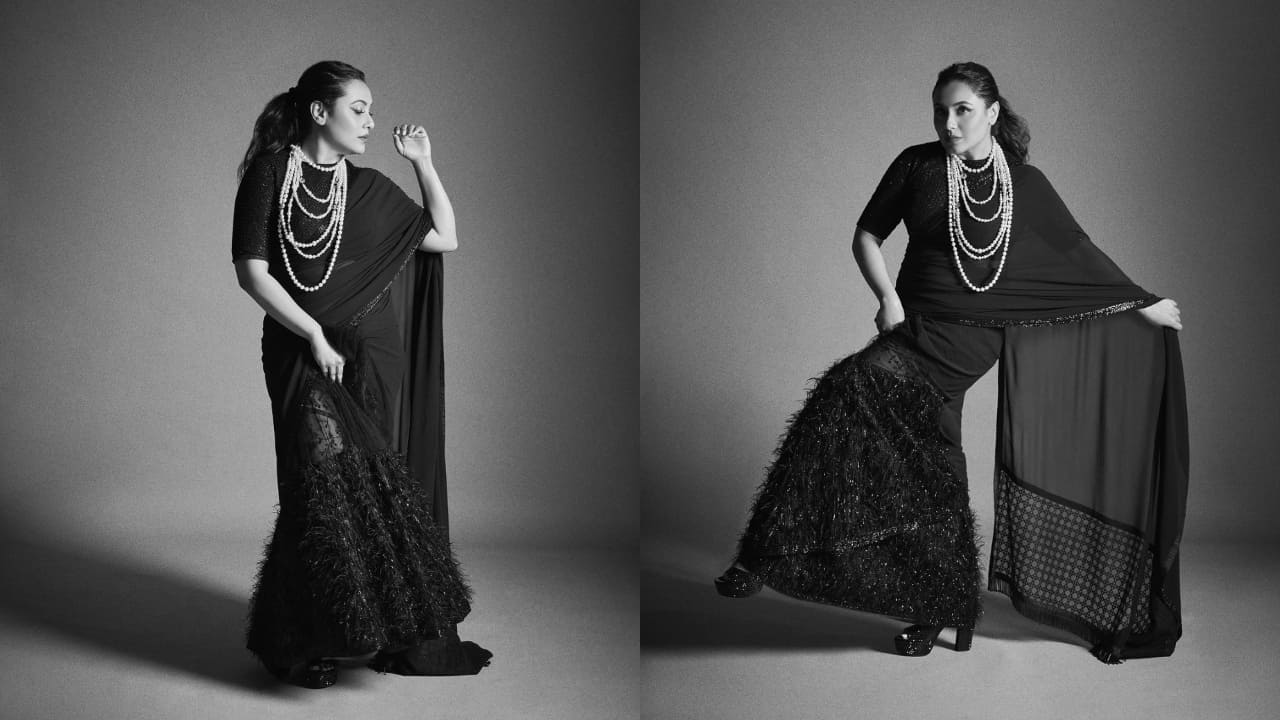 The saree, a canvas of artistry, was adorned with embellishments and delicate embroidery that evoke a sense of opulence and luxury. Sabyasachi's attention to detail is evident in the meticulous workmanship that graces every inch of the ensemble. The embellishments add depth and dimension to the saree, creating an interplay of textures and visual interest that captures the eye.
The choice of delicate embroidery speaks to Sabyasachi's commitment to preserving traditional Indian craftsmanship. The intricate motifs and patterns contribute to the saree's timeless beauty, ensuring that it remains a piece of wearable art that transcends trends.
The color palette of the saree, chosen to complement Rani Mukerji's complexion, enhances her natural radiance. The rich hues and subtle shades blend harmoniously, creating a sophisticated and enchanting effect.
Rani's Sabyasachi moment is a testament to her sartorial evolution. The ensemble beautifully marries classic elements with contemporary elegance, reflecting her personal style and the narrative of the event. By choosing Sabyasachi, she not only showcases her fashion acumen but also pays homage to the enduring legacy of Indian craftsmanship and design.
The black color of the saree exudes timeless elegance and chic allure. Black is a classic hue that holds a sense of sophistication and versatility, making it suitable for various occasions. Rani's choice of a black saree for the event showcases her understanding of fashion's ability to communicate character and style through color.
The borders of the saree, adorned with glossy black sequins, add a touch of glitz and drama to the ensemble. These embellishments infuse the outfit with a subtle yet impactful element of sparkle, making the saree suitable for evening events and formal occasions.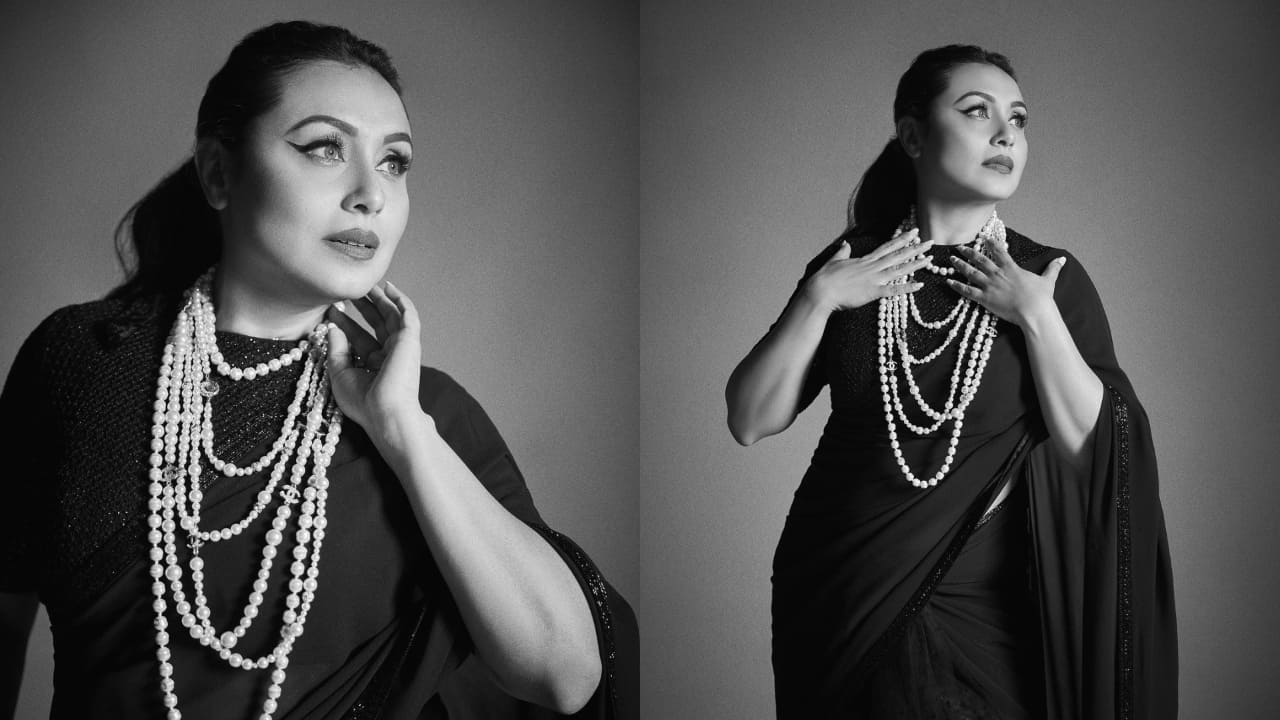 Rani Mukerji's selection of a Sabyasachi creation reinforces her affinity for combining traditional aesthetics with contemporary sensibilities. The brand's attention to detail and craftsmanship is evident in the saree's design, ensuring that every element aligns harmoniously to create a cohesive and captivating look.
The exquisite details of Rani Mukerji's black Sabyasachi saree are a true testament to the brand's artistry and Rani's ability to carry off such intricate ensembles with ease. The intricate embellishments and meticulous craftsmanship contribute to the saree's mesmerizing beauty and unique charm.
The use of long bundles of bugle beads painstakingly affixed to the border is a mark of the brand's dedication to creating intricate designs that evoke a sense of fluidity and movement. This technique adds a touch of opulence to the saree, creating a dynamic visual effect as the beads catch and reflect light.
The sparkly fringes that decorate the saree's lower half contribute to its overall allure. These fringes not only add movement but also a touch of playfulness to the ensemble, creating a sense of dynamic elegance.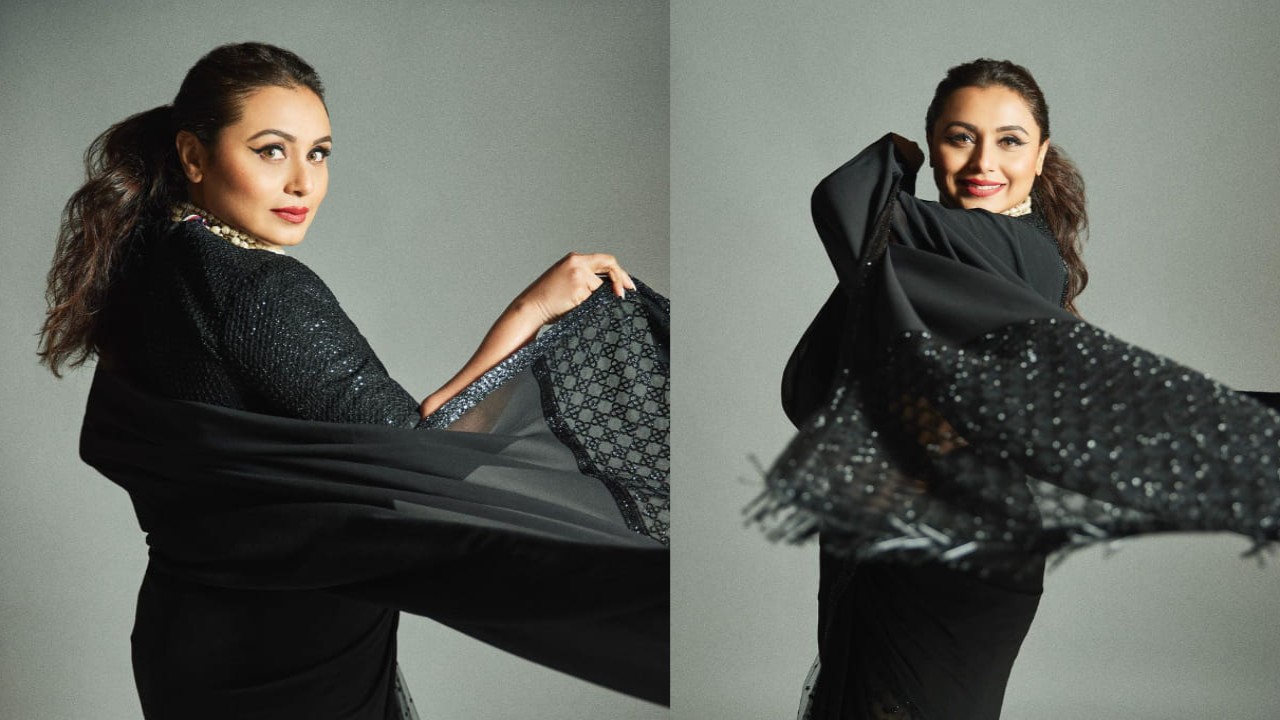 Rani Mukerji's adeptness at carrying off such a detailed and stunning piece of artistry further enhances the saree's impact. Her ease in handling the ensemble speaks to her confidence and familiarity with both traditional and modern fashion elements.
Namrata Soni's expertise in makeup artistry perfectly complemented Rani Mukerji's captivating appearance in the black Sabyasachi saree. The makeup played a pivotal role in enhancing Rani's inherent beauty and adding a touch of glamour and allure to her overall look.
The choice of a thick winged eyeliner is a classic and impactful makeup technique that accentuates the eyes and adds a sense of drama. This choice resonates with the saree's elegance and sophistication, contributing to a balanced and harmonious visual composition.
The well-groomed eyebrows are essential in framing the face and creating a polished look. Namrata's attention to detail in ensuring that Rani's eyebrows were perfectly groomed enhances the overall makeup and adds to Rani's flawless appearance.
The makeup's cohesive color palette and application reflect Namrata's ability to highlight Rani's features while maintaining a sense of subtlety. The makeup enhances Rani's natural beauty without overpowering her look, aligning perfectly with the saree's intricate details and Sabyasachi's design ethos.
The boldness of the red lipstick adds a pop of color and vibrancy to the predominantly black outfit. This choice serves as a focal point, drawing attention to Rani's lips and creating a harmonious balance with the saree's intricate details.
Rani's sophisticated ponytail, paired with her six-layered pearl necklace, is a testament to the attention to detail in her styling. The ponytail not only showcases the saree's design elements, such as the embellished borders and intricate embroidery, but also highlights the elegance of her neckpiece.
The six-layered pearl necklace adds an extra layer of refinement to the ensemble, elevating its overall sophistication. Pearls are often associated with timeless elegance and luxury, and their inclusion complements the saree's opulence and Rani's inherent grace.
The winged eyeliner, as mentioned, adds a dash of drama and intrigue to Rani's appearance. This makeup choice aligns with the saree's intricate details and the overall aesthetic of the outfit. The dramatic winged eyeliner captures attention and adds depth to Rani's eyes, enhancing the overall allure of her mesmerizing appearance.
In conclusion, the combination of bold red lipstick, a sophisticated ponytail, a six-layered pearl necklace, and dramatic winged eyeliner enhances Rani Mukerji's appearance in the black Sabyasachi saree. These elements collectively create a refined and captivating look that celebrates the symbiotic relationship between makeup, hairstyle, accessories, and fashion. Rani's presence and Namrata Soni's makeup artistry harmonize to create a fashion moment that is both visually stunning and emotionally resonant.