Kareena Kapoor Khan Empowers with her Inner Geet: A Radiant 90's Fashion Affair of Abstract Shirt, Wide-Legged Denims, and Scarf
Kareena Kapoor Khan, known for her impeccable sense of style and iconic fashion moments, has once again proven her dominance in the world of fashion. Her recent choice of attire showcases her unique ability to blend classic charm with modern sophistication. As an accomplished actress, recognized for her role in the film "3 Idiots" and other successful projects, she has also carved out a distinct niche for herself as a fashion icon.
In her latest appearance, Kareena Kapoor Khan opted for a meticulously curated outfit that seamlessly bridges the gap between the 90s nostalgia and contemporary trends. This choice not only reflects her deep-rooted connection to the era but also highlights her knack for adapting and reinventing classic styles to suit the present fashion landscape.
By effortlessly fusing elements of the past with current fashion sensibilities, Kareena has once again asserted her reign as the Original Gangster (OG) queen of style. Her ability to command attention and admiration from fashion enthusiasts is a testament to her enduring influence and relevance in the fashion world.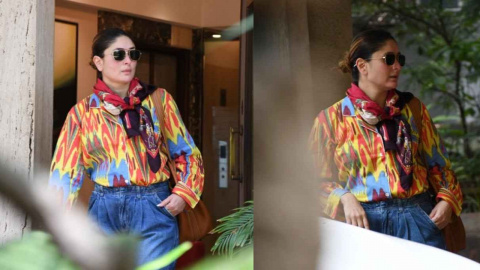 Kareena Kapoor Khan's fashion choices have consistently set trends and inspired countless individuals to experiment with their own personal style. Her recent sartorial triumph further solidifies her status as an unrivaled fashion maven, capable of effortlessly transitioning between different fashion eras while exuding elegance and allure.
Absolutely, Kareena Kapoor Khan's ability to infuse classic fashion with a modern edge has always captivated fashion enthusiasts. Her recent appearance not only highlights her fashion sensibilities but also pays homage to the iconic 90s era, a period that holds a special place in the hearts of many.
The choice of wide-legged, medium-wash blue denim jeans is a nod to the era's emphasis on comfort and individuality. The 90s were marked by a shift towards more relaxed and laid-back styles, and Kareena's selection of this particular style of jeans resonates with that era's fashion ethos.
By pairing the denim jeans with an ikat print multi-colored shirt, Kareena skillfully blends the nostalgia of the 90s with a contemporary twist. The ikat print, which is rooted in traditional craftsmanship, brings a touch of cultural richness to her ensemble. This combination effortlessly bridges the gap between the past and the present, showcasing Kareena's ability to curate an outfit that captures the essence of both eras.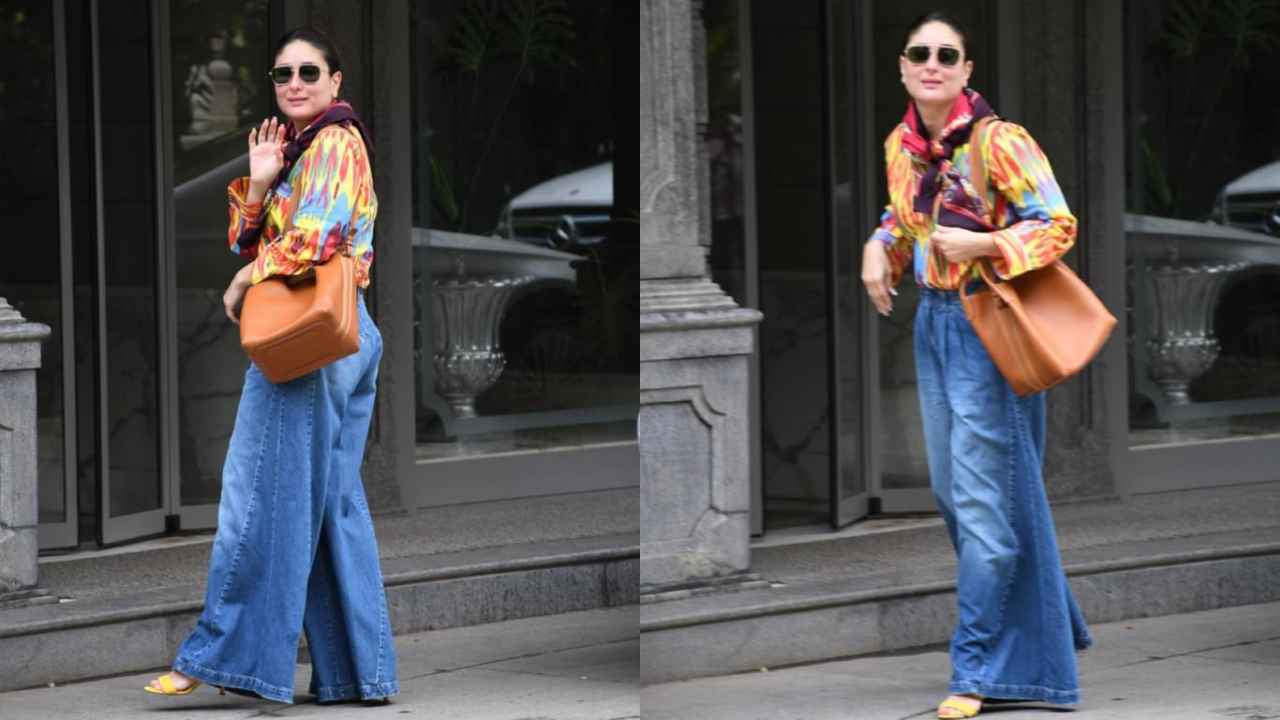 Kareena Kapoor Khan's fashion choices often transcend trends and time, speaking to her deep understanding of fashion's cyclical nature. Her recent appearance showcases her keen eye for selecting pieces that possess enduring appeal, thereby solidifying her reputation as a true style icon. Her ability to seamlessly integrate classic elements with modern accents demonstrates her mastery of creating fashion moments that resonate with a wide range of audiences.
A true fashion icon's ability to elevate an ensemble through well-chosen accessories is a hallmark of their style prowess. Kareena Kapoor Khan's recent appearance showcased her mastery in this aspect, as she expertly blended her outfit with accessories that enhanced the overall look.
The infusion of yellow heels into her ensemble serves to inject a contemporary vibrancy that complements her outfit's modern twist. The choice of color not only adds a pop of visual interest but also highlights Kareena's ability to incorporate unexpected elements that create a harmonious balance within the ensemble.
The addition of a red printed scarf, draped in an artful manner, contributes a touch of drama to her look. This evokes a sense of nostalgia for the glamour of silver screen legends while also showcasing Kareena's flair for adding statement pieces that capture attention and spark conversations.
The dark-tinted sunglasses serve a dual purpose: aside from shielding her from the sun, they add an enigmatic allure that reinforces her timeless beauty. Sunglasses have long been a symbol of mystery and sophistication, and their inclusion in her ensemble amplifies the intrigue and elegance she embodies.
Kareena Kapoor Khan's skillful selection of accessories further solidifies her reputation as a fashion icon. Her ability to curate a cohesive and captivating look by combining various elements demonstrates her understanding of fashion's subtleties and nuances. This attention to detail is a defining trait of a true style maven, setting her apart from the rest and inspiring admiration from fashion enthusiasts and critics alike.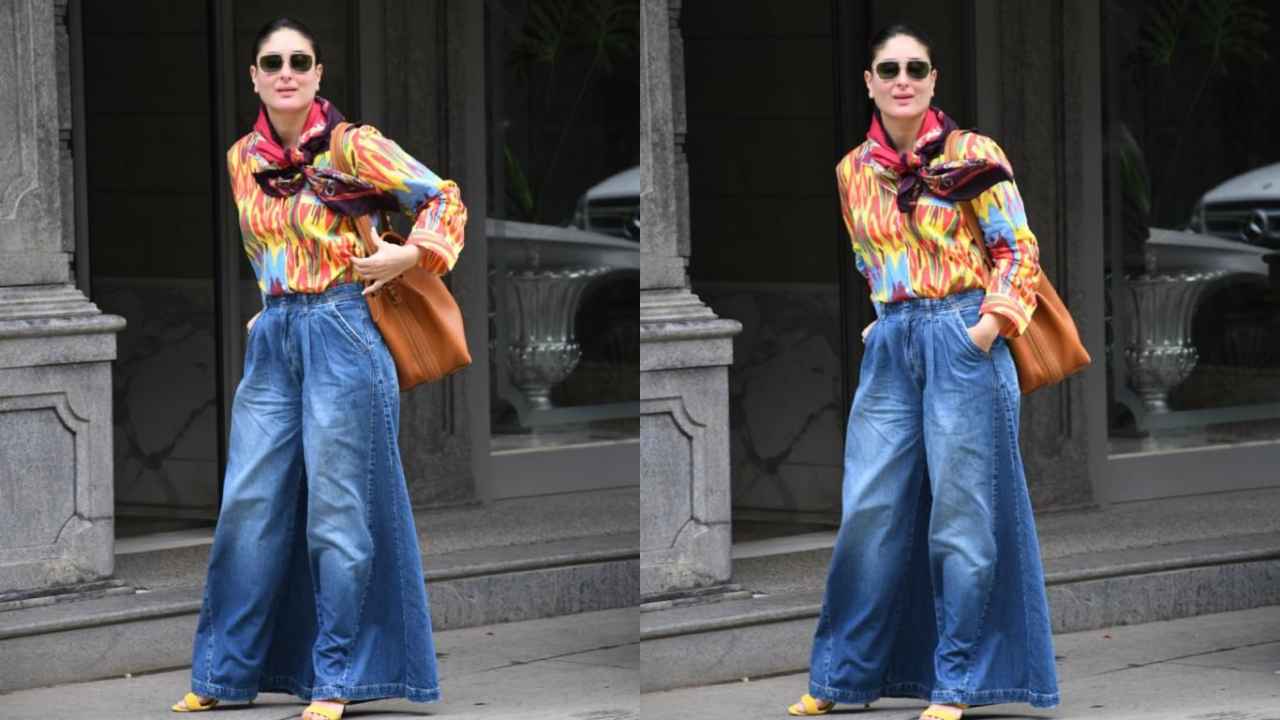 Indeed, the inclusion of the Hermès Picotin bag in Kareena Kapoor's ensemble added a touch of luxury and sophistication that elevated her entire look to new heights. The Hermès Picotin bag is renowned for its minimalist yet elegant design, and its presence in her outfit symbolizes her status as a true fashion connoisseur with a discerning taste.
The Picotin bag's understated elegance aligns perfectly with Kareena's style sensibilities, showcasing her ability to choose accessories that enhance her overall aesthetic. The bag's design not only complements her ensemble but also contributes to the narrative she's crafting through her fashion choices.
The price tag of the Hermès Picotin bag, a substantial sum of Rs. 2,49,708, underscores the exclusivity and luxury associated with high-end fashion. Kareena Kapoor effortlessly embodies this exclusivity, further cementing her reputation as a fashion icon who is unafraid to invest in pieces that reflect her personal style and status.
Through the seamless fusion of vintage elements and modern trends, Kareena Kapoor Khan adeptly painted a picture of elegance and individuality. Her outfit tells a story of someone who appreciates both classic charm and contemporary flair, a balance that resonates with her admirers and fashion enthusiasts.
Kareena's ability to curate an ensemble that harmonizes diverse elements while maintaining a cohesive narrative speaks volumes about her fashion acumen. Her choices aren't merely about clothes and accessories; they're a form of self-expression that captivates hearts and inspires those who follow her style journey.
In a realm where fashion trends can change rapidly, Kareena's presence remains consistent as she navigates through the ever-evolving landscape with grace and confidence. Her power lies not just in following trends, but in her capacity to shape and redefine them. She embodies the qualities of a true trendsetter who doesn't merely adapt to the whims of fashion, but rather shapes the narrative and sets new standards.
Kareena Kapoor Khan's style journey is a testament to her ability to blend timeless elegance with contemporary sensibilities. She has consistently demonstrated that true style goes beyond following momentary trends and instead involves making choices that reflect one's personality and taste.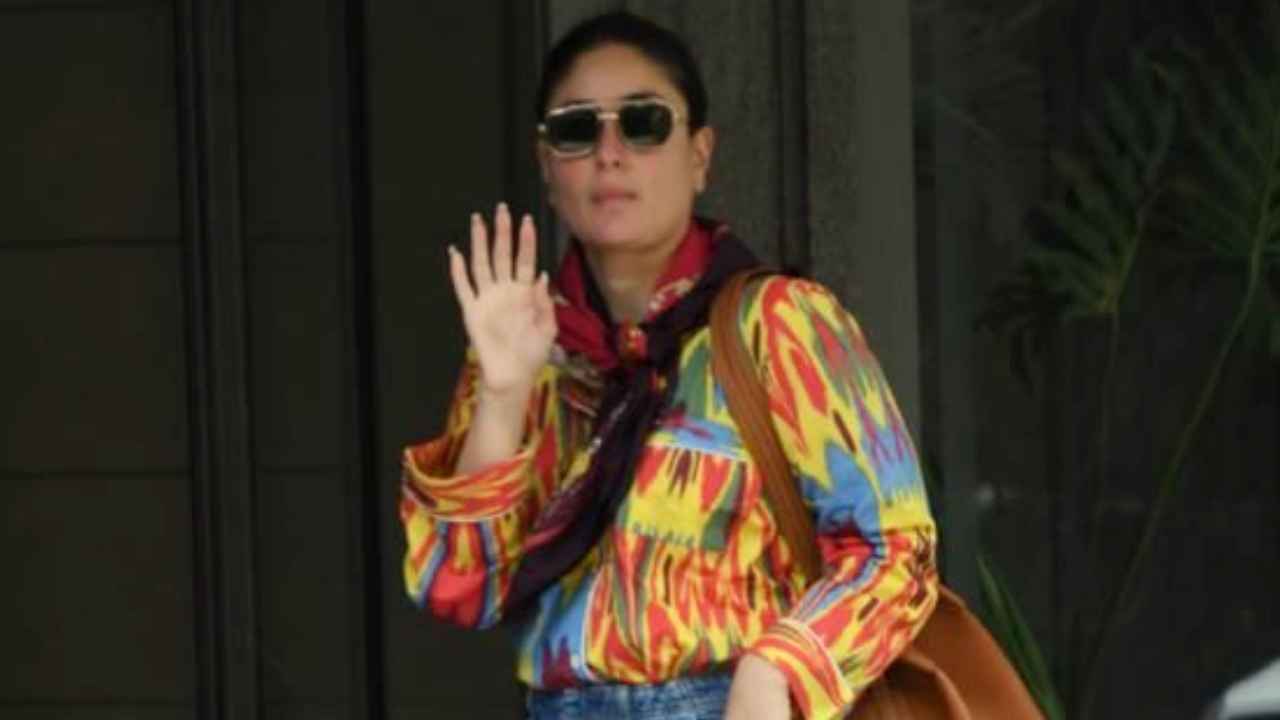 In a world where fashion can be fleeting, she stands as a beacon of consistency, originality, and creativity. Her influence reaches beyond the surface; it inspires individuals to cultivate their unique style and embrace the confidence that comes with it. This is the hallmark of a fashion icon, and Kareena Kapoor Khan undeniably embodies this distinction.