Ananya Panday's Tarun Tahiliani Lehenga Radiates Pure Prettiness and Floral Glamour
The undeniable reigning champion when it comes to grabbing headlines, especially during the spring and summer seasons, is none other than Ananya Panday. Her fashion choices not only ignite conversations but often leave us in a state of swooning admiration. On a mid-week afternoon in March, Ananya Panday's pictures grace our screens, serving as a visual treat that not only looks good but also transports us back to a significant moment in 2022.
These images evoke memories of the day when Nora Fatehi donned the same ensemble for Diwali, creating a significant buzz as she was styled by the talented Aastha Sharma. Although a year has passed since that moment, the impact of the outfit's elegance remains as strong as ever, casting a 360° spell of timeless allure.
Ananya's current appearance in the same outfit beautifully demonstrates the versatility and timelessness of certain fashion choices. The ensemble's ability to transcend seasons and years, and to look equally stunning on different individuals, is a testament to its enduring charm. It not only reflects Ananya's personal style but also pays homage to the enchanting aesthetics that Nora Fatehi previously showcased in the outfit.
The role of fashion in triggering memories and connections is profound, and Ananya Panday's current look is a living testament to this phenomenon. As we appreciate the elegance and allure of the outfit, we are reminded of the cyclical nature of fashion, where certain pieces have the power to reappear, evolve, and continue captivating our senses.
In essence, Ananya Panday's choice to don the same outfit that Nora Fatehi previously adorned is a celebration of fashion's ability to transcend time, create meaningful connections, and allow individuals to make their own mark while paying homage to the past. It's a reminder that elegance knows no expiration date and that certain fashion choices are destined to remain eternally chic.
Indeed, satisfying our insatiable love and fascination for lehengas, Ananya Panday graced us with her desi elegance in a stunning Tarun Tahiliani ensemble during her cousin Alanna Panday's wedding celebrations. The enchanting allure of a lehenga is a perennial favorite, and Ananya's choice only further cements its position as a timeless fashion statement. However, the excitement doesn't stop there, as there's an additional treat in the form of the 'Painterly Dreams' style edition, adding more layers to our learning and appreciation of the fashion landscape.
Ananya's appearance in a Tarun Tahiliani lehenga at her cousin's wedding festivities was undoubtedly a highlight, capturing the essence of traditional Indian attire with a contemporary flair. The intricate craftsmanship, luxurious fabric, and intricate details that Tarun Tahiliani is renowned for perfectly complemented Ananya's radiant persona. The lehenga's exquisitely embroidered motifs, the play of colors, and the intricate work came together to create a vision of elegance fit for a celebratory occasion.
However, what adds a dynamic twist to this narrative is the 'Painterly Dreams' style edition. This edition showcases a dedication to learning and understanding the nuances of fashion. It's a testament to the fact that in the realm of fashion, there's always something new to discover, explore, and appreciate. This edition reflects the ever-evolving nature of style, where each detail, color, and design holds its own significance, contributing to the overall tapestry of fashion.
As we admire and dissect Ananya's choices, we are reminded that fashion is not just about donning outfits but about understanding the stories they tell, the emotions they evoke, and the craftsmanship they embody. Ananya's appearances showcase how each ensemble has its own narrative, woven with threads of tradition, innovation, and personal expression.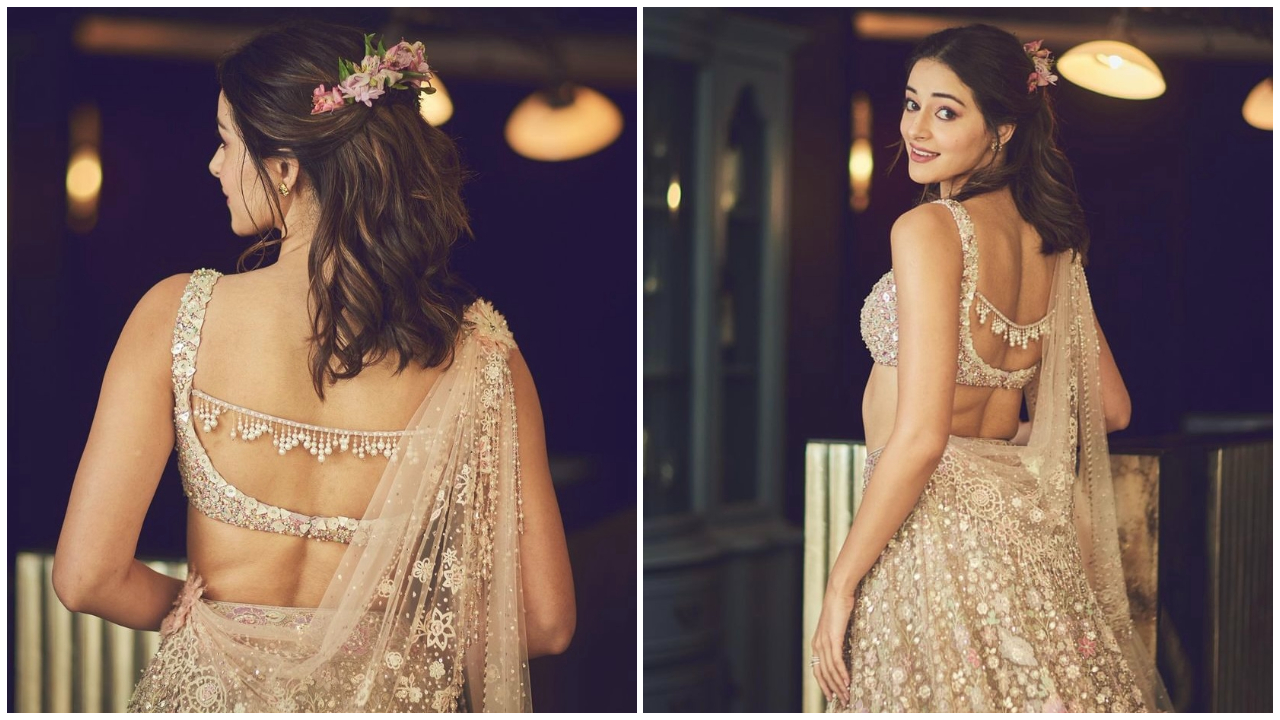 Ananya Panday's latest look was curated by the talented Tanya Ghavri, who brought forth a captivating ensemble that epitomizes elegance and opulence. Dressed in a pastel lehenga adorned with exquisite embroidery, Ananya's appearance was nothing short of a visual delight. The choice of colors, the meticulous detailing, and the undeniable sense of luxury all combined to create a truly stunning look that captivated all who laid eyes upon it.
The pastel hues of the lehenga not only added a touch of softness but also contributed to a soothing and serene visual experience. The combination of colors lent a vibrant yet harmonious feel to the ensemble, making it a delightful sight to behold. Amidst the rich tapestry of colors, Ananya shone brightly, radiating confidence and grace.
The lehenga's intricate embroidery served as the crowning glory of the ensemble. The meticulous craftsmanship and attention to detail highlighted the artistry involved in its creation. This embellishment not only added a layer of opulence but also showcased the designer's skill in bringing his Autumn/Winter 2022 couture collection to life.
Ananya's choice to don this expensive creation demonstrates her penchant for high fashion and her ability to carry off even the most intricate and elaborate ensembles with ease. The ensemble's creation for a couture collection reflects its exclusivity and speaks to Ananya's status as a fashion icon who can effortlessly pull off such luxurious looks.
Ananya's enchanting 'Bloom lehenga' was a true celebration of nature's beauty, translated into the realm of fashion through a stunning palette of colors. The hues of rose pink, aqua lilac, and lavender interwove seamlessly to form a mesmerizing tapestry that evoked the delicate elegance of blooming flowers. This nature-inspired composition not only showcased the designer's creative prowess but also highlighted Ananya's choice to embrace the beauty of the natural world.
Adding to the allure of the ensemble was the see-through dupatta, which was a canvas adorned with a myriad of captivating details. A tasseled beaded hem, an abundance of flower patterns, shimmering crystals, and intricate 3D appliqué work harmoniously converged to create a visual spectacle that was nothing short of breathtaking. The dupatta's intricate design echoed the enchanting intricacies of nature, making it a fitting complement to the theme of the ensemble.
The cropped and plunging neckline blouse further enhanced the ensemble's charm. A stretch of meticulous detailing adorned the blouse, with pearls delicately gracing the back, beads adding a touch of sparkle, and French knots weaving a sense of artistry into the fabric. This level of attention to detail and craftsmanship emphasized the ensemble's status as a work of art.
Ananya's overall look exuded a sense of dazzle and elegance. Her choice of matte makeup lent a sophisticated touch, allowing the ensemble's vibrant hues to take center stage. A wavy hairdo adorned with fresh lilies added a touch of romance and natural beauty, aligning perfectly with the ensemble's theme.
To complete the look, Ananya adorned studded earrings from Tyaani Jewellery by Karan Johar. These earrings not only added a touch of glamour but also reflected the meticulous curation of accessories that perfectly complemented the ensemble.
In summation, Ananya Panday's 'Bloom lehenga' appearance is a testament to the harmonious fusion of nature's beauty and high fashion. With its rich color palette, intricate embellishments, and thoughtful styling choices, this ensemble serves as a visual ode to the elegance of blooming flowers. It's a reminder that fashion can be a canvas to express our connection to the world around us, and Ananya's choice to don this ensemble showcases her ability to transform nature's inspiration into a stunning fashion statement.