Athiya Shetty in an Anamika Khanna sharara set is a red glam beautiful bride
The desi bride and a whole lotta love – that's what February brings, especially when it comes to weddings. In this month of love, the essence of red is inescapable, symbolizing both love and glamour. Athiya Shetty and KL Rahul's wedding pictures, along with their pre-ceremony moments, have taken over our social media feeds, inspiring us to embrace joyful and celebratory dressing throughout the month.
With weddings being a prominent theme this season, many of us are likely working on a brand new list of key purchases to elevate our wedding guest attire or even prepare for our own special day. Whether it's finding the perfect outfit, accessories, or beauty essentials, the quest for a standout look during the wedding season is undoubtedly underway.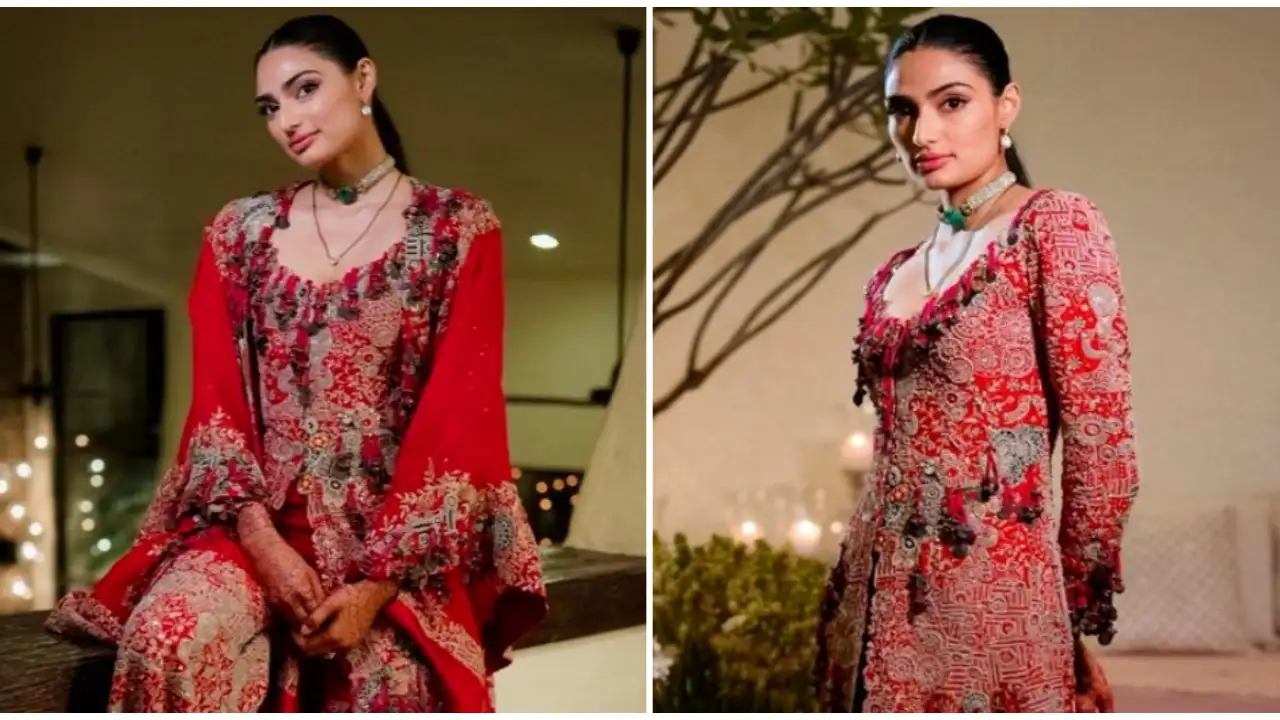 February's romantic backdrop and the influence of celebrity weddings serve as a constant reminder of the importance of love and togetherness. It's a time when fashion choices take center stage, and there's no better excuse to invest in statement pieces and make memorable fashion statements as we celebrate the bonds of love and commitment. So, as the wedding season unfolds, let the festivities and fashion choices be an integral part of your joyful February.
Indeed, when it comes to the world of fashion, those who are well-versed, much like the newest bride Athiya Shetty, understand that certain styles and trends never lose their appeal. Lehengas, for example, have remained a perennial favorite, cherished for their timeless elegance and grace. Additionally, sharara sets have been steadily gaining popularity and continue to be a fashionable choice for those looking to make a stylish statement.
In 2023, if you haven't already, it's an excellent time to take a leap of sartorial faith and embrace these trends if you haven't done so already. Fashion is all about self-expression and experimenting with new styles, and sharara sets offer a fantastic opportunity to diversify your wardrobe.
Athiya Shetty, the Bollywood actress, made headlines as a bride, not only for her stunning lehenga but also for her unique choice of attire for her sangeet celebrations. Her custom Anjul Bhandari pantsuit, paired with white sneakers, was a refreshing and unconventional take on bridal fashion. It's a look that will undoubtedly be remembered in the books of fashion history, demonstrating that brides can make bold and personal choices when it comes to their wedding attire.
Athiya Shetty continues to captivate as a desi doll, this time gracing the scene in a stunning Anamika Khanna creation. The custom sharara set she adorned was nothing short of opulence and regal splendor. It was a dazzling statement that left a lasting impression, showcasing her innate sense of style and grace.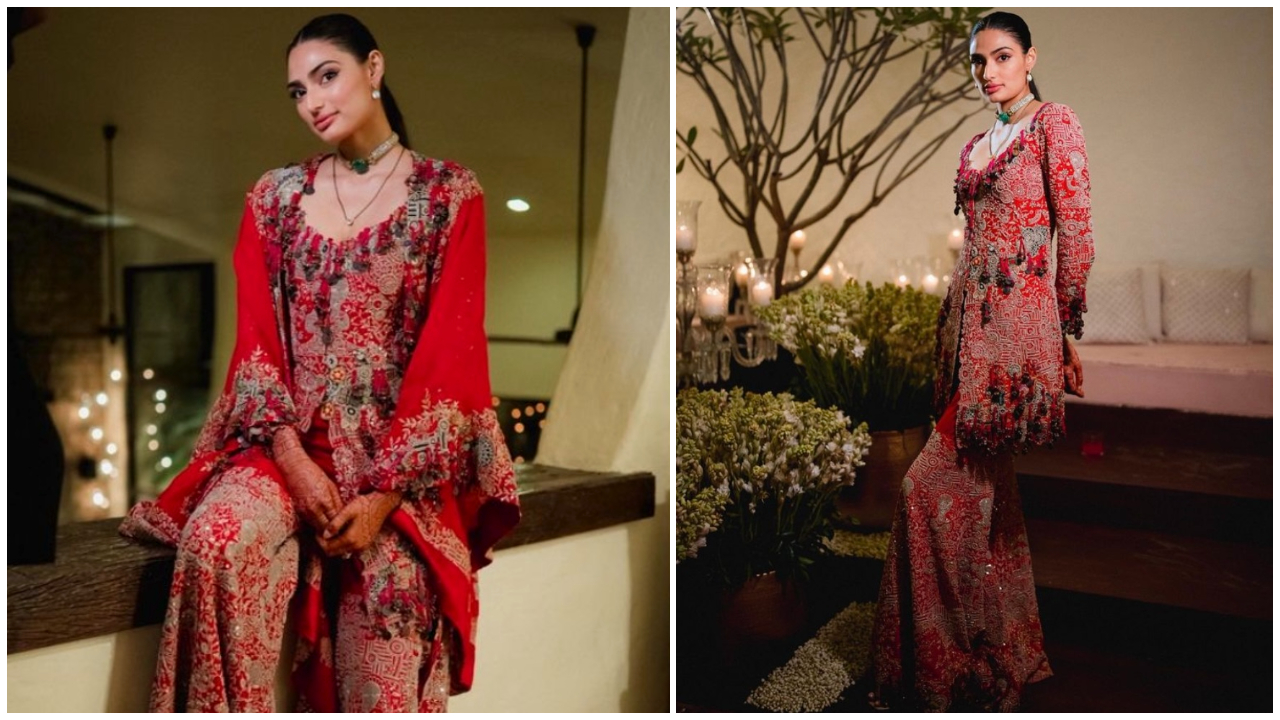 In this ensemble, Athiya Shetty truly looked like a moment personified. For those who aspire to exude such breathtaking beauty, consider the allure of a three-piece dupatta. This versatile addition to your outfit can be worn in various ways. One option is to go dupatta-free, allowing you to focus on a long-sleeved kurta adorned with intricate embroideries and heavy tasseled embellishments. This attention to detail adds an extra layer of elegance and charm to your overall look, making it a memorable choice for special occasions or celebratory events.
To stay warm and stylish during the winter season, consider pairing this stunning long-sleeved kurta with an open jacket. Winter's chill is upon us, and a jacket not only adds an extra layer of warmth but also serves as a fashionable accessory. The open jacket can complement the kurta's design, adding to the overall aesthetic of your outfit.
Additionally, the bell sleeves on the kurta can provide extra insulation and comfort, making them functional and fashionable. Bell sleeves not only keep you warm but also add a touch of flair to your look, enhancing the overall appeal of your ensemble.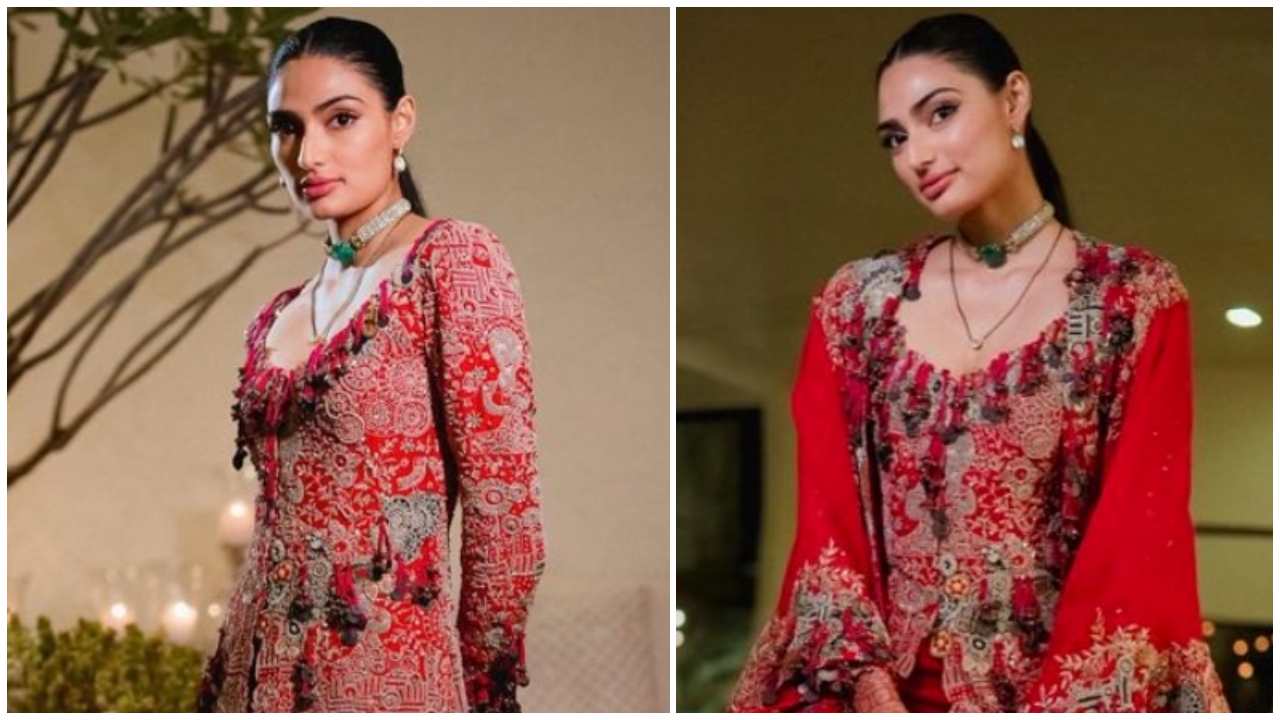 Completing the outfit with sharara pants is a wise choice. Sharara pants, known for their flared design, not only offer comfort but also allow for prettier leg movements. The flared silhouette creates an elegant and graceful look while ensuring ease of movement, making it perfect for occasions where you want to look both stylish and comfortable during the winter months.
Celebrity fashion stylist Ami Patel, renowned for her expertise in curating impeccable looks for Bollywood brides, once again left a lasting mark with her attention to accessories. What sets her styling apart is her ability to strike the perfect balance, and this time was no exception. She demonstrated a keen sense of restraint when it came to jewelry, ensuring that it didn't overpower the overall look.
For this particular ensemble, Ami Patel chose custom jewelry from Birdhichand Ghanshyamdas. The choice of jewelry was both exquisite and understated, allowing it to complement the outfit rather than overshadow it. The drop earrings and studded choker she selected added a touch of elegance and charm to Athiya Shetty's look, elevating it to another level.
To complete the fashionable diary for this occasion, the 30-year-old beauty opted for juttis from Fizzy Goblet. This choice of footwear added a traditional and culturally rich element to the outfit, enhancing the overall aesthetic while ensuring comfort and style.
Ami Patel's meticulous attention to detail and her ability to curate accessories that enhance the overall look without overwhelming it demonstrate her prowess as a fashion stylist. Her choices for Athiya Shetty's ensemble are a testament to her talent and her commitment to creating memorable and balanced looks for Bollywood stars.
Athiya Shetty radiated with a beautiful "glow," as noted by her makeup and hair stylist, Namrata Soni. The makeup and hairstyling choices for this look played a significant role in enhancing her natural beauty and overall appearance.
For her makeup, Athiya opted for a well-defined and captivating look. The eyeliner helped accentuate her eyes, adding depth and drama. Highlighter was skillfully applied to achieve a luminous and radiant complexion, giving her that coveted "glow" that Namrata Soni mentioned. The choice of lipstick likely added a finishing touch to her look, enhancing her lips and completing the makeup with a touch of color.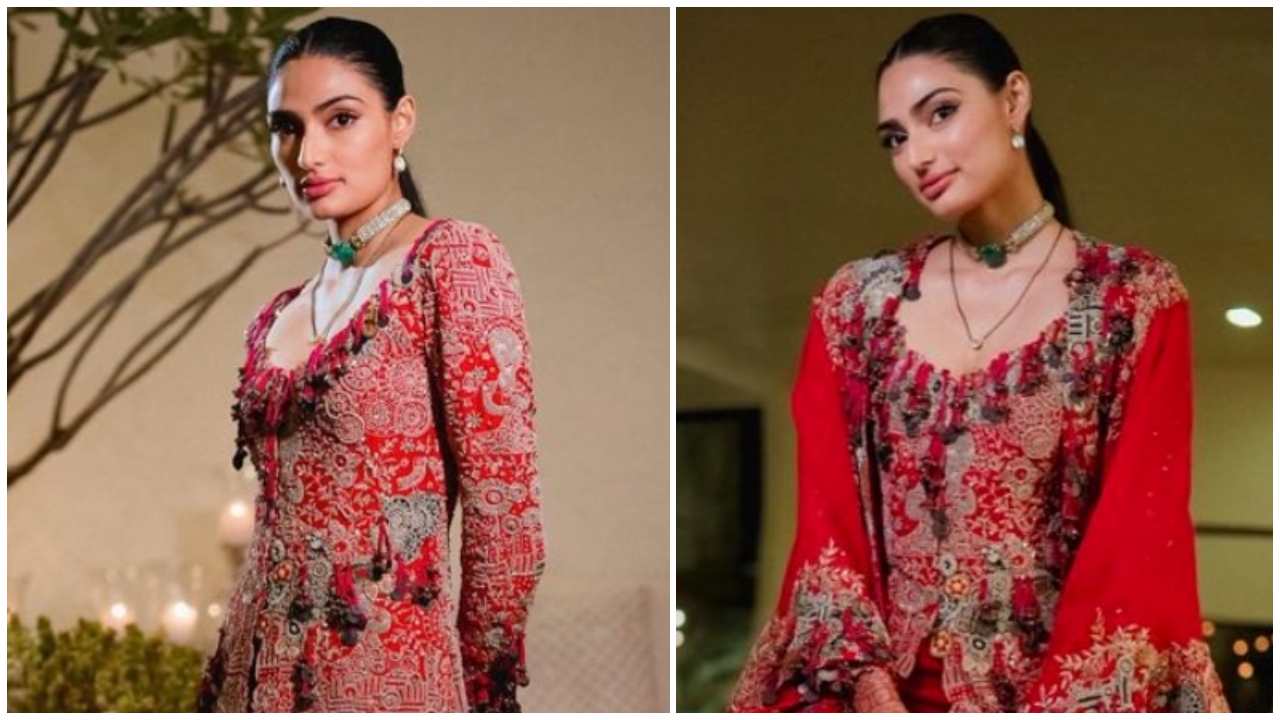 Athiya Shetty's sleek ponytail hairstyle added a sense of sophistication and neatness to her overall appearance. A sleek ponytail is a versatile choice that can both highlight facial features and create a clean, polished look.
Together, these makeup and hairstyling elements contributed to Athiya Shetty's lovely appearance, showcasing her as a true beauty on her special occasion.