Kriti Sanon rocks the airport fashion in a khaki cardigan and white pants with Saint Laurent eyewear
Airport fashion has become a noteworthy aspect of the Bollywood scene, with celebrities like Deepika Padukone and Kiara Advani frequently catching attention for their stylish choices. However, it seems there's a new entrant in the spotlight – the stunning Kriti Sanon! As all eyes turn to her, the question on everyone's mind is whether Kriti will opt for a trendy Western look or captivate us with her traditional elegance.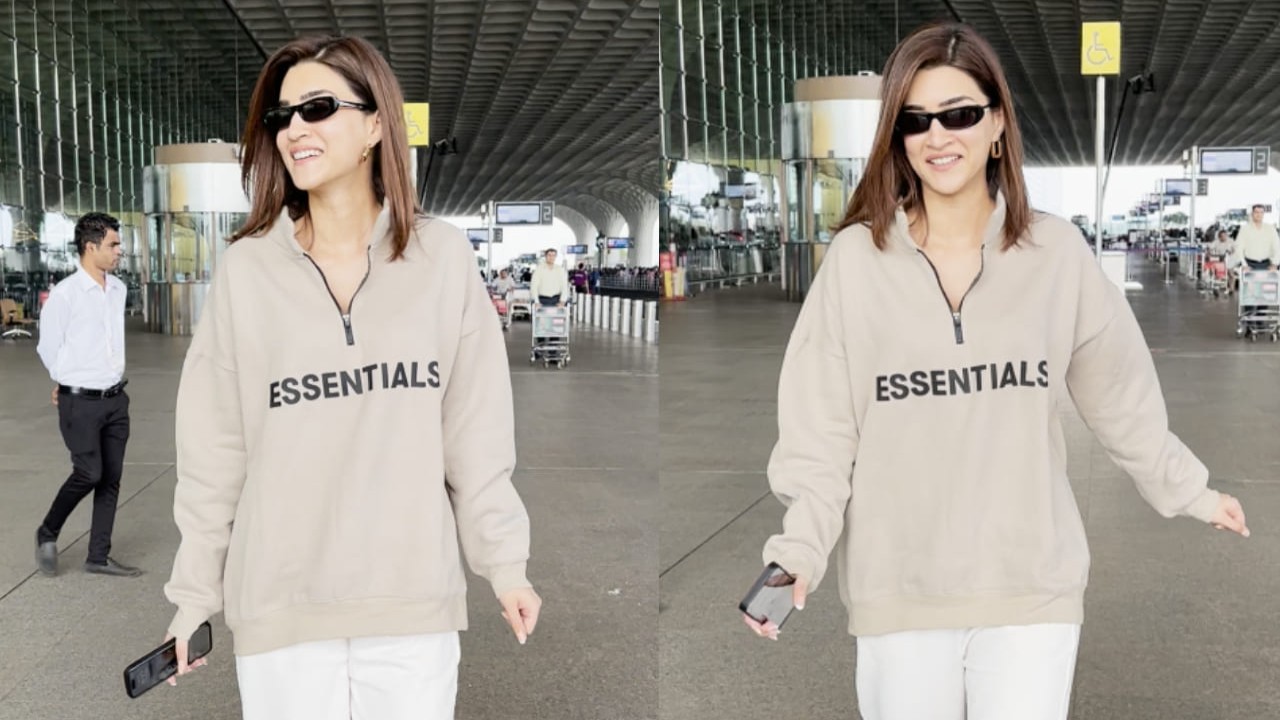 As she steps out of the car, the anticipation builds. Will she choose a contemporary jumpsuit paired with striking trainers, or will she surprise us with a magnificent saree and dazzling jewelry? The excitement is palpable, and the fashion world eagerly awaits her choice.
Kriti Sanon's fashion choices have consistently showcased her versatility and ability to effortlessly switch between different styles. Whether it's red carpet glamour, traditional ethnic wear, or chic casual attire, Kriti knows how to make a statement with her fashion selections.
As she continues to make waves in the world of fashion, Kriti Sanon's airport appearances are just another opportunity for her to captivate our hearts with her style and grace. The anticipation is real, and one can't help but wonder what stunning ensemble she'll choose next to leave us all in awe.
Kriti Sanon's airport fashion choice was undeniably a masterpiece of style fusion. She opted for the Fear of God Essentials Half Zip Pullover Sweater in a striking khaki shade, effortlessly exuding an air of relaxed refinement. The cardigan, featuring broad sleeves, complemented her form flawlessly and accentuated her natural elegance.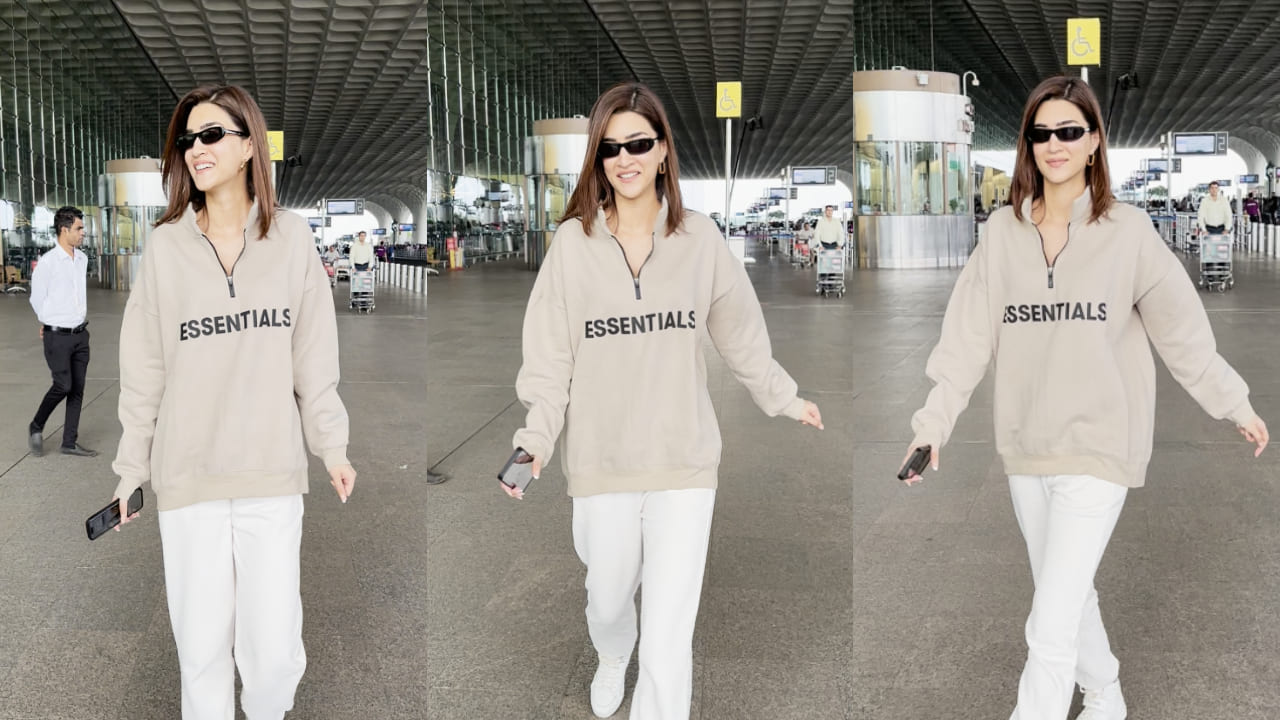 However, what truly elevated the outfit to a whole new level was Kriti's ingenious pairing of the khaki cardigan with white trousers. The contrasting colors worked in perfect harmony, creating a visually captivating ensemble that was a true delight for fashion enthusiasts. The khaki and white combination blended seamlessly, providing an aesthetic feast for the eyes.
Kriti's decision to juxtapose the khaki cardigan with white trousers was nothing short of brilliant. It showcased her fashion-forward thinking and her ability to create an effortlessly stylish look by playing with color and contrast. This ensemble is a testament to Kriti Sanon's impeccable taste and her knack for turning everyday pieces into fashion statements, solidifying her status as a trendsetter in the world of airport fashion.
Kriti Sanon's airport look was completed with her short hair tumbling freely down her shoulders, radiating a carefree and charming vibe. Her relaxed hairstyle added an extra layer of effortless elegance to her overall appearance.
To top off her ensemble, Kriti opted for the classic Saint Laurent SL 557 Shade sunglasses, a pair of sunglasses that exuded undeniable sophistication. The choice of these sunglasses was a testament to her keen eye for accessories that elevate her look. It's no surprise that these shades are also beloved by fashion icons like Hailey Bieber, further solidifying Kriti's status as a style influencer.
Kriti Sanon's attention to detail and her choice of accessories, such as the Saint Laurent sunglasses, demonstrate her commitment to making a lasting impression with her fashion choices. These sunglasses not only added a touch of glamour but also provided a sense of mystery to her look, making her airport stroll a true fashion moment.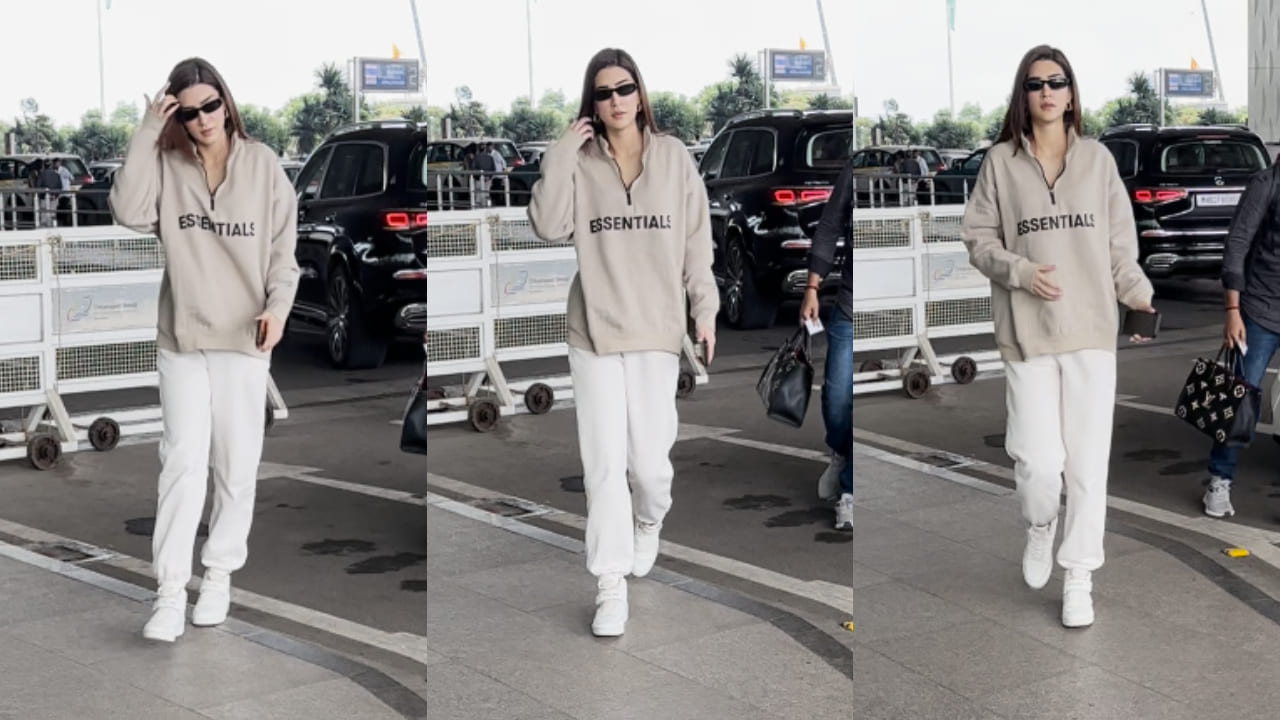 But Kriti didn't stop there, which leaves us eagerly awaiting the next piece of her ensemble and the fashion inspiration she continues to provide with her effortless and chic style.
Kriti Sanon's attention to detail in accessorizing her airport ensemble was truly commendable. Her choice of gold little rectangle hoops added a touch of elegance to her overall look, framing her face beautifully and showcasing her sense of style.
As she confidently strolled through the airport, her feet were adorned with a pair of trainers featuring rounded toes. What made these trainers even more distinct was the iconic Celine signature, which appeared on both the back of the shoe and the velcro strap. This choice of footwear added a modern and high-fashion element to her outfit, demonstrating her ability to effortlessly blend comfort and style.
Kriti Sanon's fashion choices continue to inspire, and her attention to detail in selecting accessories and footwear is a testament to her fashion-forward sensibilities. She knows how to make every element of her ensemble work cohesively, leaving us in awe of her impeccable taste and ability to turn even the simplest pieces into fashion statements.
Absolutely, Kriti Sanon's fashion choices provide excellent inspiration for creating your own stylish ensemble. Here are some key takeaways from her look:
Cardigan with Full Sleeves: Start with a cardigan in a color that suits your style and the occasion. A khaki cardigan, like Kriti's, can be a versatile choice.
Contrasting Bottoms: Elevate your outfit by pairing the cardigan with spotless white bottoms. The contrast of colors adds a visually striking element to the ensemble.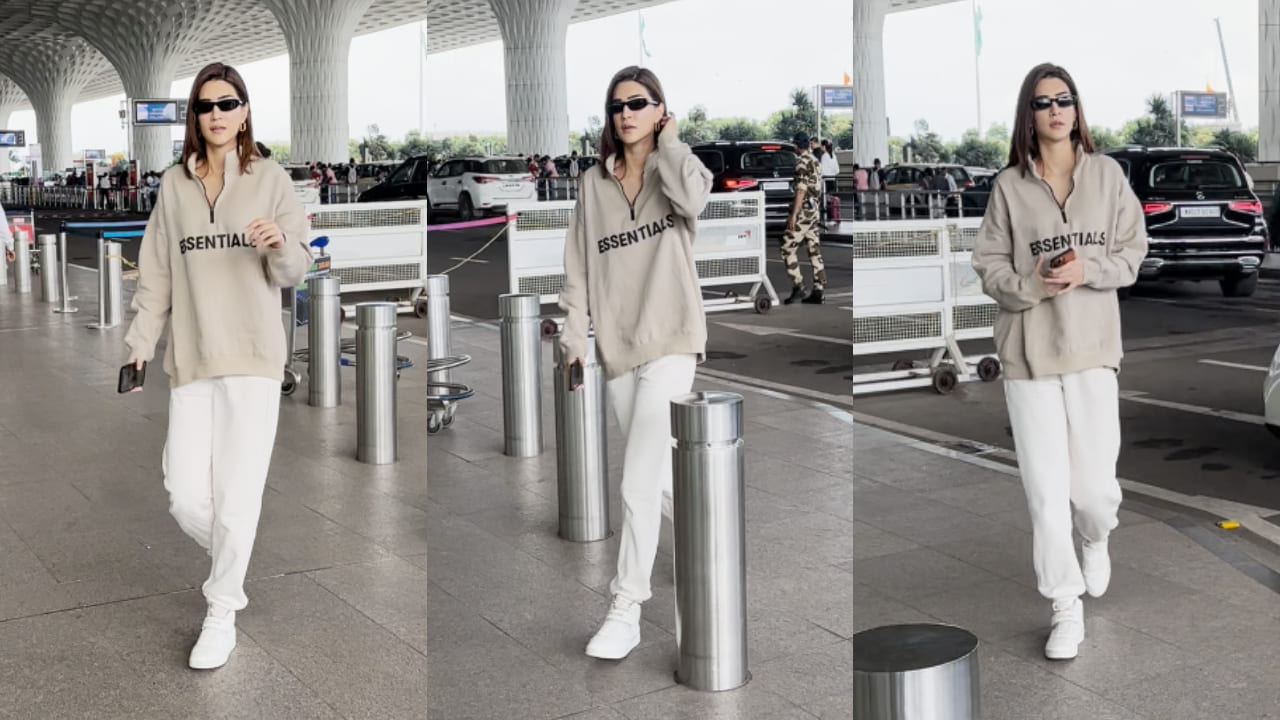 Stylish Sunglasses: Don't underestimate the power of sunglasses to add sophistication to your look. Choose a pair that suits your face shape and style, just like Kriti's Saint Laurent shades.
Elegant Earrings: Consider adding a touch of polished splendor with gold hoops or earrings. The choice of earrings can make a statement and add a hint of luxury to your outfit.
Kriti Sanon's ensemble demonstrates the importance of balance and attention to detail in fashion. By playing with contrasting colors and accessorizing thoughtfully, you can create a stylish and elegant look that reflects your personal style and leaves a lasting impression. Fashion is about expressing yourself, so don't be afraid to experiment and add your unique touch to every outfit.