Kriti Sanon's red and blue Nitya Bajaj saree with oxidized accessories is the ULTIMATE Navratri inspiration
In the realm of fashion and glamour, Kriti Sanon emerges as a true beacon of elegance and style. The stunning actress, known for her impressive performances and impeccable fashion sense, continues to captivate both fans and fashion enthusiasts alike. With every public appearance, she sets a new standard for elegance and sophistication.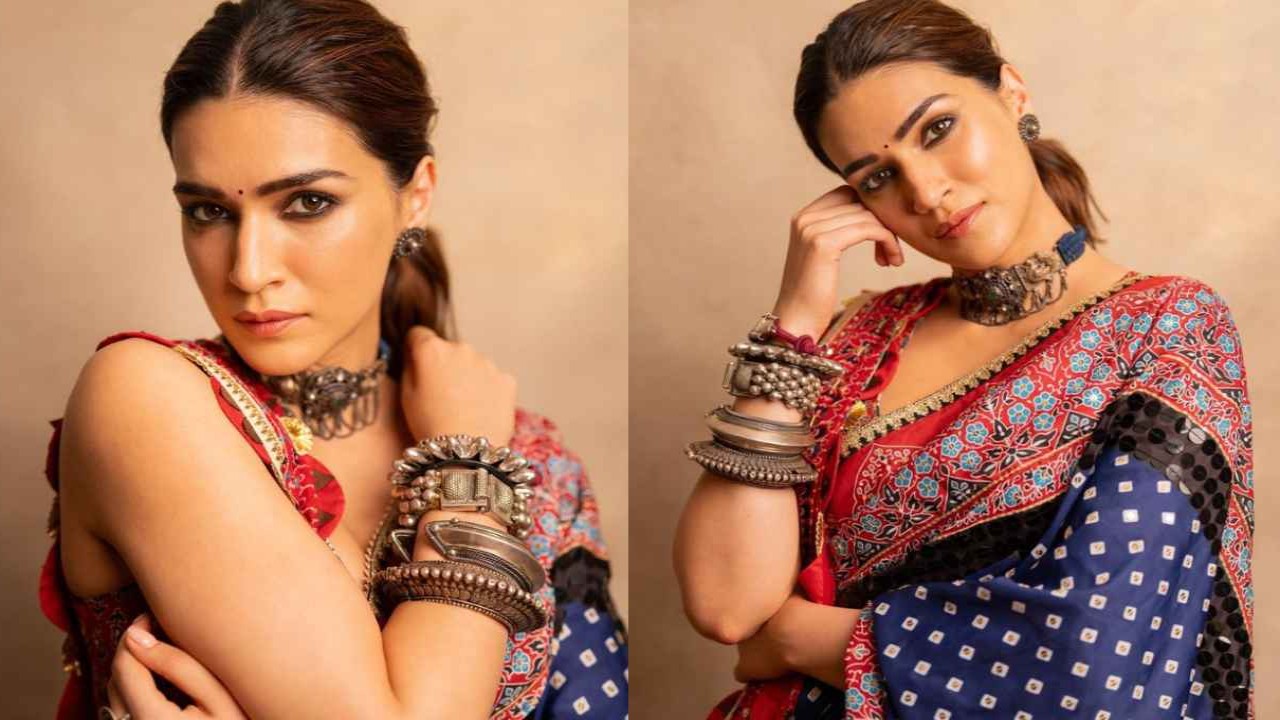 Kriti Sanon was recently spotted and snapped in Ahmedabad while promoting her highly anticipated upcoming movie, "Ganapath." The city of Ahmedabad was abuzz with excitement as the actress graced the promotional event with her presence. Kriti, known for her versatile acting skills, looked radiant and confident as she interacted with the media and her fans.
Kriti's fashion choices have always been on point, and her outfit for the event was no exception. She effortlessly combined style and comfort, reflecting her unique fashion sense. The Dilwale actress knows how to make a statement with her sartorial choices, and she once again proved that she is a trendsetter in the world of fashion and glamour.
As she gears up for the release of "Ganapath," Kriti Sanon's charm and elegance continue to shine bright, making her a role model for those who admire both her acting talent and her impeccable sense of style. With every public appearance, she reinforces her status as a true fashion icon and a beloved figure in the world of entertainment. Kriti Sanon is undeniably a star who effortlessly combines elegance and style in the glamorous world of showbiz.
The saree Kriti adorned was straight off the runway, and it was a masterpiece that combined the magic of special Bandhani print with exquisite Ajrakh block print. This fusion of traditional textile artistry was a true celebration of tradition at its very core. The blue and red drape not only showcased Kriti's impeccable fashion sense but also paid homage to the rich and diverse heritage of Indian textiles. The result was a striking and captivating ensemble that left fashion enthusiasts and onlookers in awe.
Kriti Sanon's choice to wear Nitya Bajaj's creation was a testament to her appreciation for fine craftsmanship and her commitment to celebrating the beauty of traditional Indian designs. The combination of Bandhani and Ajrakh prints in the saree exemplified the perfect blend of tradition and contemporary style. Kriti continues to be a trendsetter in the world of fashion, and her collaboration with Nitya Bajaj exemplified the seamless fusion of art, culture, and style, creating a fashion moment to remember.
The stunning saree that Kriti Sanon wore was not only a masterpiece of traditional textile artistry but also featured additional elements of opulence. It was laden with gorgeous sequin embroidery, adding a touch of shimmer and sparkle to the already exquisite ensemble. The saree also boasted a beyond-special gold scalloped lace at the edge of the drape, which further elevated its elegance and sophistication.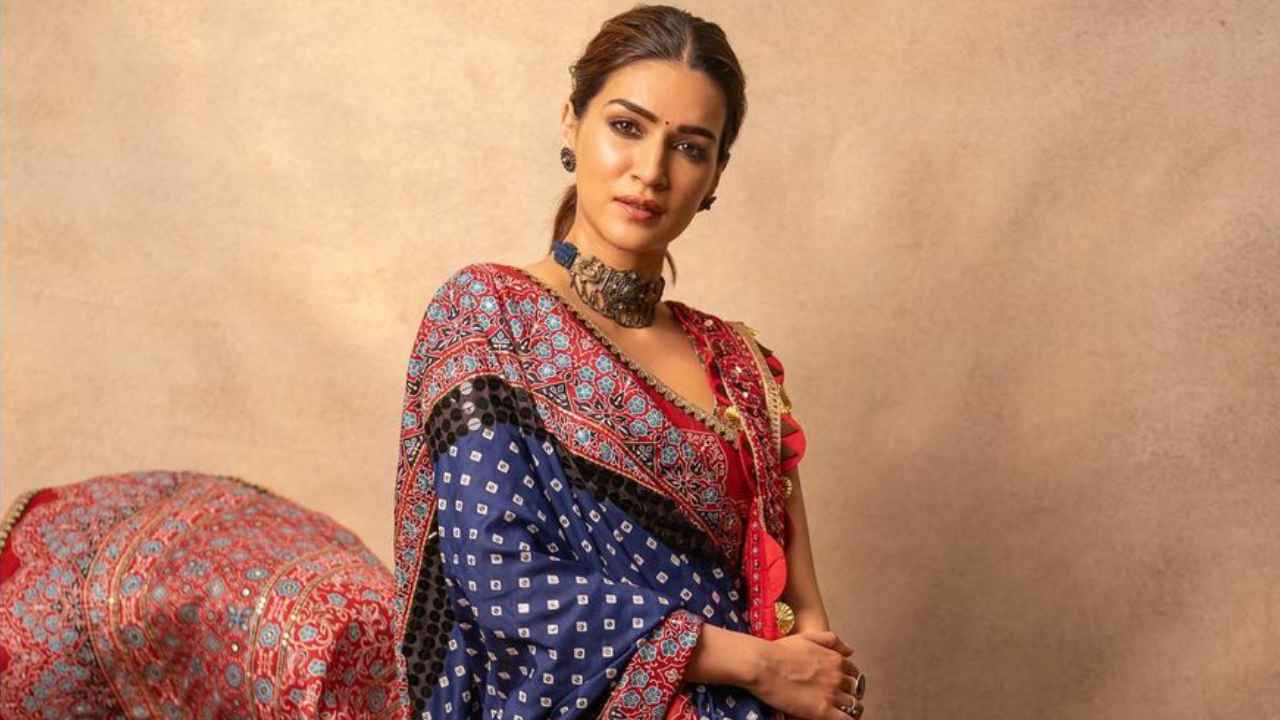 In addition to the exquisite saree, the Adipurush actress made a bold and alluring choice by pairing it with a matching, well-decorated, and colorful sleeveless blouse. This blouse featured a sultry plunging neckline, enhancing the overall allure of the outfit. Kriti's fashion choices consistently demonstrate her ability to strike a perfect balance between traditional elements and contemporary style, creating a look that is both classic and on-trend.
The credit for this exceptional styling goes to Sukriti Grover, whose talent and vision helped Kriti Sanon shine even brighter in this remarkable ensemble. The combination of the sequin embroidery, gold scalloped lace, and the sultry blouse design showcased a perfect blend of tradition and modernity. Kriti's fashion statement was indeed a head-turner, and it's no surprise that admirers and fashion enthusiasts are completely in love with this outfit. It's a true testament to the artistry and creativity that goes into crafting the perfect red carpet look.
The talented Shehzada actress, Kriti Sanon, paid meticulous attention to every detail in completing her colorful ethnic ensemble. To complement her stunning outfit, she chose matching sandals, ensuring that every element of her look was harmonious and well-coordinated. This choice highlighted her commitment to a cohesive and polished appearance that exuded elegance.
Kriti Sanon's attention to detail and her ability to accessorize with such finesse further solidify her position as a fashion icon. Her outfit and accessories were not merely fashion choices but a testament to her understanding of how to elevate her overall look with a perfect blend of contemporary and traditional elements. Her appearance was undoubtedly a showstopper and an inspiration for fashion enthusiasts.
Furthermore, Kriti Sanon, the Housefull 4 actress, displayed her penchant for fine details by carrying an aesthetic traditional silver oxidized bag with an intricate design. This unique accessory added an additional layer of charm and elegance to her overall ensemble. The bag, sourced from Candidham, perfectly complemented her choice of oxidized jewelry and enhanced the cohesive look she had put together for the occasion.
Kriti's selection of the silver oxidized bag showcased her commitment to a holistic and thoughtfully curated appearance. The intricate design of the bag not only served a functional purpose but also made a statement as a fashionable accessory. This choice reflected her keen eye for fashion and her dedication to embracing traditional elements with a contemporary twist.
In every aspect of her outfit, from the saree to the jewelry and the silver oxidized bag, Kriti Sanon demonstrated her ability to master the art of accessorizing and style coordination. Her fashion choices consistently stand out, not only for their beauty but for the careful consideration that goes into crafting a look that is both striking and authentic. Kriti's appearance at this event was a testament to her status as a true fashion icon and trendsetter in the world of glamour and style.
Last but not least, Kriti Sanon, the beautiful Panipat actress, once again showcased her impeccable hair and makeup game, which was nothing short of perfection. Her ability to elevate her overall look with a well-thought-out hair and makeup style is a testament to her dedication to every detail of her appearance.
For this particular event, the Arjun Patiala actress made a striking choice by tying her hair up and styling it into a center-parted low and sleek ponytail. This hairstyle exuded sophistication and modernity, allowing her to show off her beautiful features and the intricate design of her traditional necklace. The sleek ponytail perfectly complemented the traditional elegance of her outfit, creating a harmonious balance between modern and classic.
Kriti's makeup was equally on point, highlighting her natural beauty and enhancing her radiant complexion. Her choice of makeup colors and techniques accentuated her eyes and lips, without overpowering her overall look. The result was a flawless and elegant makeup style that perfectly matched her outfit and accessories.
Kriti's makeup also extended to her cheeks, with a touch of rosy blush that added a healthy and youthful glow to her complexion. The highlighted cheekbones accentuated her facial structure, giving her a sculpted and elegant appearance. The final touch of a glossy peach lip color perfectly complemented the colors in her outfit and brought a fresh and modern twist to her overall look.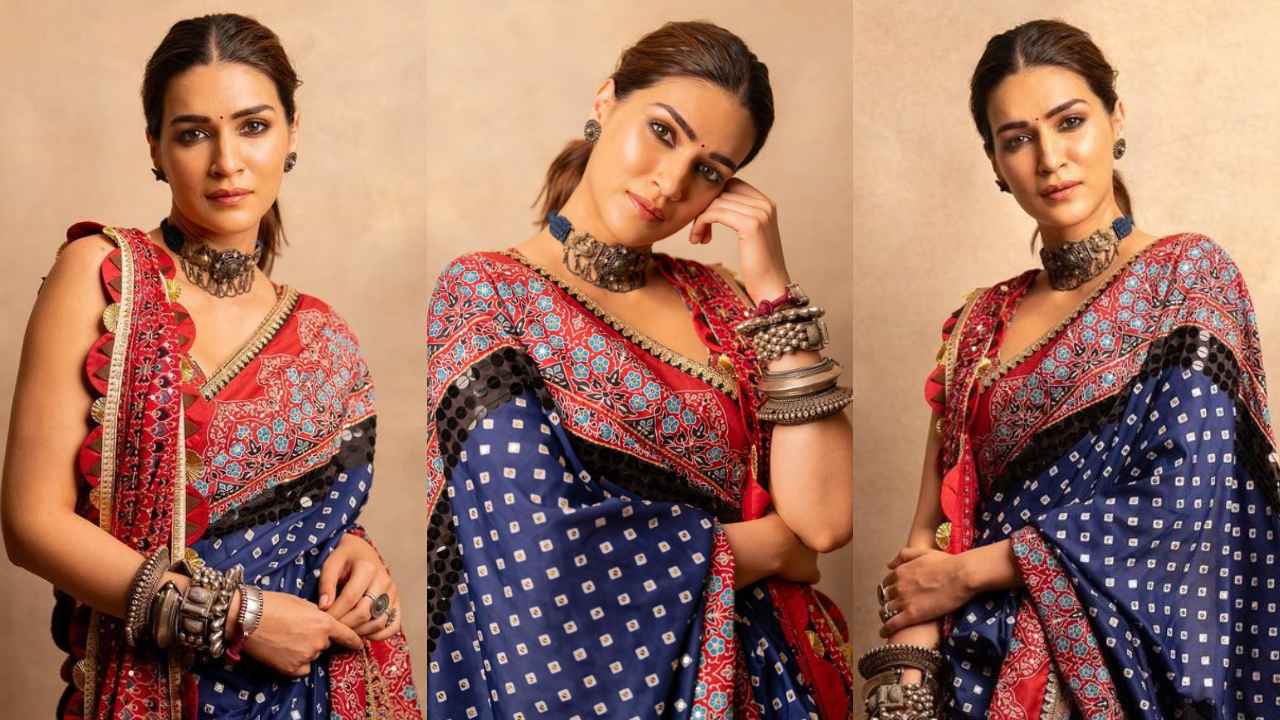 Kriti Sanon's makeup look was a masterclass in balancing tradition with contemporary style. It enhanced her natural beauty and radiance, ensuring that she was a sight to behold at the event. Her choice of makeup colors and techniques highlighted her facial features and added depth to her appearance, underscoring her status as a true style icon in the world of fashion and glamour.