Priya Prakash Varrier Radiates Allure in a Red Top with a Plunging Neckline: Latest Captivating PHOTOS!
Priya Prakash Varrier's ability to capture the internet's attention is truly remarkable, and once again, she has succeeded in garnering numerous eyeballs with her latest photoshoot. Sharing blazing pictures on Instagram, she showcased her style prowess in a striking ensemble that perfectly balances boldness and chic.
In the photoshoot, Priya donned a red top with a plunging neckline, a choice that immediately draws attention and exudes confidence. The plunging neckline adds an element of allure and sensuality to the outfit, while the vibrant red color makes a bold statement that's hard to ignore. Her choice of a red top showcases her fearless approach to fashion, as she embraces daring styles that set her apart.
The pairing of the red top with pink polka dot trousers is a creative and unexpected combination that reflects her willingness to experiment with contrasting colors and patterns. This fusion of colors adds a playful and youthful touch to the look, while the polka dot pattern introduces a hint of whimsy.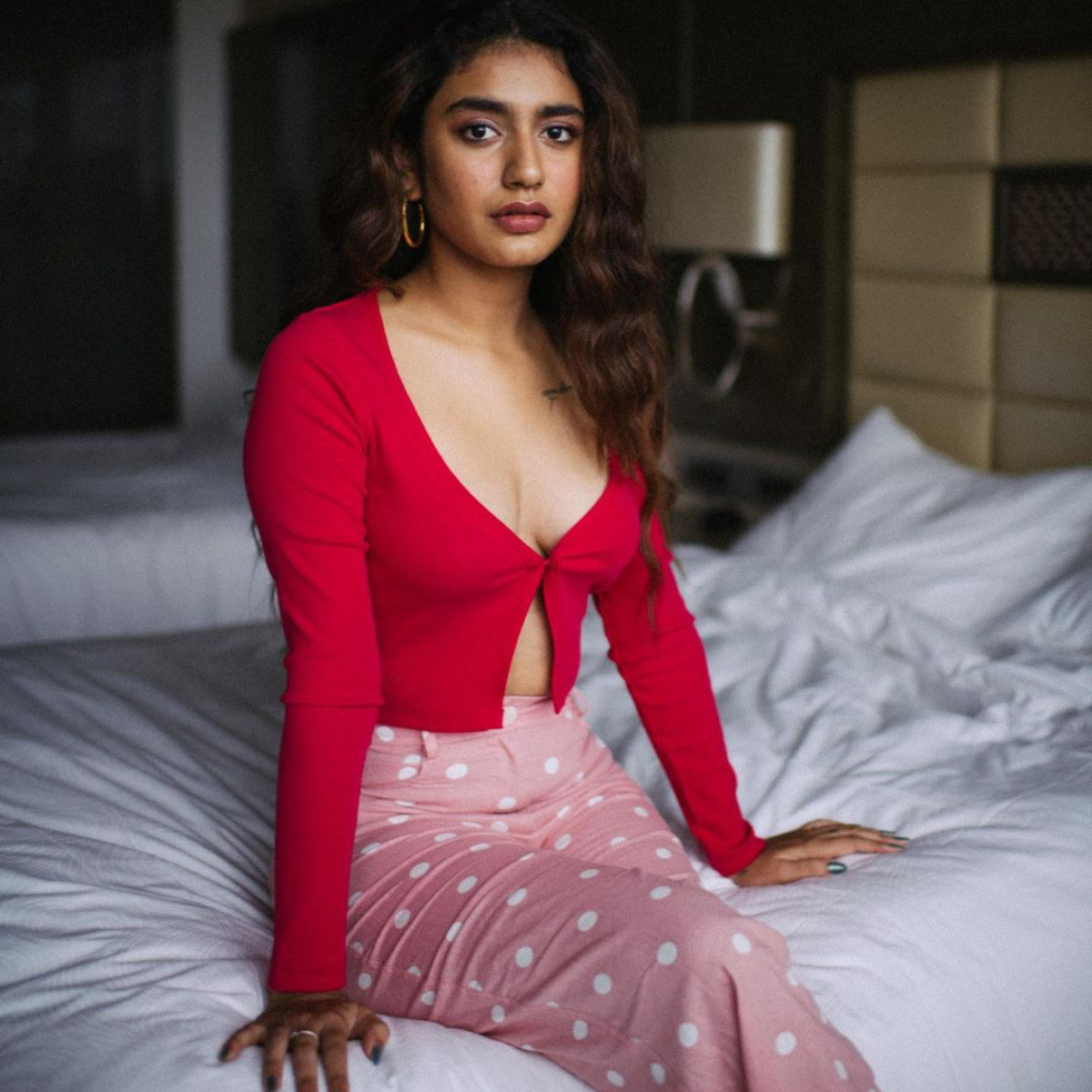 Accessories play a crucial role in completing any outfit, and Priya's choice of gold hoop earrings is a perfect complement to the ensemble. Gold hoops are a timeless accessory choice that adds a touch of glamour and sophistication. Their simplicity allows them to enhance the overall look without overpowering the vibrant outfit.
Priya's ability to strike a balance between boldness and chic style is evident in this photoshoot. Her confidence in wearing an ensemble that demands attention and her flair for mixing colors and patterns demonstrate her prowess as a trendsetter.
Priya Prakash Varrier's influence as a trendsetter is evident once again in her latest social media update. Posing on her bed, she exudes confidence and style in an outfit that is not only ravishing but also ideal for a date night.
Her choice of outfit reflects her ability to curate looks that are both fashionable and appropriate for various occasions. The fact that she chose to pose on her bed adds a touch of intimacy and personal connection, inviting her audience into her world and making the update even more engaging.
The outfit, described as perfect date night attire, suggests a balance between allure and sophistication. Priya's knack for selecting ensembles that are both appealing and suitable for specific settings highlights her understanding of fashion as a means of self-expression.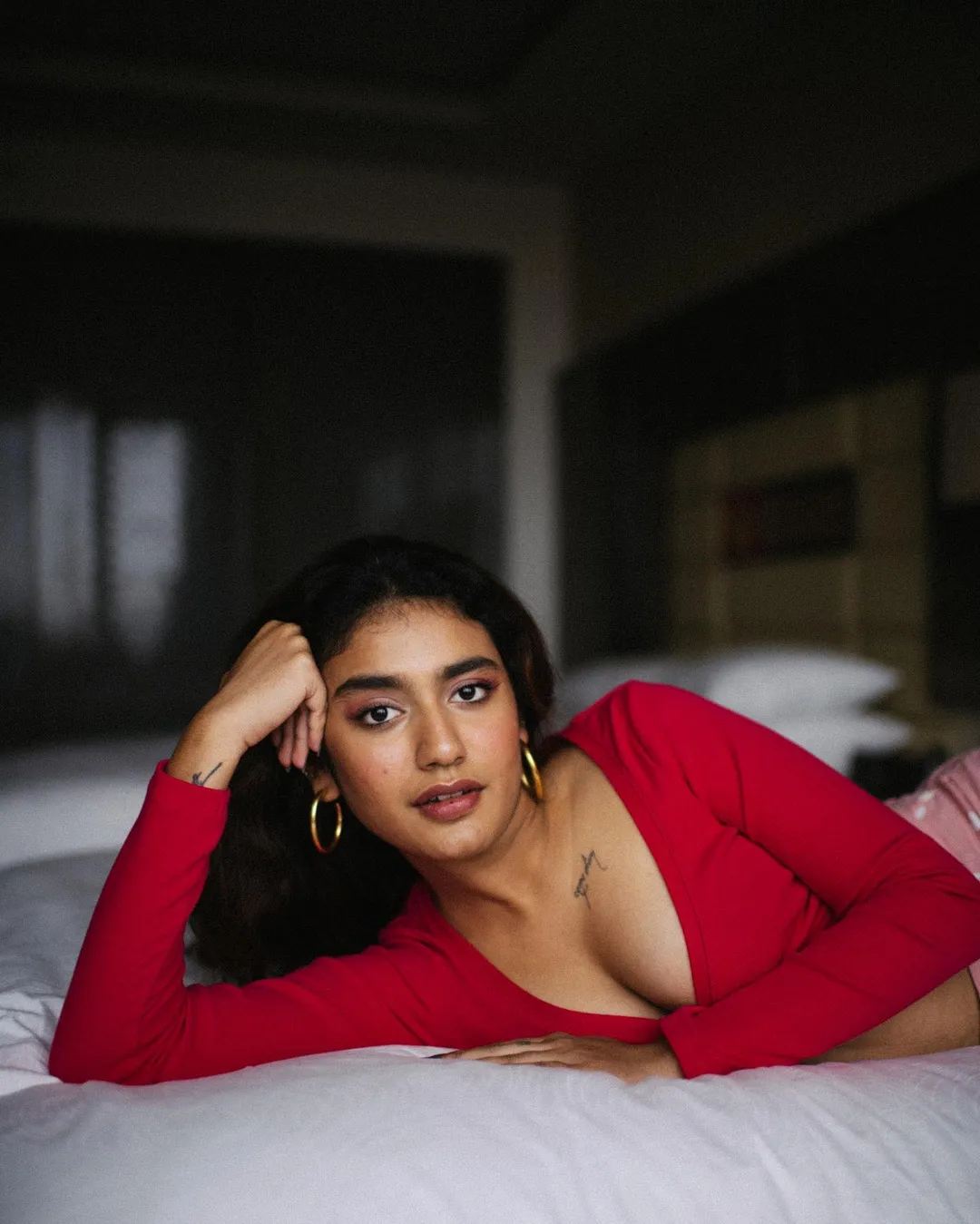 While the exact details of the outfit are not mentioned, the description conveys a sense of anticipation and curiosity. Priya's ability to evoke interest and anticipation among her followers is a testament to her impact as a style icon and influencer.
In this social media update, Priya Prakash Varrier continues to set trends and make a statement with her fashion choices. By effortlessly blending style and context, she inspires her audience while also sharing glimpses of her own personal style journey.
Priya Prakash Varrier's consistent delivery of sizzling updates on the photo-sharing app has garnered immense admiration from her fans. Her ability to captivate her audience with each post is a testament to her influence and appeal as a social media sensation.
Her updates are not only visually striking but also embody a sense of style and confidence that resonates with her followers. By sharing her fashion choices, beauty looks, and personal moments, she invites her fans to be a part of her journey and lifestyle.
The affection and admiration she receives from her fans highlight her impact as a fashion and style icon. Through her posts, she creates a connection with her audience, fostering a community of individuals who appreciate her sense of fashion and the content she shares.
As a social media influencer, Priya Prakash Varrier's ability to consistently engage her followers and provide them with content they love speaks to her prowess in using the platform to express herself and connect with her fan base. Her sizzling updates not only reflect her personal style evolution but also inspire others to embrace fashion, beauty, and self-expression.
In the world of social media, where trends change rapidly and attention spans are short, Priya's ability to maintain a strong and devoted fan base through her updates is a true testament to her appeal and influence.
On the professional front, Priya Prakash Varrier is gearing up for an exciting year with three promising movies set to be released. Among these projects is the Sandalwood movie "Vishnu Priya," which is eagerly anticipated by her fans. The film is scheduled for a theatrical release on the 25th of July.
As her career continues to flourish, Priya's ventures into different film industries showcase her versatility as an actress and her growing presence on the cinematic stage. The anticipation surrounding the release of "Vishnu Priya" reflects her ability to captivate audiences and maintain a strong following beyond her initial viral fame.
Fans and movie enthusiasts alike are eagerly awaiting the release of "Vishnu Priya" and her other projects, eager to witness her performances and see how her talent continues to evolve on the silver screen. Priya Prakash Varrier's journey in the entertainment world continues to be one marked by excitement and anticipation, with her upcoming films poised to further solidify her position in the industry.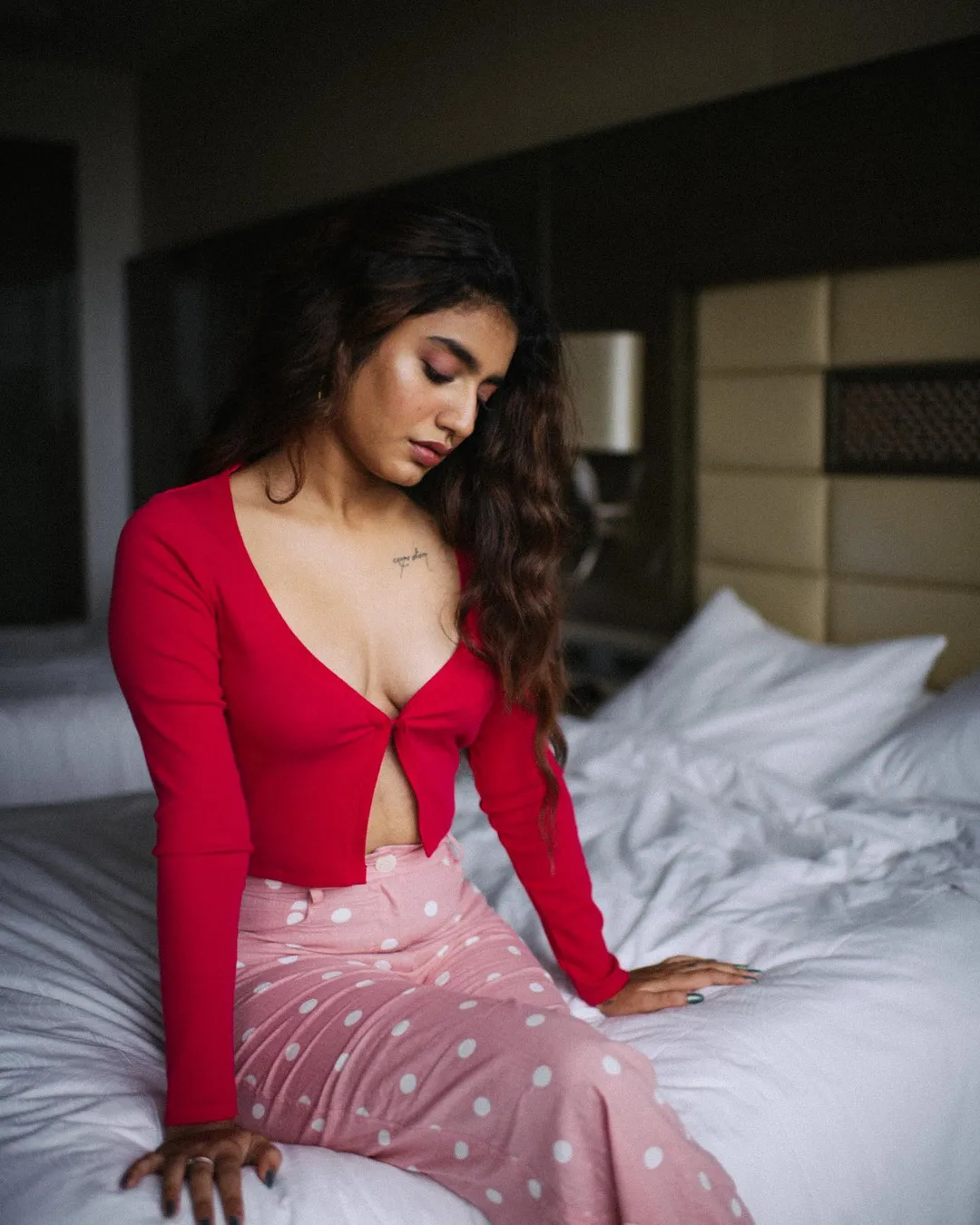 "Vishnu Priya" sounds like an exciting project with an interesting cast and crew. Shreyas K Manju's involvement adds another layer of anticipation to the film's release.
The fact that it's being directed by VK Prakash, a renowned director known for his work in the Malayalam film industry, suggests that the film could offer a unique blend of storytelling and creative direction.
It's noteworthy that the film is financed by Shreyas' father, K Manju, who has a presence in the industry. This familial involvement in the production could contribute to a personal touch and dedicated commitment to the project's success.
The diverse shooting locations within Karnataka, including Bengaluru, Mysuru, and Chikmagalur, hint at a visually appealing film that might offer a rich backdrop to the narrative.
Gopi Sundar as the music composer is a noteworthy addition, given his reputation for creating impactful and melodious compositions. His music has the potential to elevate the emotional depth of the film and enhance its impact on the audience.
Together, this technical crew showcases a team of professionals who are well-equipped to bring the story of "Vishnu Priya" to life, both visually and audibly. The collaboration of these skilled individuals can contribute significantly to the overall quality and appeal of the film.
Priya Prakash Varrier's upcoming projects showcase her versatility as an actress, with two diverse films in her pipeline.
"Kolla," directed by Suraj Varma, offers an intriguing prospect for Priya to showcase her acting prowess. The details of the film's genre and storyline are awaited, but her involvement suggests a commitment to exploring different roles and genres.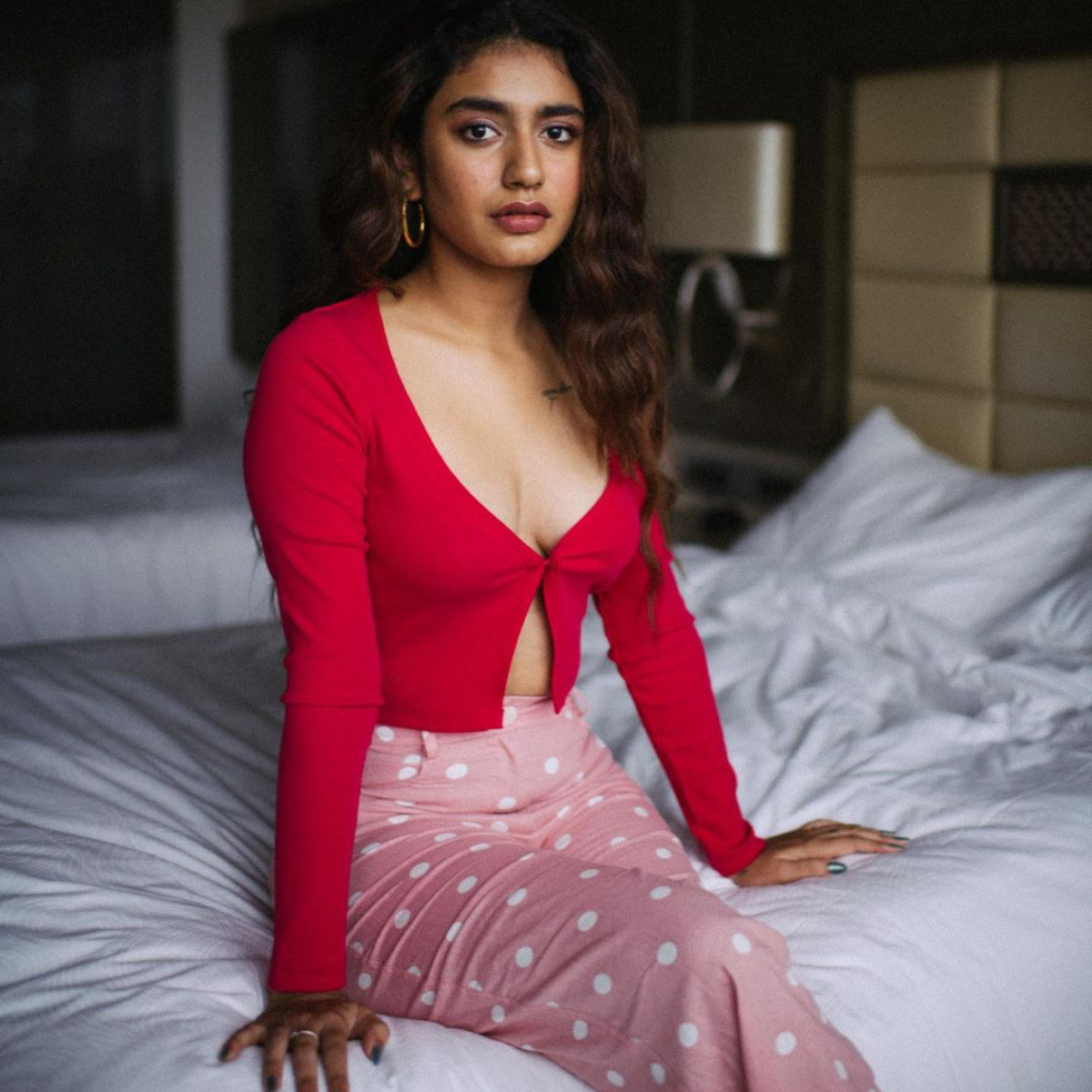 On the other hand, "Sridevi Bungalow," directed by Prasanth Mambully, is another project that piques curiosity. Given the title, it's possible that the film could delve into the life and legacy of the iconic actress Sridevi. However, until more information is available, the film's exact premise remains a mystery.
Both projects highlight Priya's ongoing journey in the entertainment industry and her willingness to take on diverse roles and challenges. Her fans and audiences will surely be looking forward to seeing her in these different cinematic ventures.