Priya Prakash Varrier's White Power Outfits Redefine Style Standards!
Priya Prakash Varrier's journey to fame is a remarkable tale of how a single moment can propel someone into the global spotlight. In 2018, her brief appearance in a segment from a Malayalam movie song turned her into an overnight sensation. With a playful wink, she captured the hearts of millions and earned the affectionate nickname "the winking girl." The video swiftly went viral, catapulting her into the limelight and making her an internet sensation.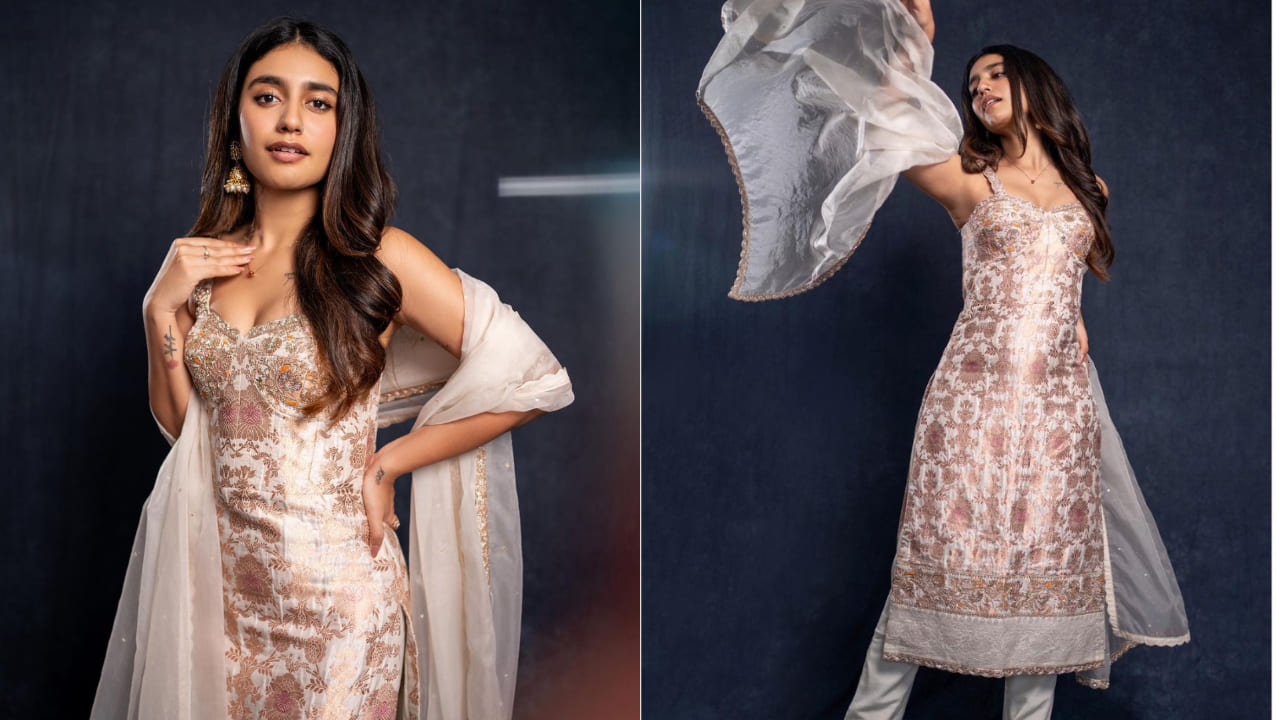 Her captivating smile and expressive eyes were at the core of her appeal. People from all corners of the world were drawn to her charm and charisma, and her viral fame quickly transcended geographical boundaries. The power of social media played a significant role in disseminating her video and making her a household name.
Following the viral breakthrough, Priya Prakash Varrier's talents extended beyond the viral moment. She made her acting debut in the movie "Oru Adaar Love," where her performance was met with praise from both critics and audiences. Her ability to translate her on-screen presence into a successful acting career demonstrated her versatility and potential as a performer.
The story of Priya Prakash Varrier serves as a testament to the unpredictable nature of fame in the digital age. A seemingly simple gesture—a wink—captured the collective imagination and turned her into an overnight sensation. Her journey underscores the transformative power of the internet and how a brief moment can lead to incredible opportunities.
As she continues her journey in the world of entertainment, Priya Prakash Varrier's story remains a symbol of how a genuine and relatable moment can create a lasting impact. Her ability to connect with audiences through her expressions and talent demonstrates the potential for talent to shine through regardless of the medium, ultimately defining her as more than just "the winking girl" but as a promising actress with a bright future.
Priya Prakash Varrier's sense of style has evolved into a unique blend of casual and sophistication, as evidenced by her chic white ensembles and beach fashion escapades in Thailand. Her fashion choices reflect a balance between relaxed comfort and refined elegance, making her a standout in the world of style. Through her Instagram photos and curated photo sessions, she has earned a reputation as a young style diva, captivating audiences with her personal fashion journey.
Her penchant for chic white ensembles speaks to her understanding of the timeless appeal of this color. White signifies purity and simplicity, and Priya's choice to embrace it in her outfits exudes a sense of understated elegance. Whether she's donning a white dress, jumpsuit, or separates, her ability to create a cohesive and fashionable look is a testament to her keen eye for aesthetics.
Priya's beach fashion goals in Thailand highlight her ability to capture the essence of carefree yet sophisticated vacation style. Beach fashion requires a delicate balance between comfort and flair, and she effortlessly achieves that with her selection of outfits. From breezy sundresses to stylish swimwear paired with cover-ups, her beach looks reflect her confidence and appreciation for easygoing elegance.
In the photo where she's seen carrying the salwar suit look, Priya exudes confidence and grace. Her ability to wear the outfit with ease highlights her comfort in embracing various styles and her capability to make them her own. This particular ensemble is a prime example of how she can adapt her style to different occasions while maintaining her signature flair.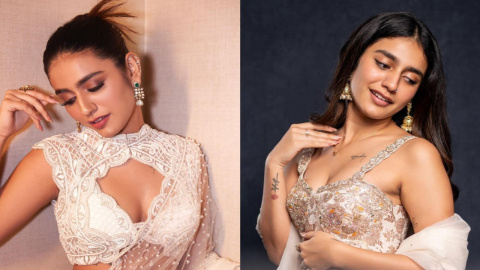 In another captivating picture, Priya shines in a pristine white saree. White sarees are known for their timeless elegance and versatility. Priya's choice to wear a white saree showcases her understanding of the impact that simplicity and purity can have in fashion. The saree allows her to stand out effortlessly, emphasizing her beauty and charisma.
Priya Prakash Varrier's recent appearance in a white salwar suit is truly mesmerizing, showcasing her ability to exude elegance and sophistication in every fashion choice. The intricate detailing on the ensemble adds a touch of opulence to the outfit, making it a true standout. This ensemble is a testament to her knack for selecting pieces that blend traditional elements with contemporary allure.
The brocade fabric blouse, adorned with ornate embroidery on the straps, is a masterpiece that captures attention and reflects her refined taste. The embroidery not only adds a touch of glamour but also showcases the craftsmanship that goes into creating such a stunning piece. The combination of brocade fabric and intricate embroidery highlights her ability to curate outfits that balance luxury with sophistication.
The pairing of the white dupatta featuring a border lace with a scalloped edge further adds to the ensemble's charm. The border lace enhances the elegance of the outfit, while the scalloped edge adds a soft and feminine touch. These small details contribute to the overall aesthetic appeal, making the ensemble cohesive and visually pleasing.
It's worth noting that this ensemble is from Kavitha Gutta's collection, which reflects Priya's support for designers and brands that offer unique and exquisite pieces. Her choice to wear outfits from such collections not only showcases her fashion-forward sensibilities but also highlights her influence in promoting emerging designers.
Priya's choice to accessorize the ensemble with a charming nose ring, earrings, a necklace, and a ring enhances the overall elegance of the look. The choice of accessories complements the outfit without overpowering it, creating a harmonious balance between the clothing and the jewelry. This attention to detail is a testament to her ability to create a complete and polished look.
Priya Prakash Varrier's appearance in the exquisite white saree crafted by Kamaali Couture is a true embodiment of impeccable style and flawless grace. This ensemble showcases her ability to seamlessly blend tradition with a modern edge, resulting in a look that is both timeless and contemporary.
The arrangement of pearls in an abstract manner is a striking detail that elevates the overall allure of the ensemble. This creative use of pearls adds a touch of sophistication and uniqueness to the look, further highlighting Priya's ability to curate outfits that stand out.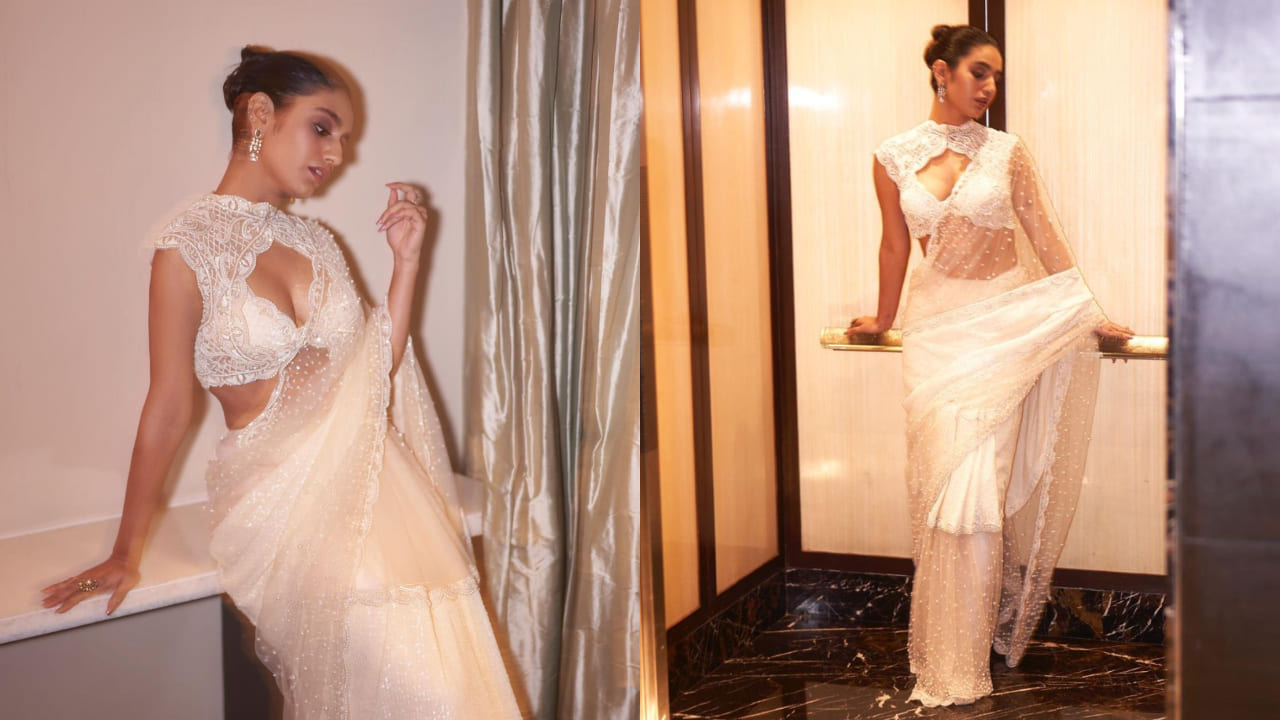 Priya's makeup, executed by Sadhna Singh, enhances her natural beauty with a soft and graceful touch. The classic bun hairdo by Rajab Ali and the traditional earrings from H Vithaldas Jewellers perfectly complement the overall traditional charm of the ensemble. These elements come together to create a harmonious and cohesive look that showcases her attention to detail and dedication to achieving a complete aesthetic.
In this traditional ensemble, Priya Prakash Varrier effortlessly exudes elegance and charm. Her ability to carry herself with poise and confidence in such a well-curated outfit is a testament to her fashion acumen. This look not only celebrates her personal style but also reflects her influence as a style icon who continues to inspire and captivate fashion enthusiasts worldwide.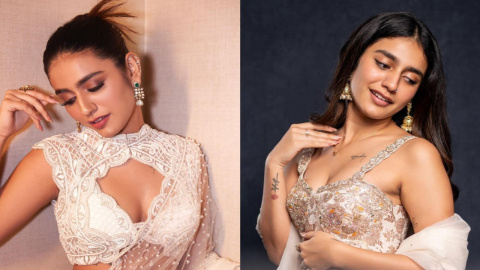 In conclusion, Priya Prakash Varrier's appearance in the white salwar suit adorned with intricate detailing is a visual masterpiece that exemplifies her sense of style. The combination of luxurious fabric, ornate embroidery, and carefully selected accessories creates a look that is both captivating and elegant. Through her fashion choices, she continues to inspire and captivate fashion enthusiasts with her refined and sophisticated taste.