Nora Fatehi Slays in a Fashion-Forward Power Outfit: Shorts and Blazer Elegance!
In the dynamic and ever-evolving realm of fashion, Nora Fatehi has undeniably established her own unique space through her impeccable and distinctive style choices. While she is renowned for her captivating dance moves and enchanting beauty, there's more to her allure – her remarkable ability to effortlessly carry off any ensemble with unmatched beauty, grace, and confidence.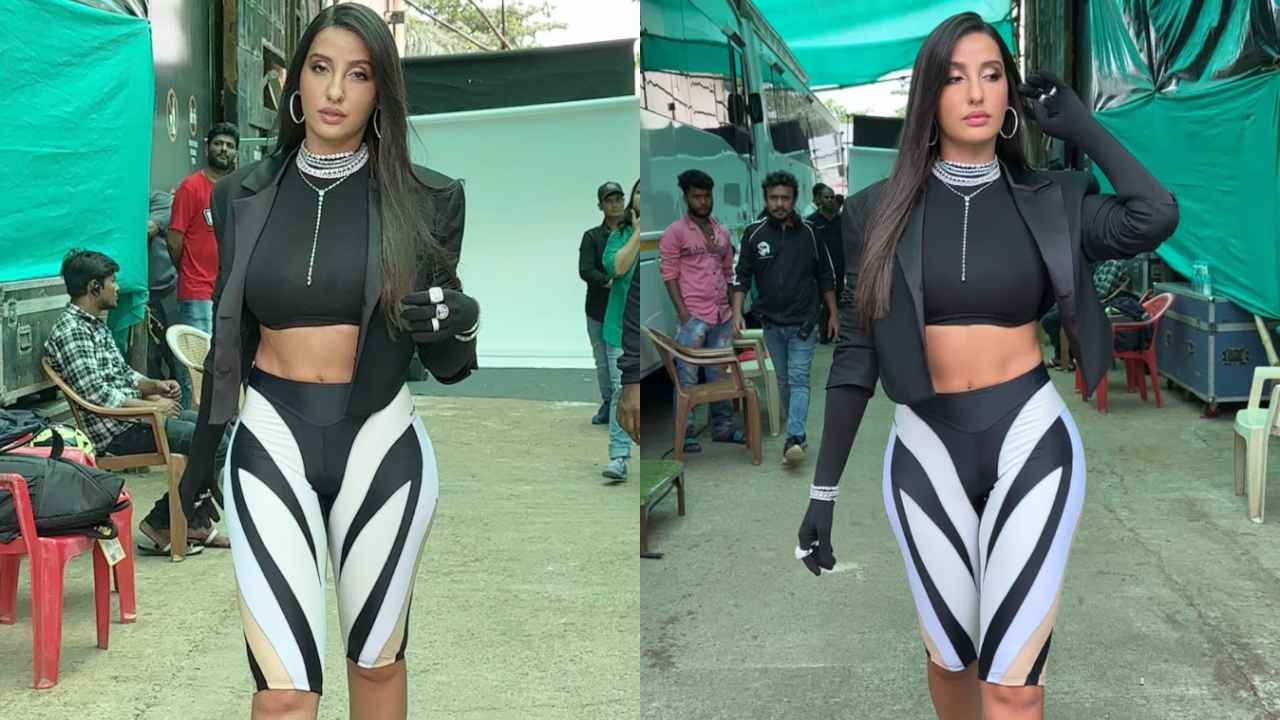 Nora Fatehi's fashion sensibility reflects her mastery in combining the elements of style, elegance, and individuality. Her choices resonate with her personality, allowing her to create a harmonious synergy between her inner self and her outward appearance.
The description of her ability to carry everything she wears with utmost beauty, grace, and confidence speaks volumes about her presence and charisma. Confidence is a key ingredient in making a fashion statement, and Nora's unwavering self-assurance adds a layer of authenticity to her fashion choices.
Nora Fatehi's knack for selecting outfits that resonate with her persona showcases her keen understanding of fashion as a form of self-expression. Her impeccable style choices serve as an inspiration to others, encouraging them to embrace their unique individuality and experiment with their own fashion journeys.
Her fusion of mesmerizing dance moves and enchanting beauty with her impeccable style choices showcases her multidimensional talent and captivating presence. This ability to seamlessly integrate various facets of her identity contributes to her standing as a true fashion icon.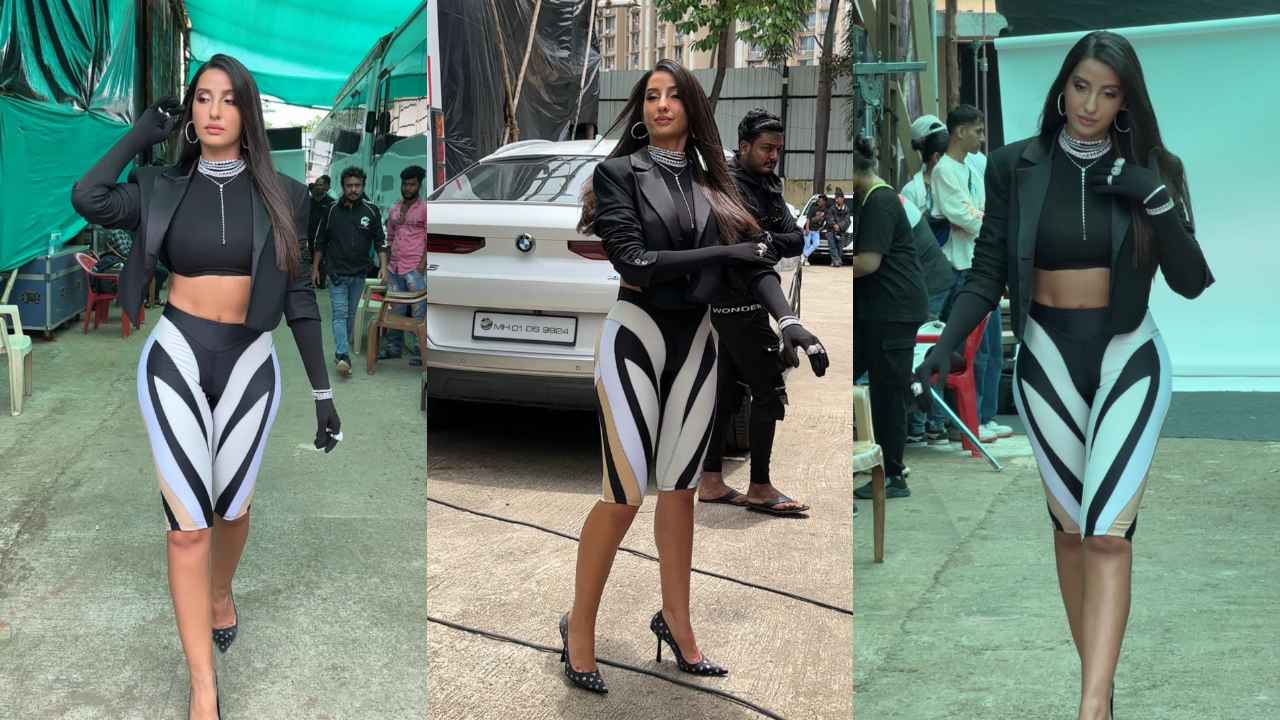 Nora Fatehi demonstrated her exceptional fashion sense by incorporating a pair of quirky shorts that injected a playful element into her overall sophisticated look. This intriguing contrast showcased her ability to balance different style elements seamlessly. Her role as a judge on Hip Hop India provided the perfect backdrop for her ensemble.
The choice of a sleek black cropped top allowed Nora to highlight her well-toned midriff, adding a touch of sensuality to the outfit. This pairing not only exuded confidence but also emphasized her understanding of how to accentuate her best features.
The addition of a tailored black blazer served as a cornerstone of elegance, transforming the ensemble into a balanced fusion of edginess and sophistication. The timeless nature of a black blazer added a sense of refined class that perfectly aligned with the overall look.
What truly set Nora's ensemble apart were the iced-out accessories she adorned. The term "iced-out" suggests a dazzling and opulent quality, indicating that her choice of accessories was a striking focal point of her look. These accessories likely contributed to the outfit's uniqueness and made her stand out, demonstrating her ability to make bold yet tasteful style statements.
Nora Fatehi's fearless approach to fashion experimentation was evident as she wholeheartedly embraced the monochrome theme. Her choice of a pair of black studded heels to complete her look showcased her confidence in making bold style choices.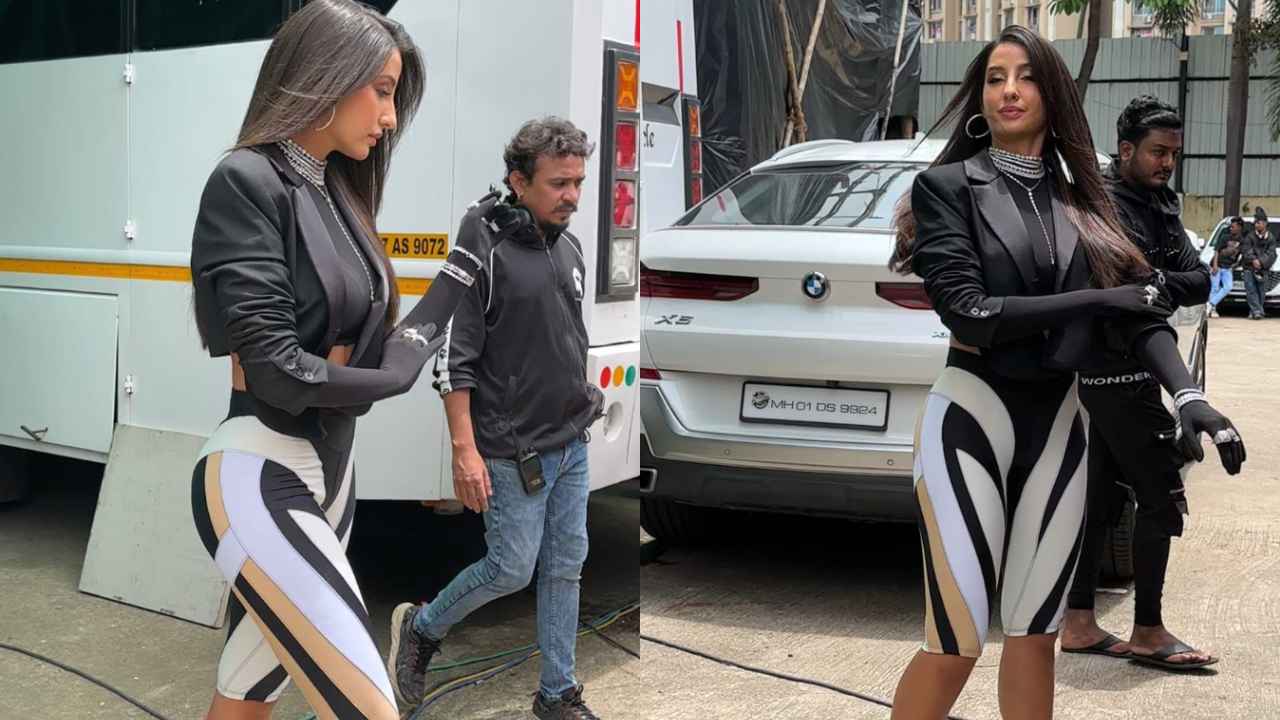 The description of the black studded heels as a finishing touch highlights their role in bringing the ensemble together. Footwear can play a crucial role in completing a look, and Nora's choice of heels added a sense of cohesiveness to her outfit.
The mention of the heels accentuating her long legs underscores the elongating effect that well-chosen footwear can have on one's overall appearance. By selecting heels that complemented her outfit, Nora effectively enhanced her proportions and created a visually appealing silhouette.
The term "seamlessly tied the outfit together" suggests that the choice of black studded heels contributed to the overall unity of her monochrome ensemble. This attention to detail demonstrates Nora's mastery in curating a complete and harmonious look that exudes both style and confidence.
Nora Fatehi's commitment to a cohesive and polished appearance extended beyond her outfit to her hair and makeup choices. Her hair was styled in a sleek and sophisticated manner, with straight tresses cascading gracefully down her shoulder. This choice of hairstyle added a touch of modernity while maintaining an overall polished look.
Her makeup was equally well-considered, with a hint of a smoky eye that added a subtle allure to her gaze. The application of a perfect nude lipstick further enhanced the overall elegance of her look. The juxtaposition of a smoky eye with a nude lip showcased Nora's ability to strike a balance between different makeup elements, resulting in a harmonious and sophisticated effect.
The description of her makeup striking a balance between the quirkiness of the shorts and the elegance of the blazer highlights the thoughtfulness behind her styling choices. By carefully curating her makeup to complement her outfit, Nora successfully created a coherent and visually pleasing ensemble.
The use of the term "cohesive" emphasizes the meticulous attention to detail that Nora Fatehi paid to every aspect of her appearance. This commitment to coherence showcases her ability to curate a look that is both well-executed and impactful.
The versatility of this black-and-white outfit is evident as it effortlessly transitions from a formal event to a casual outing, making it an ideal and fashion-forward choice for the modern and dynamic woman on the move.
The description of the outfit's ability to transition seamlessly between different occasions underscores its adaptability and practicality. This versatility speaks to the demands of the contemporary lifestyle, where individuals often find themselves transitioning between various activities and settings.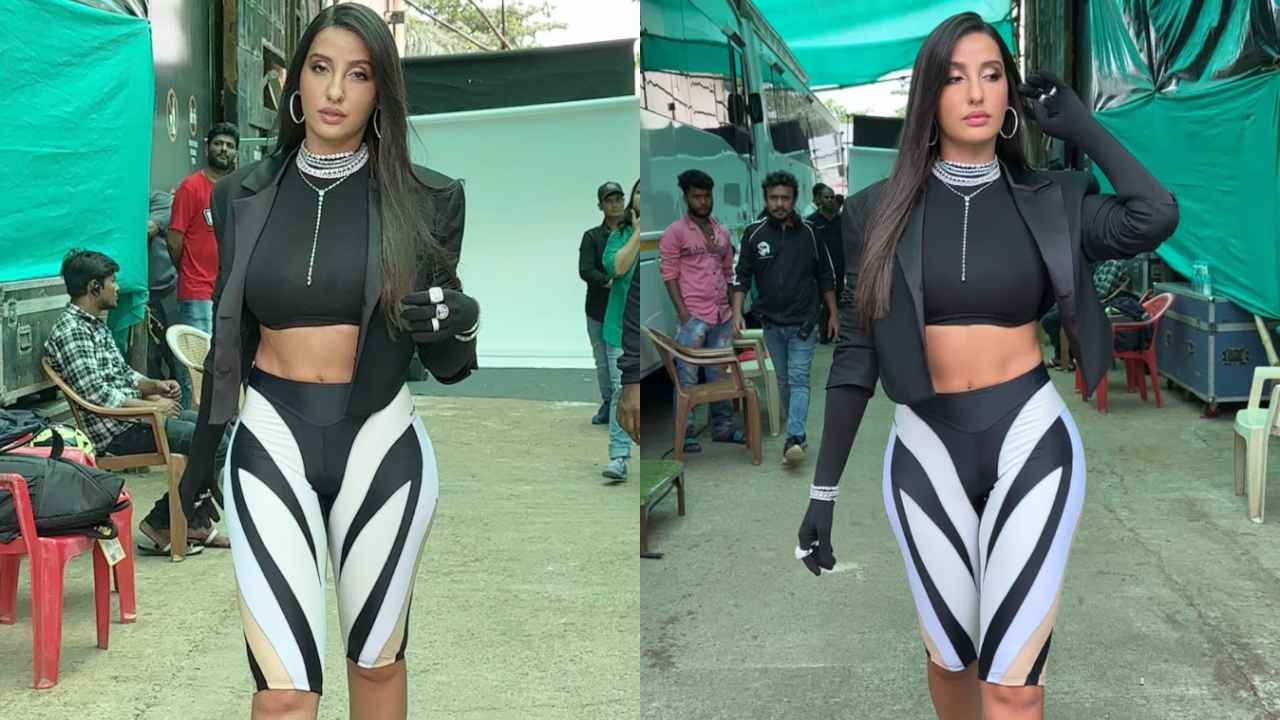 The mention of a "black-and-white" color scheme adds to the outfit's universal appeal. Black and white are classic and timeless colors that can be easily dressed up or down, making them a staple in many wardrobes.
The phrase "fashion-forward choice" suggests that this outfit aligns with current trends and showcases the wearer's keen sense of style. The contemporary woman values pieces that not only reflect her individuality but also allow her to stay on-trend and express herself effortlessly.
For the woman who is always on the go, having an outfit that can seamlessly adapt to different situations is invaluable. This black-and-white ensemble's ability to effortlessly transition from formal to casual settings makes it a versatile and practical addition to any fashion-savvy individual's wardrobe.
In summary, the described black-and-white outfit's capacity to move effortlessly between formal and casual contexts caters to the needs of the contemporary woman who leads a multifaceted and busy lifestyle. Its adaptability and fashion-forward nature make it a stylish and practical choice for those who value both versatility and on-trend fashion.