Malaika Arora vs Pooja Hegde; Who pulled off the golden tissue saree better?
For fashion enthusiasts, staying updated with the latest trends is essential, and Bollywood has always been a source of inspiration. One trend that's currently making waves in the industry is the use of organza and tissue textiles in saree designs. Notably, fashion icons like Janhvi Kapoor, Malaika Arora, Pooja Hegde, and Rani Mukerji have been spotted wearing these exquisite sarees, and their appearances have been nothing short of stunning. These celebrities have not only embraced the trend but have also elevated it, showcasing the versatility and elegance of these textiles.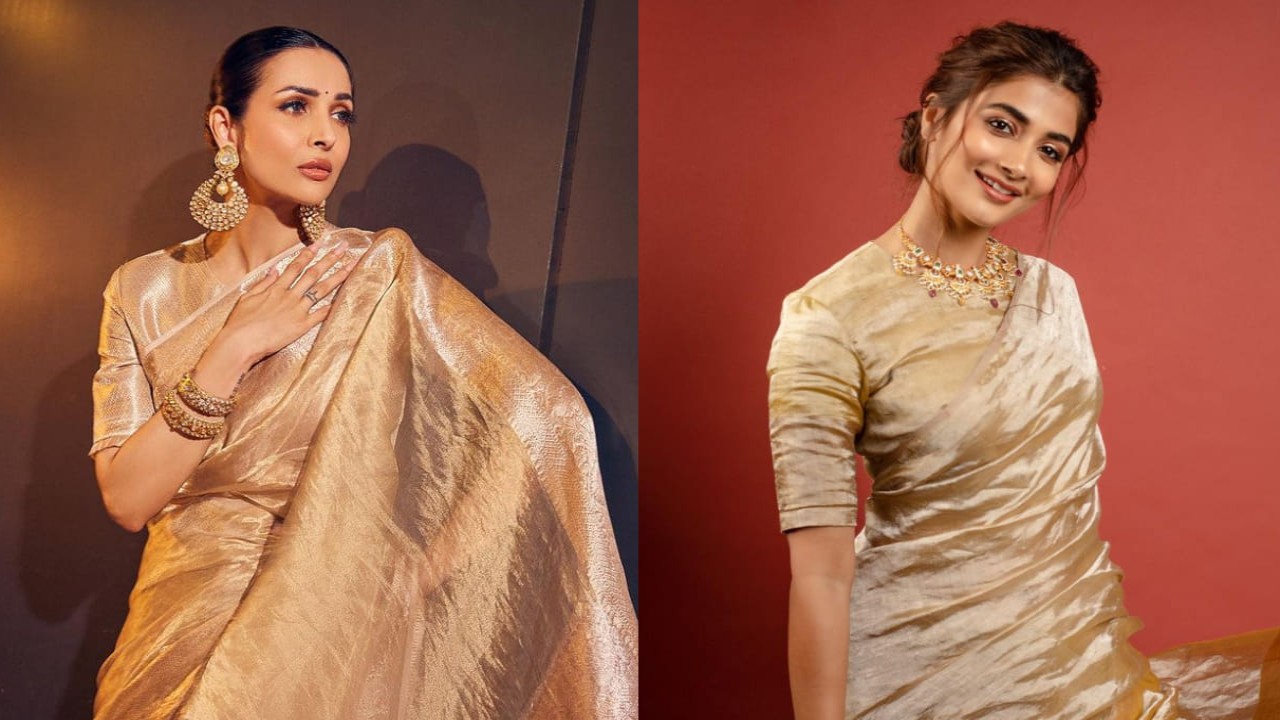 What sets organza and tissue sarees apart is their unique texture. The rigidity and crispness of these fabrics provide a luxurious feel that's hard to resist. The way these sarees drape and catch the light adds a touch of sophistication and glamour to any outfit. The translucency of organza and the subtle shimmer of tissue create a visual appeal that's both delicate and regal. These sarees have the power to make a statement like no other, and they effortlessly allow you to stand out from the crowd.
Whether you're attending a special event or just want to add a touch of opulence to your everyday style, organza and tissue sarees are an absolute must-have. They offer a perfect blend of tradition and contemporary fashion, and they are versatile enough to suit a variety of occasions. So, if you're looking to enhance your saree style and make a lasting impression, don't hesitate to explore these enchanting textiles. With the charm of Bollywood's fashion icons as inspiration, you're bound to turn heads and leave a lasting impression wherever you go.
Get ready for a fashion showdown like no other, as we witness a face-off between two Bollywood beauties, Malaika Arora and Pooja Hegde. Both these fashion-forward stars recently graced the red carpet in the same stunning golden sheer tissue saree, setting the stage for a captivating style comparison. As they stepped into the spotlight, all eyes were on them, eagerly anticipating who would own the look and emerge as the ultimate style icon.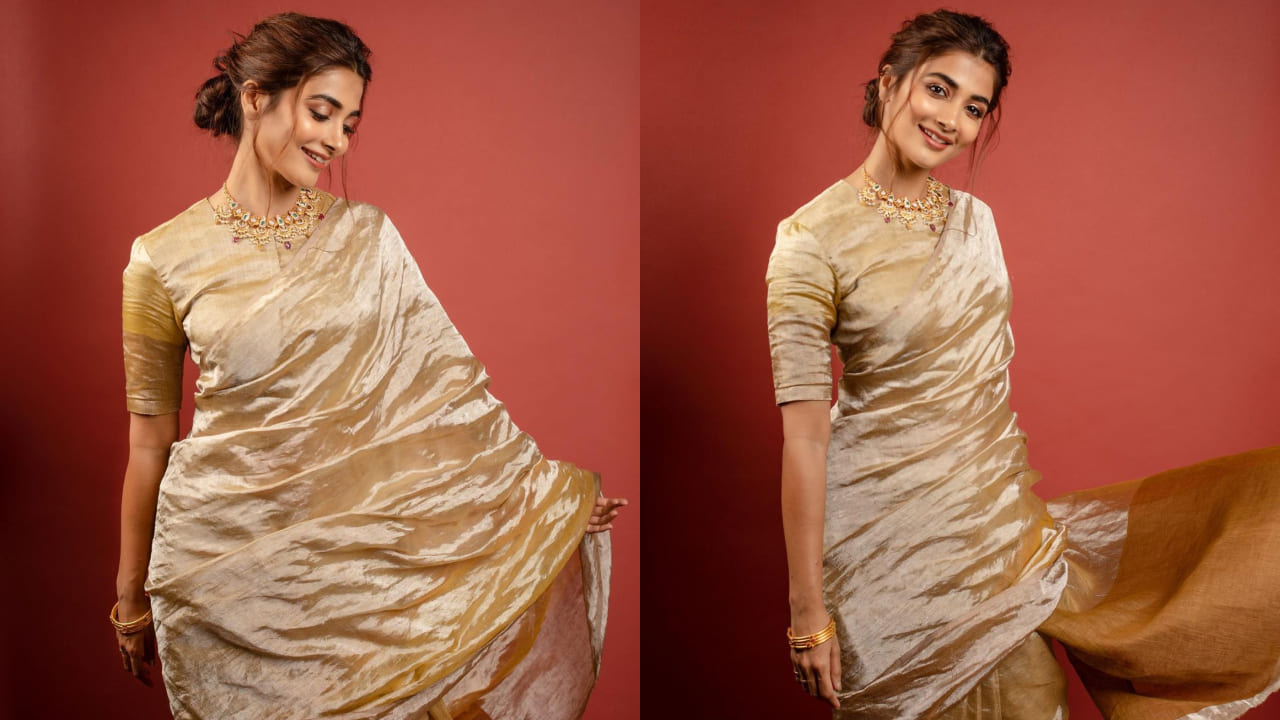 The verdict on who wore the golden sheer tissue saree better may be a matter of personal preference, as both Malaika Arora and Pooja Hegde brought their own flair and individuality to the look. The final decision, therefore, rests on your fashion radar and personal taste. One thing is for sure, though – these stunning divas left everyone dazzled with their impeccable sense of style, reminding us all that true fashion knows no bounds.
Malaika Arora, with her timeless beauty and unmatched style, continues to amaze fashion enthusiasts around the world. Recently, she made a dazzling appearance in traditional attire that left everyone in awe. Malaika's choice of a stunning gold saree was nothing short of spectacular. The saree, made from exquisite woven tissue fabric, exuded an air of opulence and grace that perfectly suited her persona.
Pooja Hegde left us all in awe as she donned a golden saree that was nothing short of stunning. This wasn't your average saree; it was a masterpiece of intricate weaving and had a perfect gloss that had the power to captivate onlookers. Pooja's choice of this saree was a clear display of her impeccable taste in fashion, as it turned heads and left an indelible impression.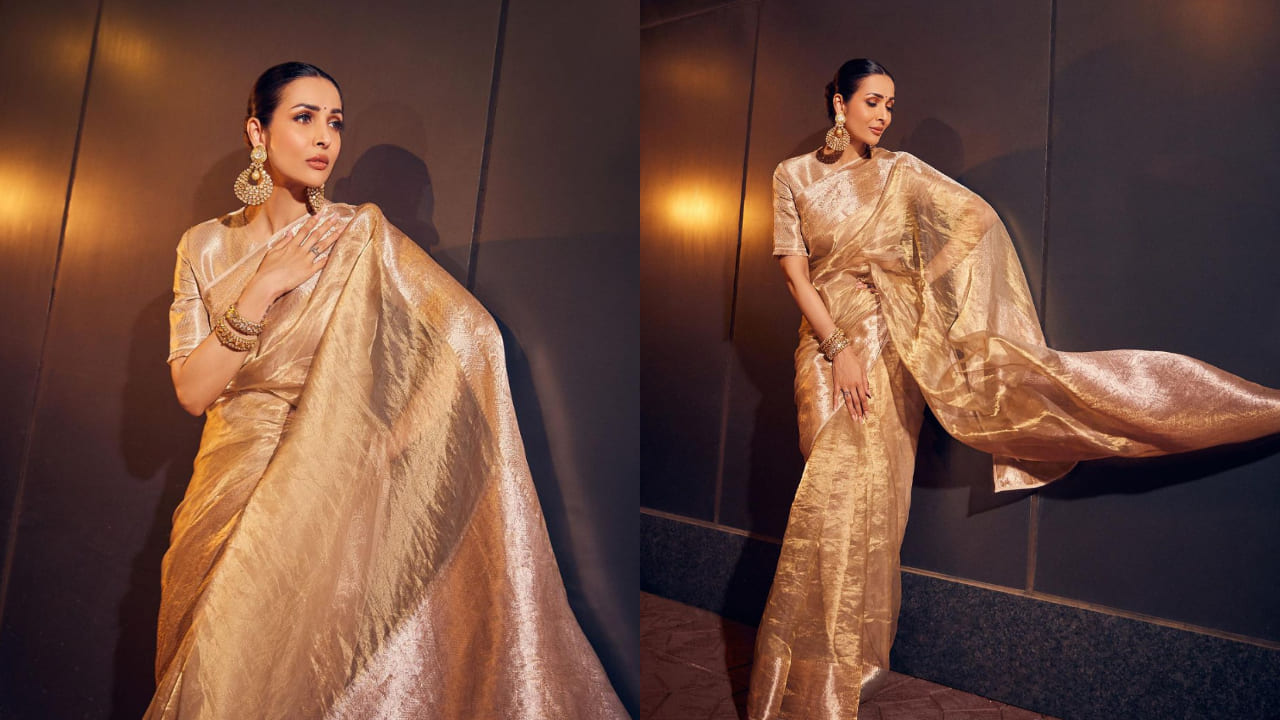 What set this saree apart was not just its color but the attention to detail in its design. The elaborately woven fabric added a layer of elegance that complemented Pooja's natural beauty, making her shine even more. The perfect gloss of the saree added a touch of sophistication that truly set her apart in the fashion spotlight.
Pooja's decision to drape the saree in the single pallu style was a bold choice that paid off. It created a look that was both sophisticated and beautiful, showcasing her confidence and unique style sense. To complete her look, she chose a blouse with a jewel neckline and half sleeves, which added a touch of refinement and modernity to the traditional attire. This combination of elements demonstrated Pooja's ability to blend tradition and contemporary fashion seamlessly.
The self-finished selvage on the saree was the icing on the cake. It gave the saree a smooth and polished appearance, making it a truly remarkable piece of fashion art. Pooja Hegde's choice of this golden saree and her ability to carry it with grace and style left a lasting impression, reminding us of her fashion prowess and her ability to effortlessly steal the spotlight.
The much-anticipated fashion face-off between Malaika Arora and Pooja Hegde in their golden sheer tissue sarees has reached its conclusion, and it's time to declare the winner. After careful evaluation, the title rightfully belongs to the enchanting Malaika. Her choice of saree exuded a level of opulence and grandeur that left everyone breathless. The sheer tissue fabric she wore seemed to wrap her in a sense of luxury that was impossible to overlook.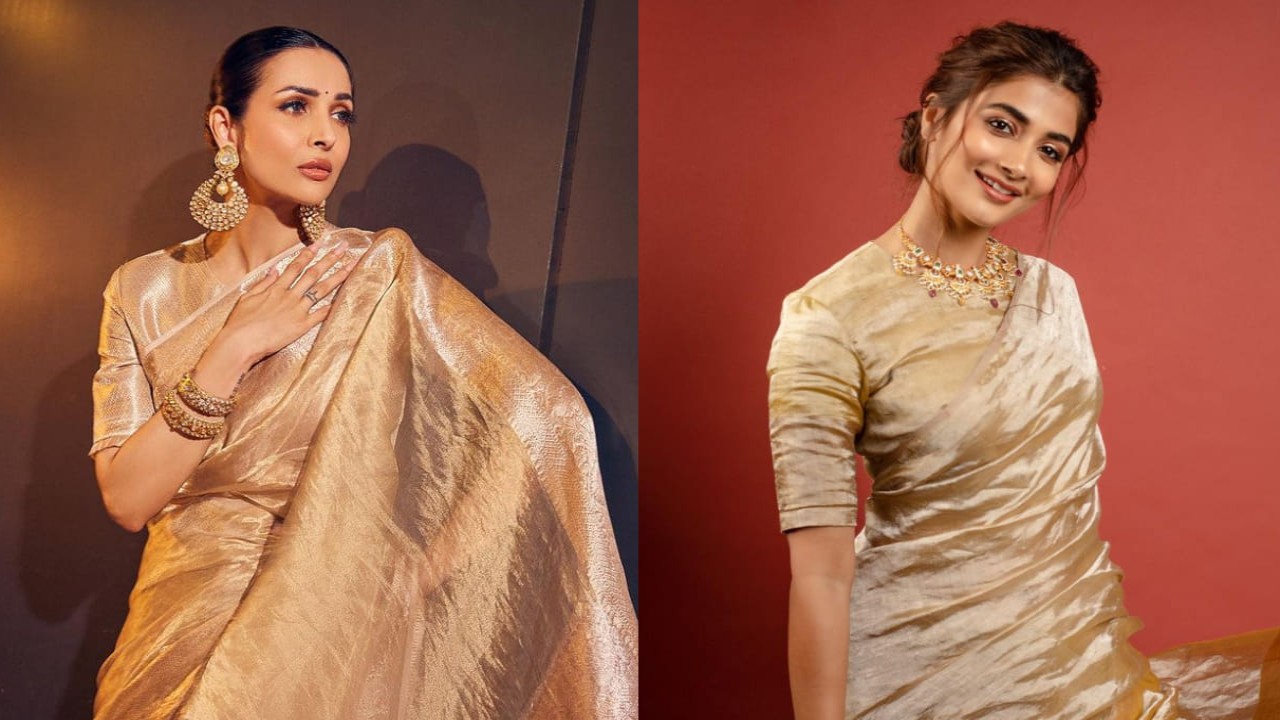 In the end, Malaika Arora's choice of the golden sheer tissue saree left an indelible mark, showcasing her ability to effortlessly merge tradition and contemporary fashion. The fashionistas have spoken, and Malaika emerges as the well-deserved winner of this face-off, reminding us all of her enduring influence in the world of style and glamour.