Deepika Padukone's floral motifs mini dress embellished with rhinestones is too HOT for party nights
Last night, Shah Rukh Khan's birthday celebration was a star-studded extravaganza, a testament to the immense influence and popularity he holds in the Bollywood industry. The event was attended by top celebrities from the industry, making it a truly remarkable and unforgettable gathering. Among the notable attendees were luminaries like Kareena Kapoor, Alia Bhatt, and Deepika Padukone, all of whom brought their own sense of style and charisma to the occasion.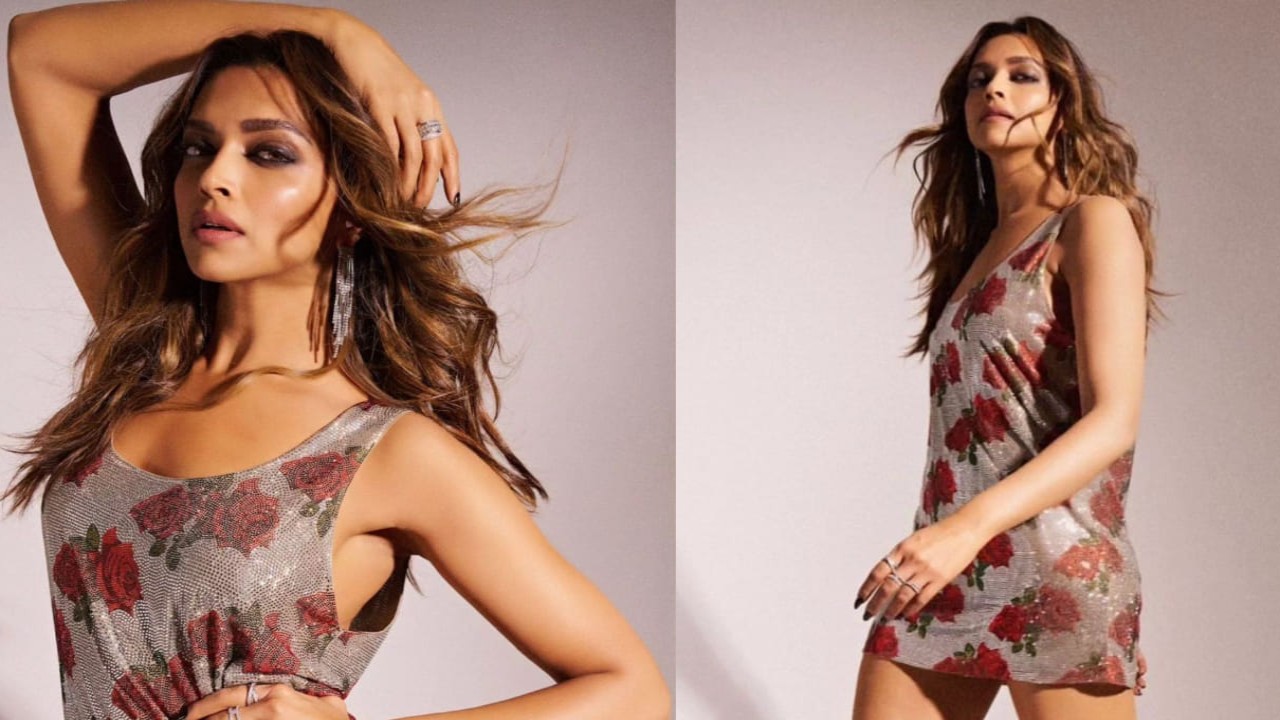 Before delving into the festivities and the grandeur of the event, it's essential to take a moment to admire the jaw-dropping ensemble worn by Deepika Padukone. Deepika has long been celebrated for her impeccable fashion choices and her ability to effortlessly make a bold statement with her style. Her appearance at Shah Rukh Khan's birthday bash was no exception, as she graced the event with a look that left everyone in awe.
Deepika Padukone's outfit at the event was nothing short of breathtaking. Her choice of attire showcased her innate elegance and her flair for fashion. As one of Bollywood's leading ladies, Deepika has often set the bar high for style and sophistication, and this event was another instance where she reaffirmed her status as a fashion icon. Her ensemble, which surely turned heads, was a reflection of her sartorial excellence and her remarkable presence in the world of Indian cinema.
Deepika Padukone's beautiful outfit was undoubtedly the showstopper at SRK's birthday celebration. The renowned actress looked stunning in a sparkly short dress that stole the limelight and left everyone in awe. The choice of this dazzling outfit was a testament to her fashion-forward sensibilities and her ability to make a bold and unforgettable statement.
The short dress accentuated Deepika's curves in all the right ways, showcasing her impeccable style and her confidence. Its fit was just right, emphasizing her form and making her exude an air of effortless elegance. Deepika has a knack for choosing outfits that not only suit her body but also reflect her sophistication and timeless beauty.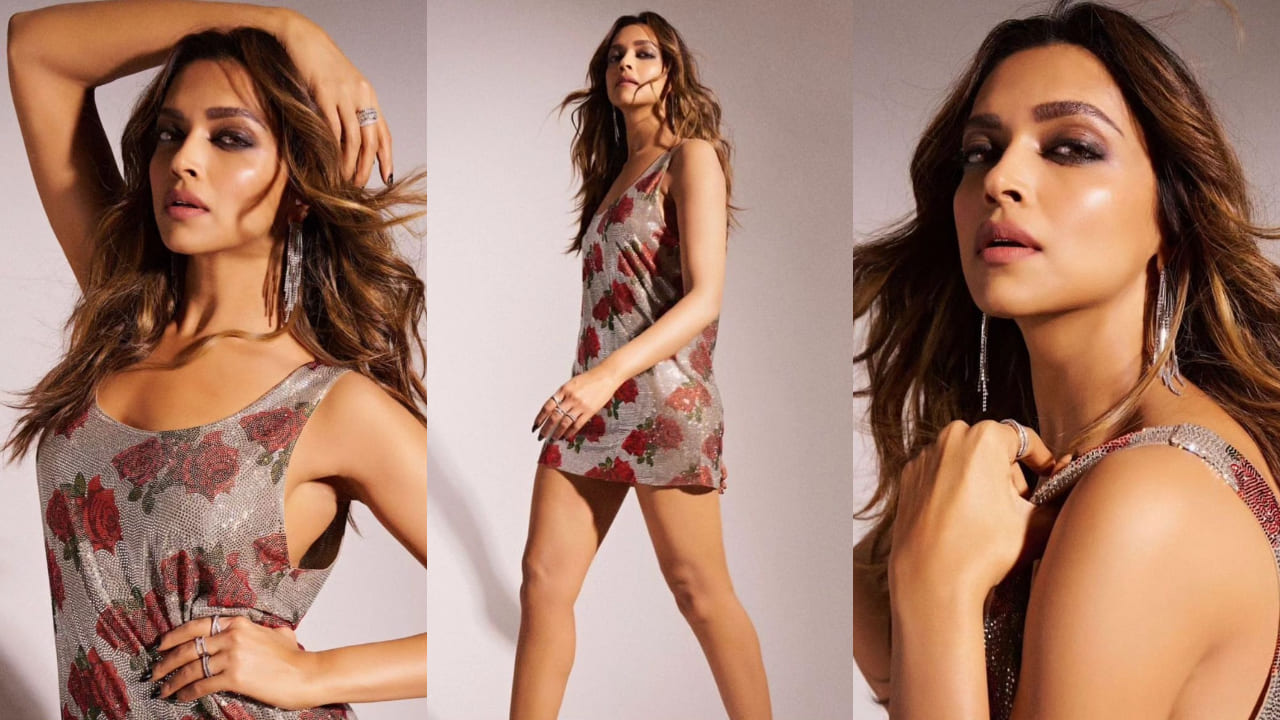 What truly made her outfit stand out were the dazzling rhinestones that adorned the dress. These rhinestones drew everyone's attention and provided a touch of elegance and dazzle to her overall look. Deepika's fashion choices often incorporate elements of glamour, and this dress with its sparkling embellishments was a perfect example of her understanding of how to create a look that captivates and mesmerizes. Her presence at the event was truly a sight to behold, and her outfit was a testament to her status as a style icon in the Bollywood industry.
The flower motif, embellished with rhinestones, added a touch of whimsy and femininity to the outfit. It was a small yet significant detail that enhanced the overall charm of the dress. The dress itself featured a sleeveless design and a classic crew neckline, which perfectly complemented Deepika Padukone's great sense of style. This attire not only showcased her fashion-forward choices but also highlighted her elegance and sophistication.
The brilliant design of this ensemble can be attributed to the talented fashion designer, Giuseppe Di Morabito. His creative vision and attention to detail are evident in the exquisite flower motif and the overall aesthetic of the dress. Deepika Padukone's choice of wearing this outfit reflects her discerning taste and her ability to effortlessly combine contemporary fashion elements with timeless elegance. In collaboration with Giuseppe Di Morabito, she demonstrated her prowess as a style icon, making a lasting impression with this stunning ensemble.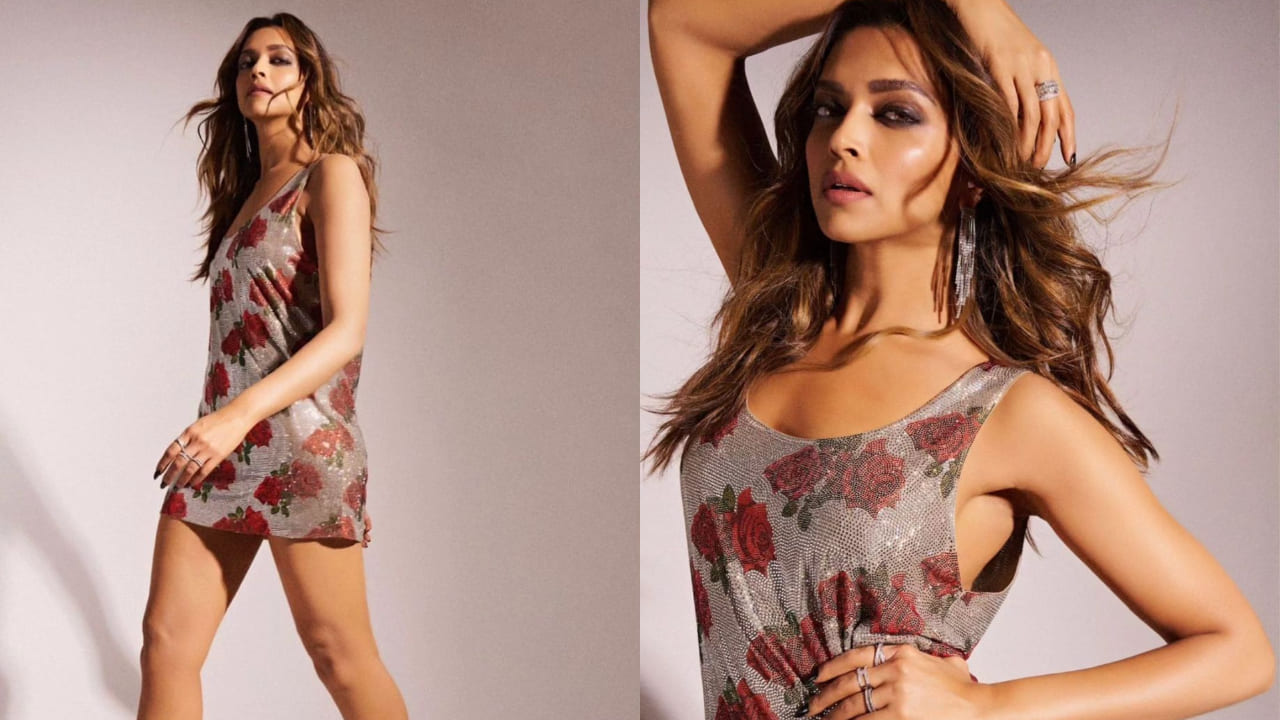 Now, let's shift our attention to Deepika Padukone's exquisite accessories, which played a pivotal role in making her outfit perfect for the night. Her choice of earrings was truly eye-catching, featuring hanging stone earrings that added a sense of elegance and glamour to her overall attire. The intricate design and sparkling stones beautifully framed her face, drawing attention to her features and enhancing the overall appeal of the ensemble.
The "Love Aaj Kal" star continued to elevate her look by adorning her fingers with silver finger rings. These rings not only added a touch of sophistication but also infused a chic and contemporary tone to her outfit. The combination of the statement earrings and the silver finger rings created a harmonious balance of classic elegance and modern style, showcasing Deepika's impeccable fashion sense.
These accessories were not just mere additions to the outfit; they were essential elements that transformed the entire look, making it suitable for the occasion. Deepika Padukone's careful selection of accessories demonstrated her keen attention to detail and her ability to create a cohesive and stunning appearance for the night.
To complete her impeccable look, Deepika Padukone chose to wear silver gladiator heels that seamlessly blended style and comfort. These heels not only added a touch of glamour but also ensured that she could move with ease and confidence throughout the night. The choice of silver for the footwear perfectly complemented the overall color scheme of the outfit, creating a cohesive and well-thought-out appearance.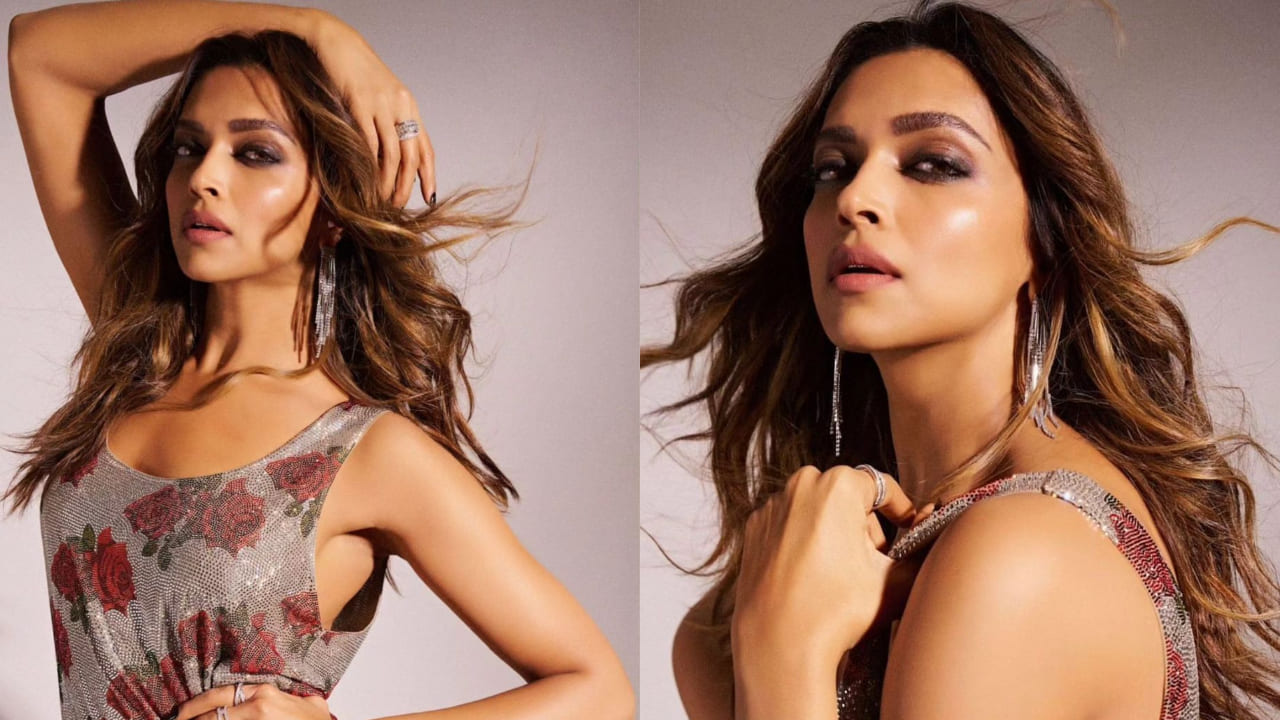 The credit for this stunning ensemble goes to the talented fashion stylist, Shaleena Nathani, who played a crucial role in curating the entire look. Shaleena Nathani's keen understanding of fashion and her ability to select the right accessories, from the hanging stone earrings to the gladiator heels, highlighted her expertise in enhancing an outfit with the perfect finishing touches. Deepika Padukone's collaboration with Shaleena Nathani showcased the power of a skilled stylist in elevating a celebrity's fashion game, and together, they created a memorable and stylish ensemble that left a lasting impression.
Indeed, Deepika Padukone's mesmerizing eye makeup is always a standout element of her overall look. On this occasion, her eyes were adorned with a stunning smoky eye look that never fails to steal the show. The expertly blended shades and the sultry smokiness added depth and allure to her gaze, making her eyes the focal point of her beauty. This choice of eye makeup exuded sensuality and a hint of mystery, perfectly complementing her attire for the night.
To further enhance the allure, Deepika opted for smeared kohl eyeliner, which intensified the captivating effect of her eyes. The kohl eyeliner not only added depth but also gave her a seductive and secretive aura, making her gaze all the more captivating. The carefully applied eyeliner contributed to the overall drama of her eye makeup and highlighted her expressive eyes.
Deepika Padukone's neatly-filled brows were another crucial element of her eye makeup. These well-defined brows wonderfully framed her face, providing both structure and elegance. The balanced and polished brows added a touch of sophistication to her overall look, making her eyes appear even more striking and captivating. Overall, her mesmerizing eye makeup was a testament to her beauty and fashion prowess, showcasing her ability to master the art of makeup and create a memorable and enchanting appearance.
In the realm of makeup, Deepika Padukone's choice of a soft, delicate pink lipstick was a masterstroke. It added a subtle and feminine allure to her overall appearance, perfectly harmonizing with her attire and enhancing her natural beauty. The soft pink hue not only complemented her outfit but also brought a touch of freshness and sophistication to her look.
With her makeup skills on full display, Deepika Padukone radiated sheer beauty in this ensemble. Her impeccable makeup choices, from the mesmerizing eye makeup to the soft pink lipstick, were a testament to her artistry and her ability to accentuate her features flawlessly. In this look, she once more captivated everyone with her dazzling grace and elegance, leaving onlookers utterly speechless. Her innate sense of style, combined with her makeup expertise, allowed her to make a lasting impression, showcasing her as a true fashion icon.