Suhana Khan serves Veronica vibes in House Of Orro's pink sparkle-laden long gown with corset-like silhouette
Suhana Khan, the enchanting daughter of Bollywood's legendary figure, Shah Rukh Khan, recently made a striking appearance at her father's 58th birthday bash. Her choice of attire was nothing short of show-stopping as she stepped into the limelight in a resplendent pink gown that left onlookers spellbound. The young actress, known for her role in Archie's, showcased an impeccable fashion sense that evening, making a memorable fashion statement that had everyone in awe.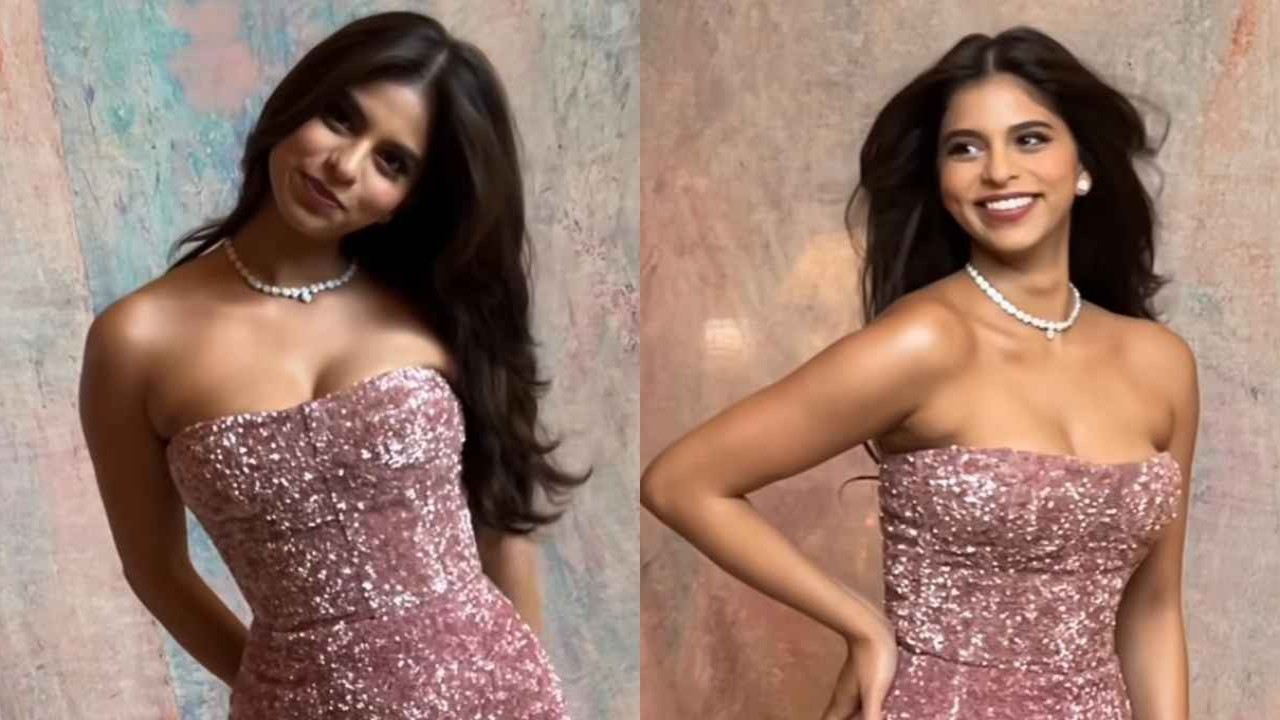 The pink and sparkly gown worn by Suhana Khan undeniably marked her as a fashionable diva with a strong sense of style. The gown exuded a sense of glamour and sophistication, and the sparkles added a touch of enchantment, making her stand out in the crowd. The color and design of the gown perfectly suited the occasion, and it was evident that Suhana had a deep understanding of fashion and how to make a statement.
Suhana Khan's appearance at her father's birthday celebration left a lasting impression, and it's safe to say that she proved her fashion supremacy that night. Her choice of attire and her innate ability to carry it with confidence and grace had everyone still gasping and gushing long after the event had ended. Her fashion-forward approach to the evening was a testament to her unique style and her position as a rising star in the world of fashion and entertainment.
Suhana Khan, recently dressed to impress as she attended her father's 58th birthday bash. The young starlet opted for a dazzling look for this exciting occasion, proving herself to be a fashion-forward diva. Her outfit of choice was a stunning pink floor-length shimmery gown, which came with a hefty price tag of Rs. 2,60,000. This luxurious gown was a sight to behold, adorned entirely with silver sparkles and glitter, and it hailed from the prestigious House Of Orro.
Suhana Khan's choice of attire for the evening showcased her exquisite taste and her flair for making a statement. The pink gown, shimmering with silver sparkles, exuded a sense of opulence and sophistication. The House Of Orro, known for its high-end fashion creations, undoubtedly contributed to the gown's luxury and glamour. Suhana's look was a testament to her unique style and her ability to effortlessly blend fashion and extravagance.
By donning this spectacular outfit, Suhana Khan not only made her father's birthday celebration even more special but also solidified her presence as a fashion icon in the making. Her fashion choices consistently capture attention and admiration, and this appearance was no exception.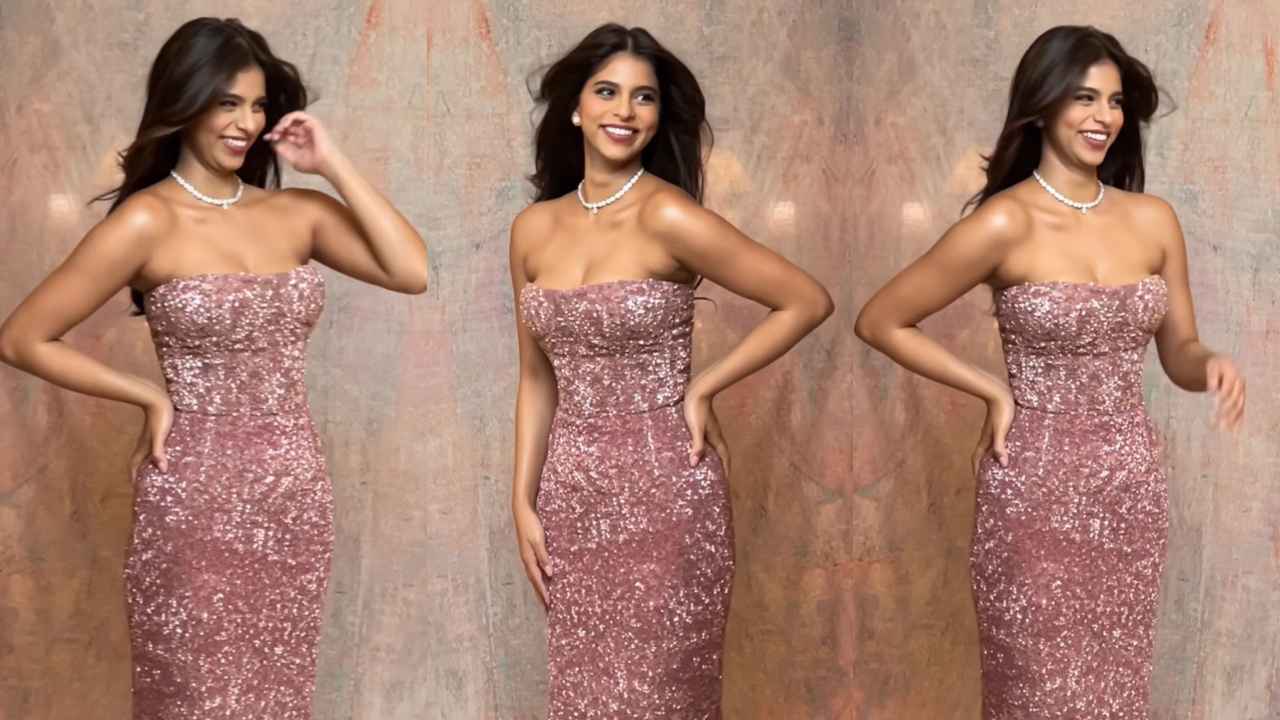 Suhana Khan's fashion choices are consistently on point, and for her father's 58th birthday celebration, she certainly did not disappoint. Her off-shoulder gown, featuring a sultry plunging neckline, added an alluring layer to her already classy ensemble. The daring neckline showcased her confidence and added a touch of sensuality to her look, proving that she can effortlessly blend elegance with allure.
What made the gown even more remarkable was its body-hugging and fitted corset-like silhouette. This design accentuated the diva's curves in all the right places, highlighting her toned body and allowing her to flaunt her figure with grace and style. Suhana Khan's choice of this incredible gown was a testament to her understanding of how to make a striking and memorable fashion statement while maintaining an air of sophistication and allure.
Suhana Khan, known for her talents and impeccable fashion sense, took her enchanting pink ensemble to the next level by carefully selecting her accessories. To complete her stunning look, she chose matching metallic silver heels, which added an extra layer of elegance and charm to her outfit. The silver heels not only complemented the overall aesthetic of her ensemble but also provided a sense of harmony to her entire look, demonstrating her keen eye for fashion coordination.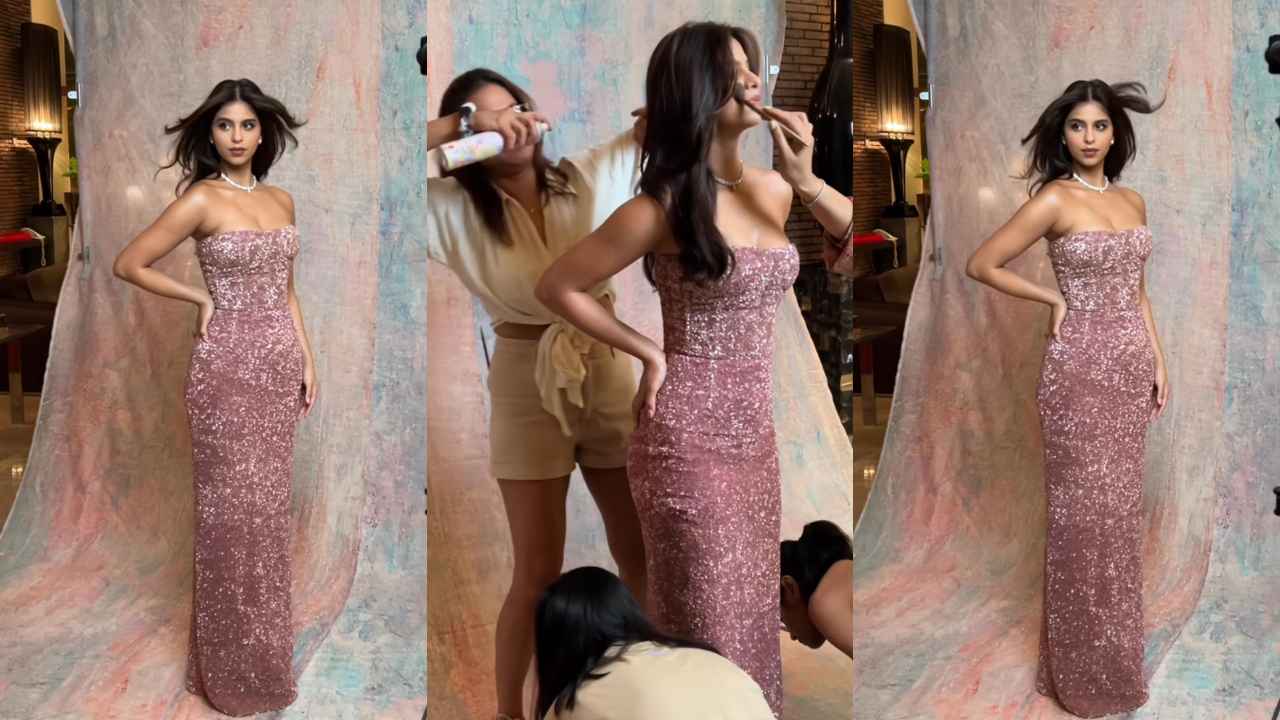 In addition to the silver heels, Suhana opted for accessories that enhanced the overall appeal of her outfit. She adorned a choker-like pearl necklace, which added a touch of luxury and sophistication to her Barbie-inspired ensemble. The pearl necklace, along with the simplistic pearl studs, both hailing from the iconic Mahesh Notandass Fine Jewellery studio, served to complement and elevate her classy diva's look. These carefully chosen accessories highlighted her ability to pay attention to every detail, making her appearance at her father's birthday celebration even more memorable and stylish.
Suhana Khan's fashion choices, from her shoes to her jewelry, reflected her exceptional taste and ability to create a cohesive and harmonious look that exuded grace and elegance. Her fashion-forward approach continued to captivate everyone, and she undoubtedly left a lasting impression as a rising style icon.
Suhana Khan's makeup was the finishing touch that made her overall look truly glamorous and unforgettable. With her pink Barbie-like ensemble, she opted for an oh-so-glam makeup look that accentuated her natural beauty. Her makeup choices were skillfully executed, enhancing her features with precision and style.
Starting with her eyebrows, Suhana chose a basic and sleek design that provided a clean and polished frame for her eyes. Her shimmery and smokey eyeshadow added depth and allure, making her eyes the focal point of her beauty. Mascara-laden lashes accentuated her gaze, giving her a captivating and dramatic look.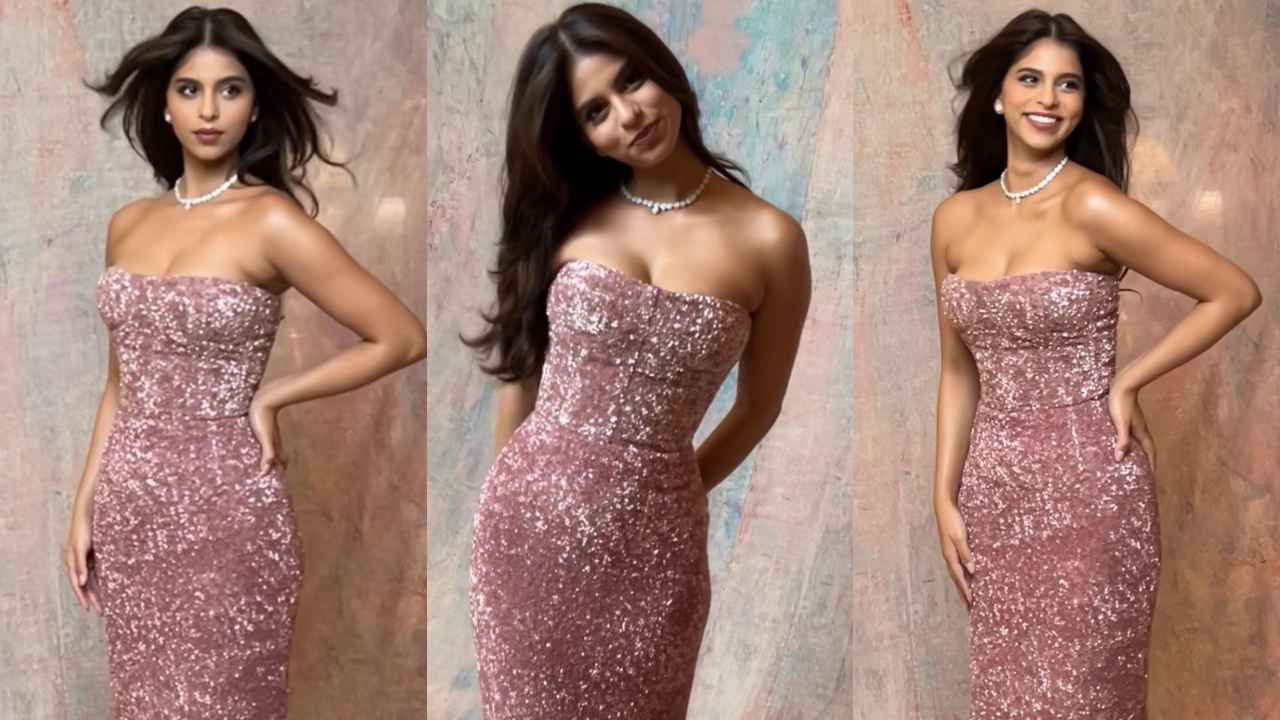 The flawless contouring enhanced her facial structure, while pink blush-laden cheeks provided a healthy and youthful flush. A shiny highlighter strategically placed in all the right spots illuminated her complexion, giving her skin a radiant and glowing appearance.
The pièce de résistance of her makeup was the incomparable pink lipstick. This choice of lip color both complemented and elevated her elegant and alluring ensemble, tying the entire look together. Suhana Khan's makeup was a true work of art, reflecting her expertise in the beauty and fashion world, and it undoubtedly contributed to her status as a rising style icon.